This is one of ten fun stories from ten years of travelling - the rest are here.
---
Sometimes when you're travelling, there is somewhere special you want to go, and if you're on a traveller's budget, then you have to generally go by the cheapest mode of transport possible. 
One of these special places for us was Donsol in the Philippines. 
Our first long term trip was a plan as you go kinda thing. This meant that when we arrived in a country made up of over 7000 islands we were hit by a huge dilemma of choice. (I know right?! First world problems and all that) 
We had an extended visa, so we had seven weeks to play with, but though there were lots of places we wanted to see, the moment we found out you could swim with whale sharks, that particular adventure made it to the top of our list. 
The time of year meant that to have the best chance of seeing the whale sharks we needed to give it another couple of weeks. Thankfully, there is so much to do in the Philippines that this wasn't a hardship. 
---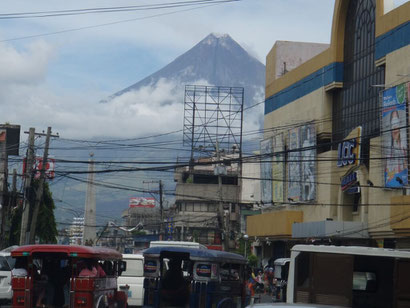 We went to see volcanoes, a remote part of the country called the Caramoan peninsula and the chocolate hills (it turns out they weren't actually made of chocolate, which frankly, was a massive let down)
We spent New Year on an island called Bohol and then we set off for Donsol. Four days later we arrived.
Quick tip, if you decide to go on a Jeepney (see pic low down and vid at the bottom), they go when they are full. This means that you have to get on board and wait until they have crammed in a bunch of people around you – we had six hours on this form of transport, bumping along. 
When we arrived at the bus station, the bus seemed pretty full, so we thought we'd wait for the next one, not knowing how they worked. We went off for breakfast and came back for the next bus, to find that we still had to force our way in and they wouldn't set off if there was still someone's knee that didn't have a child sat on it.
After the jeepney we had 36 hours on a ferry – at the time, Filipino ferries sank a lot, so much so, they had stopped making the news. The interesting thing is that if you want a bed, you're down in the belly of the ship. If it did sink, you weren't getting out. We could have stayed on the top deck, but that was full of men stroking chickens – actual chickens, this isn't a euphemism. To go into further detail would vastly slow down my story, and I simply haven't got time! But to cut a story short, Filipinos are big fans of rooster-fighting, so it's quite ordinary to see a man on the bus or a boat tending to his prize fighting cock. I'll leave that there for you to savour that mental image.
---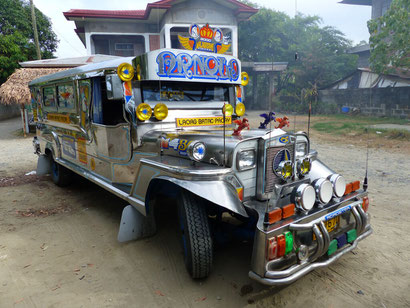 After a day more of random travel, we arrived in the town next to Donsol to be told that there was no bus leaving that day and we'd have to stay over. This was a dirty, scary town in the middle of nowhere. Not one we fancied a night it, but we checked out the 'hotels' and decided that we had to find another way to Donsol. 
That other way was 3 hours on a motorised Tuc Tuc – this buzzed and bounced along, very much like riding a souped-up lawn mower for several hours. 
Frazzled and arriving in the dark, the Tuc Tuc had barely pulled to a stop when a crowd of men surrounded us. Unlike on that desert island that time, these men didn't want to throw stones at us, they wanted us to stay at their guest houses. 
We had planned to head for a place in the guidebook – we told this to the men vying for our attention and were met with:
'you don't want to stay there, that woman is mad!'
Mad or not, we headed there anyway. It turned out it that it wasn't closed, which was another claim by the men, though I would be hard pushed to say that she wasn't mad.
---
The guesthouse had two rooms, one that overlooked a dog pound full of a bunch of unhappy, howling dogs. The other had a spider the size of a fist on the wall – choices, choices. 
It got better from there, every inch of wall space was covered with different pictures of Jesus and crucifixes. Statues adorned the sideboards and just in case the woman had picked the wrong religion there was a bust of Buddha in the corner. 
It was late, we stayed under the proviso that we could leave first thing. At that point, we hadn't noticed the sign on the bathroom door that said 'please use the other bathroom as our monkey, Freda, stays in here at night' – fun read just before bed.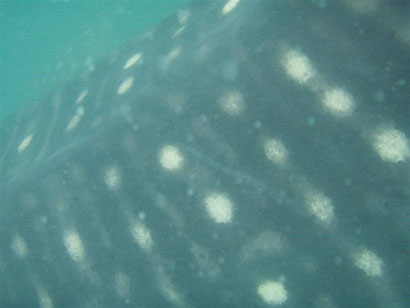 (The pic was taken by me, a little too close to the whale shark)
The next day we made our way to the whale shark visitors centre and found different accommodation. 
The next morning, we headed for the boat. Six of us set off in the small boat, along with a whole bunch of crew.
I wanted someone to say 'Call me Ishmael' – but no one did (this is a smartarse, Moby Dick, reference).
The crew handed us fins, snorkel and masks and advised us to keep the fins on and be ready with the rest. 
The whale sharks (a fish, not a whale, though it's the largest fish in the sea at around 40ft/12m), pass through a narrow channel, which is why it makes them easier to spot in this part of the world.
The boat zipped up and down the channel until one of the crew spotted a shadow in the water. Unlike most of the Philippines which is a little chaotic (to say the least), the whale shark trips are well organised and regulated. Once a shark is spotted, only one boat is allowed near it, and even then they have to keep a safe distance. 
---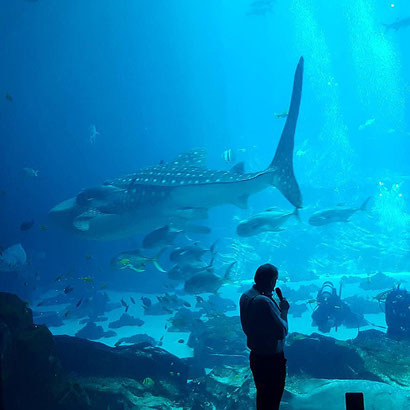 (The pic is one of a whale shark that I saw recently in Atlanta - this was only a young one).
Now whale sharks swim very fast (compared to a human swimmer anyway), so to have any chance of seeing them close up, the boat has to run alongside one, and then pick up speed so that we're in front of the fish when we drop into the water. Yes, you read that right, the boat doesn't stop, it's moving when they tell you to fall backwards off the side. 
The moment we hit the water, following one of the crew, who was our guide, he grabbed my arm and pulled me under the water. He pushed me in the direction of a huge shadow moving towards me. The water was murky, with visibility of around 15 feet/4.5m – this means that when a beast comes out of the shadows, it's all I could do not to dart for the surface and scream. I didn't though, I watched the stunning creature swim effortlessly past me.
I'm underwater of course, so I couldn't open my mouth in awe, well I could but I'd die, so I didn't. Instead, I enjoyed one of the best experiences of my life. 
As if that wasn't enough, we saw six more sharks and had the most amazing day. Plus, I managed to tick something amazing off my Epic Quest.
Men with roosters, crazy religious women with pet monkeys and days of transport all ended with such an incredible reward. The best things in life are rarely easy to get, and this is one of those times that proved it.
---