This is one of ten fun stories from ten years of travelling -  the rest are here.
---
When you travel, certainly on first trips it can be easy to be gung oh. 'I'm just going to say yes to everything' – 'Yeah, it'll be great I'm sure let's do that.' Usually, these are ill-conceived ideas, but the adventure of them offsets the fear and saves too much thought on the subject.
One such adventure was near the start of our first trip. We'd been in Chiang Mai in the north of Thailand learning some of the language. It wasn't going so well as I'm not great at my own language, having a strong northern accent that often isn't understood even by English speakers. So learning other languages, though fun for me, never gets me past ordering bread.
After three weeks of being laughed at trying to speak a few words of Thai, it felt about time to leave. Thai is a tonal language with five tones and if you don't' get the tone right you're saying a different word. So when I thought I was ordering a banana milk shake I was more likely telling someone that their mother was the daughter of a goat – not ideal.
The internet, magical as it is, threw up a suggestion for where we could go next. A camp at the top of a mountain near a town further north called Chiang Rai were looking for volunteer English teachers.
In exchange for teaching five days a week, they would give food for one of us and accommodation for the other.
At the time this seemed like a fair deal though after a few years more travel we've realised that it's not good to under value your skills.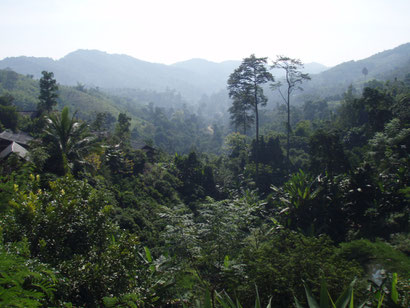 Neither Alex nor I had taught English before, we hadn't done the coveted TEFL course and we had no idea what they actually wanted from us at the school. A couple of emails backwards and forwards with the Chief of the camp and though we didn't know much more than a meeting point for the school, we set off anyway.
I have to say that we weren't going in completely blind to teaching, I'd already taught counselling at university at this point and did know about class planning and structuring sessions. Plus, I always work on the idea that if I don't know how to do something the internet will explain all.
Chiang Rai turned out to be the poor cousin of Chiang Mai though with far less tour touts and gap year travellers it was a more chilled and relaxed affair.
We met a friendly Thai man called Nam who took our bags, threw them in the back of a 4x4 and we set off with him for the camp.
We didn't know until Nam started talking, but the camp was effectively a B&B for tourists who wanted to stay at the top of a mountain. You could sleep in a wooden chalet in the jungle and each day there were different tours and treks.
The school was a 45-minute walk back down the mountain and was used by five different tribespeople who lived dotted through the surrounding jungle.
The 4x4 left the highway about 20 minutes outside of the town and started heading into the jungle. The lack of tarmac and steep incline made the truck a must.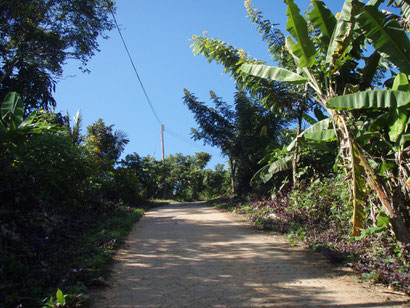 The lush green rain forest opened up to give stunning views down into the valley below. And still we climbed. The mountain road lead us through lush forests, smatterings of banana plantations and rickety looking sheds on stilts that appeared to house entire families.
The truck stopped at the bottom of a very steep concrete road taking us up to the camp. Nam told us that before the concrete was laid the camp was almost entirely inaccessible.
Even with the path it felt like we were driving vertically uphill. In my mind we toppled backwards and slid back down the hill (it's a fun place my mind).
When we arrived at the camp, we were shown around the guest accommodation. Lovely, private bungalows overlooking the valley below.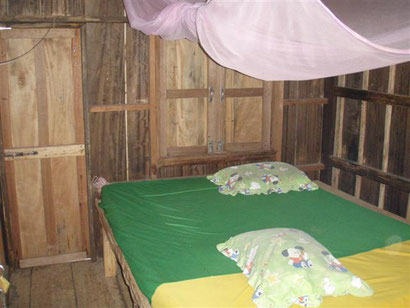 We weren't staying in one of those, we were then shown the backpackers accommodation. Up a flight of old wooden steps, with no banister, took us to a giant shed. The wooden shed was broken up into 3 different rooms. When in them you were basically inside a cheap B&Q construction. Though it was on stilts and if it gave way you'd be launched hundreds of metres down the valley below.
Nam gave us a few minutes to enjoy the delights of the room – it didn't need minutes, a wooden bed with 'clean' bedding doesn't need more than a few seconds of inspection.
We did however, go back to the balcony and take in the view – just stunning. We'd set off early and the mist was just starting to clear from the valley floor. We could make out a patch work of small villages, banana plantations, rice fields and people busily going about their lives.
We drive back down to the school with Nam. He told us we'd need to walk down there each morning and school started at 8. That didn't seem so bad. We'd not thought this through of course, because with teaching and planning we'd be doing a 40-hour week in exchange for a shed and what turned out to be sloppy rice.
Still, as the day forged on we were introduced to the one member of the school who spoke English. It turned out that four or five words constituted being able to speak the language so that was a fun exchange. I decided against asking her if her mum was a whore and avoided all Thai bar please and thank-you.
We smiled our way through the meeting with the teacher and walked back to the camp (Nam had left us, so that was nice).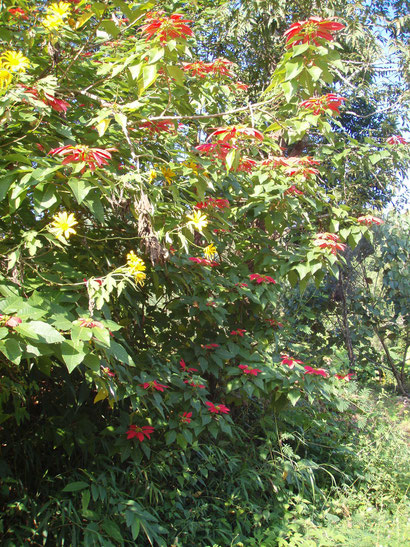 The walk back was lovely, the thing I remember most were the giant poinsettias that lined the road. I've only seen this as foot high Christmas plants that have bright red leaves. Those that lined the road were around 8-foot-high and blasting out their stunning red display.
Back at the camp we met some other guests and sat in the covered eating area where the guests were served food. Thankfully, back in Chiang Rai before we'd set off, we had downloaded a ton of teaching materials and the school said we could print off what we needed.
The bed was super hard, basically just board and an inch of mattress, add in that the toilet was downstairs and there was no outdoor lighting and we had a pretty fun night. Well the spiders did laughing at Alex screaming at them for being SOOOOOOO Big.
At 7am we headed for the school, a glorious walk down the valley, the light mist making the greenery feel like it was glowing.
It turns out this is when I realised that I hate children.
I had my suspicions before this point, but arriving at the school to their screams chilled me to the bone (I'm ever the sociopath).
For two weeks we taught 5 classes a day 5 days that week and then we ran off. Well not literally ran off but the spiders, the shed, the screaming children – it's a wonder I lasted the day out never mind 14 of them.
The plus side, the top of the mountain was stunning. The walks we took after the school, to the waterfalls, were excellent and we had the most amazing sunsets.  
We said our goodbyes, said something about flights changing as an excuse and found a Starbucks.
This was nearly 10 years ago and I hope I'm a better traveller now 50 countries later. Though I think I have a better understanding of the things I like and don't like and this helps me keep bad decisions to a minimum.
Unless I decide that my likes are limiting then I still throw myself into silly things – some people never learn I guess :)
---