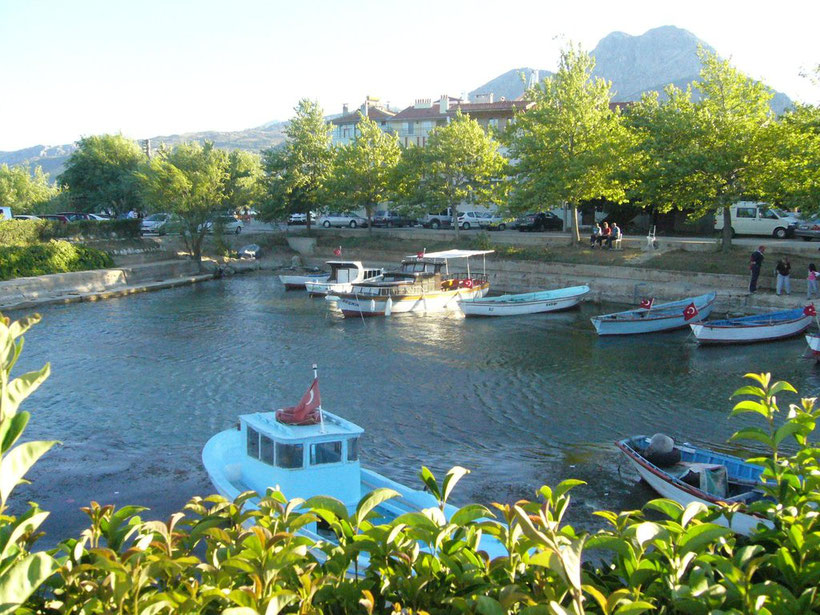 ---
Most international tourists choose to visit Turkey only in the summer months, from June-August, when beaches are crowded, the midday heat is intense and taking a selfie at Ephesus or Pamukkale. Without an extra head in the background, is almost impossible without extensive photography skills! 
A better time to visit Turkey actually outside of peak season, either in the Spring when the snow is melting on the mountain tops or Autumn when the sea is still warm enough for swimming. Most travel agencies are open all year round and there are many tour packages starting from Fethiye, Istanbul and Cappadocia so you can take advantage of travelling outside of peak season or perhaps even take a Alaturka Cruises, if you want something really special.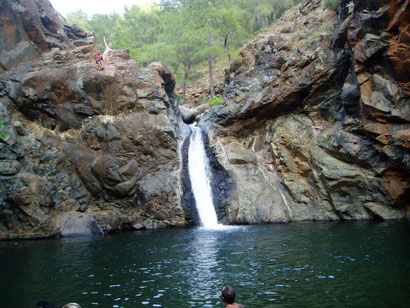 Major Attractions are Crowd Free 
During the summer months major attraction such as the ancient city of Ephesus or the travertine pools at Pamukkale's 'Cotton Castle' are heaving with both international and national tourists and with so many people about, a trip to the mineral rich baths may not be such a relaxing experience. However, visit after September and it's a whole different story. Without the huge crowds and busloads of holidaymakers you'll be able to take you time to calmly explore the ruined cities in the region, pause to take your pictures and, at lesser known sites like the Lycian city of Tlos and Patar, you may even have the entire site to yourself. 
Sunbathe without the Sunburn 
In southwest Turkey the sun shines on average 300 days each year but in the summer the heat of the sun can quickly turn your skin a brilliant shade of red. Outside of summer the Mediterranean climate is still pleasant and warm enough to visit the beach. So, while the water can be a little chilly from November to April, you can still go to sunbath or grab a beer and taste some fresh seafood at one of the beach side bars and restaurants.  
No need to Book Ahead
If you're a bit disorganised or more of a spontaneous traveler then visiting Turkey in low season will probably be a better option for you. With less tourists about you will find that most hotels and guesthouses will have empty rooms available so you can leave reserving accommodation to the last moment. Likewise public transport will be less full and taking long distance buses can be a lot more comfortable in low season when you may even have both seats to yourself instead of squeezing in between people and suitcases. 
Go Hiking
Turkey is actually an excellent country for outdoors adventurers, with a number of way marked hiking trails across the country and at least 4 long distance treks which run for 500km or more across the Turkish countryside. However few holidaymakers know about these trails because from June to September it is far too hot for hiking through the coastal mountains with a heavy backpack. Instead the best time of year to begin hiking trails like The Lycian Way is during the low season when the temperature drops to become a bit more bearable. Actually springtime is ideal for long distance and multi-day trekking on the Mediterranean as the snow on the Taurus Mountains is melting and there are plenty of fresh water springs, while in the autumn the land can be quite dry and better for day hikes in evergreen forests of pines.   
---
---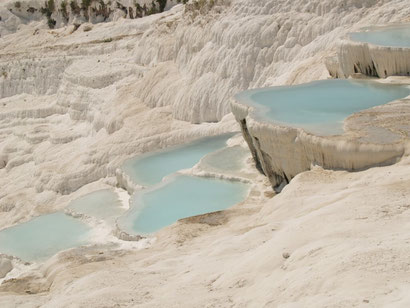 Meet More Locals
Traveling in low season means that you're more likely to find Turkish guests sharing your hotels and buses and you may be the only foreign tourist on a tour which is ideal for those who are looking to learn and experience real Turkish culture with local people. During the summer season you will find that the country is filled with English, Australian and other international travellers while locals are holidaying abroad or busy working in the peak season. In the spring and autumn you will find a more chilled out atmosphere, those who work in tourism will have more time to chat and others will be interested to know why you chose to visit Turkey outside of the summer. 
It's Cheaper to Travel
If you're a budget traveller then it's definitely better to avoid travelling during Turkey's peak season when the prices of hotels, buses, tours and just about everything are significantly higher. In low season you will be able to book tours to Gallipoli, Ephesus, Pamukkale and many other top locations or take a combined package for a Blue Cruise with Cappadocia and Istanbul tours at a much cheaper price than you can find in the middle of summer.  
---
---
---
---
---
Did you like this? Want to read more just like it? Well subscribe to our newsletter;
(Don't worry, we won't be spamming your email every day! Just high quality travel updates, tips and stories every month or so...go on, sign up)
---