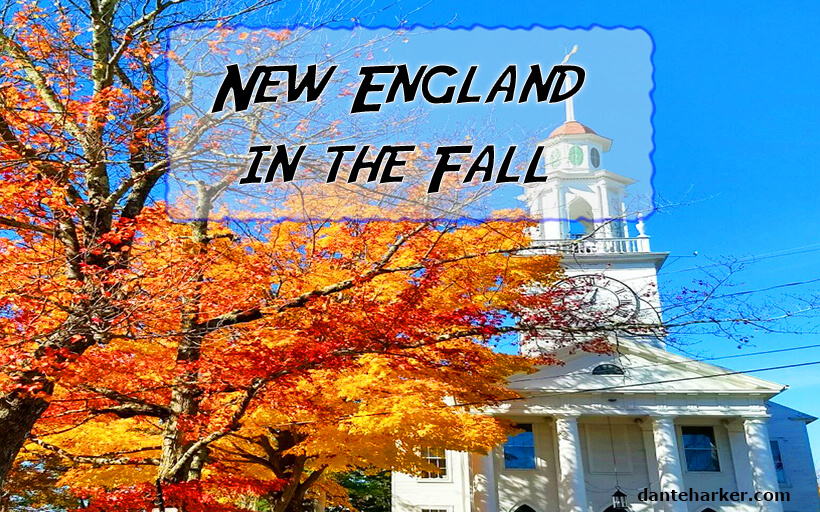 ---
Gorgeous scenery, friendly people, delicious artisan food and fabulous places to stay. These are reasons enough to make a trip to New England, but truthfully, it's in the fall that the majesty of this part of the states comes to life.
With a little planning, and a juicy list of 'must-see' destinations, it's incredibly easy to have a wonderful time in the North east of the United States. In fairness, New England takes in six glorious states; Maine, Vermont, New Hampshire, Massachusetts, Rhode Island and Connecticut. With a wealth of interesting things to see and do, one could spend months in this part of the world!
Alas, three weeks was all we had on this occasion, so armed with a lonely planet guide to New England, and a spirit of adventure, we began our New England in the Fall trip.
When it comes to planning your very own adventure in this photogenic part of the states, time of the year is crucial. The very peak time to see nature's amazing swan song of colour is early to mid October. Of course, the week or so surrounding this period will also provide stunning views but for maximum autumn colour explosions, then the start of October is when you want to be booking those flights.
When planning a route around some highlights of New England, one has to be really selective on where to stay. For us, a little taste of New England on the seaside was required so the perfect town of Kennebunkport was our first stop. After that, a dramatic drive through the White Mountain National Park to the town of North Conway, followed by a stop off in beautiful Montpelier, Vermont and a final stop in historic Boston. What's not to like about THAT itinerary.
To properly have the freedom to stop in charming towns and pull over to road-side diners (well it IS the states right?!) then the very best option is to hire a car from Boston Logan International Airport.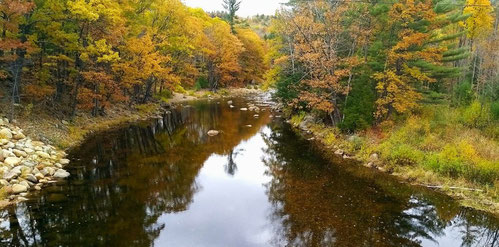 By booking well in advance and choosing a medium sized car, we were able to save a lot of dollars and honestly, the company we used made it very easy indeed. Quick side note however, we were encouraged to pre-pay for a toll-road pass. Essentially, rather than pay each toll one by one, a one off fee of $70 was given over. This did not work out cost effective, as, we travelled through largely un-tolled roads which meant that had we paid toll by toll we would have handed over $5...rather than the $70 we paid. Just be cautious to work out whether it's necessary for your itinerary.
New England itself has 473 miles of coastline along the East and a dizzying number of quaint towns and former fishing villages that one can easily look around. For us, the chocolate box town of Kennebunkport in Maine was the ideal first stop. Historically a lobster fishing town, Kennebunkport has evolved into quite the tourist attraction. Obviously, there are those ocean views and fresher-than-fresh seafood, but the town itself also has a very laid back charm, despite the tourism numbers.
---
---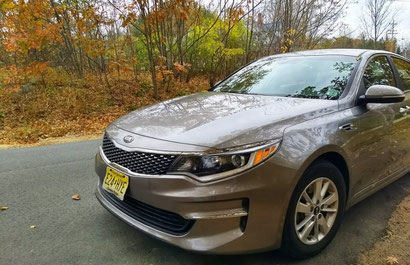 When we visited (essentially the peak of foliage season) in mid October, the town was mildly buzzing but a far cry from the packed streets of summer. People escape the cities for their little slice of Americana on the water here and the friendly locals make it very easy to stay longer than one planned. Naturally, the whole point of this trip for us was to see nature in all its glory in the form of the changing of the leaves, and let me be clear, there are ample opportunities to gaze in awe at autumn colours here and with some gorgeous wooden houses and independent shops, it's really easy to fall a little bit in love with this part of Maine.
For our cheesy 'quintessential small town America' tick, it made perfect sense to spend a few nights at a family owned b&b and a relative newcomer on the scene as of 2018 is the Harbor Inn on Ocean Avenue. To say it's a beautiful Victorian gem with oodles of charm is something of an understatement. With a focus on warm welcomes, cosy rooms and a farm to fork concept, there's a lot to like about this place.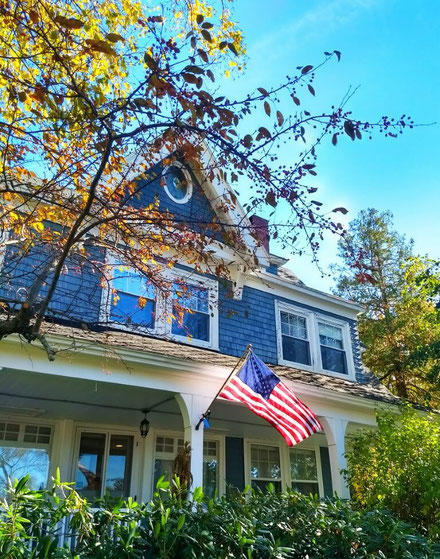 Owned and run by couple Bill and Lisa, the Harbor Inn is a joy to stay in not least because you know it's a family business which, on our travels around the world, always pleases us. There's also the small matter of that roaring fireplace and their locally sourced breakfast. Who would have thought that a former police officer would be  a dab hand at blueberry pancakes every morning for guests?
After a brief stay in kunnebunkport, a fantastic journey to take is up onto ME-35 and onto ME-117 N which takes you through some lovely scenery and an awful lot of photo opportunities. With the next stop being the town of North Conway and the Conway Scenic Railroad (yes, that is exactly as it sounds) a brief stop off at the marvellous Christmas Loft on White Mountain Highway should be on everybody's itinerary.
Now, whether you have a casual attitude to festivities or, like me, you're NUTS about Christmas, the Christmas loft store is a one stop shop for all things jolly and seasonal. A Christmas shop that's open all year round is the stuff of dreams in my simple mind, so popping into this place for some pretty baubles or tacky lights is just the kind of activity that fills my itinerary.
---
---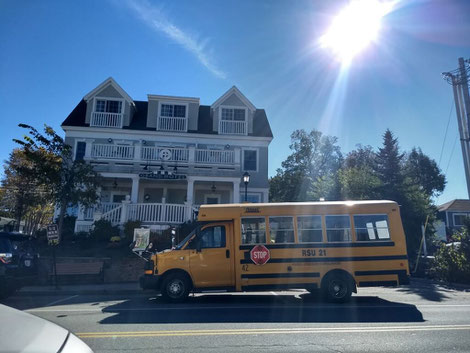 But coming to New England in the Autumn isn't really about the miniature felt reindeer's is it? What better way to see the White Mountain National Park than to take the historic Railroad trip through this gorgeous part of the world. Running trips for several months of the year, the Conway Scenic Railroad is at its most busy and delightful during the months of September and October.
There are several journey options to take in with the Railroad but most appealing to us was the Notch train which goes deep into the mountains, makes a brief stop, then comes all the way back down the valley. To make the trip even more memorable, we took the opportunity to have lunch in the Hattie Evans Dining car. Frankly, a three course lunch surrounded by mountain views and good company is a darn good way to spend a Saturday!
By basing ourselves in the nearby town of Jackson we were well placed for random exploring and enjoying delightful food. The Lodge at Jackson Village is actually more of a ski lodge arrangement which truly comes into its own in the snowy winter months. However, even in the autumnal part of the year, the Lodge at Jackson Village is a great option. 
---
---
---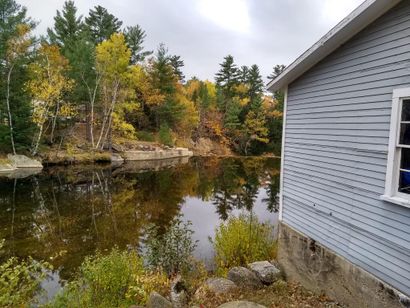 The less we talk about their make-your-own-waffle station, the better. I thought i had self-restraint until i stayed at this place, but it turns out I don't.
While on the subject of gluttony, it would be a shocker to not recommend a fantastic place to have a few drinks and a bite to eat while in Jackson. Of course, there was no snow in October, but the warm, cosy and totally unpretentious Shannon Door, across the road from our lodge was the perfect antidote to winter chilliness. It's a classic Irish pub / sports bar but with tables and chairs nestled in little corners and a super relaxed vibe, it's a great option to consider when overnight in Jackson.
While ooh-ing and aaaah-ing at all the stunning autumn colour could rightfully fill an entire three week trip, there is also much to be enjoyed from all the amazing artisan producers and independent shops. There's barely time to mention them all here, but for sure, Vermont as a state is absolutely brimming with interesting stores. From fantastic delis to farm shops selling Vermont's famous cheeses, those with an interest in edible treats will not be disappointed in New England and Vermont in particular.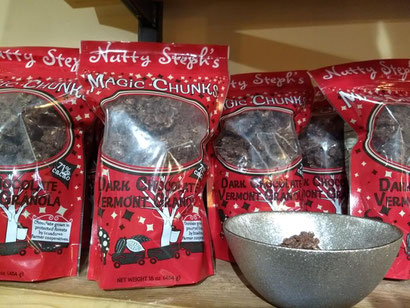 Nutty Steph's in Middlesex is THE chocolate emporium i've been looking for and apart from moulded chocolates and homemade truffles all made onsite, the showstopper at Nutty Steph's is their chocolate granola. Be warned, this stuff is NOT health granola! I dare you to enter Steph's and not leave with a bag of this stuff!
Bragg's farm sugar house in Montpelier, is another little delight from the region. A family owned maple farm and shop, they still make and bottle the delicious maple in the traditional way with nothing added or taken away and with informative videos in their store and free samples (yes, that's right, there are many varieties of maple syrup) it makes the sad brown stuff we buy in plastic bottles at home taste very dowdy by comparison. One can also indulge in a little maple creamy while shopping which, to the uninitiated, is something of a rite of passage for visitors to Vermont as my host Scottie informs me.
Also worth a mention is Wilaiwan's Thai kitchen in downtown Montpelier, where shockingly authentic and fiery Thai food is dished out in hearty portions for a tiny price.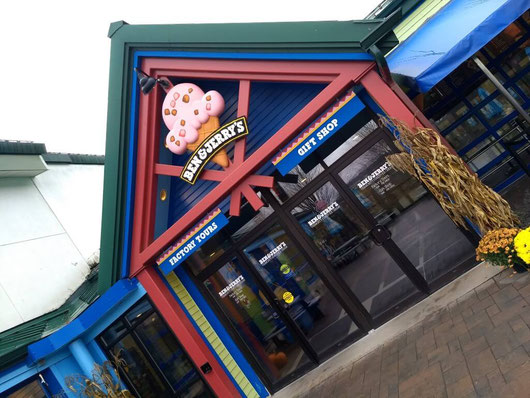 A little less independent, but still memorable, is a visit to (possibly) the most famous ice cream place in the world. Ben and Jerry's in Waterbury is quite the experience whether you're an ice cream fan or not! A mini factory tour with accompanying video is enlightening and informative and their colourful gift shop is a treat for the eyes! You may just need to show some restraint when it comes to purchases; after all, none of us are millionaires.
With some delightful food and mind boggling autumn colour, it's easy to see why three weeks in New England should be high on anyone's list. This doesn't even include the wonders of Massachusetts original city, Boston.
A thriving nightlife and dining scene coupled with whale watching, shopping and some of America's oldest modern landmarks, Boston is a trip all of its own. Indeed, it'll be a post on here in its own right soon enough, but one things for sure; it's a city rich with history and interest and without a doubt, some absolutely wonderful opportunities for looking at all hues of gold, red and yellow in the autumn, which when planning to see fall in New England, is pretty much the main goal! Not everyone may be as passionate about trees as I am but only a stone cold robot of a human would disagree, that this part of the United States is an absolute gem of a destination and worth a mention on anybody's bucket list!
---
---
---
---
Did you like this article? Why not pin it? You can do that very easily...go on, do it!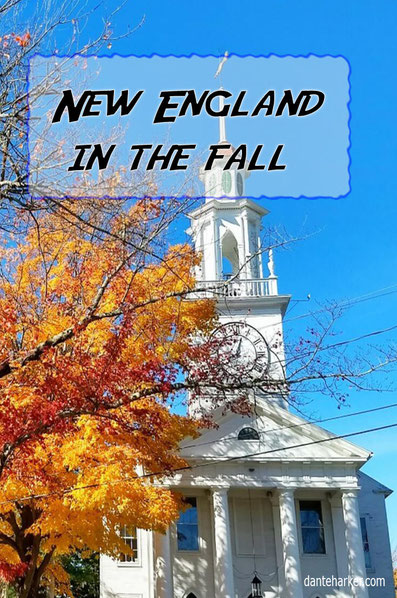 ---
Did you like this? Want to read more just like it? Well subscribe to our newsletter;
(Don't worry, we won't be spamming your email every day! Just high quality travel updates, tips and stories every month or so...go on, sign up)
---