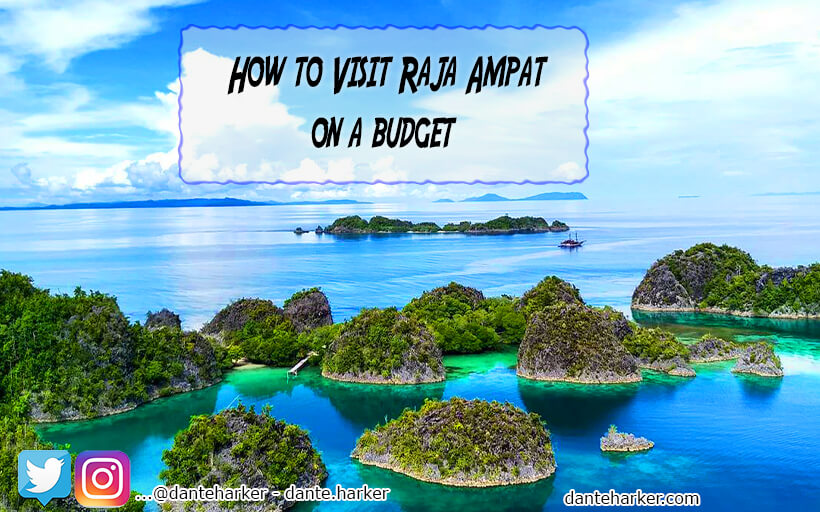 Nestled on the North-westerly tip of Indonesian Papua, is an archipelago of islands and islets that some believe to be the heart of the coral triangle; Raja Ampat. For those not currently in the know, the coral triangle is called 'the amazon of the ocean' because of its incredible biodiversity and jaw dropping array of both marine animals and coral species. For the average human who appreciates a colourful fish, this place would seem delightful but to scuba divers, its pretty much mecca and truly, any scuba enthusiast should make a trip here in their lifetime; if only the once!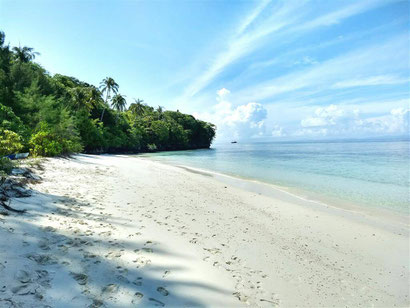 Now, its remote location makes it fairly tricky and due to mass tourism being non-existent here (so far), a visit to Raja Ampat is definitely not something done lightly.
For sure, the reason this part of the world is still so intact and immaculate is BECAUSE of its remote nature and lack of mega-resorts shipping in millions of tourists each year. This absolutely is a good thing for the eco-system and for the general tranquillity of it all; but it can come at a cost.
A quick search for a Raja Ampat adventure usually directs one immediately to a resort or a swanky liveaboard which, for two people sharing a room on a boat including diving, can be anywhere from £9,000....for a week! That doesn't even include the very long flights from the UK to the nearest airport, Sorong!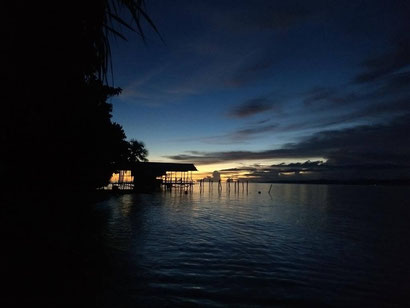 Not everybody can afford to spend £10,000 on a weeks holiday (we certainly can't anyhow!) so, with Raja Ampat being on our dream-dive wishlist for many many years, we decided that with a little research, a little grit, and a touch of flexibility when it comes to comfort, we should try to plan and execute a scuba diving adventure to this unique place while also being on a budget. Good news is? We succeeded!
We enjoyed an amazing trip and made some unforgettable memories while also not being independently wealthy! Hooray! 
We did this by not booking online with tour companies or third parties, we searched for cheaper flights, we stayed with locals at a homestay (sounds worse than it was) and dived with a fabulous little dive operator daily rather than pay for a liveaboard. So this article is going to break down the key elements that made our trip possible, and we certainly hope you find it useful :)
FLIGHTS
Without a doubt, the biggest single outlay for your own Raja Ampat trip will be the airfare! Its pretty much the furthest part of Indonesia before you reach Papua New Guinea so it should come as no surprise. 
The biggest piece of knowledge we can impart straight away is that the most affordable flights will definitely be ones you book yourself by scouring  skyscanner. A travel agent or holiday company like trailfinders etc will absolutely cost more...a LOT more. So honestly, don't even waste your time!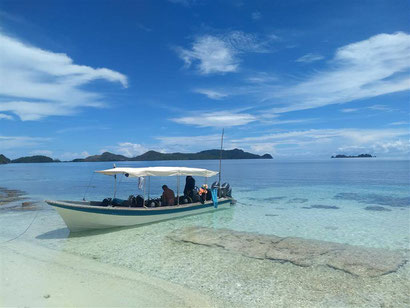 The best time to visit Raja Ampat is during the dry October-April period as, within reason, you wont get caught up in too many storms or bad weather this way. When searching for your flights, keep your mind and heart open to different options. We kept a notepad open to compare which month seemed best and April worked out very well indeed.
Another tip; Open up an incognito browser on your device; it sounds odd, but cookies track what flights you are looking at and if there is a sign that you are searching repeatedly for one specific route, then different price options will start to disappear on you.
Check which routes stop in more logical places for you. The cheapest flights often have inconvenient stopovers in multiple cities, but for us, this is just part of the adventure. As long as you're willing to sacrifice a little comfort, it can simply form part of your trip.
Just remember to account for the additional costs of being in airports for prolonged periods or having to stay in hotels in between changes of flights. It's all well and good finding a bargain flight, but if you are forced to spend 19 hours in Abu Dhabi airport or a night in Singapore (priciest part of South East Asia in our opinion), then you really need to cost it out a bit. Its stating the obvious really, but major layovers should be accounted for in your price comparisons.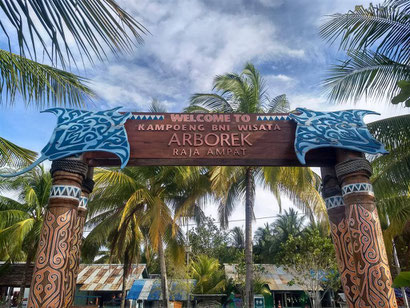 We were travelling from Oman anyway because of a different trip (read about that amazing country here) so flying via Jakarta worked out cheapest.
Our onward flight then took us from there to Makassar (in Sulawesi, Indonesia) and then on to Sorong which is the jumping off point for Raja Ampat.
Both Jakarta and Makassar airport have plenty of areas for lying down or sitting in cafes to pass the time and are fairly well connected when it comes to wifi. Sorong airport while very small, also happens to have a small enclosed lounge area which one can pay a few dollars to use and make use of the buffet/reclining seats in the air-conditioning.
This part is particularly important as, if for whatever reason ferries are delayed, you may have a lot of hours to burn. The flights back home were also booked via skyscanner but for us, the best price was to simply book several individual flights with different airlines.
We did not buy a 'return' ticket on this occasion as, the route back suited us better independently. Our flight took us from Sorong to Makassar, Makassar to Kuala lumpur, Kuala Lumpur to Abu Dhabi, Abu Dhabi to Dublin, Dublin to Manchester. Yeah, I know! All of these flights might seem ridiculous, but it honestly worked out  to be incredibly affordable. Less than £600 each in total.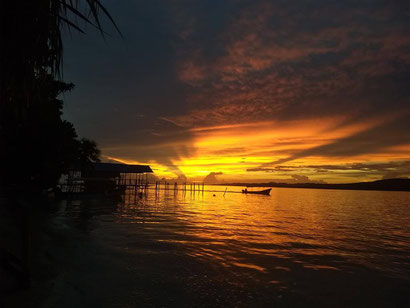 One last reminder on the subject of flights. By aiming for the cheaper journeys, one does have to remember that each flight may or may not have additional charges for larger bags etc, so one cost saving tip from us to you? TRAVEL LIGHT!
We took one carry-on each and shared one large backpack between two of us. This meant that additional bag costs were halved as we only had to pay for one of us.
Honestly, Raja Ampat is sooooo hot you do NOT need many clothes, and as you'll be on a budget, you certainly don't need any smart clothes or formal outfits, like we needed at the sublime and glorious Azura Benguerra, Mozambique.
If all this research sounds too much for you then chances are, you're not cut out for budget travel...simple :) One can always just throw money at a situation and make it easier/faster, but WHERE is the fun in that?!?!
LOGISTICS AND COSTS
That's a pretty fancy title for a brief mention of a speedboat and a supermarket, but hey, we couldn't think of anything else alright?
There are a couple of things to account for /save money on when it comes to arriving in Sorong. Its the main airport in this part of Indonesia and its a mere 15 minutes from the port where you'll take a boat to your desired island in the Raja Ampat archipelago.
Obviously, the liveaboard crowd usually get an airport transport directly to their hotel or jetty, but for those intrepid few, one needs to choose an island to head to and then figure out how to get there.
Its actually incredibly easy and requires minimal effort, but we'll tell you what we did and you can go from there. We chose the island of Kri as, it sounded as though it had the logistical links that we needed (place to sleep, diving, electricity...you know, the basics)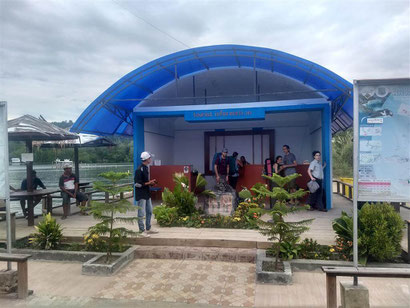 A taxi from Sorong airport to the ferry harbor cost us  IDR 150,000  so if you can, hook up with another traveller or two while you're waiting for your bags on the conveyor belt. This will save you money and you never know, you might make some new friends!
Once at the harbor, you simply need to buy your ticket for the ferry. Ferries to Waisai only leave twice each day, and both in the morning. The Belibis Express is a large ferry, with two classes of seat, standard and luxury. the costs are 100,000 IDR and 150,000 IDR. Both are safe and clean, just varying levels of air-conditioning. The journey from Sorong to Waisai takes two hours. We were lucky as seas were very calm, but you might be less lucky...take seasickness medication if you need to.
Once you arrive on Waisai (one of the larger islands of the archipelago) you need to head to the left where the official Raja Ampat office is. Here you will need to pay your marine park fee which goes toward keeping the islands patrolled and free of sneaky evil fishing boats. for a fee of 1,000,000 IDR you get a shiny credit-card type pass and this covers you for one year's access to the marine park. I doubt we will go back within a year, but if you lived in South East Asia or are travelling around for a while, you never know do you?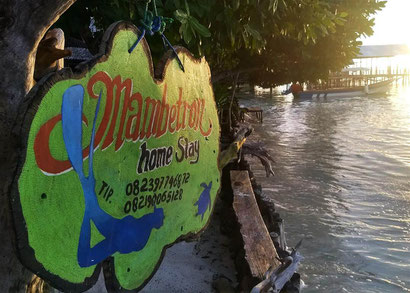 After this you will just need to hop on the boat to your accommodation which will need to be pre-arranged beforehand. This is very easy to do as, whoever you choose to stay with can arrange for a boat to collect you from the jetty just next to where you get your Marine park pass.
For the place we stayed (Mambetron Homestay on Pulau Mansuar) the cost was 700,000 IDR one way. Of course, if you're travelling with several other people, this is the fee for the entire boat which carries 4, which means you can split the cost making it even cheaper. The journey from Waisai jetty to Mambetron Homestay took less than one hour and was pretty plain sailing. This is where you get your first glimpse of just how stunningly beautiful this place is.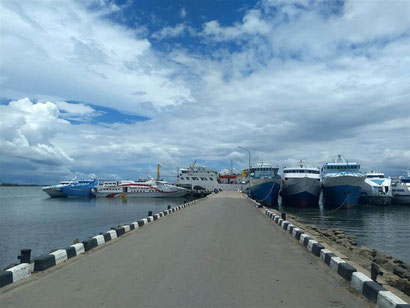 Quick backtrack; remember that where you are going there are no shops, no real access to supplies and there is generally only electricity for 8 hours of the day, so prepare well and make sure you're stocked up for however long you'll be there. The ideal option is to bring everything with you from home, but anything else you should pick up from Sorong  on your way from the airport to the harbor. You could ask your taxi driver for a quick  diversion to the johannes supermarket or Robinson shop in downtown Sorong. They are very well equipped with everything you might need.
WHERE TO STAY
We talked earlier about the liveaboard option and, we're fairly certain there are some amazing liveaboards where incredible experiences can be had, but for the purposes of this piece, we were going budget, and that meant staying on land and doing daily dive trips (being trapped on a boat for ten days actually makes us feel a little queasy anyhow).
Until a few years ago, Raja Ampat was truly only accessible by pricey liveaboard or 'eco-resorts' as they call themselves (The word eco gets thrown about an awful lot doesn't it?). However, once the Indonesian government started allowing locals to open guesthouses and homestays, a lot more options for the budget conscious started popping up. We chose Kri island (its connected to Pulau Mansuar by a small strip of sand at low tide) because of its accessibility from Waisai but also, as it had lots of sleeping options and dive outfits.
Booking.com has plenty of options, and most places seem to offer a 'full board' arrangement where as part of the cost, one gets unlimited tea, coffee and drinking water as well as three meals a day served in a communal dining room. 
It really is worth searching around to find a place that has good reviews and ticks your own boxes. For us, a double room facing some water was a must, as was the meal plan we mentioned. A bonus for us, was the option of wifi included (even if it was slow, it still worked and we were at the end of the world don't forget!).
The Mambetron Homestay is where we based ourselves for our stay. A double room with a fan and mosquito net was 700,000 IDR per night for two, and included wifi, three meals and a shared cold water shower and a shared toilet block. (listen, this is a budget trip, it was never going to be like the White Pearl!)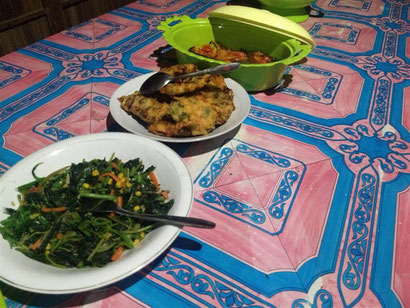 Its important to remember that these islands are very small, and have limited resources, so homestays like this one are as basic as they get.
Electricity for only about 8 hours overnight, a big tank of water and plastic cup to douse yourself  in is the shower, and the rooms though clean, are fairly exposed to the outside world. Sure, it was watertight, but the odd gecko, spider and jungle rat did make a guest appearance throughout our stay.
If it sounds like we are criticising the homestay, we are not. This is a remote place and the price reflects that. Besides, the moment that big shiny hotels pop up that use tons of concrete and offer guests aircon and hot power showers, is the moment (in our opinion) that Raja Ampat takes a turn for the worse.
The entire place will be destroyed by accommodations like that; not only because of pollution, but because of the masses of people that will flock to the archipelago due to the amenities available. The LAST thing Raja Ampat needs, is a repeat of the gili islands off the coast of Lombok. Huge infrastructure and luxury resorts meant a heap of tourists which bring with them garbage, loud music, over-fishing and general bad news for the appropriately nicknamed last paradise that is Raja Ampat.
SCUBA DIVING
The real reason anyone visits this part of the world, is for the scuba diving and having now seen it for our own eyes, we can absolutely say that it doesn't disappoint. We could not afford a liveaboard trip on this occasion which meant we needed to arrange diving with an operator independently.
Thankfully, this too is made incredibly easy thanks to the wonders of the internet. Many of the homestays/resorts on the island have a dive outfit so you wont find it difficult.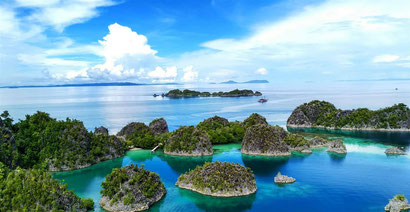 After a little research and review hunting, we found Soul Scuba Divers based on Kri island (walking distance from Mambetron Homestay at low tide). They are a relatively new operation but are already getting a fantastic reputation for running safe dive trips with small groups and fabulous service.
Yes, there are bigger dive shops out there, but we really like giving our business to the ones that put effort into the basics, such as responding to online enquiries. It always amazes us that dive businesses can be so dreadful at communication; I guess they're used to communicating with hand signals underwater!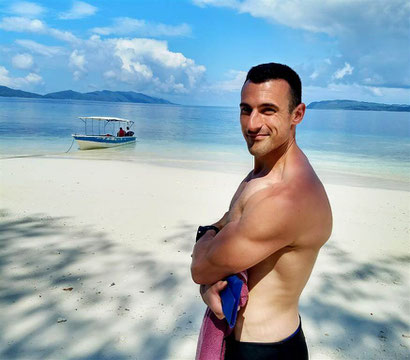 Not so with Soul Scuba. They're a fantastic operation and with such a personal service and small groups, we were sometimes diving on a reef with just us three divers and a guide. One of our night dives was an hour and a half long!
Thats the joy of choosing a little operation like this; if you and your buddy have great air consumption (we ARE both scuba instructors after-all), you have nice long dives, its as simple as that.
Soul Scuba comes highly recommended by us, and their website has all the relevant info you need. In regards to pricing, a single dive (using their equipment) costs less than $50 but the more dives you do, the cheaper it works out as.
This is not the cheapest scuba diving we've ever done, but nor is it the most expensive (read about the spectacular budget trip we did to the Galapagos here). Needless to say, it was worth every penny.
This article has been a very fact and figure laden piece (which was the intention) but if we are going to talk about our time in Raja Ampat, it was unforgettable.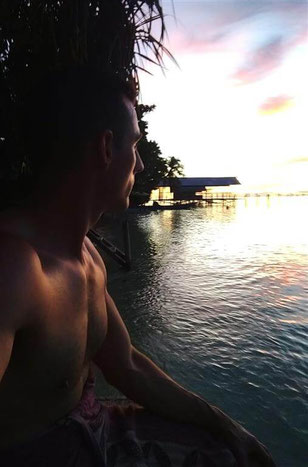 The scenery alone is worth a visit and the Piaynemo trip that Soul Scuba can arrange for you is breathtaking in its beauty frankly. The coral reefs are, without a shadow of a doubt, the healthiest, most colourful and most biologically diverse reefs we have ever witnessed, and with over 2,000 dives under our weight belts, that's definitely a bold statement; but a true one nonetheless! 
We didn't even do 20 dives (as is the case with several liveaboard options) but we saw turtles, sharks, rays,pygmy seahorse, barracuda, Napoleon wrasse, wobbegong sharks, frogfish, oceanic white tips, and ALL the usual reef dwellers. We are not photographers ourselves, but we can see that Raja Ampat would be a living DREAM for underwater photo clickers. 
We definitely felt that our little adventure to this part of the planet was worth every penny and, with a little flexibility and a bit of research, it was all done for a fraction of the cost of what it can do if one books through a middle man or agent.
Sure, you have the security of knowing that somebody else has done the leg work for you, but for us, one of the biggest joys in the lead up to our trips IS the planning and logistics part! its what keeps us going when normal life is hard going at times, or that extra overtime at work is wearing us both out.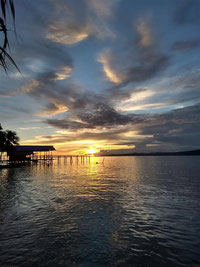 There are about 16 million things written online about Raja Ampat and a lot of them are littered with  hyperbole about fish and marine life and astounding encounters with manta rays etc etc. This may all be true, which is absolutely fine, but what we would say is that Raja Ampat as it is right now, may not be around forever.
Year on year, we put off our trip because of other priorities or wanting to visit other places. But one day we just decided to take the plunge, spend a bit of money and get it done. Sure, we did it on a budget, and maybe you can benefit from our experience. But we are absolutely glad we finally got there; it was worth the planning, and it was most definitely worth the adventure!
---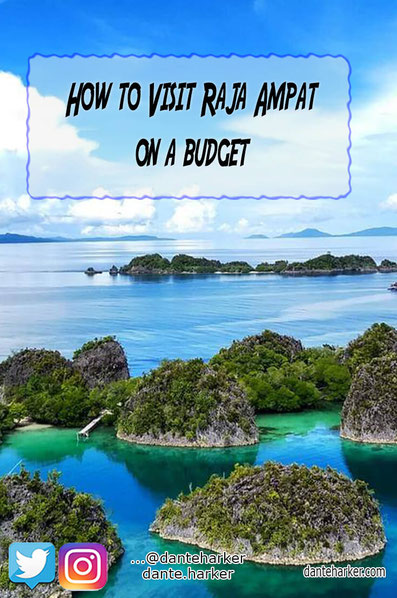 If you liked this article, why not Pin It 
---