---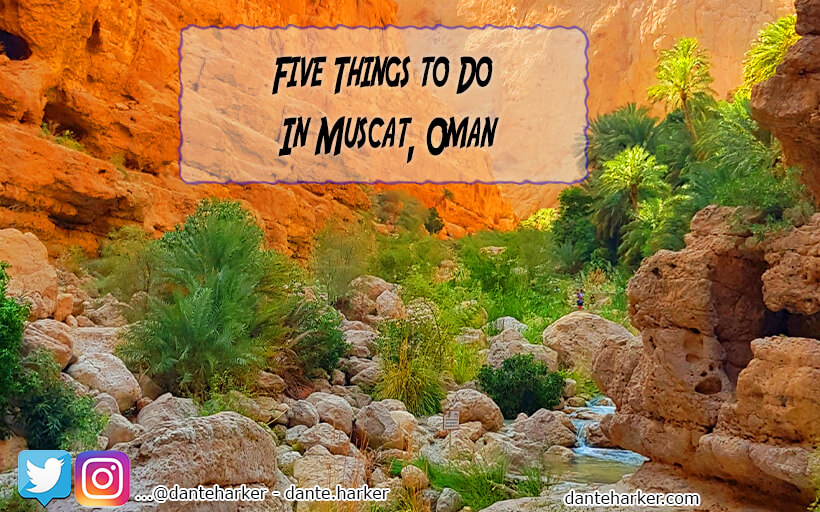 Last year, it felt like everywhere I looked on social media, there was a grinning tourist in a rooftop pool in Dubai! Now, we have nothing at all against Dubai itself, but lets not forget people, that the entire place was literally built from the ground up in the 1970s.
Until oil was discovered in 1966, Dubai's entire economy relied on fishing and a declining pearl industry and as far as history and natural wonders go, there are so many places elsewhere in the region that offer more; one such gem is Oman!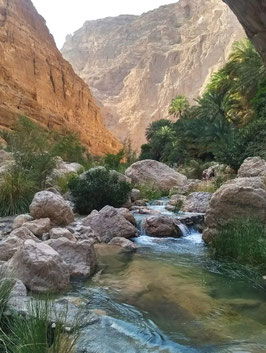 To put this into context, we really wanted to start exploring more of the middle east so set about researching.
The figures and tourist numbers are astounding; for example, in 2018, almost 16 million tourists visited Dubai. The same year in Oman, only 260,000 visitors were registered! This to us, is fabulous news when researching somewhere to get slightly off the beaten track.
Nobody wants to be part of a giant train of gawping foreigners getting in the way and generally messing the place up, so Oman seemed like the perfect next destination.

But before you worry that this is going to be one giant essay on how great Oman is, we've decided that a nice concise list of our top five activities would be far more digestible.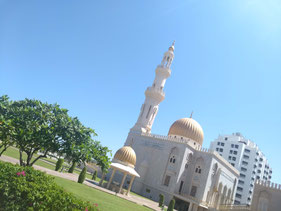 Of course, there are many other ways to pass the time in this beautiful part of the world, but hey, we only had four days ok?! Lay off us!
So, five fantastic reasons to visit Muscat, Oman...
1. Indulge in Omani and Middle Eastern food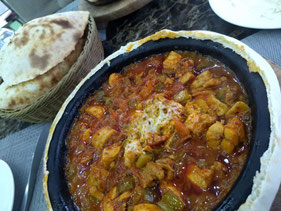 This goes without saying really, but there is a wealth of fabulous foods that originate here and, due to the diverse influences and a growing middle class, there just so happens to be some excellent eating options in Muscat itself.
Establishments range from fine dining in one of the many swish hotels that have popped up in the past few years, right down to the very basic diners that cater to the thousands of immigrant workers that keep Oman's economy afloat with their work ethic.
Omani food might rely quite heavily on meat for the mains like in the classic rice dish, Majboos or Shuwa(sorry vegetarians and vegans) but there is also a variety of delicious breads; not to mention the mouth-watering ingredients that Omanis have at their fingertips due to the country's geographical location.

Oman produces the richest, most juicy dates imaginable and they're used not only in savoury ways, but also form the basis of Oman's amazing concept of hospitality. A guest in an Omani home or hotel will often be greeted with the finest dates as well as the Omani equivalent of coffee, Kahwa. Without a doubt, a trip to Muscat, Oman HAS to include some fine eating.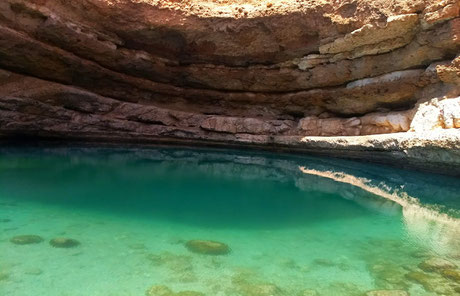 2. Bimmah sinkhole

This is one of those 'natural wonders' that the few tourists that visit, are shuttled to. Essentially, its a big hole in the ground that is filled with H2O, but its actually a lot more about the journey there and the welcome opportunity to cool off in the water; Oman gets VERY hot, just incase you didn't know.
The sinkhole is easily accessed by road and is particularly good if seen in the middle of the day when the sun burns through any clouds and shows off the stunning turquiose hue of the water.
Indeed, its perfectly acceptable to go for a dip in the sinkhole but do remember that Oman, while increasingly more open and liberal, is still a Muslim country so women should wear modest swimsuits and as for the men? no budgie smugglers please (to be honest, they should be illegal in all situations!)

We don't often get overwhelmed by things like this, but the scenery on the drive there, the beautiful photo opportunities and the fact that its totally free to visit, make the Bimmah Sinkhole certainly worth tagging onto an already existing road trip, which is precisely what we did!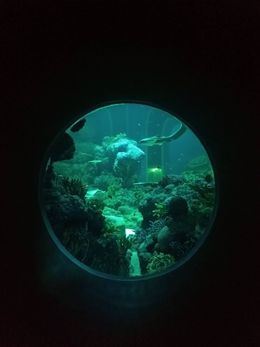 3. Oman Aquarium
Located in the super fancy new mall of Muscat, the Oman aquarium is apparently the biggest in the Middle east! Its true, it says it on the literature!
If you're an ocean buff (or nerds like we are) then the brand spanking new aquarium is a fabulous activity to do if its hot and rainy outdoors or, just hot and scorchingly sunny!
With the very best new facilities and an enormous central tank housing sharks, rays and lots of reef fish, the aquarium is a delight to wander through.
We were lucky enough to get invited to opening night in which every citizen in Oman appears to have turned up, but it still didn't feel too cramped.
Apart from the Haus Des Meeres in Vienna (which you can read about here) its one of the nicest fish-themed afternoons one could hope for. Oh, and Georgia aquarium, in Atlanta... THAT is spectacular! But yes, in Muscat, you can do worse than make a visit to the mall and visit this great new venture.
Besides, the gift shop is very well stocked with ocean-themed gifts and cuddly toys (always our favourite element of a zoo) and theres an onsite Starbucks built into the aquarium tanks which yes, overlooks the entire cafe so you get to watch fish swim by as you sip your Americano. Highly recommended.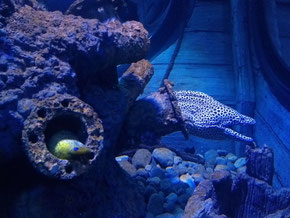 4. Scuba dive the Oman Marine park

Setting a fantastic example to the rest of the Middle East, Oman established a marine park just off its coast way back in the 1990s.
This means that the scuba diving is way better than you might expect! With year round warm water and fairly good visibility , its an emerging dive destination that deserves a lot more credit than it currently gets; this is in large part down to the lack of tourism however.

With so few visitors each year, Oman has struggled to grow tourism-wise at the same rate as nearby Dubai but the diving here is regarded as the best in the region. From wall diving to caves, and small wrecks to shallow reefs there is a little bit of everything to enjoy.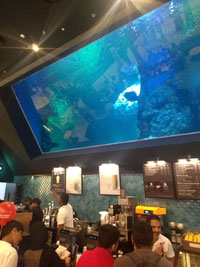 Yes, the literature brags about sightings of manta rays, whale sharks and even sperm whales (???!?!) but don't let that fool you; even if the big ticket marine animals don't show up, there is certainly enough to enjoy. 
Not least of course because of the lack of massive groups. These waters are not plied by 17 liveaboard vessels or hundreds of dive boats from Muscat itself. Its still a low-key destination for scuba which joyfully, still makes for intimate dive adventures and bespoke itineraries without too much of a hefty price tag. 
One things for absolute definite; if you plan to visit Oman and you happen to be a diver or even simply want to give it a go, it makes for a fantastic way to spend a day or even, if you're feeling flush, booking a liveaboard dive trip to truly immerse yourself in the underwater marvels that Oman has to offer.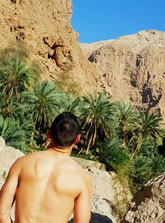 5. Wadi Shab

For sure the best part of our little Muscat trip was the drive and then hike, to the stunning Wadi Shab, just two hours from Muscat itself.
The Wadi is an oasis of sorts that winds its way from the impressive mountains down to the sea. An hour-long hike from the beginning of the oasis (sometimes requiring a short boat to cross the river), its an incredible area of natural beauty.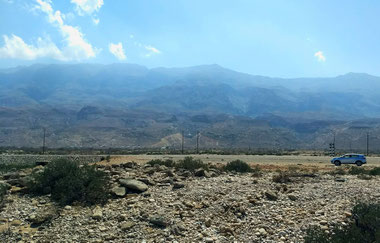 From the gorgeously carved rock face to the shades of amber and red that the canyon shows off throughout the day depending on the light, it makes for an immensely enjoyable daytrip from Muscat.
Parts of the hike are definitely a challenge and again, depending on rainfall, there are at least 8 portions of the hike where one is forced to wade through water that can be up to knee height. Just saying.

Nonetheless, its worth every moment. In an area that seems incredibly dry and relatively 'barren' Wadi Shab is filled with all manner of tropical palms, reeds, greenery and plants in general.
When one pictures an oasis in the desert, it isn't far off from this place visually. More enormous boulders here though and, the reward at the end of a sweaty hike is a variety of swimming areas nestled in the steep mountain canyon.
The water is refreshingly cold (well, it is rainwater after all) and the greenery all around creates a real sense of tranquility; even if there are other adventurers dotted about or families out for a picnic at the wadi.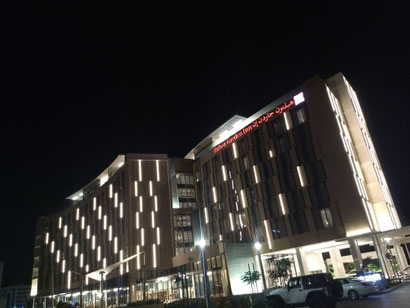 We are not often tempted to take our shirts off in public and be seen in swimming shorts, but the Wadi water is just so inviting!
Whats more, the entry fee to the Wadi is only the cost of the boat ride across! It seems crazy to people like us as, we are used to paying through the nose for attractions back in the UK, but yes, its essentially free to visit.
Naturally, as tourist numbers increase, we highly doubt that Wadi Shab will remain such a cost effective and wonderful destination, but for now, its the top of our 'must visit' list for Oman.

So there you have it! Five reasons why Oman should probably feature in your next 'hmmmmm, where shall we go this summer for an adventure' list.
We didn't even TOUCH on the appeal of the national parks and mountain ranges, not to mention the cultural highlights to be enjoyed such as the grand mosque and various museums in Muscat itself!

Alas, there are only so many hours in a day and one has to prioritise what one wants to get out of a trip.
For us, we always want a sense of slightly untouched, we frequently look for natural rather than man-made wonders and, we always enjoy a good food scene so frankly, Oman was the ideal choice on this occasion.
It doesn't take a rocket scientist to realise that it will not be 'quiet' for long as, the ministry of Tourism has big plans for the future. We're just glad we were able to visit at this point, and we highly recommend you do the same...the wonders of Oman await.
---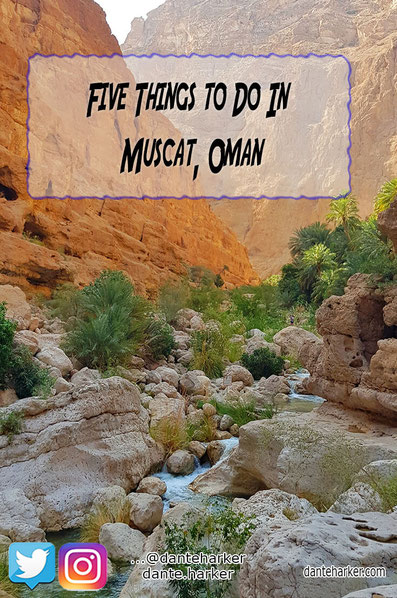 If you like this post, why not Pin it and Share it with Others.
---