---
Millions of tourists visit Turkey every year. While many people are returning to Turkey to continue their own adventure of discovery, many are coming for the first time. Perhaps you are one of the first timers or maybe you plan to explore to a new area of this amazing country. There is always something new to try, whether it is an experience different from the typical tourist destinations, or if it is a well-known excursion such as blue cruising along the Mediterranean coastline.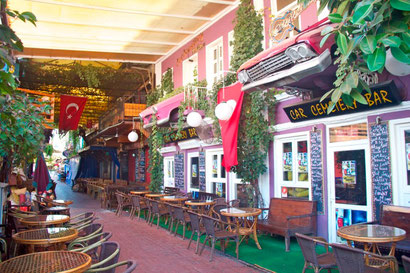 Turkish Sweets 
No matter where you come from in the world there are always traditional recipes to be found. This means no matter where you go on holiday there is always something new to try. Some foods can be completely out of most people's comfort zone and some foods have amazing flavours that surprisingly go very well together. A country the tries unusual combinations of flavours to create wonderful foods is Turkey. While their main meals may be filled with flavour and they may not be thought of as unusual, their desserts are where the special combinations show their true colours 
One dessert that people who do not come from Turkey find strange is Kunefe. Kunefe is made from shredded dough placed in two layers on the top and bottom of a soft cheese. This cheese usually comes from the city of Urfa and is one of the most popular to use. After this layered dessert is placed into a shallow traditional metal dish and baked with a sugar syrup in the oven. When hot it is served fresh with optional pistachios or walnuts on top. 
Fethiye
The harbour town of Fethiye offers different activities to do during your stay in Turkey. While the town itself has plenty to do, there is also the beach of Oludeniz just a short journey away. Oludeniz is one of the most photographed destinations and commonly used as advertising for travel in Turkey.
The town of Fethiye is a wonderful example of how well tradition can mix with modern tourism and not ruin the collective atmosphere. The streets of the Paspatur are known as the  "old town" as it is home to some of the oldest Turkish buildings in central Fethiye. These narrow streets offer handmade gifts of all types, from rugs to delicate carved pipes, all situated under the growing trees that locals maintain to offer shade from the warm Turkish sun. 
---
---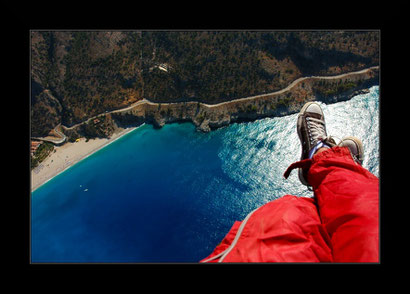 Paragliding
When people go on holiday, they often do not consider partaking in extreme sport activities. However, in Turkey there has become a large following for paragliding from the top of the local mountain known as  Babadag. The journey to the top of the mountain is full of spectacular views of the valley areas of Hisaronu and Ovacik peeking between the wild pine trees. Once at the top there is a unforgettable view of the Aegean Sea. From here the pilot will run with you down a specially made slope to take off over the pine forests the mantle the mountain. As the flight heads over the resort town of Oludeniz, you can enjoy the warm sun and take in the staggering views of the area. 
The end of the flight concludes with a landing right on the beachfront of Oludeniz where most people have family or friends waiting at the bottom with a celebratory drink after taking on such a daring experience. 
Sultanahmet and TheBlue Mosque 
Six minarets proudly pierce the landscape of Istanbul's old city of Sultanahmet district. This prominent building is the Blue Mosque, Sultan Ahmet Camii. This Ottoman Mosque was built by Ahmed I. The mosque was built to be fully working, which it remains today, but to also reassert Ottoman lifestyle after the defeat of the Persians. 
This mosque is one of the most ornate to be built with six minarets, five main domes, and eight secondary domes. The inside is decorated with 20,000 traditional hand painted tiles from the town of Iznik. The windows have been replaced with modern glass but originally, decorative coloured glass gifted from Signoria of Venice filled these windows. All around the mosque are richly decorated areas but none comparing to the pulpit, or minbu, which stands out amongst the beauty of the mosque. 
No description can really do this masterpiece of religious belief justice, so it should be visited at least once in  lifetime. Remember though, this mosque is still a fully functioning place of worship meaning unless you are there to pray also it will be closed during the five times of prayer that the Islamic faith follows. 
Hamam aka Turkish baths
Since Roman times when public baths become popular, tourists have wanted to pamper themselves. In Turkey there is a way of relaxing and feeling refreshed that is very unique. Turkish baths or hamam starts with a full body scrub using frothy soap to cover your body, these bubbles slowly pop as a trained person scrubs your body with a traditional glove to clean all dead skin to leave you feeling fresh. After you have been scrubbed it is time to be rinsed off with warm water to wash away any soap that might be remaining. This whole experience takes place in a traditional hot room, the room is marble lined with many taps for washing with a decorated marble section in the centre for the professionals to work on customers. 
While traditionally this would have been the end of the experience, and for many this is perfect, in contemporary hamams other types of spa treatments have been added. After a full body clean it has been recommended to have a full body massage leaving you feeling clean and relaxed. 
---
---
---
---
Did you like this? Want to read more just like it? Well subscribe to our newsletter;
(Don't worry, we won't be spamming your email every day! Just high quality travel updates, tips and stories every month or so...go on, sign up)
---