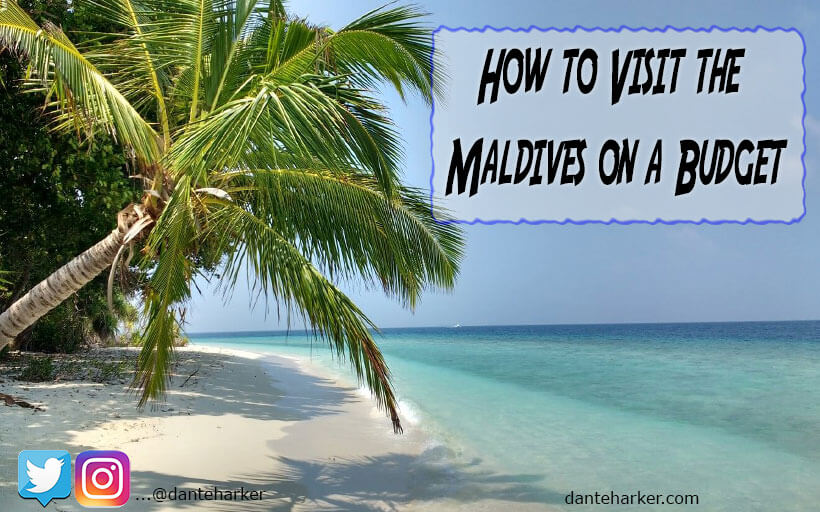 ---
Let's be truthful, when we think about a beach holiday of some kind, there are a few factors that are absolutely necessary. First, there should be clear blue skies and hot sunny days. Second, a fair amount of azure water should be present. Finally, a good portion of powdery sand should be available to all parties.
For years, the Maldives have inspired many a desktop screensaver with it offering all of the above. However, it's also true that the famous Maldives has also been available to only the select few.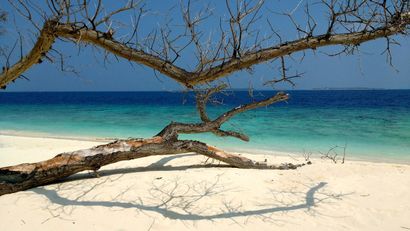 How to Visit the Maldives on a Budget
Until now that is! With a new law passed in 2009, Maldivian locals were suddenly allowed to become proprietors of guesthouses and hotels in this island nation.
With the cost of your average Maldives holiday reaching into the thousands, it was a welcome change for not only local business people, but also, for the tourists among us that wanted a slice of Maldives paradise whilst not being particularly wealthy.
With that in mind, armed with some savings, some determination and a handy notebook to record all our information, we set about our Maldives holiday on a budget and below, we've put together our tips and hints for how you too can enjoy this stunning place, without saving for months and months on end!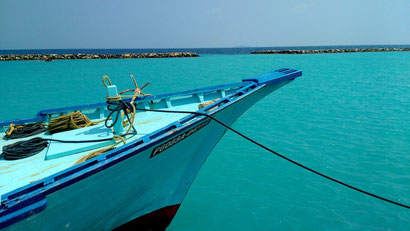 NOTE: We travelled in February 2017, but had bought our flights the previous August. We travelled as a couple but where possible we list prices per person. Finally, this trip was meant to be a fantastic way to see this part of the world. No private bungalows on stilts or 24 hour butlers at your service (read about that here).
However, we had a gorgeous time and really got a feel for the Maldives that has, until now, been really difficult to see. Also, prices are in Maldivian Ruffiya (MVR) or US Dollar ($)
---
---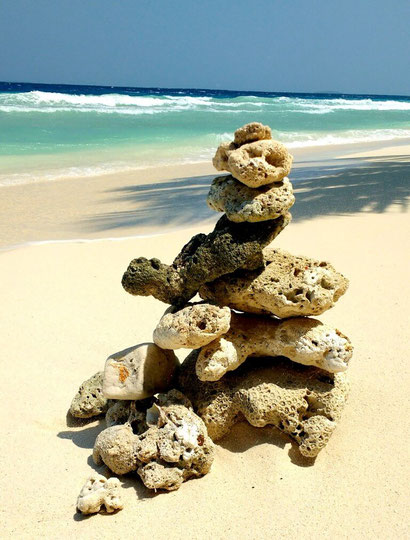 Step one: Book your flights
There are of course a million ways to book flights these days, but we were after the very best deal for our Dollar, as, the Maldives was just one part of a larger trip (read more about that here).
Anyway, Skyscanner is always our website of choice as, it gathers together most of the major airlines. Remember that it really pays to be flexible with your plans. It may seem inconvenient to fly in a haphazard direction, or even, have a long wait in an airport.
But more often than not, you'll be rewarded with cash savings.

We happened to be departing from Johannesburg which isn't all that connected to the Maldives. However by searching around, we found that Cathay Pacific has incredibly good value flights from Joburg to the Maldives via Hong Kong. This did mean a heck of a long flight, but it also gave us an 8 hour layover in Hong Kong!
This is a city we had never been to and, with an amazing public transport system in Hong Kong, it's super easy to leave the airport and be a tourist for the day; they even have a special 'transit tourist' visa for this very reason. (it's totally free for UK citizens by the way)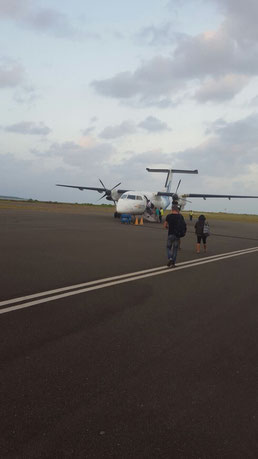 Flights to the Maldives
The flight from Johannesburg to Male (the capital city of the Maldives) cost us less than $300 each.
As for leaving the Maldives, we wanted to arrive somewhere in India and for the fantastic price of only $80 each, Spicejet took us from Male to Kochi (in Kerala).
Spicejet doesn't always appear on the comparison sites, so be sure to check their site independently.
Naturally, if you're just on holiday and want a nice easy return flight to your home country, you may get an even better deal. We've seen return flights from London to the Maldives for under $500 per person .
Step two: Choosing a place to stay
Now, we've all seen the inspirational memes featuring those pretty bungalows on stilts. Indeed, they are incredibly beautiful to look at and stay in; however, with prices starting at $200 per night (that's for the shoddiest version) right up to $10,000 per night, these places are not for the budget conscious.
Far more affordable and interesting is a guesthouse owned and run by a local Maldivian. Not only do you get to experience actual island life with real human beings, but you also have a lot more freedom to walk about and explore. (Those luxurious sandbar resorts feel pretty isolated at times).

We decided to base ourselves on the island closest to the famed Hanifaru Bay. Between May and October each year, hundreds of Manta rays congregate in the bay to feed.
It's an amazing spectacle, and for some, swimming with these beauties is the highlight of their Maldives trip.
---
---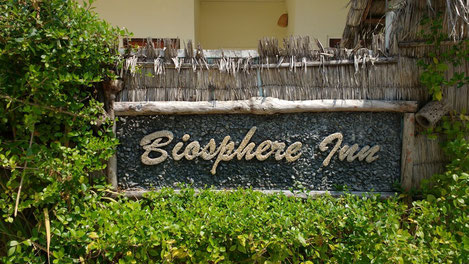 Dharavandhoo Island in the Maldives
Dharavandhoo island is a mere 1.5 KM long and has a population of less than a thousand people. It has a school, two mosques, a very small airport and plenty of accommodation options.
It also happens to be extraordinarily beautiful in parts and really was a special place to stay. For us, the best option was the Biosphere Inn on Dharavandhoo.
They have good reviews and a nice online presence too (this is really important as, who wants to rock up to a place and end up on a mattress on the floor in a concrete cell?)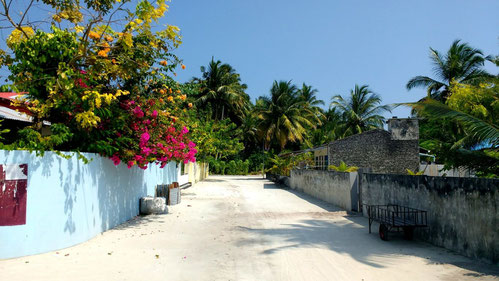 Open for a few years, it's a converted family home run by the wonderfully friendly Ahmed. This Guesthouse is his baby and a lot of love and care has gone into making the place welcoming.
It's a very new guesthouse, with clean new rooms and bathrooms not to mention, a cute little outdoor space at the front and back to while away your afternoons.
Obviously, depending on the season, rates can change, but for the princely sum of only $105 per night, you get a double room for two people, air-conditioning, plus three meals a day cooked by the talented team at Biosphere.
Even better than this, is the fantastically affordable packages Ahmed has on his website!

You can easily pay less and self-cater, and further down this article, you'll see a rough list of prices in the local shops.
However, it is worth noting that with very few restaurants on the island and limited shops selling produce, if you self-cater, the chances are you will spend more and eat less well (if that makes sense). Better to just arrange a full-board basis with Ahmed and let someone else cook for you.
The Biosphere Inn only has a handful of rooms, so retains a real charm to it. Not to mention, the staff are incredibly helpful and will assist with anything you need whether its boat tickets, flights, snorkelling trips, diving or day trips to that famous Manta Ray site. Check out the website for the Biosphere Inn here, and to check for availability, click on the link below.
Step three: Enjoy yourself!
Yes, that's right, now that you're actually on a beautiful island in the Maldives, you can start to unwind and slip into island life. This can be done in many ways.
As we said, you can arrange all manner of fun activities with the Biosphere Inn, but there was one big reason we came to the Maldives, and that was for the Scuba Diving.
Now, when booking an online package or liveaboard trip in the Maldives, it's so easy to end up over-paying. The best way to do it on a budget is to contact a dive shop directly via email and simply dive and pay when you arrive.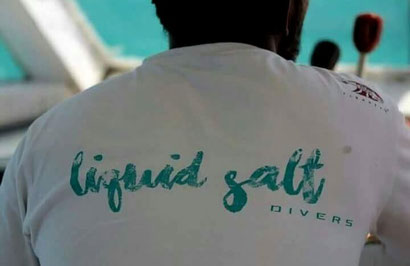 Liquid Salt Divers gave us the best quote and were also the friendliest communication-wise, so we'd highly recommend them.
If, like us, you are travelling with zero dive equipment, then a full set of gear and everything you need for a dive will set you back less than $80 per person for one dive, however, as with all things, the more you book, the better price you will get.
Liquid Salt Divers Dharavandhoo

The guys at Liquid Salt Divers based on Dharavandhoo, did not disappoint. Their boat is in excellent condition, the gear was great too. Apart from that, it's also a nice, vibrant young team made up of Maldivians that have been diving these waters for years.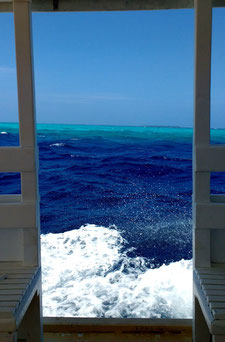 The diving is even better May to October because of sightings of Mantas and Whale Sharks however, even in February, there was a lot to see. The visibility is often 20 metres plus in the Maldives, and all manner of gorgeous aquatic life will be ready to entertain you. Not to mention, some stunning underwater formations and dazzling soft corals; it really is worth the money!
Liquid Salt Divers can also arrange trips to Hanifaru bay (in season) as well as all the standard Padi diving courses.
I can't think of a better place to learn to scuba dive than the Maldives! You can get in touch with Liquid Salt Divers here, or have a look at their Facebook page here.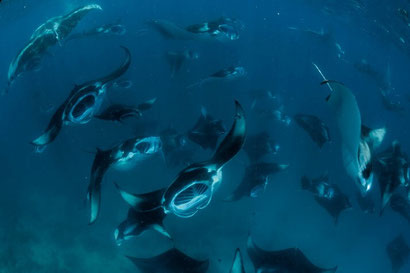 Step four: budget Maldives

So, we've told you all the basics of where to stay and where to dive, but as for the rest, we thought we'd compile a list of basic costs for our little adventure in the Maldives.
When we were planning our vacation, we found it really difficult to get specific costs to budget for, so take a look at the list below, and hopefully, it will help you plan your very own amazing experience in this beautiful part of the world!
Side Note: As of May 2017, 10 MVR was £0.50 in UK pounds
Click here for our hints and tips on how to save for travel!

NOTE: The prices are all listed in MVR and were the costs on Dharavandhoo, so a fraction higher than on the main island of Male.
1 x double room (full board) for two people 1,500 MVR
1  x Public ferry from Male airport to Male Jetty 10 MVR
1 x ticket on public speedboat ferry Male to Dharavandhoo  600 MVR
1 x large bag of laundry 300 MVR
1  large bottle of water 10 MVR
1 x can of coke 12 MVR
1 x packet of instant noodles 10 MVR
1 x packet of biscuits 15 MVR
1 x jar of peanut butter 40 MVR
1 x can of tuna 15 MVR
1 x banana milkshake in Happy Bunny Café 35 MVR
1 x cheese pizza in Happy Bunny Café 140 MVR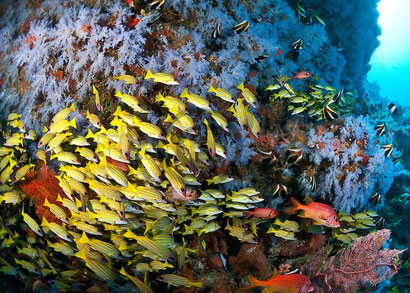 JUST A FEW HELPFUL NOTES FOR YOU
1) Bear in mind that Dharavandhoo is a local island and therefore, respect the customs at all times. Unless on one of the specific 'bikini beaches' on the island, it's important to dress respectfully in the main town area; i.e. no shirtless men, and ladies must not wear bikinis.
There is one 'bikini beach' on the island and that's where foreigners can go to frolic in the waves and show a bit of skin. However, absolutely ZERO topless sunbathing for the ladies is allowed.
2) The island does have a mosque, and the call to prayer does happen a few times a day, however, at the Biosphere Inn, there's plenty of sound proofing so we didn't hear the call to prayer even once in our 7 night stay.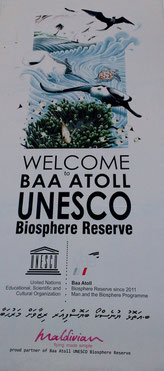 3) As the Maldives is a Muslim nation, alcohol is strictly prohibited. You shouldn't bring any into the country on a plane either.
Obviously, if you stay at the Four Seasons or Amari, there will be alcohol on tap (that's why you pay so much), but for a budget Maldives experience, stay on a local island and remain tee-total. Your liver will probably thank you!
4) The Maldives is a series of low lying islands and atolls so weather can be really unpredictable. We got the 1.5 hour speedboat from Male to Dharavandhoo, and planned to get the same one back at the end of our stay.
However, a storm at sea meant that the ferries were not running.  Thankfully, there is an airport on Dharavandhoo , so our Guesthouse was able to book the 20 minute flight back to Male for us.
This cost us 1,000 MVR each. Not ideal, but its best to budget for it in the event the ferries are cancelled on the day you plan to leave.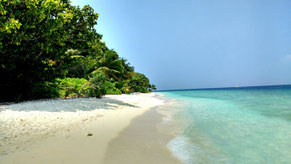 We hope you enjoyed this article and found it useful? Share it on Facebook and Twitter if there's someone you know who is thinking about a Maldives trip.
Have you been to the Maldives on an even tighter budget? We'd love to hear from you. Get in touch below.


---
---
---
If you like this post then why not pin it?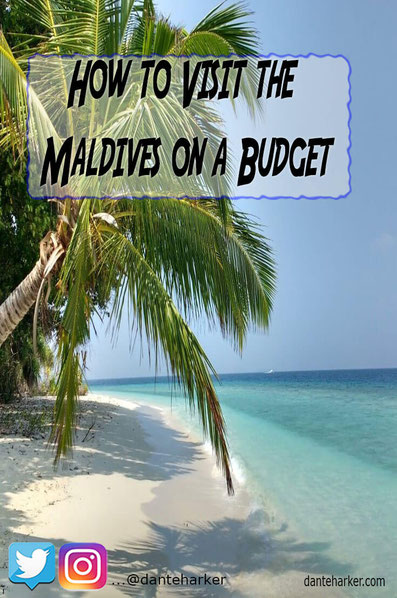 ---
Did you like this? Want to read more just like it? Well subscribe to our newsletter;
(Don't worry, we won't be spamming your email every day! Just high quality travel updates, tips and stories every month or so...go on, sign up)
---