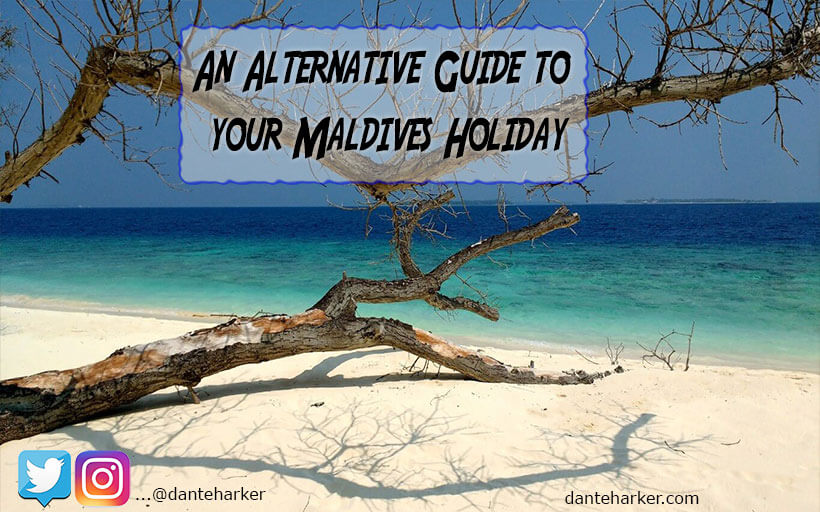 ---
Often, when we think of the Maldives, we picture azure seas lapping fine white sand. We occasionally think of those pointy elegant bungalows sitting proudly on stilts above calm clear waters. The Maldives is also synonymous with a special kind of hospitality; that of 'barefoot luxury'.
Tourists, honeymooners and well-healed holidaymakers have been visiting the Maldives for a long time, and to cater for an ever more discerning crowd of visitors, refined places to stay have been popping up all over the archipelago.
But apart from lounging on a sunbed and eating fine food, do these places actually offer anything for the soul? Yes, having a private plunge pool overlooking the ocean is the stuff dreams are made of; but what about the next day? And the day after that?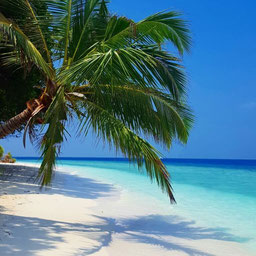 Alternative Maldives Holiday
For us, the challenge was to have an alternative Maldives holiday and to discover a new way to enjoy this beautiful corner of the ocean.
We indulged in fine food and had our very own private butler in Mozambique (you can read about that here) and while it was jaw dropping to experience, for the Maldives, we wanted to have a holiday that offered something different from the expected.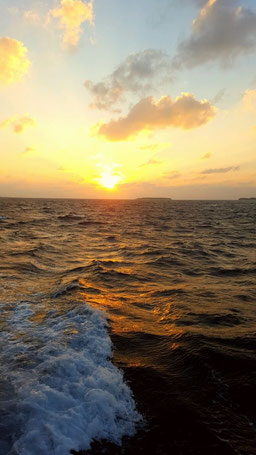 Thankfully, it was not difficult at all. A new law passed in 2009 means that local people are now permitted to own and run guesthouses, which has meant that a bunch of colourful, interesting homestay options have popped up all over the Maldives.
More than just a Luxury Holiday
Rather than an isolated luxury holiday with very little to do, we decided to throw ourselves into the actual culture of these islands and see if we could have an alternative Maldives adventure.

Often overlooked and seen by some as 'grubby' or 'dirty', Male, the capital of the country, is actually a buzzing and slightly frenetic, but always interesting place to be.
I think a lot of the bad press that Male receives is simply due to the fact that tourists arrive off the plane and expect to be greeted by that postcard image of the Maldives they have in their head. It's a little naive to have such an expectation if I'm honest.
---
---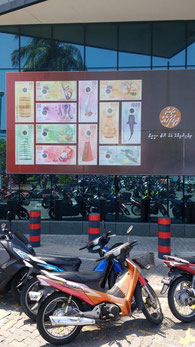 Male has a lot going for it especially if you're a bit tired from all the days of quiet and doing not much.
Things to do in Male, the Maldives
It's Muslim faith is everywhere to be seen, from the elegantly dressed women, to the call to prayer echoing across the city a few times a day. Motorbikes weave in and out of pedestrians and shopkeepers go about their business totally undisturbed by the handful of foreigners wandering around.
Affordable places to eat dot the streets and little shops selling snack foods and drinks are every few metres.
Groups of kids gather at the school entrances and are easily tempted by ice-cream salesmen looking to capitalise on the hot weather. Male is a place that feels really 'alive', which, for us anyway, is welcome change from all the luxurious lounging about we've been doing on our trip thus far.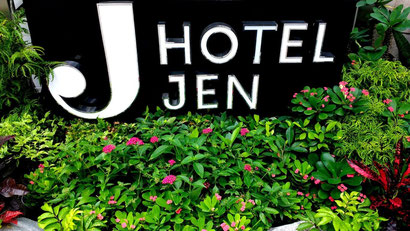 Our stay at Hotel Jen, Male, the Maldives
For a place to stay, we chose the funky, hip and modern Hotel Jen which lies only a few feet from the main jetties.
Part of the Shangri-la group, Jen is a new concept brand that aims to 'leave boring behind' (as their clever hashtag campaign goes). Looking for an interesting and unique way to enjoy the Maldives, staying at Jen made perfect sense.
From its tongue in cheek 'selfie with Jen' bed pillows to the super modern restaurant and bar overlooking the city and the water beyond, Jen was a pleasant surprise to us.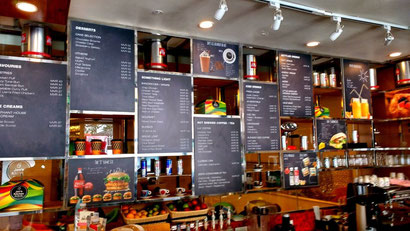 After all, being people who generally enjoy a city more than a beach, we are always on the look-out for a fresh take on a place.
Read all about our amazing city break in Vienna here!
Hotel Jen has nailed this with its very own app (that's right, an app) which aims to not only 'leave boring behind' but also, help tourists discover local tips and places to go.
On our first night, we used the app to find the best sunset spot and on our second, we discovered a quaint little Thai place to satisfy our cravings for Asian food.

Naturally, after weeks on the road and far too much food eaten, we had the opportunity to have a few solid workouts in Jen's gym followed by a cleansing juice by the rooftop pool. Well, why not? It's not every day you get to see sunset in the capital city of the Maldives right?
---
---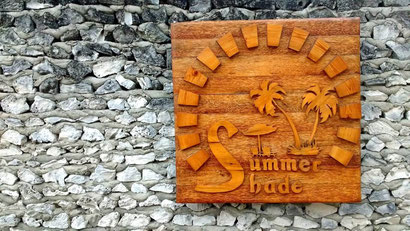 Where to Stay in the Maldives
Alas, city life must always end, and the true purpose to our Maldives visit was to get out to an island and see one of those famous Maldivian beaches.
It didn't take long to decide upon Dharavandhoo island and the Summer shade Inn. Every year May to October, hundreds of giant manta rays migrate to Hanifaru bay, which is just a few minutes from Dharavandhoo by speedboat.

Part of the reason for choosing a local island rather than a swish resort on stilts does come from budget, yes.
However, it's not just that. Speaking from experience, there have been times in the past when, having been marooned on a desert island 'paradise', I have come very close to losing my mind. The notion of being in a bungalow over some water for seven days straight, with nowhere to go except the dining room, filled me with dread.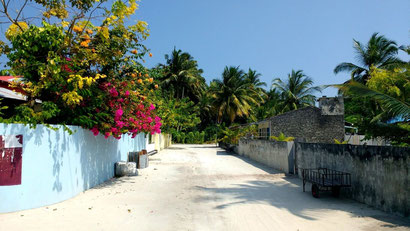 Dharavandhoo Island, the Maldives
So, lovely little Dharavandhoo it was. Being less than two kilometres long and having a population of less than 1,000, its remarkably quaint and hassle free.
The streets empty in the scorching heat of midday and palm trees sway in the breeze. A forest covers the central part of the island and jungle is met on the shore by the clear waters.
The island itself is exactly what we needed after the craziness of East Africa. Locals are friendly without being intrusive and in the evenings, as fishing boats return to shore, enormous fruit bats soar overhead.
It's actually a very romantic place to be. But then, that's hardly surprising given the Maldives' reputation as the number one Honeymoon destination.
Our stay at the Summer Shade Inn, Dharavandhoo island, the Maldives
By choosing to stay at a local-run place like Summer shade, it feels like you get a nice little insight into this brand new tourism industry.; an industry that in the past was reserved only for the rich.
Now, thanks to grass-roots independent businesses like Summer shade, people from many walks of life get to enjoy Maldivian hospitality and the gorgeous reefs off shore.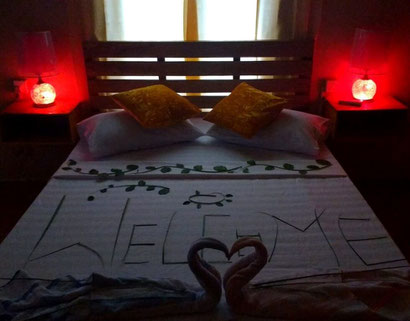 Run by the super helpful and friendly Fareesh, the Summer shade has a handful of rooms, all brand-spanking new and, it's a great option for us. It gets very, very hot in the daytime on the islands, so a touch of air-conditioning is more than welcome.
Obviously, one can choose to self-cater and eat out, but there are so few restaurants on Dharavandhoo, that it makes more sense to arrange some kind of 'full-board' arrangement with Fareesh like we did. That way, breakfast, lunch and dinner is totally taken care of; all you need to do is turn up at the correct time and have some well-earned grub. Summer shade has a load of super affordable packages on their website too, which is really worth investigating. Check it out here.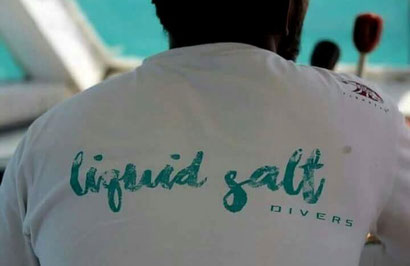 Scuba Diving in the Maldives
Naturally, the Maldives is famous for its water-sports activities and Fareesh can arrange fishing, snorkelling, Manta Ray trips and a lot more.
For us, the beautiful coral reefs begged to be explored so with a little help from the amazing team at Liquid Salt Divers, we got our first Maldivian dives.
During the months running from May to October, Manta Rays and Whale sharks cruise the waters off-shore, but when outside these times, there's still plenty to enjoy.
Scuba Diving with Liquid Salt Divers, the Maldives

Gorgeous shoals of yellow-tooth triggerfish dance over luminescent soft corals, and in the deep, rays of all kinds hover along the sandy bottom. We were able to get a great deal from Liquid Salt Divers and you can too; just get in touch with them here.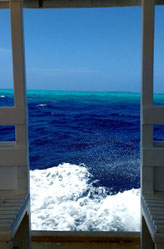 Our days on Dharavandhoo are spent either frolicking in the waves, or relaxing back at Summer Shade in their little garden area.
Naturally, the internet is fairly patchy in this part of the world, which mercifully, gives us both a break from the pressing needs of Facebook and Instagram.
In the evenings, on account of Dharavandhoo being a totally dry island, there is no nightlife or partying to be heard of, which is just perfect. I mean, if you want that, go to Koh Phi Phi right?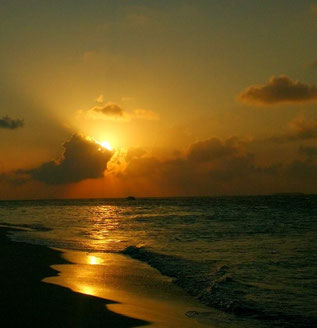 Our Perfect Maldives Holiday
Our last days arrived in the Maldives and as we watched the sun set on the eastern corner of the island, we looked around us and felt very lucky indeed.
A tiny lone fishing boat bobbed on the surface in the distance, a couple of fruit bats rustled in the trees and just a few feet from where we sit on the sand, dolphins flip over in the water.
Our alternative Maldives holiday was not one that will feature in Conde Naste Magazine anytime soon, but the memories we've made in this beautiful part of planet earth will last for a very long time indeed.

For a detailed article on the costs and prices of our trip, read our budget guide to the Maldives.
---
---
---
Did you like this article? Why not pin it? You can do that very easily...go on, do it!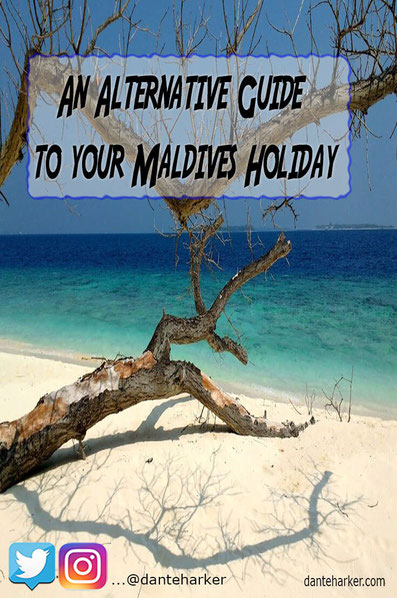 ---
Did you like this? Want to read more just like it? Well subscribe to our newsletter;
(Don't worry, we won't be spamming your email every day! Just high quality travel updates, tips and stories every month or so...go on, sign up)
---