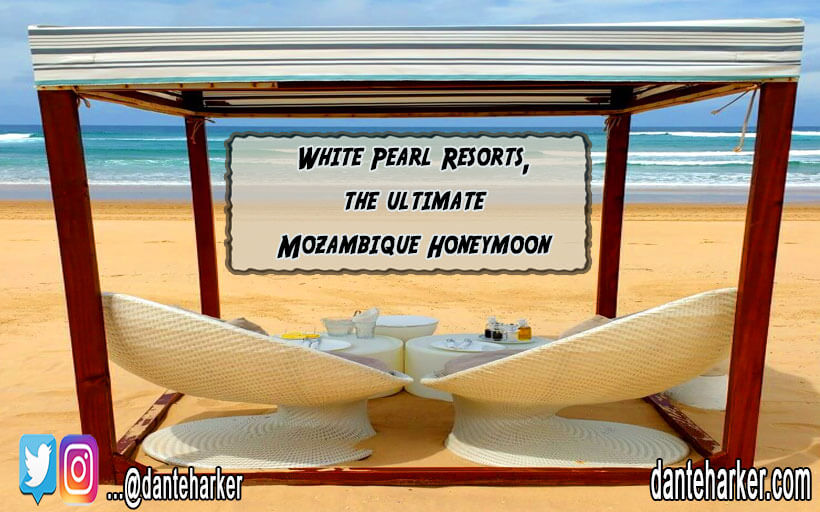 ---
Its 7am, and as we descend into the blue, all early morning grogginess disappears as three bull sharks begin circling beneath our fins. At midday we find ourselves sipping champagne in the private plunge pool in our villa; our view is the wide sweeping arch of a secluded bay. As sunset approaches, we peer through binoculars at flamboyant Bee eaters and yawning hippos. Nightfall is upon us and the only sound is the quiet roar of the ocean as we fine dine by candlelight. It's midnight, and as the moon spills bright reflected light on the beach, an enormous Leatherback turtle buries her eggs in the sand while we watch in awe, mere feet away. Where else on planet earth can all this be possible in the space of a day? only at the White Pearl Resort, Ponta Mamoli in Mozambique.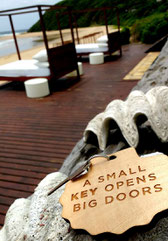 My husband and I have arrived at the White Pearl Resort a little exhausted from weeks on the road. Our travels have taken us down the entire length of Mozambique and, while the experiences have been amazing, part of me just needs to exhale and let somebody else do the work for me.
A Perfect Place for a Mozambique Honeymoon
We arrive in Ponta Mamoli not quite knowing what to expect. Yes, there is the famous Ponta Do Ouro just down the road, and yes, the country has seen a wave of places open up for an ideal Mozambique Honeymoon…but when we arrive at the White Pearl Resort, it's clear to us that we are in for a few days of unexpected bliss.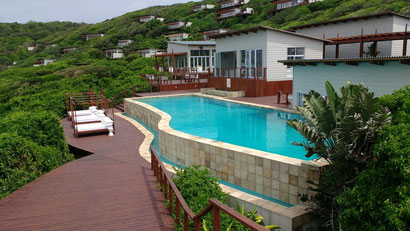 Built into the hillside of a secluded stretch of sand dune, the resort has managed to retain a lot of charm.
Wooden walkways weave between only 21 ocean facing villas, through luscious green vegetation. Beneath us, skittish lizards run among the trees and insects buzz lazily on branches. To animal lovers like us, it's a dream.
What strikes us immediately is the ability of the place to totally take our guard down. On arrival, that famous Mozambican hospitality is evident for all to see and as we are shown around the property, we feel as though we are returning guests and not strangers.
Perhaps that's the magic of really good hospitality. Whatever it is, they are doing it right at the White Pearl Resort.
---
---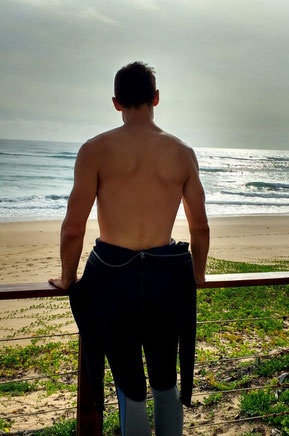 After being shown to our luxurious villa, we are introduced to Hilario, who, we are told, will be our very own butler for the entirety of our stay.
Our Personal Butler in Mozambique
The cynic in me worries that it will feel strange having a butler 'hovering' about. But that's not how they do things here; Hilario for our entire stay has the ability to appear at exactly the right time and anticipates our every need. Even down to my husband's reliance on Coke Zero and our favoring a certain red wine.
In truth, this is what White Pearl Resorts Prides itself on when you read their literature, but it's the attention to detail and generosity of the team that astounds us right away.
From our amazing couples massage from Eve, to our reception from the resort manager Rachel, everybody makes us feel incredibly at ease and welcome from the moment we arrive. It's this warmth that helped our worries from back home to melt away and the outside world all but disappear behind a cloud of loveliness.
A Romantic Getaway in Mozambique
While not catering exclusively to honeymooners, the appeal to newlyweds is obvious; for every part of our stay at White Pearl Resorts is soaked in privacy and romance.
From our bespoke dining set-ups arranged by Hilario, to the champagne on ice that greets us in our villa upon check-in. It's incredibly easy to get wrapped up in the intimacy of the place. No wonder it's garnered a reputation for itself as one of the most romantic getaways in East Africa.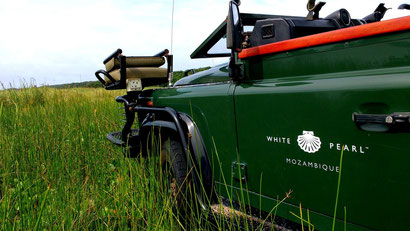 For sure, many people come on vacation here to sit by the pool, look longingly into each-other's eyes and indulge in the all-inclusive luxury that's at your fingertips, but alas, we're not wired that way.
A few days at the White Pearl had to take advantage of its totally unique location and setting, which luckily for us, is leaning heavily on the animal encounters.
Scuba Diving in Mozambique
The resort benefits from some truly amazing wildlife experiences depending on the time of the year and for us, our stay simply had to be packed to the rafters with these opportunities.
Chief among these was a trip to the world famous Pinnacles dive site, located just a few kilometres off the coast.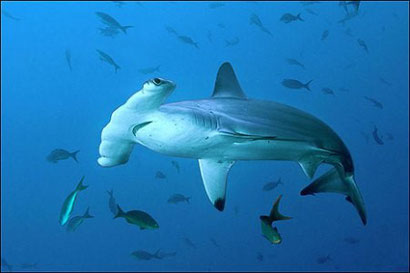 With several deep sea pinnacles rising from the sea bed, and nutrient rich currents coming in all directions, it makes sense for us to benefit from the White Pearl Resort's dedicated dive centre and explore this remote site.
Our dive guide and all-round activities super-guru is Lorenco, a Mozambican with a vast wealth of knowledge of the area and a winning personality.
'Sometimes, we visit this site and the current is ripping. We need to be cautious' he tells us as we gear up.
The adrenaline has begun to pump and we look at each-other equal parts excited and nervous. But we are in great hands, and Lorenco's expertise in these waters means that enjoyment factor is off the scale! We descend into a huge shoal of Barracuda, then glide down to 30m deep where giant potato cod lurk under crevices. Immediately, several bull sharks enter our field of vision and circle below us for the entire dive.
---
---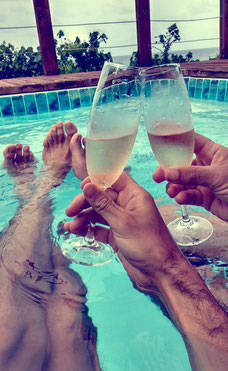 What's special about this (apart from the amazing epic quest tick of seeing bull sharks in the wild) is the bespoke nature of it all.
This resort isn't enormous, and we are the only people on this reef. With dive sites like these on the doorstep, it's no surprise that the White Pearl Resort is proud of its location.
Our dive is almost over, and as we gradually ascend, a huge hammerhead shark glides past us. It circles for a moment, then disappears into the blue, like they always do.
Back on land, we excitedly chatter about the experience we've just had. 'We are lucky to see the bulls today; we don't see them every time' Lorenco tells us. Lucky is the right word. Fortunate, amazed and blessed are other words to describe it.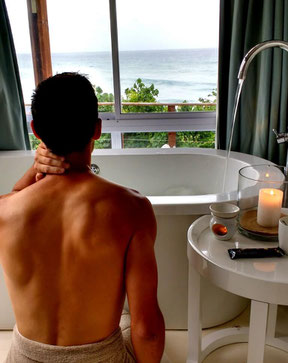 Gourmet food at White Pearl Resorts, Mozambique
Our lunch is waiting for us once we arrive back on land. Hilario has set up a picnic on the sand.
I tell myself that I'm not that hungry, but when the menu arrives, I cannot help myself. Gorgeous chicken cooked Peri Peri style is accompanied by delicate Greek salad and soft warm bread. Fresh fruit skewers and homemade cakes tempt me and go down oh so well with a sea view and total privacy on the beach.
Our gastronomical journey is far from over though, as our afternoon is occupied with an adventure in a 4WD.
Safari time in Mozambique
Lorenco is again our host as we drive through the nearby nature reserve and lake Piti in search of Crocodiles, Hippos and birds. Hilario has anticipated our every need (as usual) and filled a cool-box with our favourite drinks and snacks.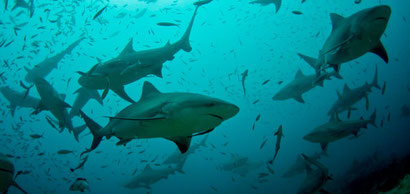 We chat with Lorenco about the unique eco-system here, then watch the sun go down over the lake. It's a priceless experience and yet another magical way that White Pearl Resorts surpassed our expectations.
With all this adventure, it seems only natural to engage in at least a little relaxation, and for our stay, most evenings are spent in our villa and private pool.
For sure, the appeal of such places has to be the element of privacy that is available at all times, and of course, the undeniable romance of sipping champagne with a loved one in your very own plunge pool.
That is the key difference between a standard 'luxury' resort and what they offer here; everything is totally unique to you, and never, not once, do you feel just like 'another tourist' in a hotel.

We spend our evenings under the stars and an incredibly romantic candlelit dinner is arranged for us. There is no loud music here, no obnoxious 'live entertainment'. Just the sound of the waves, the tinkling of fellow guest's glasses and the sound of cicadas buzzing in the trees.
Bucket List Tick at White Pearl Resorts
But in all the magic of this place, time has gotten away from us, and our last night at the White Pearl Resort has arrived but, it just so happens that our stay coincides with something that has been on our bucket list for years.
Here, on the very stretch of beach that the White Pearl Resorts sits upon, the world's largest species of sea turtle lays its eggs in the sand when in season. THIS is the crowning moment of our stay in Ponta Mamoli.
We bring low-level L.E.D torches and clamber into the back of a truck. Our host Miguel is part of a group of people responsible for protecting this stretch of beach from poachers, now that a 'Ponta Do Ouro Partial Marine Reserve' has been established here.
'The leatherbacks along this coast were in decline,' he tells us as we search along the coast by floodlight, 'but by guarding the nests and tagging adults, the numbers are steady now'.
It's a fantastic success story that's facilitated by the White Pearl Resort and her guests. You can read in more detail about the project here.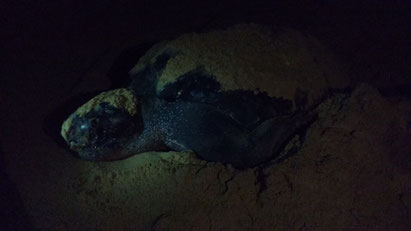 Leatherback Turtles in the Wild
We pull over abruptly, and Miguel steps out with his colleague. Within a few moments, he has beckoned us over.
There, having dragged herself up the entire length of the beach, is a huge female leatherback. When we arrive, she has already begun digging a pit in the sand with her flippers.
Miguel tells us about their breeding cycles as the leatherback digs deeper and deeper. We spend an hour absolutely transfixed by this process until, under the moonlight, we see she is laying dozens of round white eggs into the sand.
This unforgettable experience lasts only a few minutes, and she then begins covering her nest in sand. The eggs will incubate for 60 days and then, by moonlight, up to a hundred tiny hatchlings will climb from the sand and make their way to the ocean.
The next morning, the adult turtle is gone and she has covered the nest…we have no idea where the precious eggs lay. For us, it is a dream come true to witness such a thing and, after another glorious breakfast served by Hilario, it is time for us to depart the resort.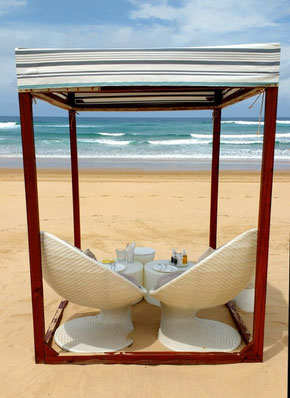 Our Perfect Mozambique Holiday
Our bags are packed and we leave our gorgeous villa that faces the sea. After waving goodbye to the staff at the resort, we climb into a 4WD and make our way down the sand dune back to Maputo and real life.
As we pass through the gates to the White Pearl Resorts, our driver asks if we had a nice time. 'Nice' doesn't even begin to describe our stay.
From the barefoot luxury of fine food served on the beach, to the smiling Mozambican hospitality, right up to our incredible animal encounters.
Nice is a good start, but unforgettable, surreal and perfect are also good words to describe our getaway.
---
---
---
Did you like this article? Why not pin it? You can do that very easily...go on, do it!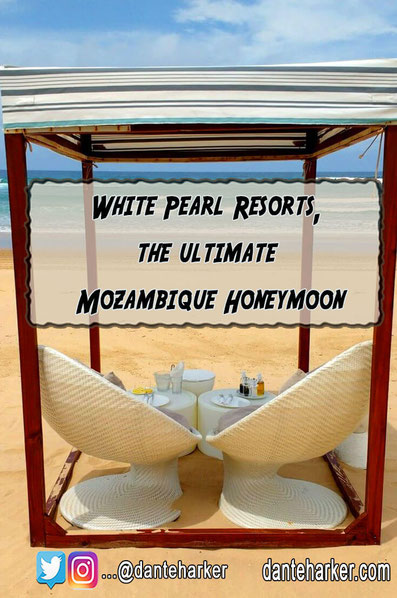 ---
Did you like this? Want to read more just like it? Well subscribe to our newsletter;
(Don't worry, we won't be spamming your email every day! Just high quality travel updates, tips and stories every month or so...go on, sign up)
---