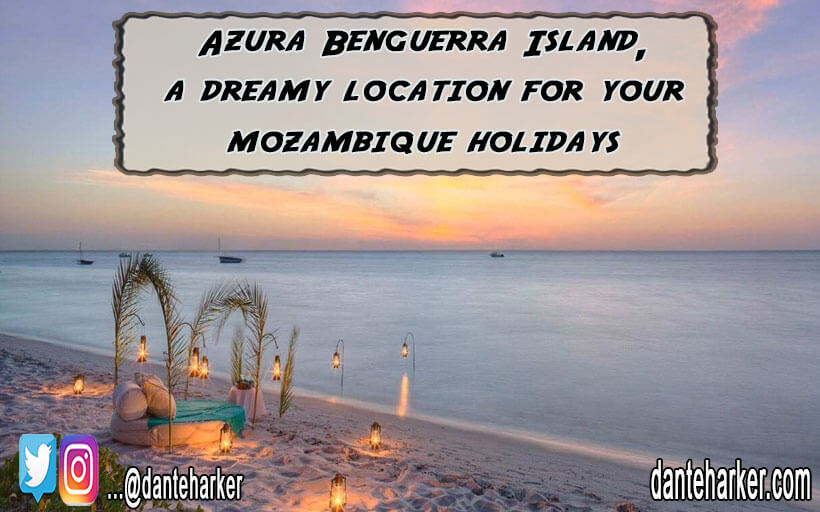 ---
The propellers of the chopper are at full speed and my stomach lurches just a touch as we leave the ground. Within moments, I forget that this is my first time in a Helicopter and gaze down in awe at the spectacle below.
We glide over a photoshop - perfect reef system and see the island before us; fringed by insanely blue waters and dazzling sand, lush green foliage covers the island, and, in a matter of minutes, our helicopter has landed. We have arrived on a coral island in Mozambique and as we instinctively duck our heads stepping from the chopper, a warm smile greets us and, we are whisked away to our home for a few days at Azura Benguerra.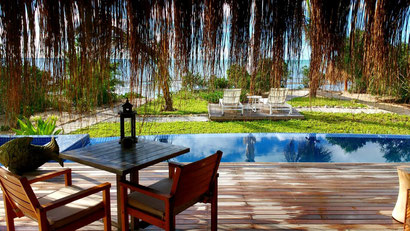 A luxury Getaway in Mozambique
Not all vacation stories begin like this one, but then not all vacations require a charter helicopter to reach your hotel.
Such is the exclusivity at Azura Benguerra, and it's incredibly easy to understand why guests have been coming for so long for their Mozambique holidays.
The island itself has only a handful of places to stay and Azura has called this place home for over a decade in one form or another. A shocking typhoon tore the place to shreds ten years ago and from the ashes, the new resort in which we stay was built.

The term 'barefoot luxury' unsurprisingly, was not invented in Mozambique (civil war until the early 1990s hampered investor interest) but it occurs to me as we are shown around the property, that I am getting my first real taste of it. Gorgeous buildings adorned with local straw roofs dot the beach and inside, every room has seemingly been lifted directly from an interiors magazine…the theme? Refined but rustic beach chic, and it's glorious to look at.
---
---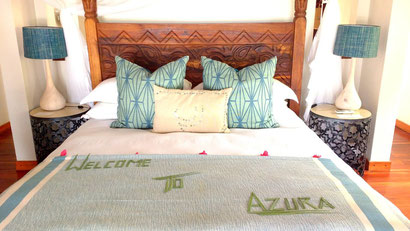 Luxurious villas in Mozambique
After being shown the ropes from our host Morgan (who immediately makes us feel like old friends, not somebody we just met!) we are shown to our villa which, make no bones about it, is the most beautiful place I've ever slept in.
The whole villa is all luxury fabric and modern art. The shelves are dotted with coffee table books and glossy magazines. The shower and bathtub area is bigger than our flat in Cheshire!
Then, there's the view. No matter how many beautiful interiors we stay in on our travels, it's the outdoor space that is so often the deal breaker. But at Azura, we slide open the giant glass door in the master bedroom and reveal the true reason that guests come to this part of the world.

Our villa has a private pool and Jacuzzi and the view is the ocean just footsteps away. Already, I have forgotten about work back home, and we are getting changed into gowns ready for a couples massage here in our villa.
It's one of (many) reasons that people stay at an Azura Resort (they have the Azura Selous game reserve in Tanzania and one in the Quirimbas archipelago at Quililea). It's that feeling of absolutely nothing being a trouble for them, that your vacation can be totally personalised to your own desires. This isn't standard 'all inclusive'. It's bespoke retreats, for the discerning few.
All-Inclusive Mozambique Holidays are best experienced at Azura Benguerra
On day one, while we wait for the masseuse to prepare her scented oils and towels, we are introduced to our very own butler, Abel. This isn't a service offered only to celebrities however. Every guest at Azura Benguerra is assigned a local Mozambican butler to attend to their requirements for the entire stay. It's this attention to detail and hospitality that has us both overwhelmed straight away.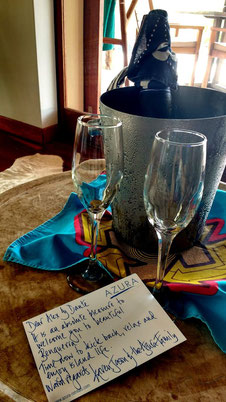 It's not just a butler looking after us that is so noticeable of course. The resort has only 20 villas in total, so at no point does it ever feel cramped or 'busy'.
The concept is total seclusion and luxury, and it's delivered at every moment at Azura. From our sunset cruise on a traditional Mozambican Dhow boat where we are served our drink of choice, to the expertly timed arrival back on the beach at our villa where, in the time we were gone, Abel has set up a seating area directly on the sand with cocktails waiting for us to enjoy the sunset. It's all in the detail at Azura.
Time to relax at Azura Benguerra
Naturally, the reason people like us end up at places like this is because we want a break from 'real life' as it were. No laundry to do, no fretting over emails, no alarms to set. It takes only a few hours before we have both fully 'melted' into life on Azura time. That's the indescribable beauty of this place; even those magnetically connected to their smart phones (myself included) forget all about the pressing requirements of the outside world.
---
---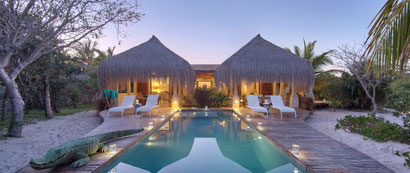 For us, one of the biggest luxuries of being way at escapes like these, is breaking from our normal eating habits and the team at Azura Benguerra did not disappoint.
Being nature enthusiasts that refuse to eat most meats and seafood, it may have been a problem at another all-inclusive resort, but not here.
Our butler prepares a printed bespoke menu just for us at every mealtime. These small offerings might seem trivial to others, but for us, it's what marks the difference between simple 'luxury' and all-round private dining.
Diners can eat in their villa, or choose to have supper candlelit on the beach, or, simply served in the warmly lit restaurant where the day's menu choices are chalked onto the waiting board.
We spend the next few days either lounging in our pool or basking in the sun. We eat like kings at breakfast where Abel attends to our every need.
In the early evenings, we ask for a bottle of sparkling wine on ice to be delivered to our villa near the Jacuzzi. The place just exudes romance at every corner. But if adrenaline is what's called for in Mozambique, then Azura also has a dedicated watersports team.
Scuba diving in Mozambique
For us, it had to be diving. Mozambique has been on our 'must dive' list for so long, it would be criminal to miss the opportunity now. We are taken on a little diving excursion with our host, Ronaldo and, get our first glimpse of the multi-coloured reefs of Mozambique.
Countless fish dart around and we are immersed in our very own fish tank. Of course, with Azura Benguerra being on its very own sandbar, it doesn't take long to speedboat out to the dive sites here. We see enormous turtles glide out of view, fabulous reef fish dance in front of our masks and before we know it our dives are over.
As we arrive back on shore at the resort, Abel is putting the finishing touches to the lunch he has set out on the beach for us. Timing is everything here it seems.
The evenings at Azura can be spent however one feels but it's a mixture of things for us. Guests can go stargazing or have drinks on the beach, or, a few times a week, children from the local school do a performance for the Azura guests.
Azura's Rainbow Fund Project
On our last night, we chat with Faizel, assistant resort manager, about Azura's dedicated project here on Benguerra. 'One of the biggest obstacles is that local kids here don't always have the opportunity to have an education'.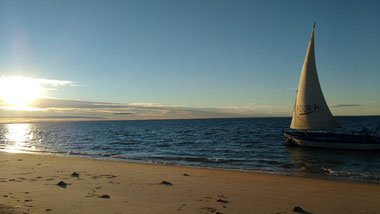 This is a story we hear all the way down Mozambique. But Azura's Rainbow Fund Project is possible directly because of the resort and guests. Not only is schooling offered, but a scholarship is in place to cover the cost of a secondary education in Maputo.
It's a really tangible way that the business is giving back directly to the people of the island. It's a remarkable feat; imagine if all luxury getaways had such outstanding social responsibility policies.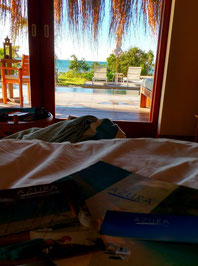 Our time at the resort is almost over and we must say farewell to the ocean, our stunning villa, and our butler Abel who has taken such good care of us.
Our stay in paradise is almost over
While we wait for our chopper to collect us, I flick through coffee table books in the elegant reading lounge. One of them features 'beaches of the world' and it strikes me that what this place offers isn't just fine dining and posh wine. It isn't just another villa on another stretch of beach…it's the opportunity to feel two completely different things all at once…cast away on a perfect desert island with total seclusion, but attended to by a group of people that truly want your experience to be unforgettable.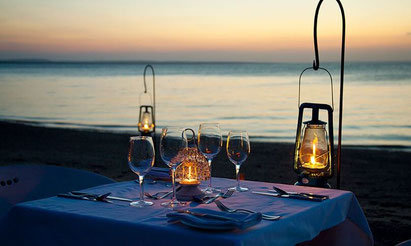 This warmth and intimacy runs through everything at Azura and, as we board our helicopter to leave this place, we are waved off by the resort's manager, Karen.
The propellers of the chopper are at full speed now, and as we wave back, it strikes me that the true quality of the resort isn't in all its beauty, it's the personal touch that underscores every element of our stay. From the hand-written note left in our room on arrival, to our names carved into butter at dinner, and now, being waved off by a member of the team…not as 'just another tourist', but as a friend, who is always welcome back.

Our chopper leaves the island behind and our next Mozambique adventure awaits. There is just time for one last glance back, at a sliver of sand dotted with palms, and on the northern tip, a few thatched bungalows and villas stretched out along the beach; a dream in the blue. That's Azura Benguerra.
---
---
---
Did you like this article? Why not pin it? You can do that very easily...go on, do it!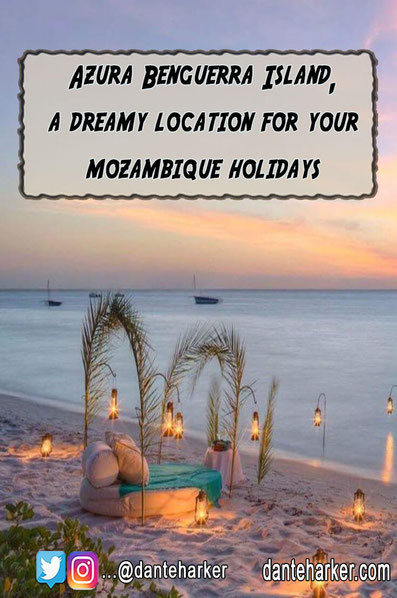 ---
Did you like this? Want to read more just like it? Well subscribe to our newsletter;
(Don't worry, we won't be spamming your email every day! Just high quality travel updates, tips and stories every month or so...go on, sign up)
---