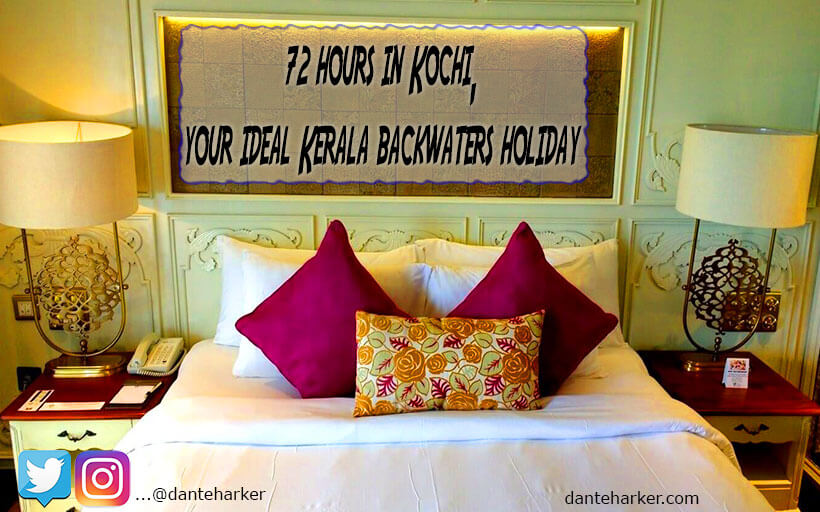 ---
A Perfect Kerala Backwaters Holiday
We amble our way through narrow lanes along a stream and pass rustic tin-roofed homes. In the very distance, we can hear the feint murmur of the Muslim call to prayer. As we round a corner onto the main road a giant colonial era building left to ruin comes into view. Its shabby exterior has all but collapsed and vines tangle their way through the windows.
We have spent the day wandering the backstreets and shorelines of Kochi, Kerala's famous port town and what have we discovered? An ideal Kerala Backwaters holiday, in the laid back charm of this once grand fort.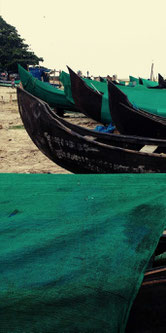 With a population of over a billion people and rapid development decimating vast swathes of the countryside, one wouldn't think India would be the place for a laid back holiday sprinkled with culture, great food and perfect hospitality. How wrong our first assumptions can be.
Our First Taste of India
We arrive in Kochi after weeks on the road; a little tired, a little grumpy and a touch hungry. Of course, the famous Kerala backwaters are on many people's itineraries. Cruising down these Indian rivers admiring ancient ways of living surrounded by nature sounds like a dream to most.
For us, our travels take us inland pretty quickly, but not without a brief few days in the fort town of Kochi. Made famous first by trade over 600 years ago and then by colonialism, it's a delightful place to base oneself in before a trip to the backwaters or further inland.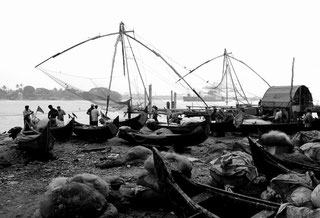 While Kochi sees its fair share of package tourists and cruise-liners, it's really very charming. Not only are there crumbling signs from the past all over (ancient synagogues and the famous Chinese fishing nets) but it also has a vibrancy all of its own.
Things to do in Kochi
Being the cultural heart of Keralan art forms such as Kathakali and Kalarippayat, it's very easy to soak up a little culture in a lovely setting.
---
---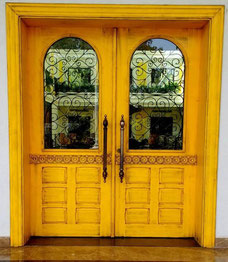 Where to Stay in Kochi
We base ourselves at the Fragrant Nature Kochi which, looks like the best preserved colonial era building you've ever laid eyes on.
In reality, it's a brand new building and a first rate hotel designed and built in keeping with the town's glorious past. No expense has been spared and it's clear for all to see.
With the past few weeks of our trip having stayed in some rustic accommodations (to say the least) it was a beautiful introduction to the refined side of Indian (and specifically, Keralan) hospitality. They do an amazing job at the Fragrant Nature to make us feel totally welcome; the training they've put into their team really shows!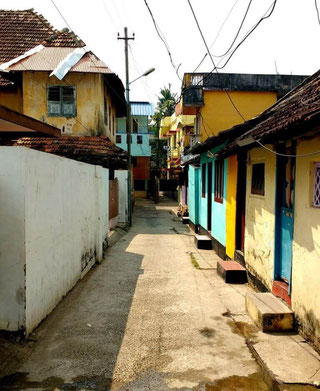 With the old fort area being easily reached on foot from the Fragrant Nature, it made perfect sense for us to do a spot of sightseeing on our first day.
Sightseeing in Beautiful Kochi
The roads here are fairly quiet and there is minimal hassle. Perhaps twice in the entire day are we offered the services of a taxi; apart from that, nothing.
It's a sigh of relief for us really as, our expectation of being met by hordes of pushy con artists disappear the moment we set foot outside our hotel.
The pretty streets are incredibly photogenic. The style of the buildings is finished with those famous terracotta tile roofs, all in varying states of repair.
Added to this, colourful street art is found all over the place. A young man at a bus stop approaches us as we photograph some graffiti; 'It is the independent art festival here right now. Artists from all over India come to Kochi to show works. In kerala, we are very skilled artists'. He's not wrong.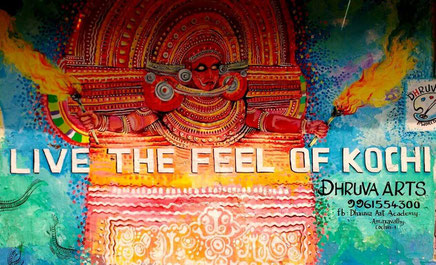 For people like us, who often see the world through what an image might appear like online, or 'how well it will Insta', Kochi is a delight.
The Chinese Fishing Nets in Kochi
We wander past the giant Chinese fishing nets to get our very own photograph (well, you have to, don't you).
Some Americans on a tour all chatter very loudly about how quaint it all feels; I can't disagree with them. There is something disarming about this part of India that I was not altogether expecting. It's a positive surprise, that's for sure.
---
---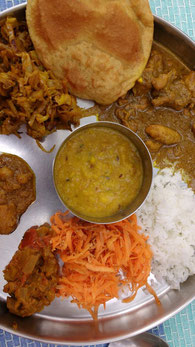 Where to Eat in Kochi
There are lots of restaurants lining the seafront with a view over the harbour and we vow to return one evening. For now, a quick local bite on the go is called for, and I've been told that the Biryani in this part of India is the best you'll find.
There is of course a massive choice of seafood here on account of its coastal location, but for those on a non-seafood diet, it's still lip smackingly good.
A little sit down eatery with nothing written in English is where we grab a seat. We ask for 'Biryani, vegetarian'.
I feel ashamed that I speak no Hindi, but our host doesn't seem to mind.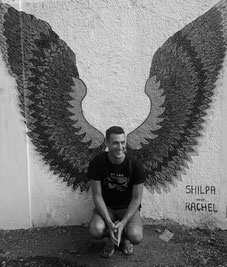 Moments later a mound of spiced and fragrant Biryani rice is delivered to our table. We are also handed some lime water; apparently that's the done thing here.
After completely demolishing our meal, I pay at the counter and am appalled at how affordable it is. After a few weeks in East Africa and the Maldives, the cuisine has been, well, let's just say rustic.
Now, we arrive in Kochi, our first proper taste of Keralan food is gorgeous and a total steal…It feels a touch like daylight robbery, but the good kind.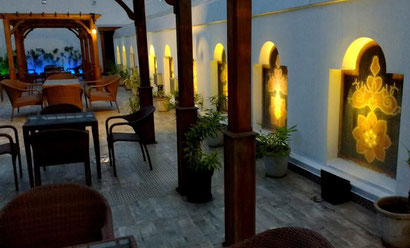 Relaxing at the Fragrant Nature Hotel, kochi
That afternoon, we have a few options open to us, including one of the many Kathakali performances and classes. There is even an opportunity to watch the make-up being done on the dancers before the show begins, but the rooftop pool at the Fragrant Nature Hotel is calling us.
Few experiences at the end of a hot day can ever beat a sundowner in a rooftop pool. At our hotel, one of the tallest in the area, we are afforded sweeping views over the bay and the backwaters beyond. It's the ideal end to our first day in India.
---
---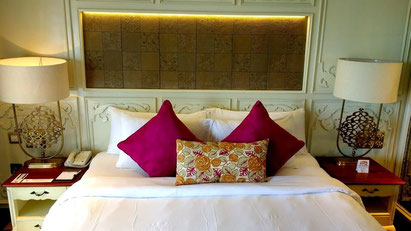 Each morning, what with our inability to say no to great food, and the staff being so lovely at the Fragrant Nature, we spend about an hour indulging in the enormous buffet breakfast; highlight for me is the waffle chef (I'm a sucker for a syrup-soaked waffle in the morning).
But after all that, a little activity is needed, and with Kochi being relatively flat, it's really easy to get out on a bicycle. There are plenty of companies to choose from when it comes to a little jaunt around the old town, one of them being art of bicycle trips who run professional and well organised excursions from Kochi.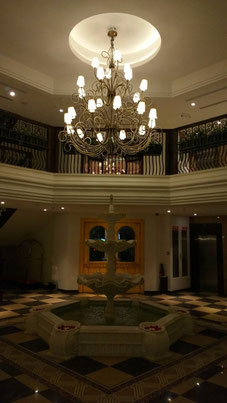 For those less inclined to take part in strenuous activity while in Kerala, then Kochi is actually a fantastic place to take a one or two day backwater river cruise from. Tourist Desk runs a number of different itineraries to get you out and about.
Ayuverdic Treatments at the Fragrant Nature Hotel
Our afternoon is spent mulling over the gorgeous treatment menu at our hotel's dedicated Ayurveda spa. It's a new experience to us, but one that's gladly welcome. The joy of the hotel having its own spa is that post-massage, when you're feeling all dreamy and cosy, you can just slip into your robe and drift off to sleep in your comfy bed.
It's true, we're implying as though all we did in Kochi was wander around, eat, or relax. Frankly, with so many weeks on the road, it was something of a needs must.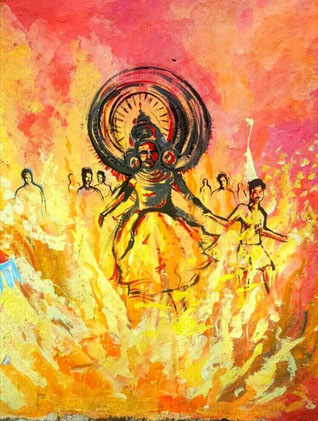 Where to Shop in Kochi
After a little retail therapy in India's biggest Mall, the Lulu Mall, it was time for our last night in Kochi.
Not often do we come across a place that totally surpassed our expectations, but Kochi certainly did.
Admittedly, with us being exhausted from our travels, we barely had time to take advantage of everything that was on offer, but that's the real joy of travel for us.
Sometimes, you just want everything to be easy and enjoyable. By basing ourselves at the Fragrant Nature before heading off into the Indian forests, we were able to re-charge, re-energise, and, most importantly re-fuel, on the oh-so-good food scene that Kochi has. Worth a trip for that alone I would say.
---
---
Did you like this article? Why not pin it? You can do that very easily...go on, do it!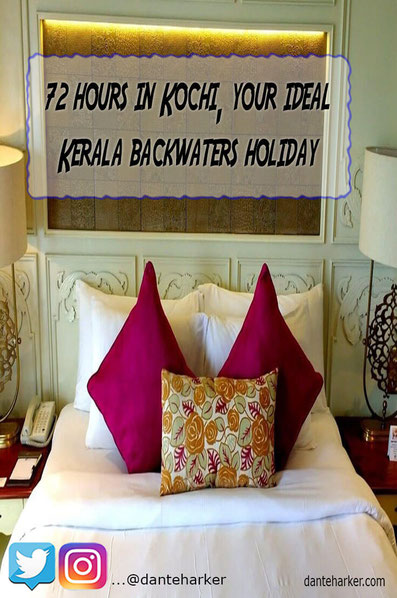 ---
Did you like this? Want to read more just like it? Well subscribe to our newsletter;
(Don't worry, we won't be spamming your email every day! Just high quality travel updates, tips and stories every month or so...go on, sign up)
---