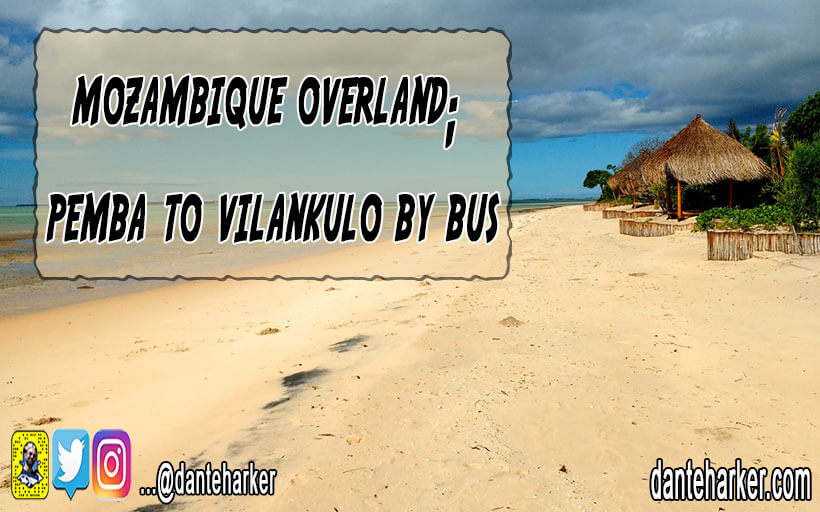 ---
In the event you didn't already know, Mozambique is a vast country. No really, I mean absolutely huge! Snaking down the East coast of lower Africa, from top to bottom its almost 2,500 Kilometres and in total has a land mass of 8,000 square KM. Yes, it's that big.
But before you get bored by my rudimentary Geography lesson, I do have a point, so bear with me. With Mozambique being fairly untouched and on our 'must visit' list for so long, when the time came to plan, it turns out there wasn't all that much in the way of articles online.There certainly wasn't much in reference to travelling Mozambique overland without your own transport.
Yes, we sometimes stay in swish resorts, but as for travel, we always prefer to take the cheaper method, which of course, leaves us with more money to spend on experiences. That includes having a bit more money to spend once we had made the trip from Pemba to Vilankulo by Bus.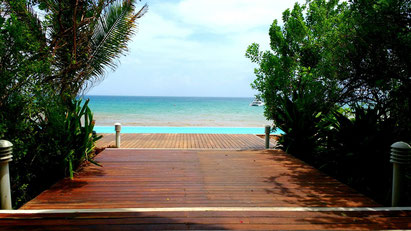 Mozambique Overland
So, with very little information to play with, and a spirit of adventure, we booked our flights to Mozambique which meant we arrived in Pemba in the wet season.
For your information, the wet season (January/February) in Mozambique gets very hot, very damp, and very sticky.
Apart from a touch of tourism and relaxation in Pemba, our next stop was Vilankulo…a beach town about 1,800 kilometres further south.
But how to get there I hear you ask? Without forking out a ton of cash for a flight, and having no transport of our own, we embarked upon the public transport option from Pemba to Vilankulo.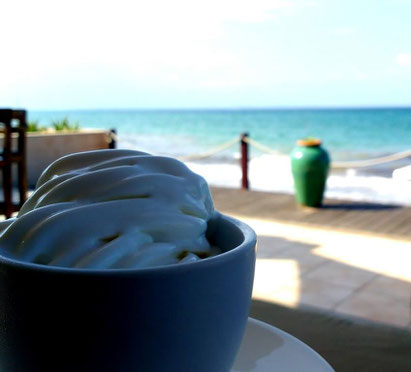 Pemba to Vilankulo by Bus
Now, as we are very kind and love to share, we decided to scribble down every little detail about the journey for you guys.
Not only was there no information out there, but also, we were absolutely determined to find a budget way to travel the length of Mozambique!
Pleased to announce that we actually manged it!
What follows is a blow-by-blow account of how to get from Pemba to Vilankulo on public transport…
Before we start, just a few pointers;

*We travelled in January 2017 and it was unusually heavy rain-wise, so be sure to pack waterproofs

*All the prices here are in Mozambican Meticals; the exchange rate to UK pound at the time was
1 GBP – 89 MET

*We travelled as a pair of guys and felt very safe at all times; if you are travelling as a lone female, perhaps use more caution? But honestly, Mozambique is safer than your mum will have you believe.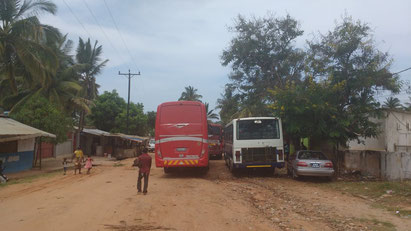 The journey from Pemba to Vilankulo

1) First step is to buy your bus ticket the day before from the bus company. We had to ask around quite a lot to find a bus company that goes South. We ended up at Nagi Investment Bus Company (I know, snappy name isn't it?)
The location of the ticket office is very near the Mercado Central De Pemba.
It has absolutely no listing on Google and you'll struggle to find anything about the ticket office online. However, on Google maps there is a location listed for 'Radio Mocambique'. The Nagi ticket office is right next to this.
---
---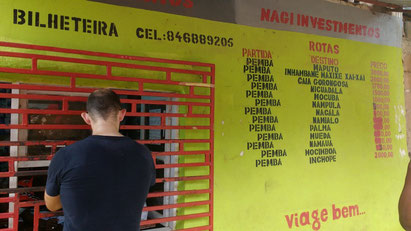 Buying Bus Tickets in Mozambique
2) The ticket office runs 9-5 operating hours, so get there early the day before as, tickets sell out.
The bus goes to destinations all over Mozambique (all South of Pemba of course). Take a look at the photo for an idea of where else the bus goes and what the cost is.
Obviously, we wanted to get to Vilankulo, but as there was no direct service, we had to buy a ticket all the way to Maputo but just get off at the junction for Vilankulo.
The ticket cost per person to Maputo was 3,000 MET.  The guy in the office spoke very little English, but we got the impression the journey would last "two days".
It's important to note that as Pemba isn't exactly a thriving metropolis, the bus down to Maputo only leaves twice a week. Once on Saturday, and once on Tuesday. Both days, it departs at 4am only. We bought our tickets (cash only please) and then went back to our hotel for one last night in Pemba.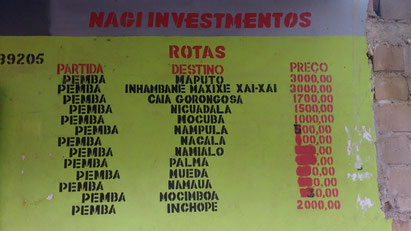 The Local Bus in Mozambique
3) The next morning, as the bus departs Pemba at 4am, we wanted to secure a seat so set off from our hotel at 3am.
We had to negotiate with our taxi driver as, he wanted 1,000 MET for the 5 minute journey up the road. We got him down to 600 MET. You could probably get it lower if you really tried hard.
4) The bus departed at 4.15am. Just for clarity, the bus is a full sized coach, but they appear to have rammed a few extra rows of seating in so, as a man who is 6'2, it was very cramped indeed.
Situate yourself next to a window so as to let some air in. Naturally, there is no A/C so dress accordingly…did I mention, it gets very hot and sticky?
---
---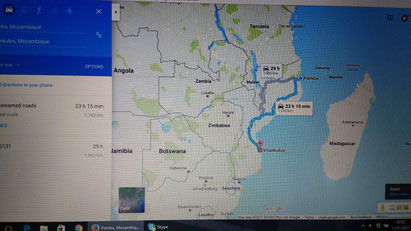 Pemba to Nampula, Mozambique
5) Five hours later, and we got to Nampula. We stopped once on the way for a toilet break in the middle of nowhere.
In Nampula, we were able to buy canned drinks for 35 MET a time, and a packet of off-brand Oreos set us back 60 MET.
In Nampula, we were also able to plug in our phones etc as, we had an adapter. We sat around in the Nampula bus station waiting around for the next Bus for 4 hours.
6) At 1.15pm, we set off on the remainder of our journey in a new bus (it was slightly more cramped, but still a coach at least)

7) After 2 ¼ hours, at 3.30pm we stopped again in Alto Molocue. Here we stopped for a brief few minutes to use the bathroom and buy some snacks. Here, water was 40 MET and a giant dry donut thing was 70 MET.
We did NOT fancy the dry looking fried potato or room temperature fried chicken bits that were also on offer. Call us old-fashioned, but we're not fans of diarrhea on 2 day bus journeys.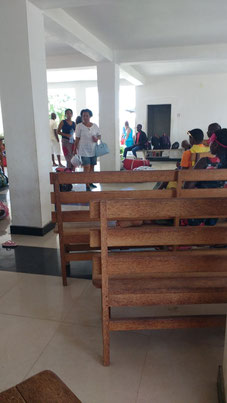 Getting to Quelimane, Mozambique
8) After another 2 hours or so, we stopped again in a town called Mocuba. It was around 6pm by this point.
Everybody seemed to get off and buy more dodgy looking food. We stuck to a packet of biscuits (60 MET). We only stayed here for 15 minutes.
9) After another 3 hours driving, (its 9pm at this point) we came to a large concrete structure in a town called Quelimane.
We didn't realise at the time, as, we couldn't get a clear answer out of anybody, but this is where we parked up and 'slept' for the night.
It's basically a bus station where you can buy water, crackers and biscuits. Nothing else is available, and there are no seats /beds/benches in the bus station.
Your choices are staying in your seat on the coach, or lying on the filthy concrete floor in the bus station. Most people seemed to choose the latter, as, the bus was stiflingly hot and filled with Mosquitos.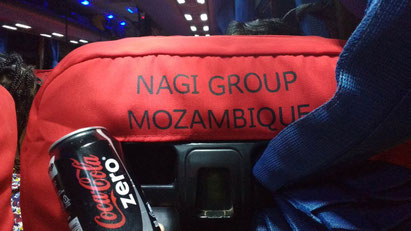 Are we painting a beautiful picture for you? Sorry about that, it's just best to be honest.
In all fairness, had we unlimited funds, we would happily have bought flights from Pemba to Vilankulo.
However, with the coach costing 3,000 MET and a flight costing 22,000 MET it was a no-brainer. Just remember to bring a pillow with you, and mosquito repellent.
10) We stayed in the bus station parked up for 7 hours, until 4am when we set off again.
For the next few hours we drove further south in the pouring rain. Due to the rain, nobody was able to open any windows so the westerners on the bus (just the two of us) sweated like filthy animals; just be sure to dress light.
11) At 8am, we stopped in a no-name town for snacks and drinks (usual selection of stuff offered up to us by locals through the windows)
---
---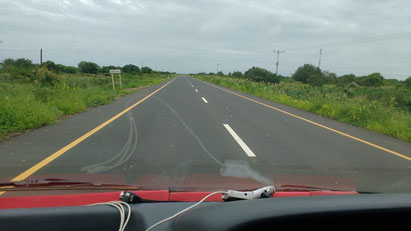 12) At 12pm we stopped again for bathroom break and lunch, but as we both felt a little tired and hot, we didn't brave the food options which were rice, fried chicken and fried potato.
We DID however, buy a big packet of raw cashew nuts from a little girl for 100 MET per pack. It was a blessing to get something 'nutritious' to eat. For your own sake, bring along a better selection of foodstuffs than we did; I felt pretty hungry and grumpy by the end of it, but as we promised we would have a sense of humour about it, the journey really wasn't too bad.
13) At 7pm, we arrived at the junction to Vilankulo. It's important to note, that even though we had been telling the driver "Vilankulo, Vilankulo" repeatedly all day, when we saw on our GPS that we were a few Kilometres away, we went to the front of the bus to remind him and he seemed pretty put out and surprised that ANYBODY would want to get off in Vilankulo.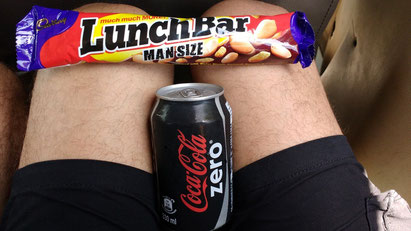 At this stage, he pulled over into the junction, we got our bags then jumped off the coach.
The coach doesn't actually go all the way to Vilankulo town centre, so we waited for a few minutes and jumped in a Chapas with a bunch of other people.
Our bags took up a lot of room so we had to pay for those spaces. It was dark at this point, so we were just grateful to be on our way to Vilankulo.
The Chapas from the junction to the town centre took about 20 minutes and we paid 100 MET for two people and two large backpacks.
Arriving in Vilankulo, Mozambique
14) At 8pm, we arrived in Vilankulo town near where the budget guesthouses are, and then checked into our hotel.  From setting off from Pemba to arriving in Vilankulo was a total of 40 hours.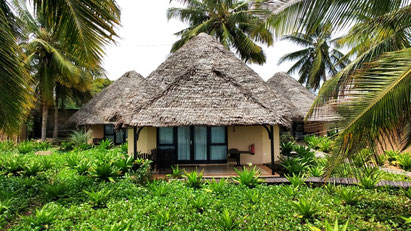 For sure, it was tiring, hot, grubby and sweaty. I wouldn't recommend the trip if you have the money to fly, but honestly, with such a huge difference in cost, and a massive trip ahead of us, we really had no other choice.
Besides, we kept a sense of humour, and it makes for a great story.
Below is a basic break-down of the major costs to do the journey per person. Food and drink isn't included as, let's be fair, we all spend different amounts on that kind of stuff, don't we?

Taxi from Pemba hotel to Nagi bus station    300 MET
Bus ticket                                                                   3,000 MET
Chapa from junction to Vilankulo                      50 MET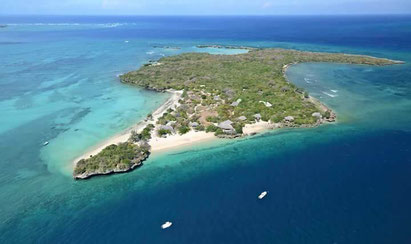 Tips for Travel in Mozambique
Just a few last pointers;
*Bring some food that isn't sugar based (there are plenty of biscuits to buy along the way)
*Bring mosquito repellent for the overnight stay in the bus station
*Bring small notes to pay for things along the way…if you only have big notes, they won't be able to sell you anything.
*Have your passports handy for the entirety of the journey; it will get checked by police a few times
*Keep your bus ticket handy; it will get checked about ten times during the 40 hour journey
*Sit near the front if you can; it'll take less time to get off the coach at bathroom breaks and believe us, they do not stop for long

*Sit near a window if you can. The locals often keep the windows shut as, they clearly don't mind the temperature, for sweaty Brits like us, not being able to open a window almost killed us.

*Finally, take a chill pill or bring along a huge sense of humour…there is a lot of shoving, and very few manners on these bus journeys, and the coaches get totally filled up at certain points including lots of people sat/standing in the aisles so it becomes very cramped at times.

*Very finally, try to have spare money, or win the lottery, or just be willing to throw money at it. If you have the cash to spend $250 for a 2 hour flight, do it. We're all for adventure, but this 40 hour journey was one of the least comfortable we've ever done…just saying.

That's it! Have you done this trip yourself? How did you find it? Did you find a different route or bus company? Or have the prices/times changed wildly? Please do get in touch…we would love to hear from you!
Any questions or such why not comment below or find me on your favourite social media – Twitter – Facebook – Instagram.
---
---
Did you like this article? Why not pin it? You can do that very easily...go on, do it!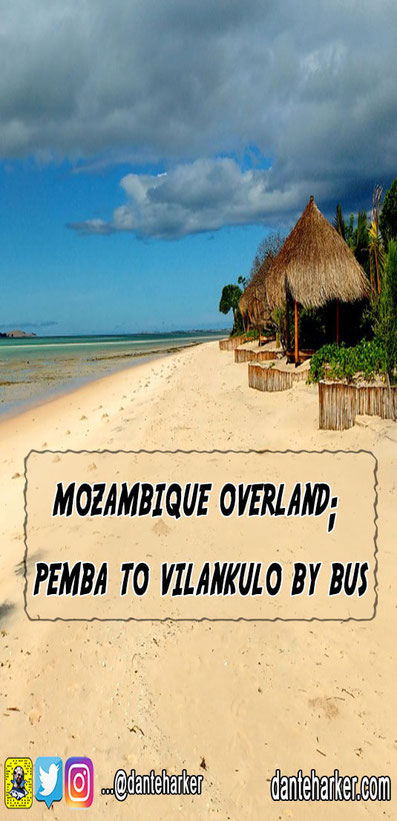 ---
Did you like this? Want to read more just like it? Well subscribe to our newsletter;
(Don't worry, we won't be spamming your email every day! Just high quality travel updates, tips and stories every month or so...go on, sign up)
---