---
Ask anyone who has a bucket list, and chances are, a Safari of some kind will feature on it. For sure, there are options all over the planet, but when you think 'Game Drive', you think Africa. For nature fans the world over, an African holiday simply wouldn't be complete without the opportunity to observe a bunch of cool mammals in their natural environment.
For us, the evocative and alluring Kenya was the destination of choice; not only is the infrastructure incredible, but it's also home to arguably the most famous African reserve there is; the Maasai Mara. But perfection doesn't have to come at an enormous cost; you too can have a Budget Kenya Safari!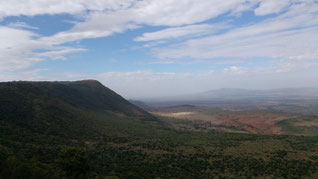 The Maasai Mara
Covering a distance of 1,500 kilometres and stretching right over the border into Tanzania, the Maasai Mara has long been a destination to uncover ancient customs and see first-hand the magnificent animals this great continent has to offer.
However, a trip down through East Africa will always come at a cost, and for us, with an itinerary lasting a few months, it simply wasn't possible to sign up to one of the many luxurious game reserve experiences.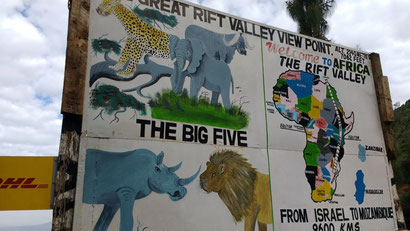 Naturally, what you pay is what you get, (as is the case with everything in life) and, in order to get a safari experience on a budget, sacrifices were going to have to be made.
From the place we based ourselves in Nairobi to the actual tour company we chose to book through, all of these elements add together to create your Maasai Mara adventure.
To give you an idea of what we did and what it cost us, we scribbled away in our journal every little detail about the trip and now handily, have it here in electronic form for you to digest.
Ok, so we aren't going to win any Pulitzers for our writing here, but what follows is an account of what we did and what you could replicate yourself; particularly if you're on a shoestring budget!
---
---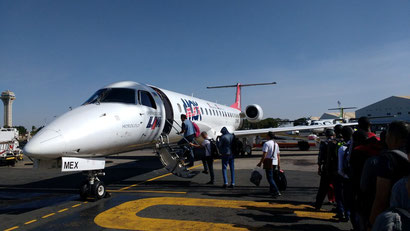 Getting from Jomo Kenyatta Airport
To get from the airport to the city, we shared a taxi from Jomo Kenyatta to downtown which was a non-negotiable $20 per car.
Bear in mind that this took a LONG time. The budget hotel we had chosen was directly in the bus station, so crawling through all that traffic took a fair bit of time.
Allow about an hour and a half .Nevertheless, $20 split four ways was good value for sure.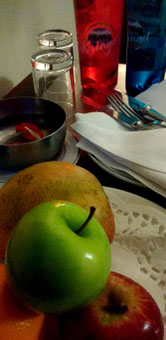 So, to begin with, you will need accommodation in Nairobi.
On a totally different trip we later did, we placed ourselves in the Laico Regency Hotel which was a fantastic choice. However, it was a place that was more luxury than budget.
Our hotel of 'choice' (read: the cheapest online that didn't look like a crack-den) was the Kima Hotel. The price per night was $31.
Now, compared to South East Asia, this seems quite pricey, but trust us, if you refuse to sleep in dorms (we are a married couple over 30, so for us, a dorm just ain't our style) you will find that this is actually one of the lowest prices online.
---
---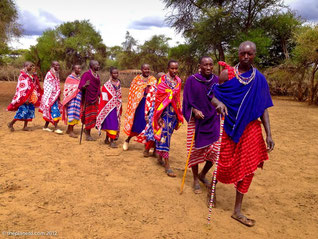 Budget Hotels in Nairobi
The Kima hotel is excellent considering the competition and what it offers. It was clean, it was central and it had rooms available. Yes, it was a windowless room with no fan or air-con and we almost died from sweating, however, the team was nice, they offered laundry service and the breakfast was good. This is all about budget don't forget!
For an account of a truly lovely Nairobi hotel, read here. But for now, we're all about the experience on the cheap!
Budget Kenya Safari
The next stage was to shop around for a budget safari option in Nairobi itself. We are always banging on about booking face to face with an operator to get the best price, and a safari is no different. However, Nairobi is an incredibly vast city that takes ages to get around on public transport, so popping into each of the tour companies in the city would have taken the best part of the day.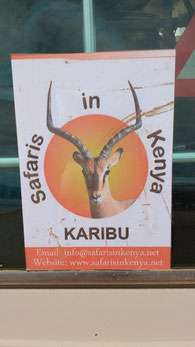 Our method was to gather together the websites of the three most affordable 2 day safaris then email them individually to get a great quote.
Karibu Safaris in Kenya
It just so happens that we had buying power on our side as, we were asking for two spots 'last minute' on a safari that departed in two days. The place that came back with the best price was Karibu Safaris.
Not only do they offer a couple of different options, but they also have the best price for a two day tour.
By booking at the very last minute and filling their last two spots we secured a two day safari for $195 each. That includes all transport, all park fees, all food, unlimited water, and one night's accommodation at the Lenchada tourist camp in the Maasai Mara.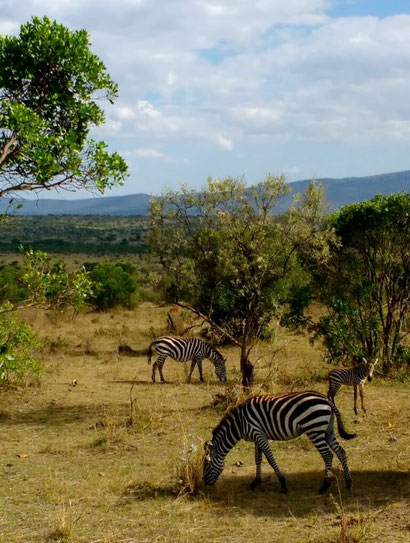 Without a doubt, there are a million different options for a safari and for you perhaps 2 days won't be long enough. It's simply worth checking around and yes, be brave and ask for a last minute discount; it can't hurt surely?! They can always just say no. Just remember that depending on the season, they may need a few days notice.
Our Budget Kenya Safari
We were picked up from the Kima Hotel at 7.15 am (the pick-up is included in the price) then taken to the offices where we paid our amounts in full.
It's best to do this in cash (Kenyan Shillings) to avoid any card fees or issues.
From there, we met the other people on our safari and began the trip to the Maasai Mara. The views along the way are lovely and it wasn't long before we spotted a few deer and Karibu (Lion fodder as I like to call them).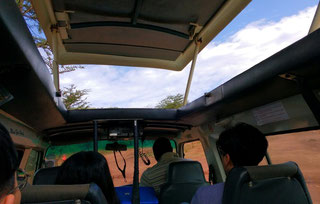 Game drive in the Maasai Mara
By 1.30pm we had arrived at the Lenchada tourist Camp inside the Maasai Mara reserve. After lunch (which was a big buffet of basic food – hey, it's a budget tour after all) we went for our very first game drive. 
Needless to say, National Geographic isn't going to be awarding me for my evocative writing here, but it was really quite beautiful.
Naturally, we visited in January which meant that a lot of the herds had already migrated to richer pastures. According to the internet, the best time to visit the Maasai Mara is during the mass migration which falls in July.
We still saw a bunch of different animals though, even with it being the 'worst' time to visit. Hyenas, elephants, giraffe, warthogs and lions all showed up for our cameras, and I must say our driver was fabulously good at spotting things as well as getting the best view when a few other jeeps were there. It was a really great afternoon.
---
---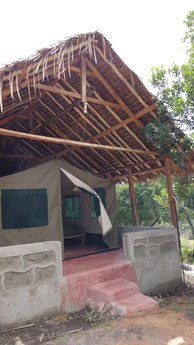 The evening brought along another buffet dinner with plenty of options for vegetarians and a little shop at the camp had many different drinks available for sale (soft drinks and alcohol are, obviously not included in your tour cost) to give you an idea, a coke cost KESH 150 and a large beer KESH 200.
Lenchada Tourist Camp, Kenya
The accommodation at the Lenchada tourist camp is really new and excellent quality. Basically, bug-tight tents are secured to sealed-in concrete bases with an open-air shower/toilet attached to each tent.
I was fully expecting a grubby broken tent nailed into the sodden ground and a night of being eaten alive by insects; not so with this tour with Karibu. It was a fantastically pleasant surprise.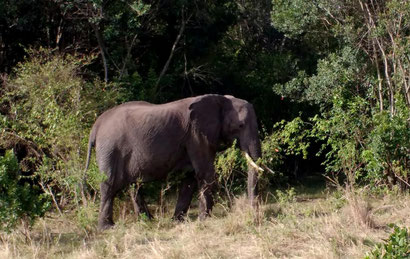 The next morning, another opportunity came for us to eat too much (we are British, we HAVE no shame when it comes to repeat helpings) and our second game drive through the early morning mist.
We were lucky enough to see some lions really close-up on this occasion and even, a snoozing cheetah. Without a doubt worth the safari price for that alone!
Getting back to Nairobi
But everything comes to an end eventually, no matter how much you've paid and, before long, we made our way back to Nairobi.
We felt like our driver/guide/animal spotter (it was only one guy after-all) had done a great job of getting our jeep strategically close to the animal action so we gave him a tip of KESH 2,000. Not sure if this is super scroungy or overdoing it to be honest; just tip what you feel.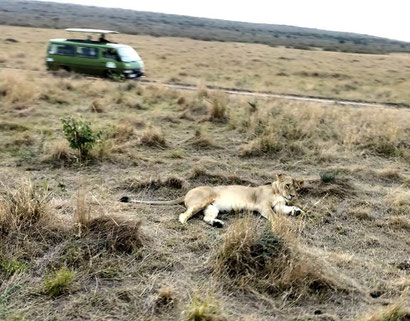 Once in Nairobi, we decided to upgrade slightly for our last night in a place closer to the airport.
We chose the Eden Suites and Lodge in a leafy area of the city. Again, the room offered only a shared bathroom and had no fan or air-con however, at $35 for a double room, it did not break the bank and the breakfast was really excellent.
It was also wonderfully close to the nearby Junction mall in order to top up phones, buy bus tickets and indulge in iced coffee (Hey, after the heat and dust of the Maasai Mara, a little frozen Espresso is called for!)
Our safari experience in Kenya was an incredibly brief one, yes, but it ticked the boxes that we wanted. When we return, we shall certainly be upgrading to a posher lodge and a longer 'more immersed' few days, like the safari camp run by the Severin Group. However, right at that time, our little taster was an ideal way to have a safari while being on a crazily small budget. 
Have you done this same trip? Or did you have an even more budget experience? If you have any questions or prices have changed, please do get in touch.  
Any questions or such why not comment below or find me on your favourite social media – Twitter – Facebook – Instagram.
---
---
Did you like this article? Why not pin it? You can do that very easily...go on, do it!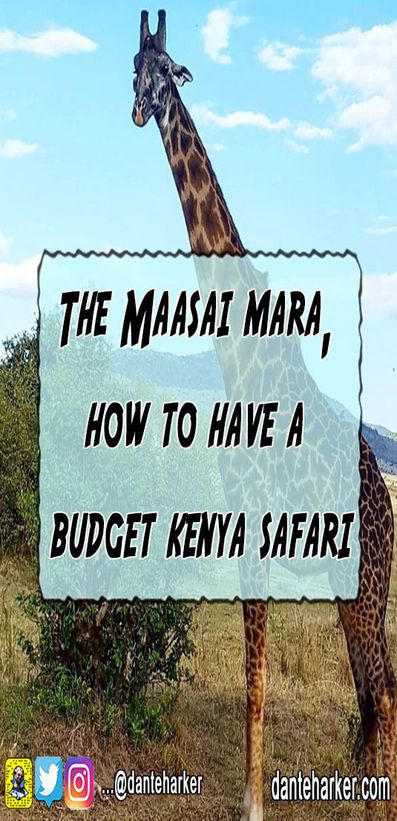 ---
Did you like this? Want to read more just like it? Well subscribe to our newsletter;
(Don't worry, we won't be spamming your email every day! Just high quality travel updates, tips and stories every month or so...go on, sign up)
---