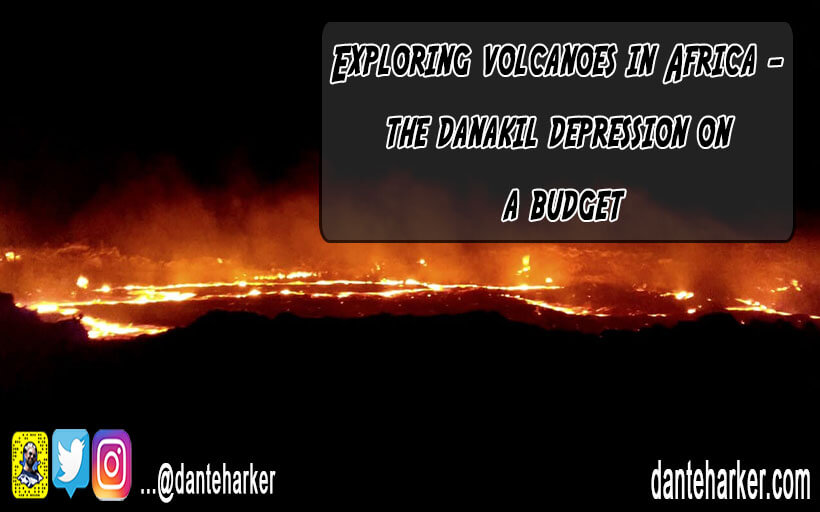 ---
The Danakil Depression lies in Ethiopia's sun-scorched northern border with Eritrea. For people who love stark landscape, unsettling heat and wild adventure, the Danakil is an absolute 'must do' activity.
But until fairly recently, tourist numbers to Ethiopia were so low that demand just wasn't there, and visits were limited to the wealthy or to foreign press and documentary filmmakers eager to witness for themselves the stunning scenery and arid climate. Of alll the volcanoes in Africa, Erta Ale is totally unique and visiting the Danakil Depression on a budget needn't be impossible.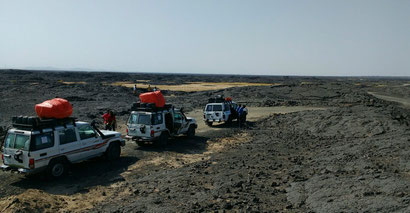 But all that has changed in recent years, and a visit to the Danakil is available to all!
Notably, those of us that are on an extended trip to East Africa that frankly, with so many activities to tick off and enjoy, we simply cannot afford a bespoke private experience.
The area has many different options for the budget conscious, and actually, there are a few tour companies to choose from.
Choosing a Tour Company in Ethiopia
After reading reviews and testimonials, we decided to approach Ethio Travel and Tours directly and, by going into their agency in person, we were able to squeeze in as a last minute pair. One can arrange 1, 2, 3 and 4 night Danakil Adventures but as we are short on time and not huge lovers of long tours, we opted for the 2 day/1 night Erta Ale tour.
This is really all about the volcano itself which, if I haven't mentioned before, is the only permanent lava lake of its kind on the planet. (For the volcanologists among you, it's technically called a shield volcano, but lake sounds cooler).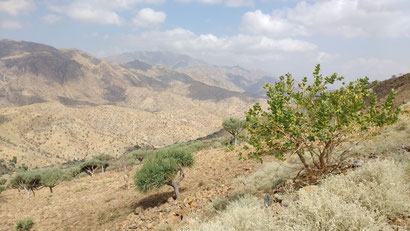 We had wanted to see molten lava for a long time, and this seemed like a pretty guaranteed shot at it.
It did not disappoint – every part of the 2-day trip was a thrilling adventure. I won't spoil too much of it, but just so you have a brief idea of what is included in the budget tour we did, I thought I'd share some key details.
So here goes! I won't be able to do it justice in words, but I'll try as, I'm keen like that!
---
---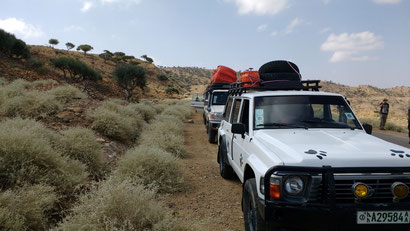 1) Booking the Danakil depression on a budget with Ethio Travel and Tours
We went to their office in person and, after some haggling and them wanting to fill some last places, we got the two-day tour for $250 per person (rather than $400 each).
Some might argue that is still pricey for only two days, but honestly, it was worth every single cent. I LOVED this experience, and the company did a good job of the tour. We were able to pay by credit card with a small fee.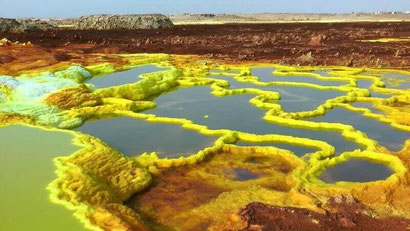 2) Getting from Mekele to the Danakil Depression
We were picked up by Ethio at 9 am and we travelled as a group of 5 in our jeep. There were 3 groups of 5 in total. We drove through parched plains dotted with wild camels and rugged mountains.
At 11 am we stopped for some Ethiopian coffee which cost 10 BIR per person.
At 12 we stop again for a basic lunch on the outskirts of the Afar zone. This is no additional cost as basic meals and water were included in the tour cost; any beer or soft drinks are charged extra.
At 1 pm we continue our journey. Centuries-old volcanic rock formations spread out like tendrils over the baked earth, and mini twisters snake across the horizon.

At 2 pm we leave the neat tarmac road that we've been on the last 5 hours then begin the 'off-road' section of the journey. Local Afar children wave as our convoy passes their rustic homes and in the distance, lines of wild-roaming camels shimmer like a mirage.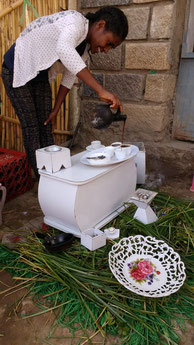 After 2 hours on the rough desert road, we arrive at what the website calls 'the worst road in the world'. We can't disagree.
We spend an hour grinding our jeep over some old rocks and lava; our guide calls it "an African massage".
At 5 pm we arrive at the army base where we will begin our trek to 'base camp' and the volcano itself.
The rest of the trip I don't want to spoil for you, but just to de-bunk some of the misleading information that's out there, I've put together a few major points to consider before your own visit.
---
---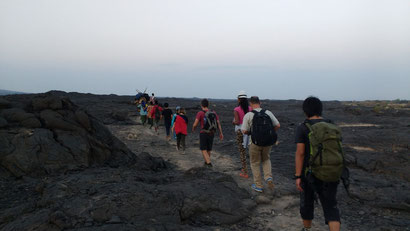 *We had dinner at 7 in the army camp; it was basic but did the job
*The army camp was a collection of huts with no mains electricity so make sure you bring all your camera/phone batteries already charged
*The camp also has no toilet…you just need to find an area near the 'toilet' zone where to do your business; I'm guessing this is easier for guys than gals. There is also no running water at the camp, so in the interest of hygiene, a bit of anti-bacterial gel is handy.
*At 8 pm we began the 3-hour walk up to the base camp where we will sleep/watch the volcano. It is dark, and the path is uneven. A torch and good shoes are a must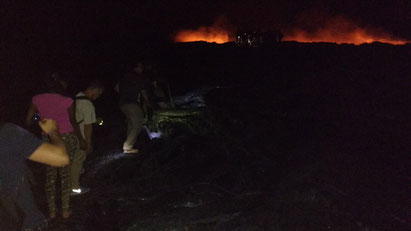 *The entire length of the hike we are accompanied by two armed soldiers; this is a deterrent to potential kidnappers and extremists that linger on the hazardous Eritrean border.
Trouble rarely breaks out, but after a few tourists were shot years ago, an armed guard is a requirement. Your tour cost includes his fee.
*We stopped every hour for a quick breather; remember to bring plenty of water; the walk isn't strenuous, but it's fairly warm even at night so be sure to hydrate.

*At 11 pm we arrived at camp which is a few mattresses on the floor open to the elements. It was oddly calm and very little wind, so not really an issue.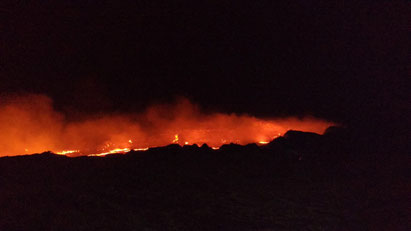 *After a quick toilet break (again, find your special spot) we began the 30-minute journey to the rim of the lava. When we visited, it was bubbling, but not erupting, which meant we were able to get within a few feet of the lava.
*The walk up to the rim is over recent volcanic flow which is brittle and caves underfoot. It's not THAT dangerous, but I cut my knees and hands a few times by falling a little too heavily. To avoid this, wear long trousers, and don't be a clumsy lumbering idiot like me.
Erta Ale - Easily the most spectacular of the volcanoes in Africa
*Then you watch the lava. I know I probably haven't sold it very well, but this post isn't about how inspiring and fantastic it was, I just want to give you all the details I wish I have known. We stayed with the lava for around 30 minutes. It was the best 30 minutes of 2016 for me, truly magnificent.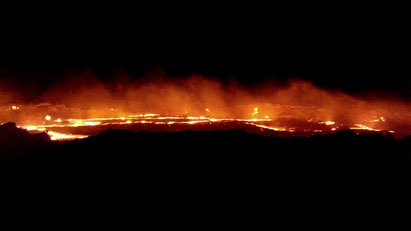 *We then walked back to our mattresses, laid down and had 4 hours sleep before we were woken by our guide to begin the walk back to the army camp.
Any later than this and, it would be too hot to walk in the sunlight. This meant we got to sit in silence and watch the sun rise over the Erta Ale volcano. Again, I may not have sold it very well, but it was pretty darn special! I highly recommend.
*We had breakfast at the army camp at 7 am, then departed at 8 am to make the same journey back.
We arrived back in Mekele at around 4 pm.
Choosing a Tour Company in Ethiopia
Hope that's helpful? Of course, if you opt to do the tour with a different company, it may differ, and if you take a 2, 3 or 4-day tour then, of course, the itinerary may change. Crucially, though this two-day experience was amazing value for money, an absolutely unforgettable adventure and the highlight of our Ethiopian trip.
You simply need to get yourself to East Africa's least hospitable place (temperature –wise) and get yourself on a tour with Ethio Travel and Tours!

Did you find this useful? Do you have any questions? Are you planning a trip yourself? Or have you already been and had a different experience? If any prices or details have changed, please do get in touch!
Note: we travelled to Erta Ale in December 2016. All details and prices were correct as of then.
Any questions or such why not comment below or find me on your favourite social media – Twitter – Facebook – Instagram.
---
---
Did you like this? Want to read more just like it? Well subscribe to our newsletter below; don't worry, we won't be spamming your email every day! Just high quality travel updates, tips and stories every month or so...go on, sign up
---
Did you like this article? Why not pin it? You can do that very easily...go on, do it!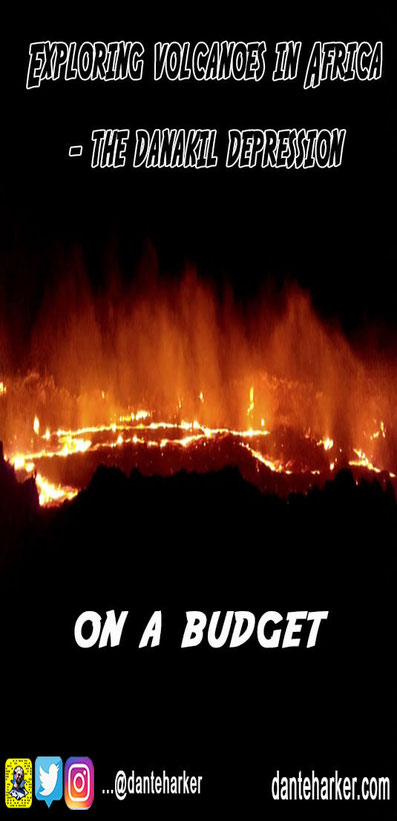 ---