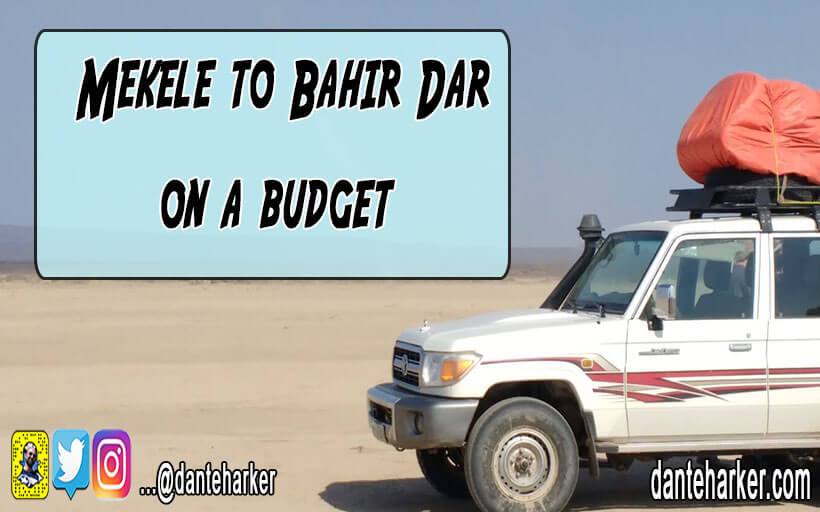 ---
For those unfamiliar, Mekele (or Makale) is the town in the northern Afar region of Ethiopia that serves as the jumping off point for tours to the Danakil Depression and Erta Ale Volcano. It's a fascinating, rugged, grubby but exciting place to travel in at the moment.
Infrastructure is getting better, but it's still got that 'wild outpost' feel to it but frankly, what else does a budget adventure type want?!
Side note, there are tons of reasons to visit Ethiopia right now...read them here!

What follows is our brief but informative account of how to get from the town of MEKELE to BAHIR DAR on a budget. Bahir Dar is in the south, and lies on the banks of Lake Tana.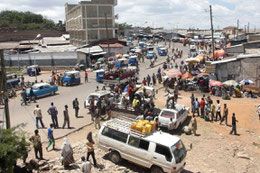 We travelled in December 2016 with no useful local language skills (I believe the majority language is Amharic by the way). 
The people in Ethiopia are remarkably friendly and willing to help when they can, and the journey itself was indeed long, hot and cramped. (there's no point in lying to you) but it was definitely an adventure and cost very little compared to the flights with Ethiopian Airlines.
Mekele to Bahir Dar on a Budget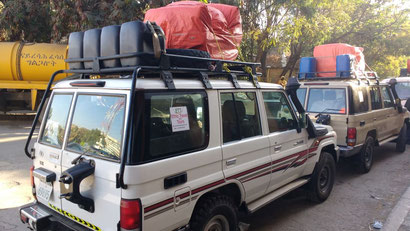 1)Getting from Mekele to Weldiya
This part is pretty easy. You can either flag down a bus going to Weldiya in Mekele and pay anywhere between 60 BIR and 100 BIR each or, you can do what we did. We did our Danakil/Erta Ale tour with Ethio Tours and Travel.
They kindly offered to drive us for free to Weldiya at 7 am as space permitting, they go there anyway. We had paid for a tour with them of course, so I wouldn't try and blag a free trip if you're NOT one of their clients; that would just be stingy.

Anyway, the jeep left Mekele at 7 am and arrived in Weldiya at 11 am, so only 4 hours and the views were great. We tipped our driver 50 BIR as he took us directly into the Weldiya bus station and found out which bus we needed to get on.
---
---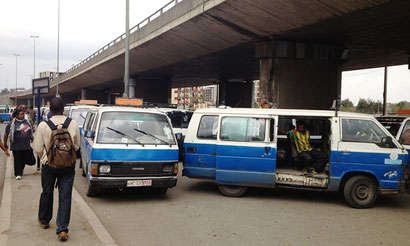 2) Getting from Weldiya to Bahir Dar
If you're lucky enough to get put straight on a minibus by somebody else, then great. If not, as you arrive in the Weldiya bus station there is a tiny little office on the left.
The 'official' staff will be wearing yellow jackets. Let them take you to the Bahir Dar/ Bahar Dar bus. You will likely be approached by a million young guys who all want to show you the 'right' bus or the 'better' bus.
Basically, they make a small commission if they get you onto a specific bus. Crucially, you just need to get on a bus and have very small notes ready for the person who assists you.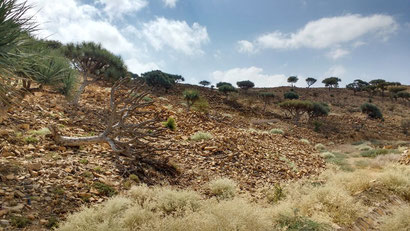 The same goes for anyone who lifts your bag onto the roof of the minibuses.
Make a specific note of the guy who actually helps you with your bag onto the roof and then, pays this man 10 BIR once it's all secured.
We made the rooky mistake of not quite making a mental note and then we had 3 or 4 different lads asking for money because they 'helped' with our bags. Only 1 guy helped, so we only paid once. (I know, we're horribly cruel people)
The minibus set off when full which took about ten minutes. It was cramped yes, and rather hot, but as someone on Twitter once told me; "Africa ain't for sissies!".

The journey from Weldiya to Bahir Dar took 8 hours on this occasion. We stopped once for a bathroom break (which was 11 guys peeing on the roadside), but we did not stop at any point for food or drinks, so bring enough with you to share with the person next to you; it's only polite. The journey cost us 133 BIR each.
---
---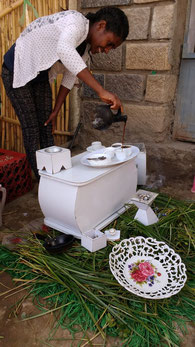 3) Arriving in Bahir Dar
So we arrived in Bahir Dar at 7 pm, 12 hours after setting off from Mekele.
It's a bumpy journey, but the views are quite lovely, and also, the driver on our trip insisted on playing loud Ethiopian folk music which, though noisy, I actually found really catchy. In fact, I've still got the tunes buzzing around in my head a month later.
For other tips and reasons to visit Ethiopia on a budget, click here.
Someone helped me get my luggage off the roof, and I gave him another 10 BIR and then, as the bus station isn't that far from the Delano Hotel, I just walked the 8-minute journey through the noisy bustling town.
It saved a taxi cost, yes, but the main reason I did this was to stretch my legs; 12 hours sat down does some damage to a man who is 6'2.
TOTAL COSTS FOR ONE PERSON
Mekele to Weldiya    0 BIR
Tip for driver        25 BIR
Weldiya to Bahir Dar    133 BIR
Tips to luggage boys    20 BIR
TOTAL
178 BIR
As of December 2016 this was £6.50 or less than $8.
Flying would have cost $70 per person
Have you done this journey yourself? How did you find it? Is there a different way you found to be better? Have the prices changed? We would love to hear from you...just get in touch.
Any questions or such why not comment below or find me on your favourite social media –
Twitter
–
Facebook
–
Instagram
.
---
Like this article? Why not pin it? You can do that very easily by clicking on it...you should, go on!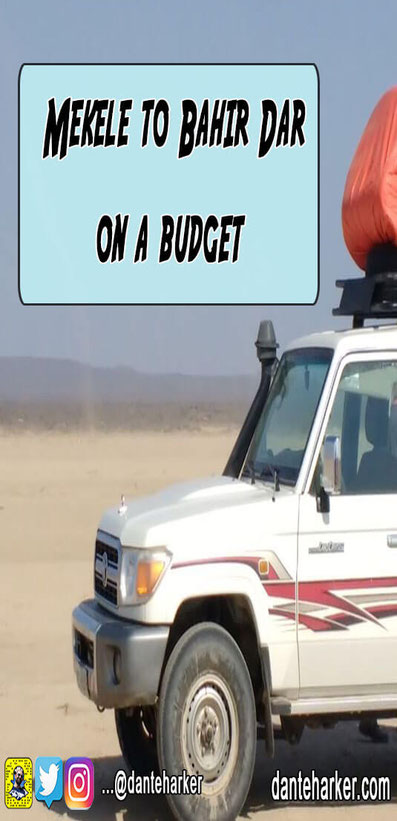 ---
---
Did you like this? Want to read more just like it? Well subscribe to our newsletter below; don't worry, we wont be spamming your email every day! Just high quality travel updates, tips and stories every month or so...go on, sign up
---