---
Until very recently, the East African nation that is Ethiopia was a place not only avoided by tourism, but it was also a place limited to the wealthy. From Luxurious charter flights to swish mountain lodges, if you had the dollar, Ethiopia was waiting for you.
But with an increased focus on tourism from the government, and a gradually developing economy, a gap has opened up in this lucrative market; the ability for you to discover the treasures of this landlocked country even if you don't have a handsome nest-egg! Read on to discover how you can visit Ethiopia on a budget.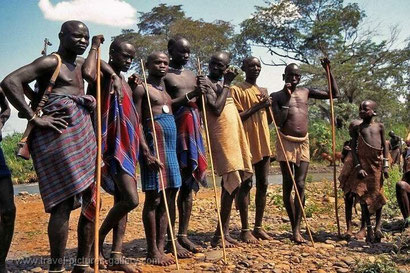 Tourism in Ethiopia
In fact, in 2015, over 600,000 people visited Ethiopia as tourists. Now, while this is dwarfed by other nearby African nations (we're looking at you Kenya) this is still a good sign for the hardy folks of Ethiopia.
Let's not forget, this is a place gripped by political unrest and drought; those images of famine still haunt anyone over the age of 30, so considering all this, Ethiopia is fighting back; big time.
Tourism has been increasing 10% year on year since 2010 and for now, shows no signs of slowing down.
But what does this mean for you? I hear you ask? Well, it's quite simple. More tourism equals better infrastructure for adventurous types and also boosts the number of small businesses vying for our tourist money which in its own way, brings prices down! Bingo! You CAN be a budget visitor in Ethiopia, you just need to be savvy with where you stay and remember to barter.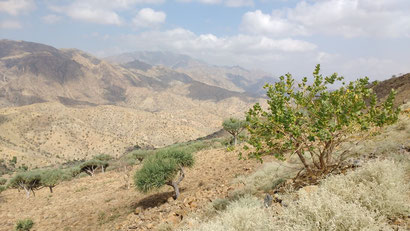 Budget Flights in Ethiopia
To start with, one major plus point for the place is the national carrier; not only is Ethiopian Airlines already a good value option, but they are also expanding their network to the U.S and Asia in a big way; which means more affordable airfare to get there.
Plus, at time of writing, Ethiopian Airlines had an amazing offer running. If you fly into the county with them, you are entitled to 50% off all internal flights with their domestic operation!
Have you ever heard of such a thing from a major airline? What this means to you and I is that if your time poor, you can simply jet between destinations (of which there are many) at a fraction of the original price.
Sure, a local bus is definitely cheaper, but if you're short on time or simply cannot face another boiling hot journey, you can book online with them and get there in an hour or so.
---
---
Things to do in Ethiopia
But I haven't even mentioned the sights to see in this proud nation that never once caved to colonial interference; there are so many different reasons to visit! You can read in detail my reasons to visit Ethiopia here.
But in the meantime, let me whet your appetite. To begin with, Ethiopia has a fascinating heritage due to its early adoption of Coptic Christianity. Sacred sites, rock hewn churches and ancient castles dot the landscape; indeed, the nation has no less than nine Unesco Heritage sites. I was quite surprised to find this out myself!
Crucially for those on a budget, none of them are prohibitively costly to visit. Some require a local guide charging a very small fee, whilst others, have no cost whatsoever; you simply have to get there!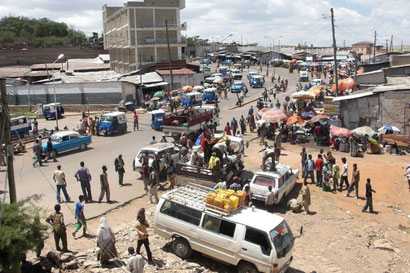 Budget Transport in Ethiopia
This brings me to transport in Ethiopia. We've talked about planes yes, but the country also has a vast network of buses, taxis and cars.
For us, part of the adventure of visiting somewhere that isn't over –developed, is sitting with the locals on a cramped old bus.
Not only do we get a real 'feel' for a place, but there's also that joy of really seeing the countryside as we drive through. That is definitely something that is lost when jetting around on planes.
You can read here all about our trip from Mekele to Bahir Dar on a budget.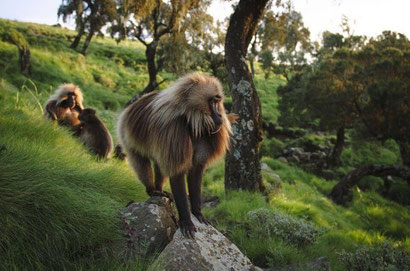 Ethiopian Adventure Tours
Ethiopia also has a rugged appeal for nature enthusiasts. From hiking the windswept simien mountains to track Gelada baboons to scrambling your way up a precarious mountainside to gaze in awe at planet earth's only permanent lava lake.
These experiences are things totally unique to the nation, but unlike in the old days, you needn't be super-rich to enjoy them. By skipping the traditional route of booking with an agent in your home country, you can save a huge pile of money.
---
---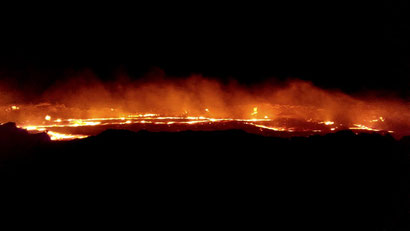 For our trip to Ethiopia, we agreed that nothing would be booked online beforehand as, the tours seemed rather steep.
By setting aside some time in the various towns, we were able to wander into agencies and speak directly to the people in charge and shave a significant 'last minute' discount off the online rack rate.
This benefits both parties; the tour operator fills some last spots but also makes a sale there and then without countless emails back and forth, and also, saves the traveller a few pennies to spend elsewhere.
In the interest of discretion, we can't list the company here, but an online quote for a particular trip came up at $600 per person. The EXACT same trip by negotiating face to face came in at $250. That is a MASSIVE saving and believe me, we could have got it for less, but it was hot, and I'm impatient.
You can read about our trip to the Danakil on a budget here.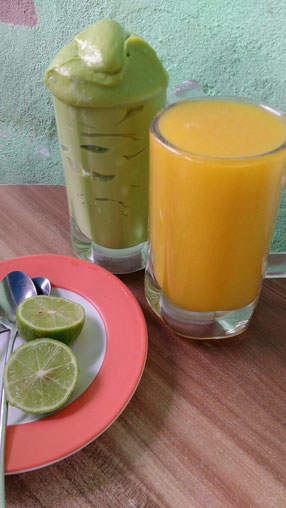 Eating Out and Hotels on a Budget in Ethiopia
Quite apart from the travel and tours, it's the daily costs that can really rack up in African countries; things like eating out and hotels.
Mercifully, Ethiopian people are naturally very friendly and hospitality-minded. This means that over the past few years, a boom has occurred in the hospitality sector.
Gone are the days where your only choice of sleeping was a pricey tour-group hotel.
Now, independent businesses have sprung up catering to the needs of those NOT on a pre-arranged tour. In several towns in Ethiopia we found affordable options that included hot water and breakfast for less than $25 for a double room (2 of us sharing).
The same goes for the food in Ethiopia. Admittedly, a LOT of Beef is consumed and, if like us, Beef is strictly off the menu, then meat eating becomes a thing of the past. However, small eateries and holes in the wall offer Ethiopian staples like Teff and Tibs at crazily low prices.
The town of Harar is also famous for its honey and peanut butter, so, on days when our tummies couldn't face much, then cheap jars of peanut butter on local flatbreads worked a treat!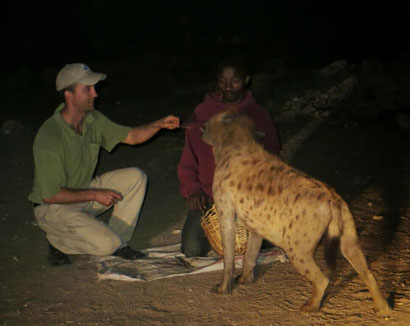 So what are you waiting for? You already know the reasons to visit, and I've convinced you of how it can be done on a budget so what's stopping you?
All you need to do is grab a guidebook, start planning, ignore fear-mongering over safety and get yourself immersed in a country full of variety and intrepid adventure!
Start comparing flights from your home country to Ethiopia right here!
---
---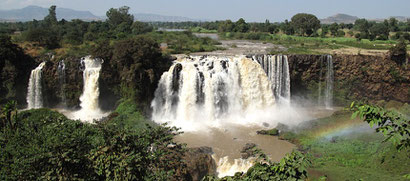 For us, Ethiopia showed us many wonders, including the shockingly arid Danakil Depression and Erta Ale volcano.
With so many bumpy journeys and hot clammy walks, the relaxing and local flair of Bahir Dar (Sometimes called Bahar Dar) was our final stop on our adventure in East Africa. Set on the banks on Lake Tana, the city itself is Ethiopia's third largest and is a tourism magnet for all kinds.
The Best Hotel in Bahar Dar
For us, the fact that the Blue Nile Falls are here was our reason to visit. Yes indeed, THAT Nile River. It begins here in Ethiopia then snakes its way out to sea through Egypt. It's a sight to behold and to get ourselves refreshed for the next adventure, we checked into the Delano Hotel.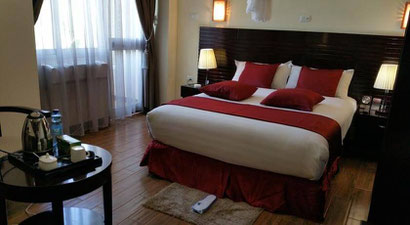 Placed centrally in town and overlooking the large new stadium and park, the Delano is one of a new breed of trendy, modern and clean hotels that have sprung up in recent years.
Due to the increased demand from tourists and business investors, the Delano set up shop to cover that most important gap in the market. Not so budget to sacrifice the comforts us tourists sometimes require, but also, not priced too highly to completely overstep our budget.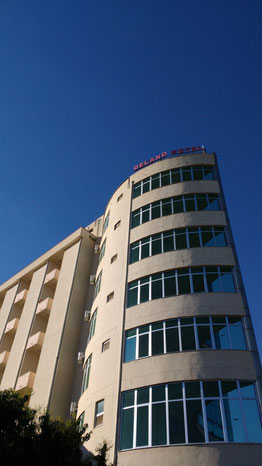 For us, weeks of being on a tight budget and more than a few floor-mattresses had got us craving the luxuries in life; air-con, a comfy bed, wifi, international TV, hot water and that holy grail of travel indulgences when on a shoestring; the complete pleasure of ordering room service.
Luckily, the Delano hotel delivered all of these at an incredibly good rate. The room was not only far beyond our expectations, but the menu options were also excellent.
We spent a touch more than our normal tiny budget each day, but the quality was superior to anything else we had experienced. The attention and customer service from the staff was also a huge highlight for the two of us. Sometimes, being on the road and sticking to the cheapest options can wear us down a touch. Hey, I'm not complaining, it's why we travel. But at the end of a trip like ours in Ethiopia, a little fanciness was all that was needed and luckily for us, we had the Delano Hotel in Bahir Dar to retreat to.
Any questions or such why not comment below or find me on your favourite social media – Twitter – Facebook – Instagram.
---
---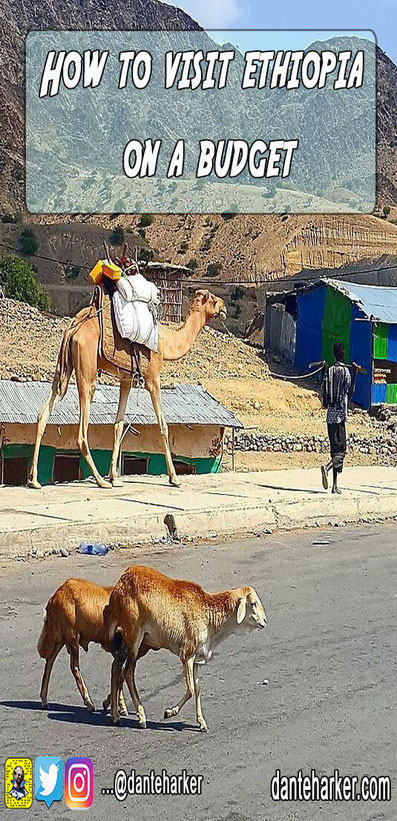 If you like this post why not pin it - no go on, that is a real thing I promise. 
---
---