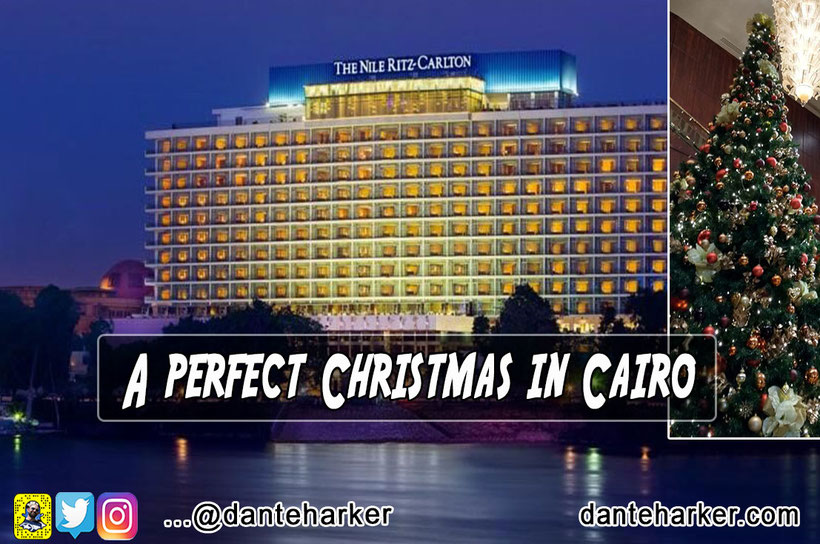 ---
When folks think of their ideal Christmas destination, often, images of snow- capped mountains, rustic wood cabins and steaming mugs of hot cocoa spring to mind. But for those that enjoy a warmer climate and the ability to indulge in some great food as well as shopping and city life, then Cairo might well be just the place!
Naturally, Egypt's capital is famous for the monolithic feats of engineering that are the Pyramids, as well as an array of other cultural highlights. But less known is its unbeatable shopping scene and dining options; for me, Christmas this particular year was all about breaking away from the traditional mould and, as I was in North Africa anyway, it made the perfect getaway.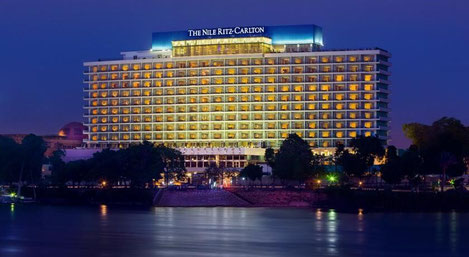 Flights to Cairo get cheaper by the day it seems, and with the national carrier, Egyptair being fiercely competitive, it really doesn't need to cost an arm and a leg to make a little trip this buzzing frenetic metropolis.
After a vast session of internet research (trust me, there is a lot to choose from) I decided that in order to get my fix of fine dining and luxury treatment, the Nile Ritz Carlton would be my best bet. Thankfully, Christmas day at the prestigious hotel did not disappoint. From its grand location directly on the famous Tahrir square to the main entrance lobby which, decked out in all its yuletide finery, was truly a sight to behold.
---
---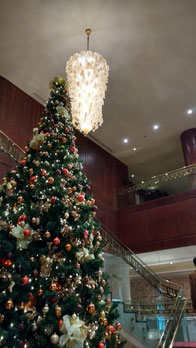 Christmas day at the Nile Ritz Carlton
I already had my accommodation booked, but with the Ritz-Carlton, non-guests are more than welcome to pay for a Christmas day experience. The setting is a very elegant one, and staff are on hand for any request you might have.
Of course, Christmas day (in my humble opinion) is not complete without carols, and jolly tunes softly play in the background; all helping to create a warm, relaxed vibe.
But then there is the food, a wide selection of hot sides are accompanied by meats ranging from chicken right up to steaks. There is also a roast beef joint waiting to be carved as well as freshly grilled skewers.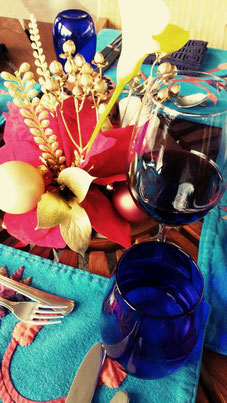 For the vegetarians, a selection of meat-free bakes are on hand, as well as soups, Mediterranean entrees and Middle Eastern nibbles like Hummus and Muttaball.
For me, indulgence is key here as, the whole Christmas day buffet lunch is a help-yourself layout, and trust me, nobody is judging you.
After choosing from the large wine list (It's Christmas, you have to get a bit of bubbly), we went on to enjoy a selection of the amazing little desserts handmade to perfection by the Ritz Carlton team.
Delicate choux pastry buns and crisp nutty tartlets go hand in hand with fluffy strawberry mousse and miniature chocolate gateaux. For a pastry chef like me, it was bliss. As one can imagine, my palette is rather acute when it comes to pudding, but this place didn't let me down thankfully. As a side note, you can read all about my top 3 chocolate experiences right here!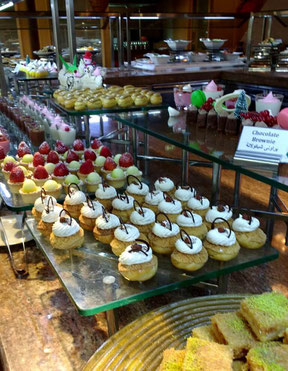 Things to do in Cairo at Christmas
After our fabulous Christmas day meal, it would have been very easy to sit and soak up the seasonal cheer in the hotel's bar, but alas, the Egyptian museum and the nearby Citystars Mall were calling me.
The Nile Ritz Carlton is located directly next door to the museum itself, so all that was needed was to free myself from my chair and get going.
We left the hotel very satisfied indeed, and, after a spot of culture (that museum really IS full to the brim with artefacts) it was on to Cairo's fantastic shopping malls for that most important of Christmas traditions; buying things that are pretty!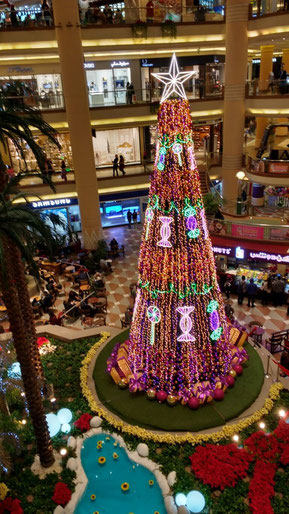 ---
If you liked this article, why not SUBSCRIBE for site updates, travel tips and some general off site content (I won't email often and if my posts get on your nerves you can just unsubscribe :) 
---
---