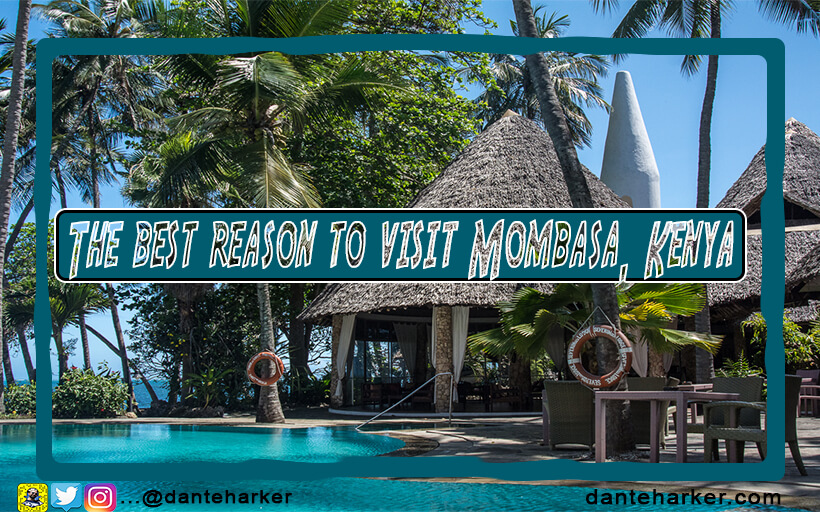 ---
Its true what you've heard! Kenya is well and truly the easiest East African country to visit and, with better transport connections than most countries on the continent, its something of a mystery to us as to why more people don't visit!
Perhaps its misinformation on the part of news agencies or a wildly outdated view of the country, but our only experience of Kenya has been of total ease and a fabulous destination to be explored. Of course, with a country as big as this, it can be difficult to narrow down exactly what one wants to achieve from a visit.
But that's where we come in! Now, having traveled around and of course, being avid fans of the ocean, it makes perfect sense to base yourself in the historic port town of Mombasa! Just a quick hop on a flight from Nairobi and you'll find yourself on powdery sands with a cocktail in your hands.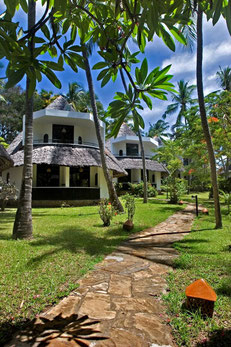 After researching the numerous options online it was decided that some kind of half-board beach retreat would do very nicely after all the heat and chaos that was Ethiopia. That's where the Severin Sea Lodge came in (arguably, the best reason to visit Mombasa). To say they have the most experience in the Mombasa hotel business isn't just P.R nonsense…in 2017 the resort will celebrate its 45th year of welcoming tourists from all over the world.
The best place to stay in Mombasa, Kenya
Set up and still run to this day by an ambitious German family, the Severin Sea Lodge clearly saw a juicy gap in the market and now, they reap the rewards from that early foresight.
For us, it ticked all our boxes the moment we arrived; from the friendly check-in that couldn't have been easier, to the beautifully appointed rooms with their African identity and gorgeously carved wood furniture. Sometimes, after a harrowing few weeks on the road, a little affordable luxury is all we need and there was buckets of it at Severin.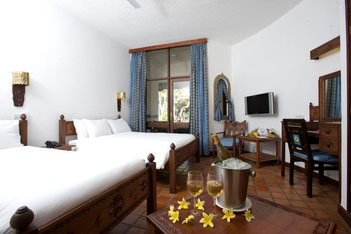 Starting with the location itself, the resort is on its own little stretch of Bamburi beach on the north coast; far away from the traffic and sprawl that is downtown Mombasa.
Oddly enough, even though other hotel complexes have popped up all along this coast, the Severin seems to do a great job of seeming private; maybe it's the great planting, or the maturity of the site; after all, it has been there for 45 years!
But don't let age put you off as, the hotel itself is on a constant cycle of renovation taking in every part of the complex. This investment in the property means that guests never really feel like they are in an 'old' hotel and, while I can only speak for our pretty little building, there didn't seem to be any shoddy shacks on my stay.
To be fair, what else can we expect from the meeting of two great cultures? The German influence is clear to see; from the super organised day to day running of the hotel to the general feeling that is evident in every part of the resort. That being, as a guest, you never once feel as though the management doesn't know what its doing. I realise it's a huge cliché, but the German people are good at business.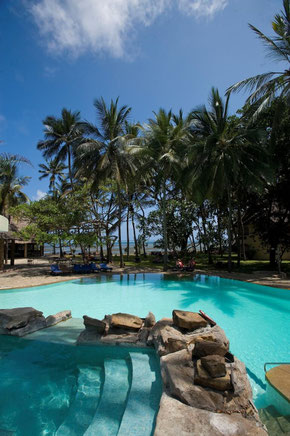 The other part to this place is the Kenyan hospitality side of things.
Honestly, we've stayed in many places over the years, but the attention to service here was second to none. Every member of the team was a joy from the gardeners, to the chefs, to the front desk people; its rare that we are bowled over by how lovely everybody is, but we certainly found it that way at the Severin Sea Lodge.
Naturally, we weren't there just to get great service; the reason we chose Mombasa was its fantastic ability to tick so many boxes. One afternoon we wandered around the Old Town of Mombasa taking in photogenic crumbling architecture and fort walls, and the next, we were swimming in crystal clear Indian Ocean at the front of the property. Added to that, two swimming pools for frolicking and family entertainment, it was a great way to unwind after a few stressful days.
---
---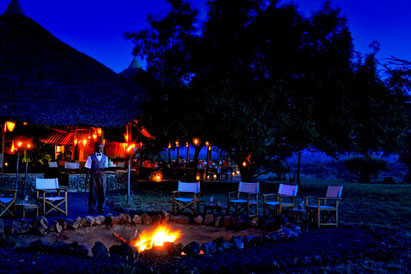 The best safari Lodge in Kenya
Of course, nobody really comes to Kenya to simply lounge around a beautiful resort by the sea (tempting as it is). The real draw, for us anyway, is the fascinating wildlife on the doorstep.
Luckily, this needn't be a real stress as, Severin also operates a full itinerary of tours and trips. One day jaunts to the nearby animal park go hand in hand with the Severin Safari Camp which lies just a few hours away in the Tsavo national park.
Here, guests can still enjoy the comforts they expect from the hotel but on the doorstep of one of Kenya's most alluring wildlife parks. Where else can you while away the afternoon in a swimming pool that faces directly onto the savannah? All this is available at really competitive rates!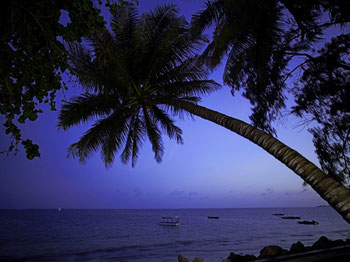 Scuba Diving in Mombasa, kenya
The land mammals aren't the only Kenyan draw for sea-monkeys like us though, and Mombasa seems to deliver on that level too. With brilliantly clear waters lapping directly at the shore and marine life in abundance, scuba diving the reefs here are a past-time not to be missed.
Never ones to let their guests down, the lodge has an on-site dive shop under the banner of Barracuda Diving.
Obviously we needn't do any more qualifications with Padi (as we're instructors) but I always encourage holiday makers to take the plunge, by spending a few days of their vacation learning to dive. In all honesty, what better way to learn than with an intimate little team like the guys at Barracuda? Almost makes me want to learn all over again!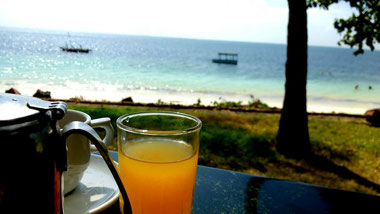 That's what is most enjoyable about the Severin; we are not independently wealthy but got to experience a taste of luxury without going through a middle man and paying through the nose for it.
We frequently come across tour packages that cover flights, accommodation and safari and the rates are flabbergasting. Not so with this family-run place as, guests are free to customise their own stay depending on their needs.
For us, a half-board deal made perfect sense as, we generally only eat 2 meals a day anyway. With an enormous western style buffet breakfast and a la  carte dining options each evening, it was a total pleasure!
So much so in fact, that we were forced to swim in the ocean each morning and use the Severin's gym facilities just to offset all that lovely food. ('Forced' is a silly word to use really; I mean, its not a hardship to do some breast stroke in clear Indian Ocean water is it?!)
---
---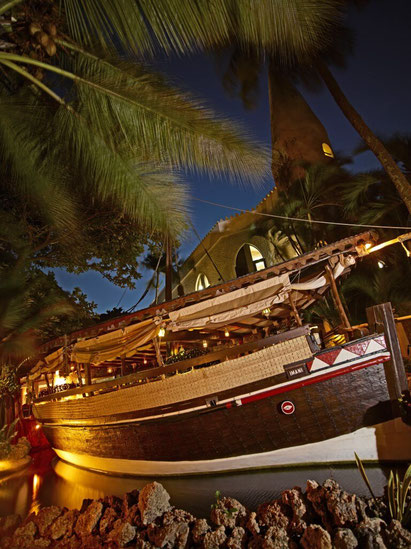 The Best Restaurant in Mombasa, kenya
When it came to rewarding ourselves after a hard days reading/showing off on Facebook using the hotel's wi-fi, the dedicated Imani Dhow restaurant was a bit of a winner.
Set in the hull of an old boat that many moons ago actually sailed back and forth from Zanzibar, Imani Dhow has earned rave reviews for its atmospheric setting and top-knotch cuisine.
Being people who don't actually eat fish, it was a crying shame we missed out on the comprehensive seafood menu, but there was plenty more to choose from.
My vegetarian samosas were crisp and flavorsome, and a main of Rosemary scented lamb accompanied by grilled vegetables and smooth creamy mash was hands down the best meal I had in Kenya. Sadly, being a terrible glutton, a freshly made pancake served with homemade ice cream and a boozy caramel sauce had to be ordered.
Its shameful really, but with puddings like that on a menu, its criminal to NOT order them right? Anyway, we were on holiday OK? Stop judging me!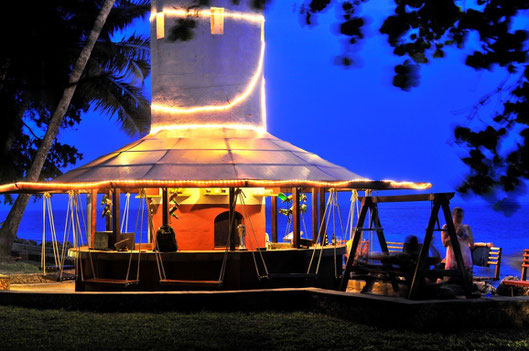 All too soon, our few days at the resort were over, but not before copious drinks were consumed in the 'swing bar' which is placed right on the powdery white sand.
Before you ask, its named so, for its playful swings that guests sip drinks in at the bar. The cool breeze on our last night was welcome relief from the Mombasa heat as we watched boats bobbing on the waves.
We both wished we could have stayed longer, but alas, all good things must come to an end. Luckily for us, we got to enjoy the best that Kenya's coast has to offer at the Severin Sea Lodge, and frankly, we're not going to forget that anytime soon.
Any questions or such why not comment below or find me on your favourite social media – Twitter – Facebook – Instagram. 
---
---
---