---
The first month away is perhaps the most challenging and yet quite often the most exciting. It can take the first week or so to realise that you're actually away, well obviously you know you're away, but you're away, away. By this, I mean that you're not on holiday where all the comforts of home are waiting for you at the end of a trip. If you go on adventure holidays or keep yourself super busy with tours, you might hear yourself say 'oh I could do with a holiday after that' – but when you're travelling, there is no more comfort of home – this is it, onward.
We don't have return tickets, we don't have a time we're thinking of going 'home', and we don't, for all intent and purpose have a home. 
It's very easy to confuse people when they ask me 'where do you live' and I answer with, 'err, well, nowhere'. I might throw in if it's not too hot and I'm feeling generous 'I'm from the UK, near Manchester' as this helps a little. I add that last part as I wouldn't want anyone to think I'm from London (northerner through and through). 
Of course, mentioning Manchester just brings up the question of football. I'm not a fan and very much with my Nan when she said 'football is just a bunch of sissy boys who like to kick a lump of plastic around a field' – this isn't much of a fun conversation for me. 
I tell them I like the blues and hope that's enough. 
---
---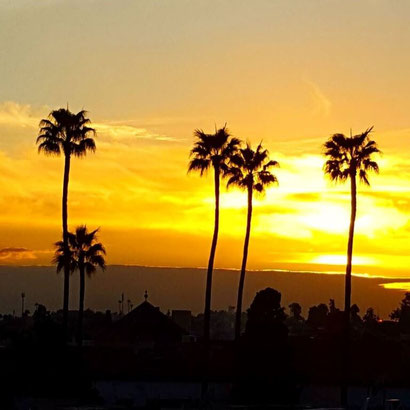 (A Moroccan sunset from the roof to of Riad Star - see 48 Hours in Morocco here)
My point, and I do have one, if you bear with me, is that it takes the first month to realise that though you're homeless, you're having an adventure. It's the adventure you planned for and wanted, and that makes up for the sheer terror of knowing you have no roof of your own. 
The key to getting through the first month, I know it's odd to make it sound like it's a hardship, but the homesickness/what the hell am I doing, feeling can be really hard the first month, is to keep busy.
And by busy, I mean ensure that you include a lot of amazing things, the things that are on your Pinterest boards, the stuff you've wanted to see forever. 
For our first month, we managed to cram in quite a bit. Until we get to India at the end of March (Fates and visa office willing), we're zooming through countries. I think around 12 in all – if you wanted to find out how many and not rely on my 'thought's check out this article here. 
The countries included Morocco, France, Israel, Jordan, Egypt and Ethiopia and a huge range of activities.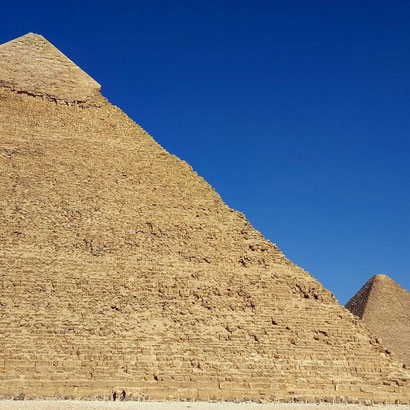 Many of them have been on my Epic Quest for a long time – See the Pyramids, float in the Dead Sea, visit Petra, take a cooking class in Morocco. Actually, this last one wasn't on my Epic Quest, I prefer to eat food from a trough, sorry I mean buffet, but Alex is a chef, and he likes to update his skills where he can. 
I liked the fact we had personal tuition and we drank a bottle of wine while doing the cooking – not sure what more one needs in life. 
There are blog posts about most of these adventures, so I don't want to repeat myself, though most of our posts are the useful kind, rather than the more random bits you'll read here.
For example, what's not said in the Visiting the Pyramids on a Budget piece is that we were warned not to go on public transport. I don't mean warned like you warn people against the buses in the UK. Well, I never would but if you ask people who own cars about the buses they'll tell you they are slow, or never turn up and the people stink (depending on how classy the person is who you ask). 
I mean warned as in if you do this you're going to die for sure. 'Please, please don't use the metro' – we were told by a local.
Again, though, a local with a car and the Uber app, so not actually someone who uses the metro at all. This is often the case when you ask locals, as with many of us, we're not good tourists in our own towns and only actually know things by hearsay, so be careful when it comes to trusting the advice of a local. For me, I prefer the advice of an expat or a traveller, they have at least been a tourist in that place. 
The issue we actually had with the Metro is that it's so insanely cheap, that they only take very small notes and have very little change. So, when we first went to the ticket office we tried to buy two tickets with what was the equivalent of a five-pound note and the ticket was 5p – yes, 5p. 
The lady at the counter had no change, and as it turns out no manners, so we had to go and find a shop and buy something to get change – a can of cola for 20p – IKR – Cairo is very cheap once you leave the resorts. 
---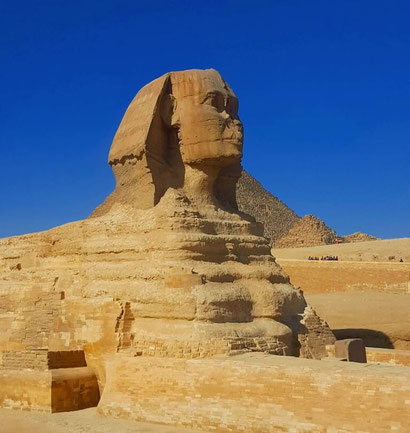 We got on the tube, no worse than one in London, and then on the local bus. Admittedly, the bus was worse than the UK, well not really worse, just more rustic and more like a crowded, slightly smelly mini bus than an overcrowded, slightly smelly full-sized bus in the UK. I'm not sure what it is about buses and people washing, in the UK, come the summer, it seems to bring out the great unwashed who like to take the bus just to rub their BO over commuters – it's not pretty. 
Egypt is quite an aggressive country, at least the men there are, it seems there are very few smiles, lots of horn beeping on the cars and so many hawkers (people trying to sell you their crap and getting upset when you don't want it).
It seems it's a country of chain smokers who, due to religion, don't drink. This means that if you meet a guy from a country like this who isn't smoking, then you're not going to get a smile, more a grunt or some moody attitude. This seems to be the same for all the Muslim countries we've visited, lots of smoking, and when not smoking, grumpy people.
Most things are better in life with wine, that's all I'm saying. Though on that note, we always feel much safer in Muslim countries than Christian ones, I think because people who abuse smoking get grumpy and tend to die young, those who abuse drink often get aggressive and shooty, not ideal. 
The pyramids are amazing as you'd imagine, certainly, once you can get a clear shot of one of them without someone wanting to know if you want a camel ride. And they are tall, not the camels (well they are), the pyramids. Look at the size of the man in the pyramid pic compared to the actual pyramid. 
I'll talk more about Cairo in a moment as we actually flew back to Cairo from Ethiopia for a week over Christmas…
---
---
Earlier in December we visited Jerusalem, a pretty modern city built around an old super historic town. It's super historic in that 'looking at pretty buildings and marvelling at man-made wonders' kinda way.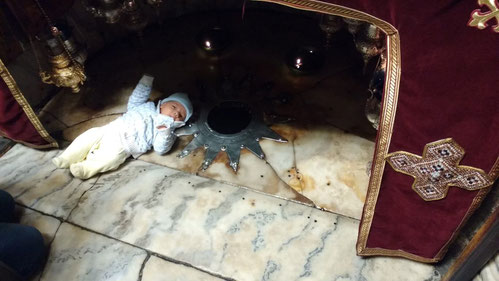 Don't get me wrong, I like a pretty church as much as the next man, but the main reason Alex and I travel is for the adventure and the wildlife, and you don't get too much of this in a church no matter how old it is. In fact, they really don't like you running up and down the aisles pretending you're in a Dan Brown novel solving clues that will help you save the world. 
If you think telling people you don't live anywhere confuses them, telling them that 'no you didn't go and see X building/church/thing a man-made' – really upsets them.  'Oh you must' – people will say, they have to say it really loudly of course because we're usually walking away from them at this point.
What people must do when it comes to travel is decide for themselves what they want to see and where they want to spend their money. They shouldn't have this dictated to them by what other people/guidebooks/the internet thinks you 'really must see'.
So, we didn't see where Jesus was meant to be crucified, for several reasons really, the one I just mentioned, plus, you had to pay to get in, and we'd be visiting the place someone was meant to have been killed horrifically, and that seems a little macabre to me. 
We did, however, visit Bethlehem and saw the place it's believed he was born. I thought he was meant to have been born in a barn, but that seems to have been ripped away and a huge church built in its place.
We happened to see the price of a tour from Jerusalem to Bethlehem and it was $130 dollars each - a bargain right?!? 
We decided against the: 'I have the umbrella, follow me, or you might die' option and instead caught the local bus which took less than an hour and cost less than a fiver.
If I'm honest, we didn't go to Bethlehem to see where Jesus was born, though that was fun. We especially liked seeing people kicking and pushing their way to get to the front – like good Christians – and when it was our turn having some obliging woman put her child down just in time for us to take a photo. 
What we actually went to Bethlehem for was so we could sing 'Oh little town of Bethlehem' – the carol – in Bethlehem. This we did until the police said we had to stop because we were making children cry (this last bit didn't happen). - This video has gone now - this is why you should follow on Snapchat and Instagram :) 
---
---
Jumping forward, and don't worry I've nearly done with this vague look over the last month, and we visited Ethiopia. 
The main reason to visit here, other than Lonely Planet telling us that it's a must-see for 2017 and wanting to say 'oh we went in 2016' was to see lava. This has been a mission of ours for years with lots of failed attempts, some of them even life-threatening fails. 
This time we didn't fail and standing 10ft from a lake of lava is one of the highlights of my life so far, and you can read more about that here.
It turns out that just before we arrived in Ethiopia, the government there had turned off access to social media and various website in the hope of quelling protests. 
We were meant to spend three weeks in the country, but as our job is so connected to social media, we had no other option than to go back to Cairo for a week over Christmas. 
We found an Airbnb apartment in the city and spent a week getting to know the place. This was when the city came into its own and with super cheap Ubers to take you around this mega city (around 20 million people live there), it was a fun week of exploration. 
We even had Christmas Dinner there at the super swanky Ritz Carlton – I wore a top hat (I didn't).
And that's about it, a fun month, plus we did lots more, which you can see from the pics dotted around this page and from links to other blog posts. If you're not following, you should check out my Instagram and Snapchat as we have a lot of live content these day.
This was month one and hopefully, month two will follow in perhaps, well, a month.
Any questions or such why not comment below or find me on your favourite social media – Twitter – Facebook – Instagram. 
---
---