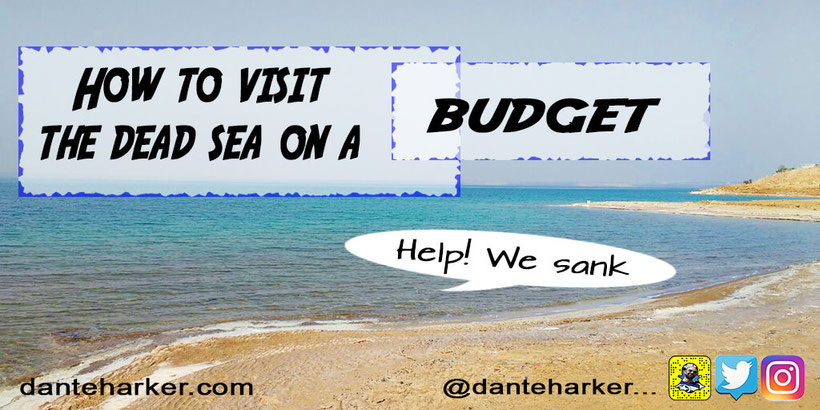 ---
Its 8,000 BC and what is now called Jordan, Stone Age hunters are farming the land, rearing livestock and beginning to settle in villages; flash forward 7,500 years and Arabs called the Nabateans migrate south into Jordan and develop a rich Kingdom based on important trade routes through the region. Flash forward again to present day, and we find ourselves in modern Jordan, a place teeming with variety and interest. From the naturally occurring landmarks, to the towering man-made stone edifices carved into the mountains in the south, it's clear to all that Jordan has a lot to offer.
Following the 1994 peace treaty with Israel, and the current King being widely liked by his subjects, Jordan itself is in a period of relative stability. Of course, widespread unemployment and social reform issues as well as economic challenges mean that, like any other country, Jordan faces its challenges but what is not tapped into yet, is the amazing potential for backpacking and budget tourism.
Indeed, plenty of tourists visit Jordan every year, but shockingly, visitor numbers have been steadily in decline since 2010, largely due to Jordan's proximity to Syria.
It's a crying shame that a country so rich with archaeological and natural gems is being avoided by tourists from Europe and in particular, the UK.
Some of this can be blamed on infrastructure too of course, which means that to have a truly 'budget' experience, you do have to be savvy, and you do have to haggle, but for those up for the challenge, there are rich pickings here in Jordan.
So it's up to me to share my experience of this country which in my opinion, though stark in its beauty, holds a few surprises too. My partner and I are on a longer trip anyway, but flights into the capital, Amman are getting cheaper and cheaper all the time due to fierce competition between airlines and a growing business-oriented economy.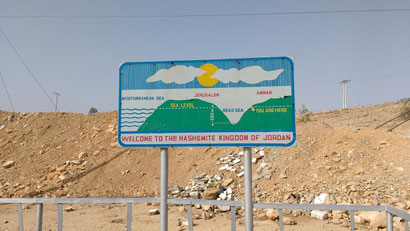 We travelled overland from Israel (you can read about that here) but even if you were coming directly from your home country, I would definitely recommend the Jordanpass.
This is all done entirely online and only takes a few minutes in total. The concept is that you get your entry fee paid, as well as entry to a whole host of other attractions in Jordan including the famous site at Petra.
for my budget guide to visiting the amazeballs Petra, take a look here
You can download your Jordanpass onto your mobile then all that's needed is for you to flash the barcode on your phone at the various tourist sites, and in you go. Simple.
---
---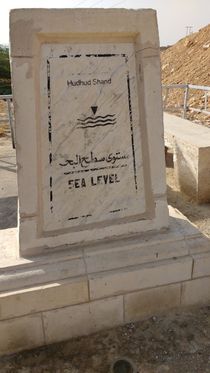 Our first stop had to be the surreal and serene dead sea in the north near Amman. The 'sea' is so salinized that it really is impossible to sink in the water. You've seen the Facebook profile pics of people that show them floating effortlessly in the dead sea, now it's time to get your own experience of this great day out. 
Now, there are numerous hotels lining the dead sea, but all of them are WAY outside your average backpacker budget, so the best bet, is to stay in one of the affordable hotels or hostels in Amman then take a day trip to the dead sea itself.
What follows is our little day trip from Amman to the dead sea which was a fantastic day out. Of course, with more haggling and a touch more Arabic, you might be able to get yourself on more local transport.
The key message here is, we tried to have the day on the cheap, but by all means, try to go even cheaper if you can. Get in touch and let me know how you did it!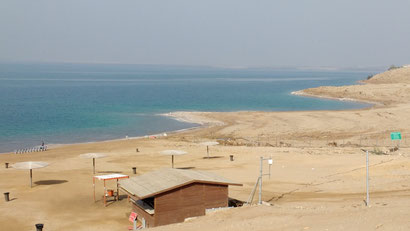 1) Get in a taxi (that's right, I normally avoid these like bubonic plague, but when there are four of you visiting, its works out ok money-wise and incredibly convenient if you're short on time).
All four of us, jumped in a cab at our hotel in central Amman and to take us, then return us after waiting for 3 hours, we finally arrived at 50 Jordanian Dinar in total (referred to as JOD from now on).
I am pretty certain we could have driven a better bargain, and believe me, I would have, but the two people we were with gave in super soon, and I had no interest in awkwardness for the rest of our day out. This meant that the price was 12.50 JOD each to get to the dead sea and back. I think that's fair.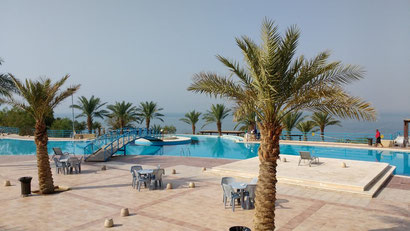 2) The journey took about an hour and a half due to traffic, but it was nice scenery, and a great chance to chat with our new friends.
Once at our chosen place, were dropped off and left to it. As I mentioned, there are posh resorts all down the coast that you can stay at, or just get a day pass for. Some of these include a lunch buffet, and access to swanky swimming pools etc.
Be aware though, that the prices can vary wildly, and you will definitely pay more, for the more you get. We opted after research for the Amman Beach option.
It has swimming pools, showers, changing rooms, access to a café, access to a buffet and a gift shop (who DOESN'T love a gift shop). This option was 20 JOD per person; you can stay as long as you like, and if you want food, you can pay extra. We took along a picnic in the event of hunger.
---
---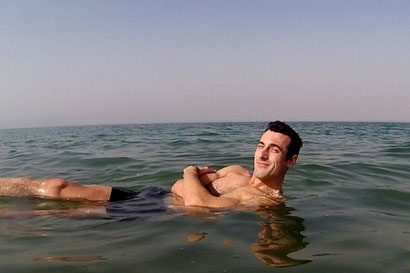 3) Once paid and inside the 'resort' we hired a towel and locker  for 2 JOD each (they also take 10 JOD but that's a refundable deposit in the event you lose your key/steal their towel).
The facilities were very clean, and really quiet. We went in December which is 'freezing cold' for some of the locals, which meant we had the beach to ourselves for an hour or two. The air temperature is about 20 degrees  Celsius, so very manageable.
4) After floating around, frolicking, taking photos (it would be madness  not to) we headed up the beach to the giant vat of dead sea mud they had collected there. (Side note; you probably know this anyway, but do NOT get any of the dead sea water in your eyes; no splashing, no dunking your head. Just DON'T do it. The salt-level is so high it burns like sulphuric acid eyedrops if you get it in your eyes). 
Check out our tips on how to visit the Pyramids at Giza on a budget here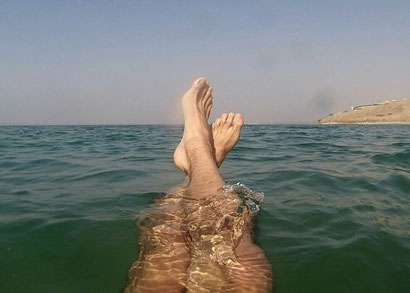 We walked up the beach, paid 3 JOD each, then helped ourselves to the super sticky black mud. It was really, really fun, I'm not going to lie.
Getting yourself covered head to toe in thick sludge in front of strangers is an amusing experience; absolutely worth the extra money.
We then lay about in the sun until the mud had dried up creating a really tight body masque. Not to be missed at all! After that, simply wash it off in the dead sea, and enjoy that silky soft skin you now have.
Listen, people pay darn good money in swish spas in the UK for a more pampered version of this! Our final job, was to rinse ourselves off using the cold water showers they provide at the top of the beach. Bracing, but necessary; that mud gets EVERYWHERE!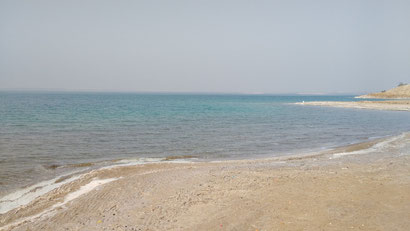 5) After a quick drink and a snack, my new found friends and I jumped back in our taxi and headed back to Amman.
It was a fantastic half-day trip and if you're a person who enjoys relaxing in the quiet, then you could easily spend the entire day floating in the sea, having a snooze on a lounger, then floating in the sea again; it's very tranquil and definitely worth paying out for; hopefully, not your life savings either.
So in summary, costs per person for our trip to the gloriously serene dead sea:
Return shared taxi from Amman to dead sea 12.50
JOD Entry to Amman beach 20.00 JOD
Towel and locker hire ` 2.00 JOD
Mud experience 3.00 JOD
TOTAL COST FOR A GREAT DAY 37.50 JOD
All you need to do is get yourself to Jordan and do it for yourself! Did you find this useful? Have you done it on an even stricter budget? I'd love to hear from you…get in touch on Twitter - Facebook - Instagram or comment below!
---
---