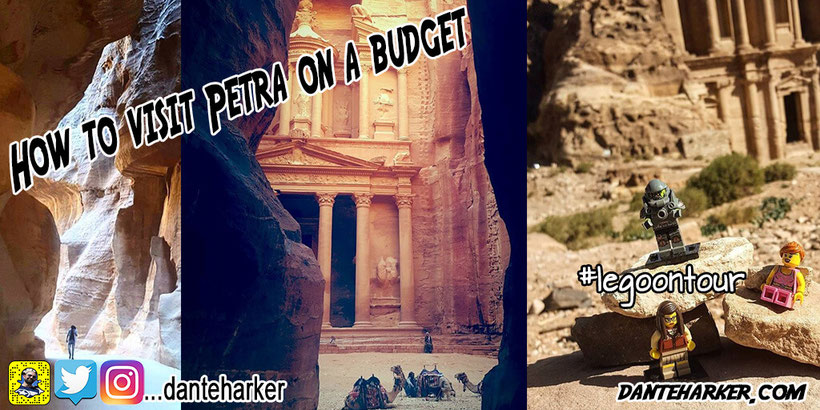 ---
Its 8,000 BC and in what is now called Jordan, Stone Age hunters are farming the land, rearing livestock and beginning to settle in villages; flash forward 7,500 years and Arabs called the Nabateans migrate south into Jordan and develop a rich Kingdom based on important trade routes through the region. Flash forward again to present day, and we find ourselves in modern Jordan, a place teeming with variety and interest. From the naturally occurring landmarks, to the towering man-made stone edifices carved into the mountains in the south, it's clear to all that Jordan has a lot to offer.
Following the 1994 peace treaty with Israel, and the current King being widely liked by his subjects, Jordan itself is in a period of relative stability. Of course, widespread unemployment and social reform issues as well as economic challenges mean that, like any other country, Jordan faces its challenges but what is not tapped into yet, is the amazing potential for backpacking and budget tourism.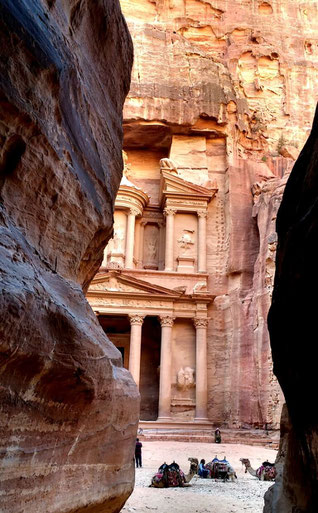 Indeed, plenty of tourists visit Jordan every year, but shockingly, visitor numbers have been steadily in decline since 2010, largely due to Jordan's proximity to Syria.
It's a crying shame that a country so rich with archaeological and natural gems is being avoided by tourists from Europe and in particular, the UK. Some of this can be blamed on infrastructure too of course, which means that to have a truly 'budget' experience, you do have to be savvy, and you do have to haggle, but for those up for the challenge, there are rich pickings here in Jordan.
So it's up to me to share my experience of this country which in my opinion, though stark in its beauty, holds a few surprises too. My partner and I are on a longer trip anyway, but flights into the capital, Amman are getting cheaper and cheaper all the time due to fierce competition between airlines and a growing business-oriented economy.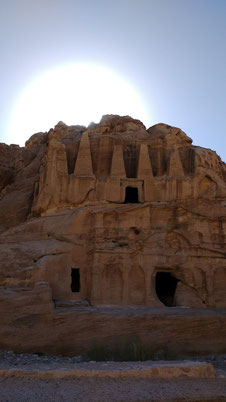 We travelled overland from Israel (you can read about that here) but even if you were coming directly from your home country, I would definitely recommend the Jordanpass.
This is all done entirely online and only takes a few minutes in total. The concept is that you get your entry fee paid, as well as entry to a whole host of other attractions in Jordan including Wadi Rum and much more .
For my guide to visiting the dead sea on a shoestring, click here
You can download your Jordanpass onto your mobile then all that's needed is for you to flash the barcode on your phone at the various tourist sites, and in you go. Simple.
So without further ado, I have to share with you what was for me, the highlight of our brief stay in Jordan; a trip to the lost city of Petra! Before you say anything, I realise it's no longer 'lost' as such, but it doesn't half sound exciting does it?
---
---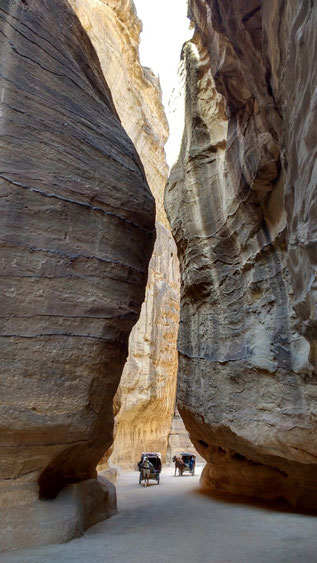 Petra itself is the ancient city carved out of stone by the industrious Nabatean people; a civilisation later absorbed by the Romans.
Dating from over 2,000 years ago, it's truly a sight to behold. An area covering several square kilometres, it takes in ancient cave systems, elaborately carved stone facades and myriad architectural details that, might I remind you, was all done by hand.
If you're a history buff, there's an amazing wealth of knowledge here on the Jordan tourism site, but for us average Joes' that just love looking at awe-inspiring feats of engineering in among striking desert beauty, then it's just a place to enjoy and get lost in.
For many people (myself included until very recently) Petra was simply a place to be visited on a trip from Egypt or Amman, but with a little more research, it is incredibly easy to place yourself right in the middle of the action in nearby Wadi Musa. Not only can you enjoy the ancient city at a relaxed pace (rather than a break-neck speed mini-tour before being herded into your coach), but you can also take in Wadi Musa's relaxed vibe and stunningly moon-like setting. What follows is my account of how to visit Petra on a budget, yes; but also, how to really make the most of your time in this interesting place.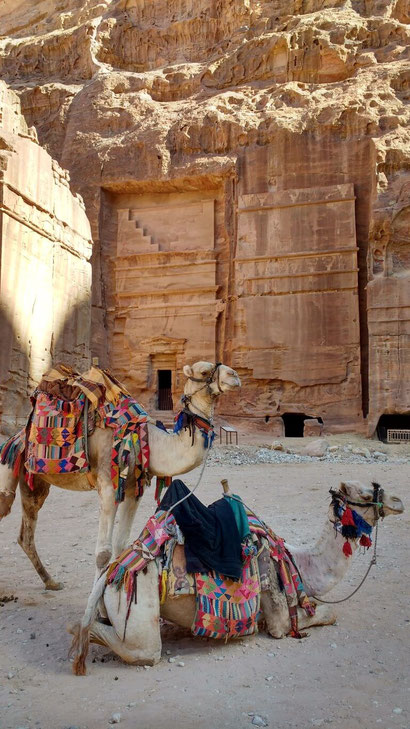 1) First things first, will be your arrival. Perhaps, you will be crossing overland from Israel, like I did. You can read about that here.
If you're already in Amman, then get in a taxi (or walk if you're close enough), to the South Bus Station. Helpfully, it has a few different names; some of them being Al Wehdat, South Complex Station, or Mujamaa Janoobi. Either way, if none of these works, then ask for the bus that goes to Wadi Musa/Petra; you will get there in the end.
The taxi was 4 JOD for two of us from the complete other side of the city. The bus station was fairly organised, and minibuses that go to Wadi Musa/ Petra leave all day once they are full.
The cost per person for the trip from Amman to Petra was 3 JOD . The minibus took 3.5 hours to get to Wadi Musa. It was cramped, and it was hot; just saying. Honestly, at that price, I would have been happy to sit on the roof!
2) Once we arrived at Wadi Musa, we used our GPS to locate our hotel. The town of Wadi Musa is really small, and we declined the numerous offers of taxis and walked the 3 minutes uphill to our place. We looked around, and as we were on a really tight budget, we found a perfect place that offered everything we needed for our stay; the Saba'a Hotel. It's a real find, and if you scroll to the bottom of this article, you'll see why.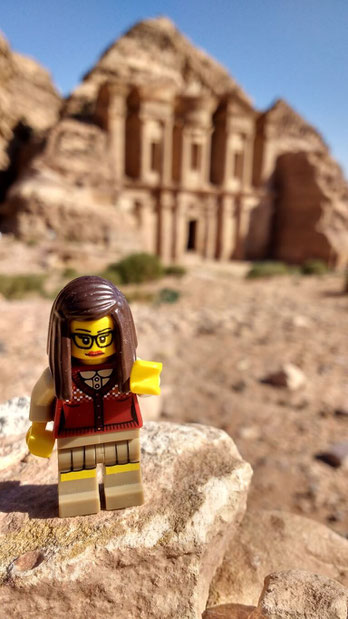 3) So, the next day we made our way to the ancient city of Petra. The Saba'a hotel is just a few minutes walk downhill to the main entrance gates of the Petra site.
For sure, you could get a taxi, but when the weather is perfect, and the views are stunning, why not start as you mean to go on, and make a day of it?
After flashing our Jordanpass at the main gates, we strolled on through and began our wandering around the site itself.
We definitely wanted to make the trek up to the Monastery for views over the valley, and we certainly didn't want to miss the most famous of Petra's sites, the royal treasury.
Thankfully, with a little paper map, it's really easy to navigate the site; towering labyrinth canyons snake through the rocky desert and reveal bit-by-bit this massive man-made wonder. For sure, I could go on, but I'll let you discover it for yourself.
Without a doubt though, Petra is absolutely an unmissable highlight of any Jordan visit. I tend to get bored very easily by natural wonders, but even I was taken away by how pretty it was, and also, just how easy it was to find a little spot that's just yours.
Check out my article on how to visit the Pyramids of Egypt on a budget
Perhaps that's due to visiting in December, so less tourists, but if you decline all offers of horses/taxis/camels etc, and buy no souvenirs from the people in the site, your Petra visit can be done incredibly cheaply!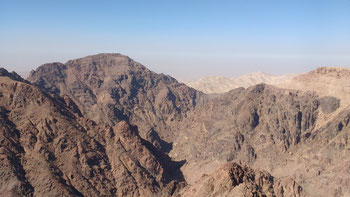 4) The final job was for us to walk our way back up the hill to be greeted by the guys at the Saba'a hotel.
Again, you could get a cab to take you back into town, but honestly, with only a few hours left in Jordan before our next destination, we wanted to really soak up the views and clear air, so walked up we did, before enjoying that famous sunset over the Wadi Musa rooftops; definitely a place worth doing on a budget, you won't regret it!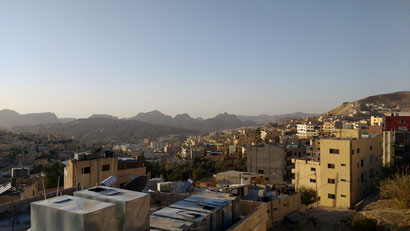 NOTE: We stayed at the Saba'a Hotel. It's one of the best value places in town and, with us trying to keep our Jordan budget to a minimum, it was the perfect choice for us.
With its cosy atmosphere, good location and all the amenities us backpackers really want (wifi, dvd library, book exchange, hot water and a great breakfast) we didn't regret our choice.
There are a bunch of cheap places to eat in the area and the team at Saba'a can help with laundry and onward travel. The owner, Gail, is a Jordan resident of ten years and is a veritable mine of great knowledge that will keep you happy AND under-budget.
There are plenty of room options, and a super-early breakfast service from 6.30am just in-case your onward transport has you whisked away before 7am, not to mention, that most important of backpacker hotel essentials; a packed lunch service, and a trusty well-worn set of Jenga. So what are you waiting for? Book with them now!
Did you find this article useful? Have you visited Petra? What was your experience? Any questions, please do get in touch on Twitter or Facebook or comment below :)
---
---