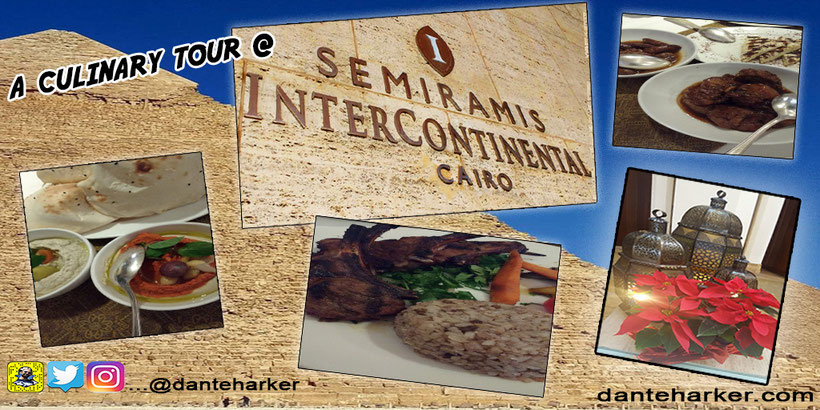 ---
The lights are dipped very low, and a live pianist is tickling the ivories in the corner. Among the grand leather sofas and flickering candlelight, my partner and I are enjoying a nightcap. He has an old fashioned, and I opted for the Spicy favourite. We soak in the atmosphere at the Ambassador club at the Intercontinental Semiramis and enjoy our last night in Cairo.
It's been a frenetic few days with a whirlwind tour of the world's most famous pyramids at Giza, followed by shopping, and a trip to the fascinating Egyptian museum. In among these cultural highlights though, there have been some truly memorable culinary experiences here at the hotel itself.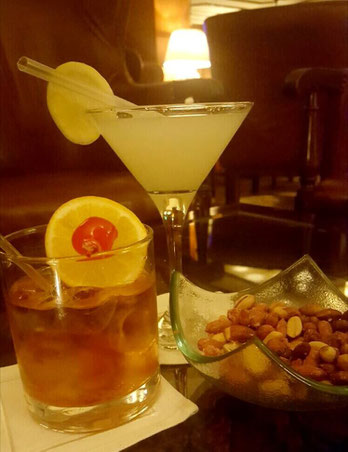 Catering to guests needs, the Intercontinental Semiramis has no less than 11 different food destinations. The concept of this being that after a hard day being a tourist, what many Cairo travellers want, is a little respite and relaxation, and the Semiramis does that with aplomb.
Now, our flying visit lasted a shockingly brief 2 days, (much like our 48 hours in Marrakech) but that only cranked the pressure up for us. The plan we devised was that we would NOT go back to the same place for lunch or dinner twice (we may be creatures of comfort, but honestly, with such a tempting array of eateries, one HAS to keep it varied). This was the plan, and all that was left was for the feasting to begin.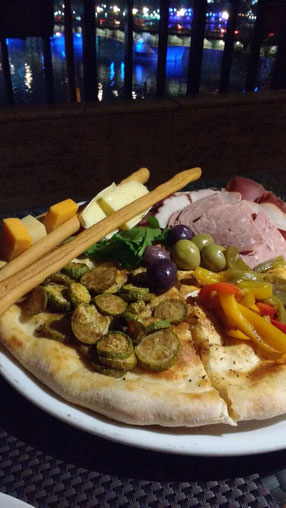 Our first evening took place at the Pane Vino restaurant located on the 1st floor of the Intercontinental.
Chef Giovanni is an actual Italian with a wealth of experience, so we knew we'd be looked after. Classic Italian antipasti with imported meats and cheese have never tasted so good; perhaps it was our romantic view from the restaurant's outdoor terrace overlooking the Nile.
The wine list was extensive, but as we had never tried Egyptian wine, it seemed a fitting start to our Egypt trip. We went for the Omar Khayyam Bobal. It was good, and just the right side of sweet (Italians do love a sweet wine don't they?). Our main meal involved a LOT of Italian cheese, and of course, a touch of pizza dough. Well, as they say, "when in Rome…". As a side note, if you TOO love wine, read about my experience at a Chilean Winery right here!
Our first morning began (as it does with all of the guests at the Semiramis) with the enormous buffet breakfast. From the standard cold meats, cereals and toast, this place then cranks up the volume with a full selection of hot breakfast items, international pastries, waffles, pancakes and, freshly baked breads cooked before your very eyes. Needless to say, it was an incredibly satisfying way to start our day. 
---
---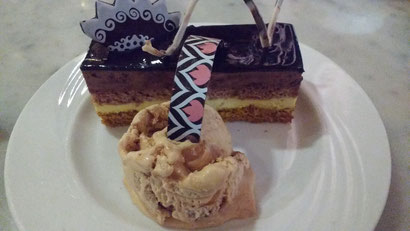 From there, some tourism was required (a much needed walk was in order too) but upon our arrival at the hotel later on that same day, it seemed a waste not to sample some of the delights made at the hotel's mini patisserie, Café Corniche.
Situated in the grand marble lobby, this little place was a welcome respite from a morning of strolling in the heat. With a beautiful selection of hand-crafted pastries and a full drinks menu, it seemed madness not to indulge at least a little right?! To be honest, its not the first time i've been lead astray by sweet things, like the chocolate buffet in Bangkok I attended.
My choice of a double espresso and a feathery light yet rich chocolate dessert was perfectly accompanied by a scoop of the Cafe's gorgeous caramel ice-cream. Just what I needed!
With all this gorgeous food directly at my fingertips at the Intercontinental Semiramis, it's rather fortunate the hotel has a well-equipped pool and gym! After a spot of relaxation on my balcony and a solid workout, my partner and I were more than happy to explore what other treats were instore.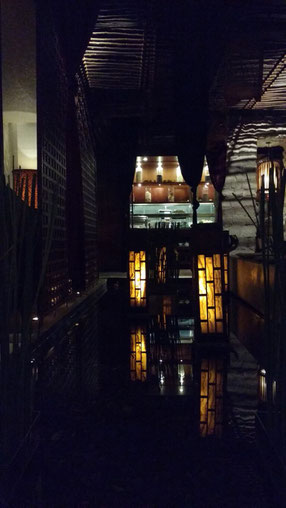 After a recommendation, it was agreed that the Birdcage restaurant on the 1st floor would do nicely.
The venue itself is a beautifully decorated and intimate Thai affair with low light and only a handful of tables, so booking is very much advised.
Interestingly, the lead chef at the birdcage is Thai, which is something the Semiramis has tried to incorporate with all of its restaurant destinations. They believe that by putting the reigns in the hands of a professional from each specific country, the nation's authentic flavours will shine through.
This is certainly the case at the Birdcage. I have travelled extensively through Thailand, and in fairness it's one of my favourite foods to eat. So when the host at the Birdcage delivered my Thai Green coconut curry and my partner's Grilled lamb with Thai Basil, I was incredibly pleased. The flavors took me straight back to that first rickety little eatery in Chiang Mai in Thailand's colourful Northern reaches; absolutely stunning. The care and attention to detail at the Birdcage is evident for all to see; you just need to make a choice from the extensive menu.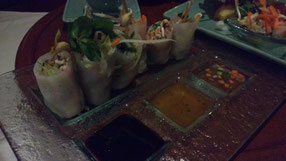 But a meal at a Thai restaurant would not be complete without a scrumptious pudding, so our choices of banana fritters as well as deep-fried vanilla ice cream served in a hollowed-out pineapple were spectacular; you just cannot beat ice cream that has been deep fried in a light batter! Our meal at Birdcage was over, but the memories most certainly will last.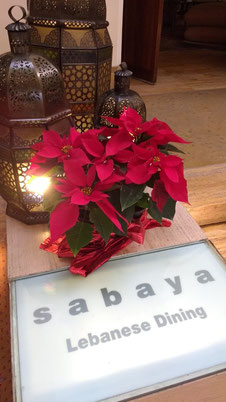 Our last day in Cairo was spent enjoying the monolithic antiquities at the Egyptian museum, not to mention the spell-binding treasures belonging to Tutankhamun.
But taking in all that information, and all those beautiful artefacts doesn't half build an appetite! Luckily for us, we still had a few more options of places to eat at the Semiramis.
Our final evening (fittingly) ended with a trip to the hotel's dedicated Lebanese restaurant, Sabaya. Serving up an eclectic mix of traditional and unusual Lebanese fayre, it was a delicious cultural journey for us both. Being novices with Lebanese food, we were a little astounded by the choice on offer. Thankfully, our gracious host at Sabaya took great care of us and offered a selection of Sabaya's most popular dishes. 
---
---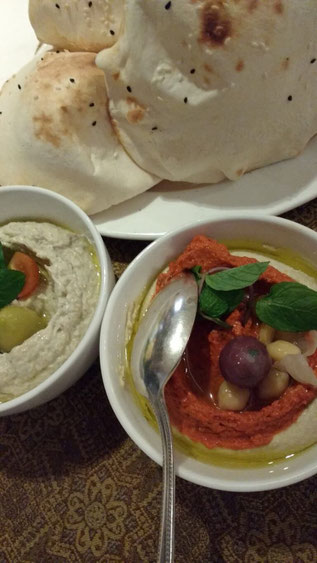 The meal began with a plate of fresh raw vegetables as a palette cleanser followed by the zingy and astringent tabbouleh salad, which knocks your sock off with fresh herby flavours. The taste of this isn't unlike the unforgettable cuisine I enjoyed in Nha Trang, Vietnam.
We then devour what seems like a bottomless pit of hummus with roasted red pepper puree and muttabal, a traditional dip made with tahini and grilled aubergine flesh.
Our main course features the light and freshly baked bread that comes with all Lebanese meals. It's the ideal accompaniment to the grilled lamb that is brought before us.
Alas, we are so full and gastronomically satisfied, that the offer of dessert must be declined; I am ashamed of myself for even saying no, but honestly, our brief few days at the Semiramis has been so crammed with great food, I fear I may not need to eat for a week. 
But good food isn't about need is it? It's about want and, with such a range of high quality and great value dishes on offer, every guest at the Intercontinental Semiramis is utterly spoilt for choice.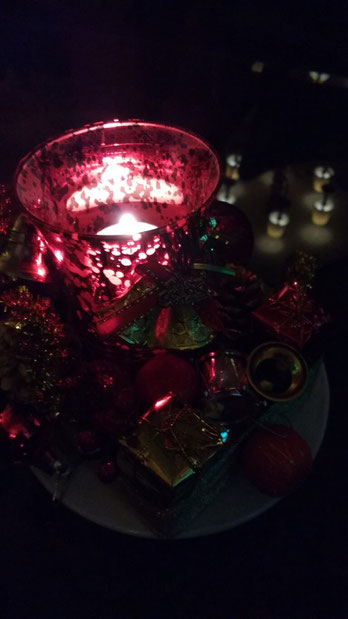 Our final few hours left in Cairo, the city of many wonders, is spent relaxing in the hotel's Ambassador Club.
We drink fine wine from the extensive list, then indulge in the Intercontinental's 'Worldy Classics' which is a polished choice of the finest drinks made with great ingredients and true finesse.
Among them is the standout cocktail of the night for me, the Hemmingway Daiquiri, which is a beautifully balanced and potent tipple. Drinking these in the Ambassador Club was an ideal way to end our stay in Cairo.
The next morning, we (regrettably) must leave, but quite apart from the stunning cultural highlights of this historic city, we take with us a whole host of unforgettable food memories. Our trip to the Egyptian capital was primarily about exploring its ancient past, but thanks to the Intercontinental Semiramis, we also made a small world tour of gastronomy, and for that, we are incredibly grateful.  
Have you stayed in a hotel with a huge choice of restaurants before? What was it like? Why not find me on social media - Twitter - Facebook - Instagram - or comment below.   
---
---