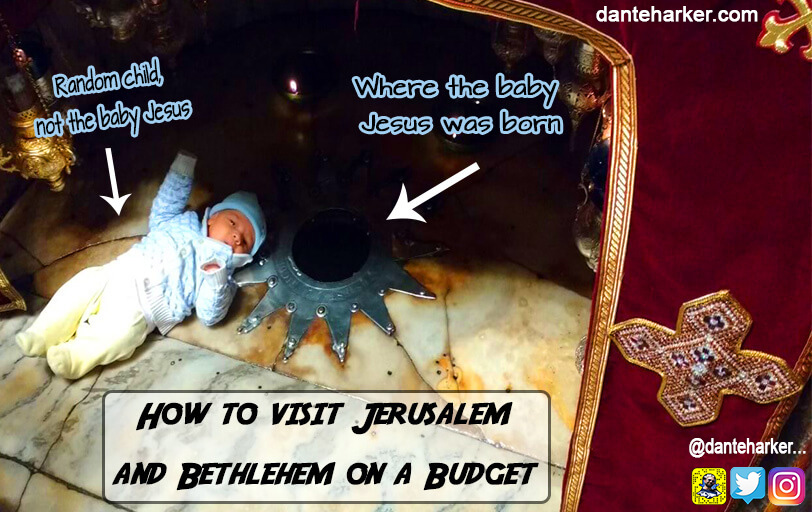 ---
Jerusalem is a city that inspires and delights tourists from all over the world. Whether a religious context or simply from the perspective of an inquisitive planet-traveller, there's no denying the alluring beauty of this ancient and important city.
As people lucky enough to have seen many parts of the world, it was only natural that at some point, we would touch down in the middle east and, in particular, the treasure trove of cultural highlights that is Israel and Jordan. However, with so many destinations planned on this particular trip, money and finance in general definitely played heavily on my mind.
We had been told from friends that Israel specifically is not a place synonymous with budget digs and backpacker eats, so to say I was apprehensive about staying on budget is an understatement.
---
---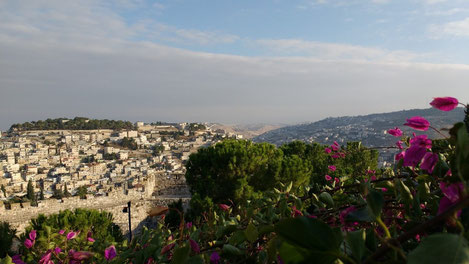 But Jerusalem is well and truly on the 'circuit' if you will, so I knew there had to be a way to explore and enjoy this evocative place without being independently wealthy or on a large 'holiday budget'.
The first step was to decide what exactly we wanted to do and, in fairness, we had very little time in the holy city itself due to a late arrival and prior plans to go over the border into Jordan. But I did know that I wanted to see the old walled part of the city, eat some good Israeli food and also, take a trip to Bethlehem which, given the time of year we visited (December) seemed like a fitting side-trip from Jerusalem itself. 
With all of our trips, the first port of call is finding a place to sleep (it is of course, unlike anything else, an absolute necessity to have a roof over your head at night – everything else comes after that). So, off we went to booking.com and with a LOT of choices, but not much of it in our price-range, we luckily happened upon The Post Hostel. What a find it was too!
Now, with about 50% of our travels being on a 'broke-backpacker' sort of idea, we are accustomed to some pretty sketchy accommodations. From leaky cold-water bathrooms to dodgy spring-laden mattresses; you name it, we've seen it. Happily, The Post Hostel had none of these. It can only really be described as a boutique concept hostel.
Ok, so maybe they wouldn't appreciate that description, but the word hostel elicits so many images of grubby sinks and ratty sheets, that I feel it's my duty to point out that this place is so much more than that. It's edgy, funky, arty and stylish. Not to mention the absolutely spotless facilities.
---
---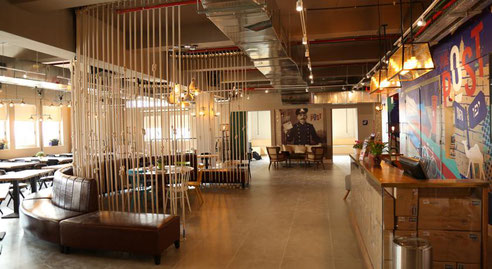 (Inside the Post Hostel)
The whole place seems incredibly new and quite apart from the great free breakfast each morning and unlimited water/juice all day, there's also those little details that often us backpackers really notice.
Like the fact they had wi-fi in EVERY part of the building and ample plug points dotted all over. Plus there is an affordable bar inside the hostel itself not to mention a rotating schedule of entertainment each night of the week. 
When we stayed there, there was a live jazz/music night and on the second evening, a quiz night. These might seem like small things, but in a country where it's very pricey to entertain yourself at night, having a reason to stay in the hostel and pass the time enjoyably is a major plus point.
Now, as much as staying in all day playing on their fast wi-fi in the chill-out room sounded appealing, we did come here for more than one reason. So, the walls of the old town called. Taking this lovely walk in the late afternoon meant that after wandering the labyrinth markets and ancient corridors, we had the joy of watching the sun set over this fantastically diverse place.
---
---
(The Arab Bus Station - in the pic)
The next day, the little town of Bethlehem was our main destination; of course, as is always the case with places like these, an organised tour was offered to us. But, at $135 apiece, it held very little appeal if I'm honest, so off we went to the bus station. For reference, what follows is a fairly dry description of where we went, how much it cost and how long it took. Inspiring travel writing it may not be, but hopefully, you'll find it useful.
We got on bus number 21 to Bethlehem from the station opposite Damascus Gate. Unofficially they are referred to as 'Arab' buses, but I wouldn't call it that myself. The buses are white with blue writing. The cost for one person to get to Bethlehem was 7 ILS. It took around one hour to get to Bethlehem. Bethlehem is in Palestine, so be sure to take your passport with you for this trip; it WILL be checked by border police.
The bus dropped us off at the bottom of the hill and, using our Google map (god I love Google maps) we walked our way uphill to the church of the nativity. Yes, it's THAT church; the one widely believed to hold the very spot where Jesus was born all those years ago in a manger (that's what they tell me anyway)
We entered the church and expected to pay a fee, but there was none. Guides and touts will try to offer you their services, but it's not necessary. You just join the rest of the queue. The church itself is very ornate and pretty, but what you're really there to see is the little spot where it's believed Jesus was born. After joining the queue (which snaked its way around the church), we finally had our turn to see the spot. It was quite atmospheric if I'm honest; even as a non-religious person. Coincidentally, just before it was our turn to observe the holy spot, a lady placed her newborn son on the floor to take a picture, so yes, we got to take a picture of the spot where the baby Jesus was born, with a baby boy in the frame; good timing methinks.
After a brief coffee and a little souvenir buying (I had to buy a cheesy Christmas decoration as it was December after all) we walked back down the hill to where the bus had dropped us off. We waited about a minute before another bus arrived; we jumped on, then paid our 7 ILS each to return to Jerusalem. 
It was really worthwhile as a day trip; the journey into Palestinian territory was an interesting one, with great scenery and the church itself is a really important cultural landmark no matter what religious beliefs you have! Highly recommended!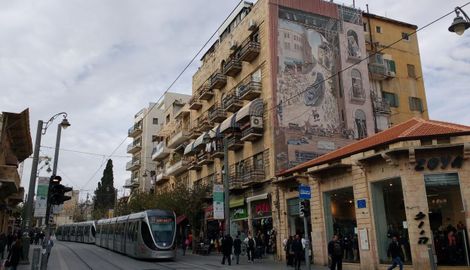 (Big bustling contemporary Jerusalem)
The next day, after our final breakfast at The Post Hostel we bid farewell to Jerusalem to set off for the Jordanian border. But not before a quick taste of that famous ice cream that's dotted all over Israel.
It's fully Kosher (if that means anything to you) and with a lot of personal recommendations, we headed to Mousseline In Jerusalem.
Admittedly, it was a fair distance from our Hostel, but I really enjoy a trek to find good food. Thankfully, I was not let down. Mousseline might be a tiny little place with only a takeaway service on offer, but in all honesty, the product speaks for itself. I was stuck for choice (they had at least 16 flavours on the day I went) and, after being given lots of little samplers, I went for one scoop of cinnamon ice cream, and one scoop of sweet basil. My partner went for one chocolate, and one Masala. Sounds odd, I know, but oh my how good they were! 
So a little sweet treat (it's was ILS 15 for a 2 scoop cone) to end our stay in Jerusalem was all that was needed;  the next stage of our trip would be significantly more complicated, but always an adventure for sure!
If you have done this trip more recently than us - please comment and update any prices. Thanks.
---
---