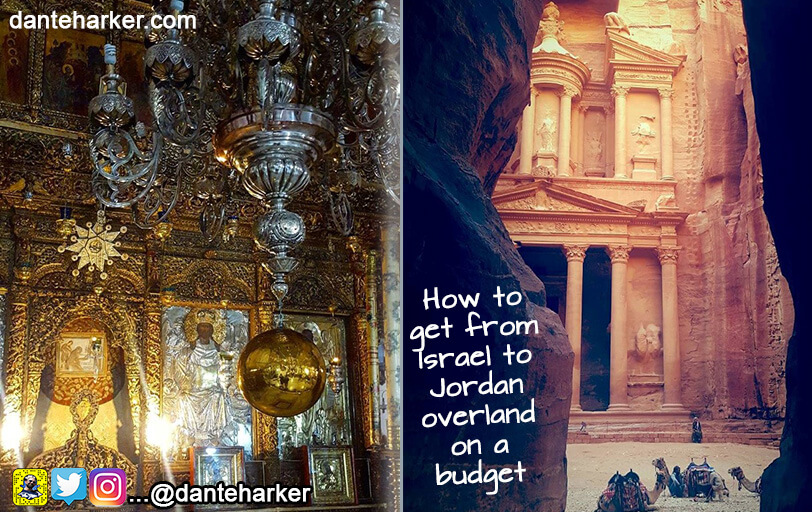 ---
With Israel and Jordan being two wildly different but equally appealing countries, it makes perfect sense to visit both! I mean, why not?! And parts of it - Petra for example have been on my Epic Quest for a long time.
Whether you're on a brief flying visit or have a touch more time to play with, you'll no doubt want to cross the border at some point. Now, for those with unlimited funds, then a quick hop on a plane will get you from Jerusalem to Amman in less than an hour.
But what of those on a tight budget? Or even, those that just prefer an adventure? Then we have just the answer for you! We decided to take the fun route overland from Jerusalem to Amman on a shoestring budget and recorded every little detail just for you.
We travelled during the month of December 2016, and it was on a weekday (This is important to note as on Fridays and Saturdays in Israel it can be tricky to find transport). We also pre-bought the Jordan Pass here (which we highly recommend). It covers the entry cost of visa, entry to Petra plus entry to a bunch of other places. It is delivered to you as an e-ticket and is incredibly easy to use. Remember that you CANNOT get a Jordan visa at King Hussein/Allenby Bridge crossing. You need to obtain the visa beforehand.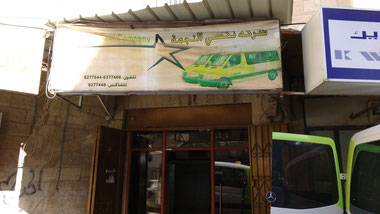 So, here is our trip from Jerusalem to Amman on a shoestring budget;
1. Shared van from Jerusalem, which cost us 47  Israeli Shekels (ILS) per person. The shared vans depart from a small car park down a little street behind the Golden Walls Hotel. The Golden Walls Hotel is directly opposite the Damascus Gate of the old city and is on the opposite side of the road. Getting in a private taxi was going to cost us anywhere between 180 ILS  AND 300 ILS…we were quoted various amounts. Hence the reason we opted for a shared minibus. 
2. The shared minibus departs when full. We waited about 5 minutes before it left, which is handy. 45 minutes later, we arrived at the Allenby Bridge/King Hussein border. Here, several things happen; you hand over your luggage which they exchange for a numbered ticket; you will get your bag back later on. Then, you are stamped out of Israel after paying the exit fee of 180 ILS each. Note; they have toilets and a snacks/water here.
---
---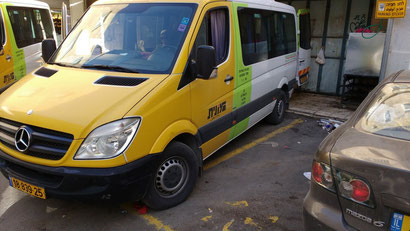 3. We had to wait around for a bus to take us through 'no man's land', so waited for about 1 hour and 10 minutes. This may be shorter or longer depending on how busy it is.
4. We got on the bus through 'no man's land' for ten minutes then handed over our passports to border control. Another five minutes later we arrived at Jordanian immigration. This journey through 'no man's land' cost us 8.5 Jordanian Dinar each (JOD). That was 7 for the bus, 1.5 for our luggage.
5. Once in border control, you'll need to wait to be called up to the counter and one by one, get stamped into Jordan. This entire process took us only 30 minutes, but it was a quiet day it seemed. After getting stamped into Jordan, we collected our luggage then arrived in the sunlight. 
---
---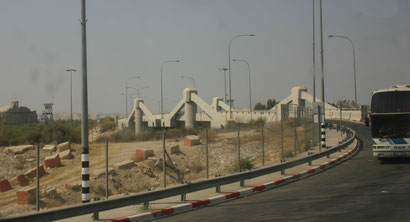 6. The last stage of the trip requires a shared taxi to Amman. We could not for love nor money find a local bus, so we waited until another traveller got through customs and all 3 of us negotiated a taxi direct to Amman. We paid 20 JOD for all 3 of us. If you haggled more, you might get it cheaper; best of luck! The journey into Central Amman (near many guest houses and hostels) took just 1 hour!
---
To round up, these were our costs for the land crossing:
shared bus Jerusalem to Bridge 47 ILS each
bus through 'no man's land' 8.5 JOD each
shared taxi border to Amman 7.3 JOD each
So, excluding exit costs and visa fees, the transport side of things cost us £27.66 each ($34)
Besides the cost savings of this, the trip was super easy and took in some nice views as well as taking less than 4 hours in total, which would be probably less than faffing about with a plane or an organised group tour.
Have you done this trip? How did you find it? Are any details different since you did the journey? Let us know - comment below or use Facebook - Twitter - Instagram. 
---
---