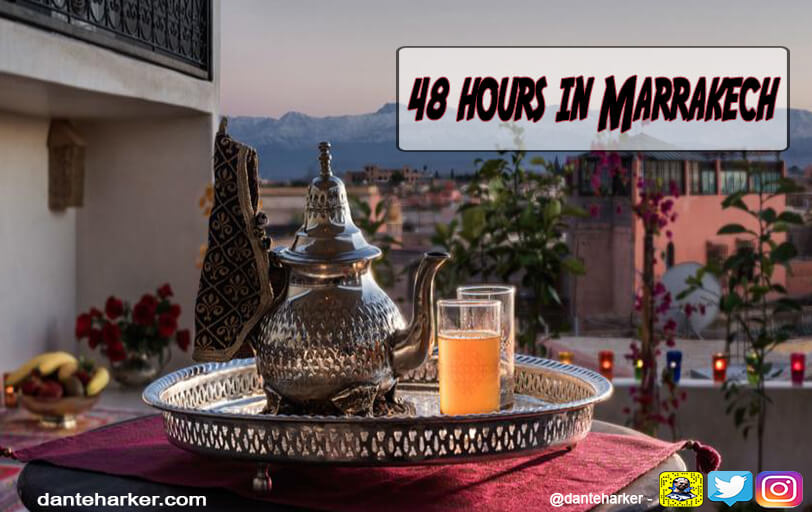 ---
We drive through the gates of what appears to be a centuries old fort to enter the Medina, the old city, and, as the sun sets over the tops of ramshackle rooftops we are met by the guide from our Riad. He relieves me of my incredibly heavy backpack and leads the way (I'd rather have carried my own, but it's the custom to help).
We follow him down labyrinth streets all glowing deep shades of terracotta and orange thanks to the last of the sun and, criss-crossing amongst us, teens ride mopeds up and down the narrow paths. Foreign but alluring smells waft toward our nostrils and over the hubbub, the Muslim call to prayer echoes all across the city. It's unmistakable, we have arrived in Marrakech, Morocco.
---
---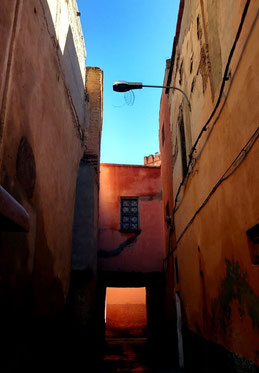 In a city that has existed in some form for over 900 years, it goes without saying that 48 hours will not be long enough to see everything this popular destination has to offer, but with ever more flights arriving daily at the nearby Menara airport, I know this won't be my only time to visit this fantastically diverse place.
Thankfully, even with such a short visit, I knew that with good planning, I would get a chance to take part in some uniquely Moroccan past-times. All that was required was for my partner and I to decide what to do, and in what order! (Hardly a difficult task given that Marrakech has been high on our 'must-visit' list for so long).
The first order of business was to find a suitable place to stay and, while some cities really call for big brash hotels, Marrakech is famous for its Riads.
---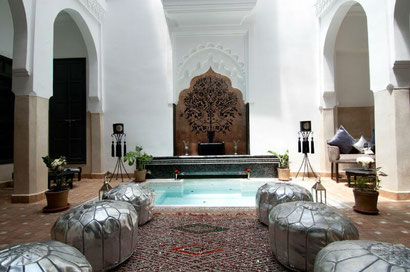 Deservedly so it seems; the concept is generally a large guesthouse set-up around a central courtyard but with one defining feature that sets them apart from your average guesthouse; that being the attention to service. 
A Riad stay is meant to be the closest thing you can find to staying with family or close friends. From my obsessive reading of style and travel magazines, it seemed the natural choice to find a Riad that would tick all of our boxes. To Booking.com I went then!
After some heavy research (in fairness, 50% of the joy of travel for me comes from the abundance of choice we have these days), I came across Riad Star. New enough to look fresh, but established enough to assure me that they know what they are doing, I booked a room for us. Coincidentally, Riad Star is one of four charming properties owned by Marrakech-Riad.com. Catering to travellers needs in the walls of the evocative old-town, it's clear the amount of love and attention that has been poured in.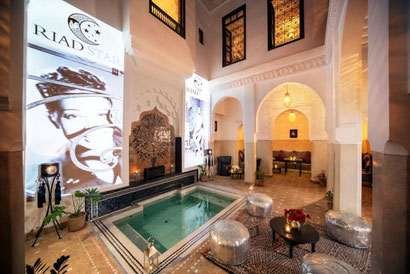 From the fantastically characterful rooms each with their own unique flair, to the team of dedicated staff that seem to keep guests happy around the clock, Riad Star was a fabulous introduction to the Moroccan art of the Riad. Each morning we woke at our leisure to a hearty breakfast served next to the gorgeous little plunge pool, and our afternoons were spent sipping mint tea on the pretty rooftop courtyard. (And working of course, these huge articles sadly don't write themselves). 
Now, while I can't speak for every Riad in Marrakech (I did only stay in the one after all) the thing that was most spellbinding about our days at Riad Star was the complete ability to make us feel at ease; nothing seemed like a stress to the team there and, not once did we feel 'rushed' or 'in the way'. In a city as chaotic as Marrakech, this is quite something. Perhaps this great sense of hospitality is a part of the fabric of Moroccan culture, but whatever it is, being greeted on our first night like we were returning loyal customers was something very special.
---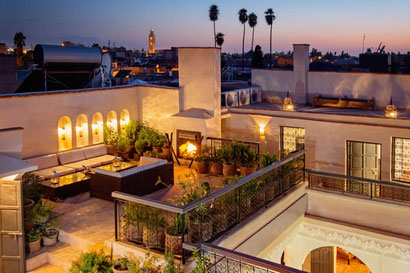 But we couldn't simply lounge around Riad Star all day with such a tight schedule (no matter how appealing that idea seemed). Our first night took in the dazzling variety and colours of the souks in the local area; from purses to picture frames and watches and walking sticks, there is no souvenir unavailable in the souks of Marrakesh. Of course, with such a big trip ahead of us, (more of which you can read here), and a measly amount of room in our backpacks, we had to exercise restraint but oh, how I plan to return some day with a wad of Dirham and an empty suitcase!
After tiring our eyes from looking at so many shiny items (the souks snake around the Medina for what seems like miles) we thought it only fair to meander our way over to the Jeema El Fna, or main square. The square itself has been around in various forms since the Twelfth Century but has recently undergone some renovations; while purists may argue this has removed some of the Jeema's authenticity, there's no denying that the new floor makes for much cleaner shoes and trousers! We sip café au lait (well, what else?) and watch the night whirl away.
Drum circles pop up here and there, men charge tourists for posing next to a monkey in a fez, and over the din of a hundred juice sellers and food hawkers,we hear the call to prayer begin. It becomes a satisfying soundtrack to our stay in this gritty and compelling place. While we're on the subject of compelling places, my time in Yogyakarta, Indonesia was fantastic! Read about it here.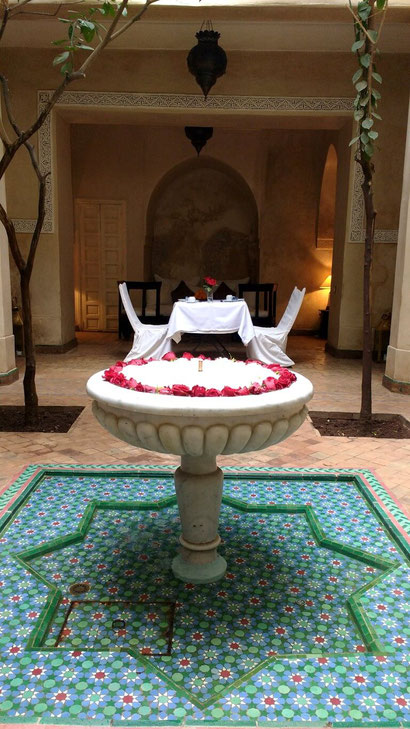 After a perfect night's sleep at the riad, we enjoy our breakfast in the sun, then set off for an experience I've wanted for a long time - learning to make true Moroccan food from an expert at Dar Les Cigognes.
A trip to Paris ten years ago and a Moroccan diner placed just outside Les Catacombs was the catalyst for my love of all foods North African. I still remember to this day (in great detail might I add) the theatre of that conical terracotta dish arriving at our table, the wide smile of the Tangier-born waiter that served us, and the melting texture of lamb cooked aromatically with apricots and almonds. Needless to say, an opportunity to learn to cook this type of food arose in Marrakesh and I took it.
Classes at Dar Les Cigognes ( its formally known as the Sanssouci cooking school) are run by the enigmatic Pierre and his team of attentive staff. With maximum group numbers of two per group (that's right, only two) and with Yotam Ottolenghi being a regular at the attached restaurant, Salt-Marrakesh I knew we were in for a cooking class like no other. Indeed, cooking class seems like such a perfunctory word for it. I guess 'intimate cooking experience' would sum it up nicely. 
---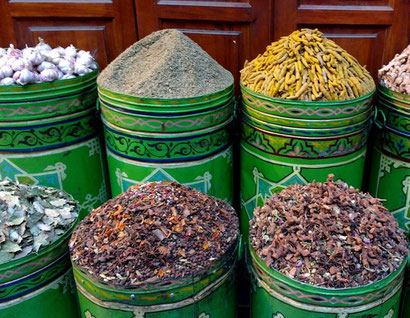 We are shown around the local food and spice markets by the incredibly knowledgeable Pierre and, after trying sinus-clearing eucalyptus tea and watching the spices we need get ground before our very eyes, we head back to Dar Les Cigognes. (Coincidentally, apart from the cookery side of things and the fabulous restaurant, the place is also a stunning boutique hotel).
Once there, it's time to get our hands dirty (by dirty, I mean delicious). Pierre and his head cook teach us the principles of Moroccan cooking and learn some interesting cultural tit-bits. We sip Moroccan wine and laugh as we discover the best (and for me, now the only) way to cook couscous.
After learning how to prepare salad Marrakech style (really, not salad at all, but that's what they call it and who am I to question such good food?) we create from scratch our main course of tagine au poulet aux olives et citron confit. To the wildly uncultured of us, that's a tagine of chicken with preserved lemons and olives. It is remarkably easy with such experts talking you through it, and frankly, having only ever done cookery classes in big groups, the way they do it at Sansoucci is nothing short of perfect. We could not have hoped for more.
After tending to our tagine, we drink more wine, chat, then enjoy our efforts in the open courtyard of the hotel. What a way to spend a morning! Read here about my time at a Balinese cookery school, which was different, to say the least. 
Our afternoon is spent sipping tea on the rooftop garden at Riad Star and lounging on the daybeds they provide for guests. While I feel I could spend a week doing only that, there was one more thing I was eager to experience before my all to brief time in Marrakesh was over; an authentic Moroccan Hammam.
Now, having taken part in a Thai massage in Chiang Mai which feels remarkably like being wrestled into submission, and also having endured a vigorous soaping down by a surly Turkish man in Istanbul, I expected nothing less than agony from my first proper Hammam. But oh how wrong I was.
Perhaps my beautiful experience was down to the setting at La Maison Arabe.
---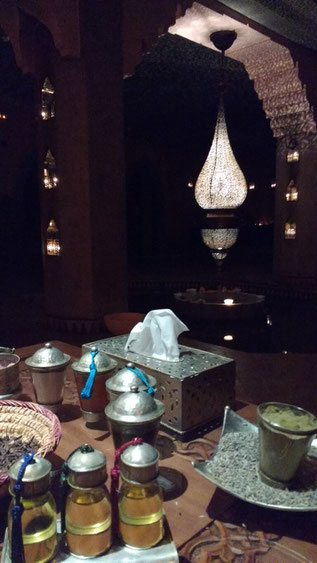 There appears in Marrakech to be a million places for a hammam and massage but only La Maison Arabe came with some great reviews and a word-of-mouth reputation from a friend that was not to be ignored.
Of course, words alone never truly do this kind of thing any justice, but try I shall. La Masion Arabe is a gorgeous place that not only exudes charm and elegance, but also is something of an all-round destination in regards to Marrakech. Combining hotel, bar, restaurant and cookery school all down a leafy yet un-assuming narrow alley, it has a lot to offer. But I can speak only for the Hammam and spa and what a time we had!
We are taken in a lift to the basement of the building; but it's unlike any basement you or I have ever been in; soft candlelight flickers behind filigree metal, and in the low light you can make out a relaxation area, some treatment rooms and an impressive cast iron lamp casting evocative light over the central tiled plunge pool.
The setting truly is stunning, and, though I have few experiences to compare this against, it's obvious to me why La Maison Arabe has such a dedicated following. 
---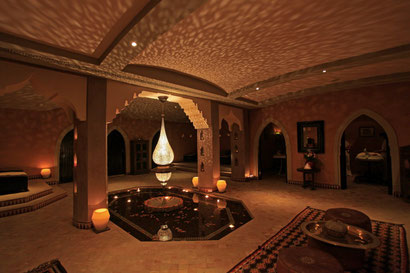 The staff speak in hushed tones so as not to jar the sense of calm they create with the design, and we are changed into luxurious soft linen robes and slippers. A very quiet music reaches our ears; nothing invasive, just the suggestion of a melody and my partner and I get to choose which treatments we would like. We both opt for the same (much the same in restaurants, neither of us wants to get envious upon seeing the other's plate) and go for the Beldi Hammam which consists of a traditional Kessa body scrub and seven-plant ghassoul body mask. Following this, a body massage using argan oil infused with essence of rose.  I know, right?!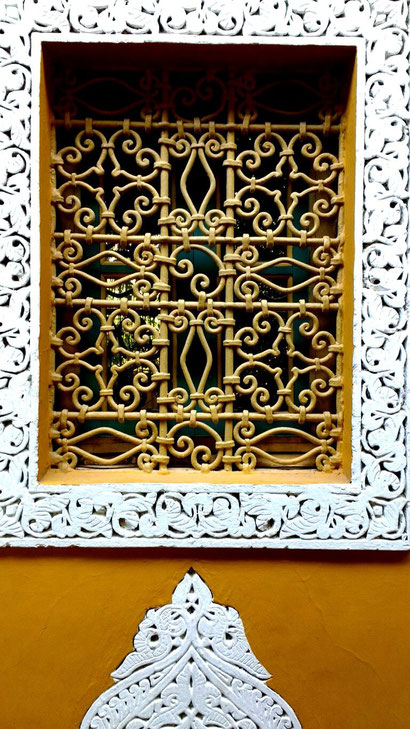 In the Hammam itself, the light is low and relaxing, and the attentive and professional lady begins what is a peculiar, but altogether enjoyable set of processes. She washes us gently, then with a loofer, scrubs away at us. I would be lying if I said it wasn't strange, but I got the feeling she was having to scrub away at 31 years worth of grime. She washes us again and then applies a black mud mask all over our bodies, followed by another washing. It feels ceremonial, religious even. It's an experience I will not forget easily. For someone like me who rarely lets a stranger touch me, it is a remarkable feat they achieve at La Masion Arabe to make me, of ALL people, feel totally at ease. 
My entire body feels incredibly smooth and cleansed, and in the darkened room while we wait for a few moments for our massage to begin, I drift off to sleep for a few brief moments. Perhaps that's the magic of places like these? If done well, something as simple as being washed and massaged can make you feel totally rejuvenated.
Our time at La Mason Arabe ends with a perfect argan oil massage, and, after putting my everyday clothes back on and heading back into the balmy Moroccan night, I can't help but feel invigorated, relaxed and at peace. We sleep incredibly well that night, once more.
---
---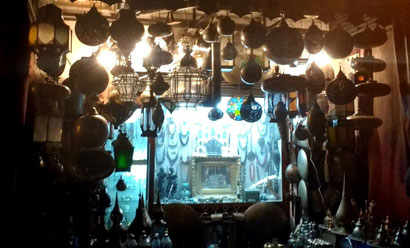 In many ways, this is what Marrakech is paradoxically most famous for, yet most surprising. It's a place that for years has held a certain magical appeal and wonder. But with these, there also comes huge expectation that, at the drop of a hat can be disappointing.
A city with huge diversity where luxury blends in among the day-to-day, and where hidden in crumbling ochre walls, perfectly formed escapes are to be found. It's all a matter of what you want to do, and where you choose to do it. For us, our tiny little break in Marrakesh was only a taster, but was made wonderful by the places we visited.
Our driver from Riad Star escorts us through the busy Medina past public ovens, spice merchants, stray cats and handbag stalls. Our driver takes us through the old town, past the imposing fortifications and down palm-tree lined avenues…as we leave Marrakech we catch a sight in the rear view mirror, the snow capped Atlas mountains rising from the desert; I know one thing for sure, our adventure in Morocco has just begun.
If you would like to know more about any of these places, or you've visited, then why not comment below or find me on your favourite social media - Twitter - Facebook - Instagram. 
---
---