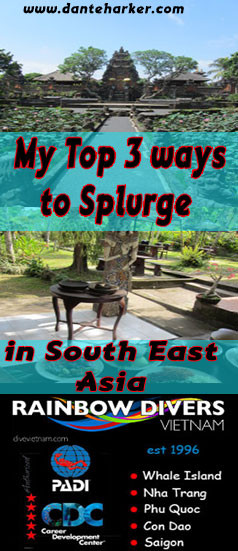 Travelling for long periods of time is a real privilege, which takes planning, saving and determination. However, unless you are independently wealthy, if you are on a 6 month tour, you will be on a budget.
      
Of course, part of the adventure of travel is turning up at some 'rustic' lodge and battling cockroaches. The same goes for negotiating your way through a chaotic bus station rather than spending more by using a touristy coach service. But now and again, the hassle of it all can take its toll. Every once in a while, just blowing the budget for a day or two can rejuvenate ones spirit and restore that sense of adventure that makes you travel in the first place. 
      
Over the years, there have been plenty of times that my husband and I have just splurged for a night or two. Sometimes, it's just been a really great meal at a posh restaurant. Other times it's been entry for two to an expensive amusement park. Either way, the aim has always been to go outside the 'normal' daily spend, and do something memorable with your money. Here, I gathered just a few ways you can spend some extra cash when you're in this amazing archipelago.  
---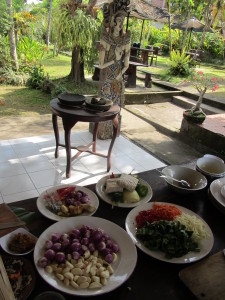 Learning to cook Indonesian food in Bali
Bali is of course, famous for many reasons; spectacular rice paddies, gorgeous cultural heritage, fabulous hospitality. All of these things are reasons to go in their own right…but for me, the best part of my trip to Bali was discovering what a rich and diverse food scene it has! After travelling through the rest of Indonesia for so many months, I was beginning to think that this massive archipelago had many treasures, but cuisine was not one of them.
Whilst visiting friends in the artistic hub of Ubud, I decided to enrol on a full day's cooking course. There are many of them dotted around the pretty town, but after a little research I found one that seemed to tick all my boxes and deliver the course at a reasonable cost. It was run by the amazing team at Casa Luna and, at less than 500,000 Indonesian Rupiah ($34) it was more than my daily allowance for that day, but still a bit of a steal. As a handy side-note, we stayed at the supremely splurg-ey Ubud Village. This was  a place chosen by my friends and it most definitely did not disappoint! But I digress, this is not about the hotel!However, because of Bali's semi autonomy (it's a primarily Hindu island, compared to Indonesia's vast majority being Muslim) it has a rich heritage that is wildly different to the rest of the nation. Not only is art and dance everywhere, but there is also a delicious cultural cookbook to explore. That's where my splurge came in!
The three of us turned up at the school ready to be immersed into a clammy kitchen, but were greeted by a lovely Balinese professional in the surrounds of her gorgeous little garden. Tables were set up with individual gas burners and crockery, as well as a collection of spices and vegetables that weren't all recognisable at first.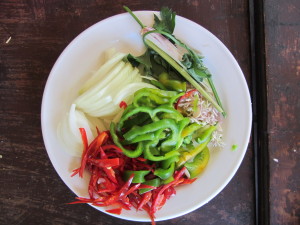 Before any cooking began though, we were taken to the traditional Balinese market in the centre of town…this in its own right was enough to justify the cost of the course. Having a local explain the history of the market and talk us through all kinds of interesting facts about Balinese cuisine was really fascinating. We learnt about various medicinal purposes for plants and foods, not to mention the myriad options for souvenir buying; the food market was a lovely morning spent.
But the real fun began with our cookery class back at the school. We would be preparing three different dishes; Opor ayam, urap sayur, satay ayam and a classic Balinese pudding.
The first step was learning to make the traditional chilli paste that is used through all Indonesian cooking. Getting all those amazing ingredients and mushing them into a bright paste in a mortar and pestle is a real joy…I'm not going to lie, there was definitely a bit of competition going on between my friends and I to achieve the smoothest paste. It's no wonder the finished products turned out so well; we ground up garlic, salt, pepper, ginger, shallots, chillis, kafir lime leaves and palm sugar. This was going to be the BEST chilli paste ever.
After learning about the importance of variety in Balinese food, we made a simple enough salad of beans sprouts, raw cabbage, green beans. We then tossed in some freshly scrambled egg and and finished with spiced grated coconut…just gorgeous.
It wasn't only cold food we learnt about; we put together our very own chicken skewers using minced chicken and a mouth-watering amount of peanut-based chilli paste. A highlight for me was making the aromatic and memorable Opor ayam, which is essentially, chicken cooked in coconut milk. But with a base that includes galangal, lemongrass, cinnamon, tamarind juice, palm sugar, coriander, cumin, candlenut, garlic, shallot, and pepper. Words aren't quite enough for how complex and moreish this was.
The real pleasure for me, was getting a private class with two friends to learn an ancient way of cooking, in a beautifully serene setting. Not only this, but with the relatively small cost, I was given the tools to be able to start cooking this kind of food back home…not just to impress of course, but to have a lasting memory; certainly worth the splurge. Book with them here.
---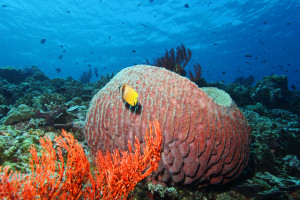 Take a charter dive boat with Rainbow Divers, Vietnam
Now, being a scuba diving professional, one might think I have had enough dives to last a lifetime; but not so it seems. Everywhere I go, I investigate the diving possibilities; 'can I dive here?' 'Whats the dive season?' 'What can we see underwater?'. These are all perfectly valid questions, and indeed, I am usually more than happy to chuck my gear in amongst everybody else and dive with the crowds…but following a frustrating experience in the Galapagos, my dive buddy and I decided to splurge a little and charter our own dive speedboat.
We were staying in the buzzing and beautiful Nha Trang, Vietnam. It's the country's biggest draw for international tourists, and for good reason. Gorgeous weather and amazing critters under the waves have turned it into something of a magnet for divers. In fact, it's one of the cheapest places in Asia to learn to dive.
But my mind is wandering; my buddy and I have over a thousand dives under our belt each thanks to us being Padi diving instructors and, what this often means, is that when we dive as part of a group, we not only end up being paired up with inexperienced divers, but we also have a ton more air left in our tanks whilst everyone else is running out.
This is where Rainbow Divers comes in; they have been a trusted dive operator in Vietnam for 17 years and with a huge wealth of experience, they know THE places to go underwater. More importantly however, we found out about their speedboat charter service. (This is where the splurge bit comes in). For a fee that is really rather decent, one can hire their speedboat, captain and dive guide to take you to the more remote sites, at times when there are less people.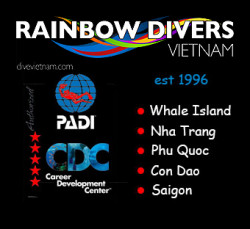 To experienced divers or even those just wanting a more personal service, this is a fantastic and unique selling point. The major benefit is that if you and your buddy consume air at about the same rate, you end the dive when YOU are done, not when the rest of the group runs out. The same goes for diver ability. By taking advantage of Rainbow Divers' speedboat charter service, we were able to request which sites to visit, and when. It really was a fabulous experience. It felt very James Bond to be zooming along in our very own speedboat, and with most of our trip being on a bare-bones budget, it felt like a wonderful departure for us to have a little 'one-on-one' attention from a dive business. This was most certainly a worthy splurge for two wearied travellers. Book with them here. If you want to get my tips on what I feel are the best dive sites in this part of the world, click here.
If you want to read more about when dive training check out this link about when we trained as diving instructors and it change our lives. 
---
---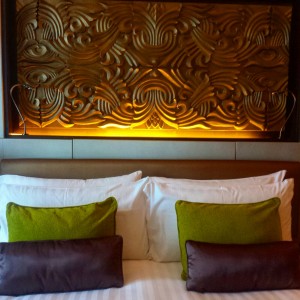 Stay at The Amari Watergate Hotel, Bangkok, Thailand
My top reason to 'blow the budget' comes by way of the Amari Watergate in Bangkok. Although, frankly, the rates are so reasonable for what they offer, that 'breaking the budget' seems a little inaccurate.
Either way, after several months of checking into dodgy guesthouses and grim city hotels, I was starting to get tired of cheap beds and a single fried egg for breakfast. 
The Amari Watergate is an established Bangkok city hotel with a great reputation, so when I saw the 2 night offer they had, it seemed ridiculous not to check in; a little luxury can't hurt now and again can it?
But boy, did I get more than a little. My first impressions were blown completely out of the water! By booking an executive double, my partner and I were given the privilege of executive check-in on the 32nd floor. We were greeted with iced drinks and a stunning view over the capital city of Thailand, then shown into one of the most luxurious rooms I've ever stayed in. On the 32nd floor, the views are magnificent, and every effort has been put in to make the rooms an ideal city splurge. The deliciously comfortable beds, two flannel bath robes, a nicely stocked mini bar…all these features added up to a room worth every penny.
But what really set the Amari Watergate apart for me, was the added features it offers its executive guests. We enjoyed an enormous variety of treats at the morning breakfast buffet; all in the secluded peace of the executive lounge on the 32nd floor. Apart from all the hot breakfast buffet options, there was a great selection of continental options including pastries, fresh fruit and branded cereals.
Now, after filling up on breakfast, we spent the afternoon re-charging in the hotels facilities…the rooftop pool with sun loungers and poolside bar was great respite to finish the last few chapters of my book. I was also able to indulge in a bit of cardiovascular work at their state of the art gym and sauna. Again, the biggest joy of this particular splurge, was what value for money it was. I dread to think what a hotel of this class and quality would set you back in the UK.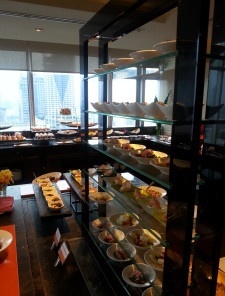 This brings me to the major reason the Amari Watergate got the top of my list. Apart from the outstanding quality of the hotel, it was the service that utterly shone through. Thai hospitality is known the world over, and it certainly wasn't missing at the Amari. Nowhere better was it on display than at the nightly drinks and canape reception in the executive lounge. To clarify, executive guests are entitled to chill out and relax each evening between 5 and 7pm on the 32nd floor. Here, we were greeted by an amazing hot and cold canape selection as well as a moreish dessert buffet, and unlimited alcoholic beverages - perhaps the most perfect three words right there! 
---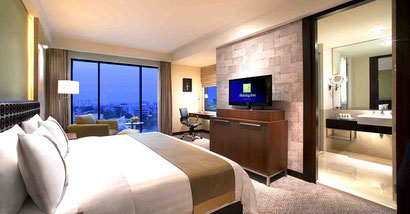 Enjoy some home comforts in Bandung, Indonesia
With all the adventure and thrill that usually fills our life, sometimes, what is truly needed is something a little easier. A bit of respite from budget bus trips is required and for me, a great way to just let some steam off and splurge is by doing exactly what those back home DON'T expect you to be doing. In this case, it's living it up in a cosmopolitan city like Bandung Indonesia.
It's the archipelago's third largest city but for many, it's their favourite; and it's incredibly easy to see why. With an elevation of almost 800 metres above sea level, Bandung experiences that rarest of things in Indonesia…a cooler climate. After weeks on the road in boiling hot conditions, there is something very appealing about getting off a coach and thinking "yeah, I think I'll put an extra layer on".
Bandung's popularity isn't just limited to tourists though. For Jakarta residents in need of a change of gear, it's a fantastic option for a quick weekend away. Of course, there are cultural sights to enjoy, and the food in this part of Indonesia is some of the most complex delicious stuff you'll eat while in the country. But what of the splurge I hear you cry?! It's pretty simple to achieve here. If you are looking for somewhere to stay in the city look no further than the Holiday Inn Bandung - you can find out more about the accommodation here. 
With a massive emphasis on shopping and markets, Bandung is THE place to replace those tatty travel clothes and, if you fancy it, even going a bit more upscale and treating yourself to some swanky goods in one of the many malls dotted throughout the large city itself.
Yogyakarta is another of Java's fabulous cities to immerse yourself in culture. Read about my top tips for Yogya here.
How do you like to splurge when you're away? If you do? Let me know on Twitter or Facebook. 
---