---
Many of us are familiar with the street food which used to be the only option a few years ago; the breakfast bar at the side of the motorway or the tired hamburger truck food on offer at a festival. While these did the job in terms of satiating hunger, the good news is that a whole new world of artisan street food now awaits for those eager to get out there and start tasting. 
How Did This Trend Start?
Artisan and gourmet food sold from mobile restaurants, trucks and market stands has been a big trend in the USA for a considerable amount of time and it is now making its way across the Atlantic in a big way.
Chefs are waking up to the idea they can get exposure to a much wider audience if they take their food to the customer, rather than waiting for the customer to find them. The last five years has seen the emergence of many weekly street food markets and events where visitors can enjoy music and craft beer while they savour delicious and affordable meals of many types.
This isn't something unique to London either. Major cities such as Manchester, Leeds, Bristol, Birmingham and Cardiff all have their own unique street food scene and even smaller towns are getting in on the action with new stalls regularly springing up at farmers' markets and street festivals.
---
---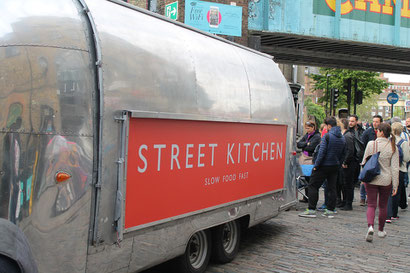 Why Is The Artisan Food Trend Growing?
Running a business, particularly in the restaurant trade, is no easy feat. High rental on properties; expensive overheads; and increasing costs for staff has led many to believe opening a restaurant is beyond their means, however skilled they are in the kitchen.
That doesn't mean however that these skilled chefs have given up on their dreams. Instead, they have honed their recipes and gone out on the road, travelling to where their customers can be found. With lower overheads and the freedom of running a business on your own terms, for many it has been a very attractive proposition. 
Some savvy street food vendors have even widened the market from the usual markets and festivals, catering to office workers at lunchtime, corporate events and even wedding receptions.
Customers are flocking to try out street food because they are looking for food options which haven't had to travel miles to reach their plate. Many street food vendors offer locally grown, organic food options which not only help the environment but which also give back to the local community.
Street food is also popular because it caters to such a diverse range of tastes and needs. Many more people now eat a vegetarian or vegan diet, whilst others require a diet free from gluten or dairy. All these options are catered for more readily in the street food scene and this is a trend which seems as though it will continue. Finally, people love the diversity offered by street food. You can choose to eat the food of cultures from around the world and yet it's all within easy reach.
Want to Enter the Street Food Scene?
Maybe you are a talented cook; have a recipe passed down through generations you want to share; or recently qualified as a chef and are eager to go into business for yourself? If so, the street food scene could be for you. Let's look at how to get started and some of the many benefits of working in this industry.
---
---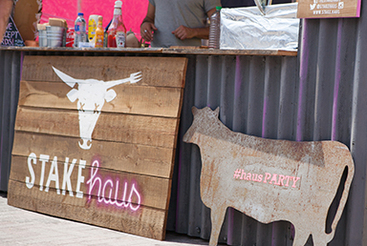 Funding: You won't need a huge amount to get your business started. If you opt for a market stall, purchase low-cost equipment and then do most of the work yourself, you can be looking at start-up costs of between £5-8,000. This can often be covered by savings, a loan or even help from friends and family.  You will need to rent your pitch and this can cost you anywhere up to £100 per day, plus a percentage of your takings. If you do well though, you should cover this relatively easily.
Your Time: One of the great joys if you love to cook is that you will be spending hours doing what you love. That's not to say though that it isn't a great deal of hard work. However, if you are up for the challenge and not afraid of long hours, it can definitely be worth all the hard work.


Your Colleagues: One of the big plus points of the street food scene is the camaraderie you will gain with your fellow street food vendors. It's a family atmosphere and you can always rely on someone to give you a hand.
Instant Feedback: There are few other situations where you can get such instant feedback on what you have created and it's hugely motivating when your customers tell you how great their meal was. It also means you won't get stuck in a rut as small menus mean it's relatively easy to tweak what's on offer or add in more options.

Further Opportunities: Once you establish yourself and do well, other opportunities will present themselves, whether it's additional festivals or private functions. The street food scene is ever growing in popularity and this means access to more places to ply your trade.
You need to go into the street food business with your eyes open and know you will be working long days and sometimes in inclement weather. You also need to research the regulations you need to abide by in terms of health and safety; insurance requirements; and any licences you will need to trade. Also don't fall foul of trading rules as they can differ between different local authorities.
What's Hot in the Street Food Scene?
If you are ready to start out on your street food adventure, you might be clear on what you want to sell but if not don't be afraid to think creatively. There are so many exciting options out there and customers are always keen to try something new. People have thrived selling barbecue chicken or pork, waffles, hog roast, pie and mash, doughnuts, pizza and so much more. What they all have in common however is that the creators of these foods always apply a twist on the original so it makes it something special.
Do you have the next big idea? Then customers are out there just waiting for a taste.
Joe Thomas is a writer from London who loves the huge diversity of  multicultural street food. Street food has evolved from the conventional burger van to something much more exciting, and Joe wants to further encourage this. If you have any questions for Joe you can email him here. 
---
---