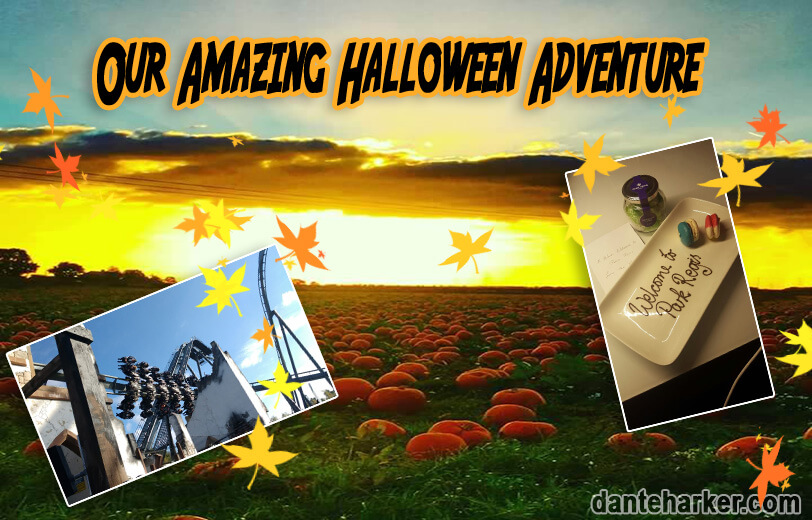 ---
It happens every year on the same date and is something that for many inspires excitement, trepidation and creativity! For some people, this particular day of the year can pass by without even the slightest interest whereas, for the rest of us, it's an opportunity to dust off those decorations and get some sparkle in your life; that's right, I'm talking about Halloween!
Halloween in the UK is becoming a bigger event year and though we're not quite up to US craziness yet, we're certainly getting there. Of course as if some of us ever need one, but if we did what better way to have an excuse to let your hair down and eat some candy? 
Alex and I are always trying to live a life worth writing about (it's kind of a personal mission of ours) and, while often this means getting on aeroplanes and exploring foreign places, we are also huge believers in the concept that your life is exactly the adventure you make of it!
You don't always need to be a backpacker to get a thrill, having an amazing time can be had on your very own doorstep. 
---
---
This year, we decided to tick off something that had been on my epic quest for a long time (FYI my Epic Quest is here. It's like a bucket list, but with a more upbeat message if you will). The particular quest? Going to a Halloween party dressed as Puck and Oberon from a Midsummer Night's Dream.
Now, before you ask, NO, it's not a gory costume, and yes, it is just a shameless excuse to wear nothing but some leaves and hot pants out in public! But I don't care, this is something I've wanted to do for so long, that it seemed silly that it hadn't yet been ticked off.
Thankfully, we've been getting fit for the Bear Grylls Survival Race so we thought we could just about pull the hot pants off this year. 
So, once we had decided what our costume was, we set about making a full weekend of it. After all, simply going 'for a night out' while immensely fun, is also a little 'blink and you miss it'. So, to capitalise on maximum Halloween shenanigans, it seemed like a great idea to visit the famous Thorpe Park down near Chertsey (a mere 1 hour's drive from central London).
Now, we've visited horror mazes in the past and gone to themed nights, but the thing that drew us to Thorpe Park was the famous 'Fright Night' event they have every year at Halloween. In fact, 2016 was their 15th Fright Night anniversary; I know, who would have thought it had been going for that long?!? 
---
---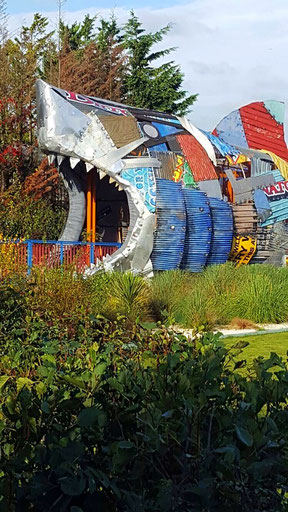 By all accounts, it's been getting bigger and better every year, and, since neither of us had ever visited Thorpe Park itself, we decided that the time had come!
Of course, there are a ton of different rides to enjoy in the park, from kiddies ones right up to the mega roller coasters that are most CERTAINLY not for the faint-hearted. The thing we were both looking forward to was a go on some of the jaw-dropping rides as well as seeing what Halloween adventures they had in store; and of course, Derren Brown's super-secret brand new attraction, the ghost train.
There's honestly more than a day's worth here (although visiting outside half-term time would probably result in fewer queues) so next time, we'll stay the night at the Thorpe Shark Hotel (which is right inside the park itself.) We weren't disappointed by the activities that were on offer and, even though we didn't have time to visit absolutely every attraction, the stand-out moments for us were the Swarm ride (see video) with its creepy set-design and theme as well as Adrenaline; honestly, nothing can prepare you for the speed of that thing!
---
---
The ghost train by Derren Brown was a great new feature and is perhaps the way more rides will go in the future - can't say more, it's a secret!
But our Halloween weekend didn't just stop at Thorpe Park as, our party at the Nightingale Club in Birmingham was already booked and frankly, after all that sewing and crafting, we were determined to get that costume on! 
Rather than rush ourselves all day, it was decided that two nights would be best in Birmingham itself (well, sometimes you have to right?!) so the city's newest luxury business hotel was our accommodation of choice. Always nice to have somewhere fancy to get changed. 
The Park Regis (part of the Staywell group) has locations all over the world, and this classy new venture in the second city is a fine addition. The hotel itself is situated just on the outside of the city so convenient enough to walk, but not so close that the noise is invasive. With its refined interiors and swish new fixtures and fittings, it's a fabulously glamorous choice while being surprisingly affordable. Perhaps with all the competition in Birmingham city centre, the Park Regis group had to really pull out a couple of stops to stand out from the crowd. 
Of course, the rooftop events space and onsite gourmet Japanese restaurant can't hurt its appeal. When we were there, there were a ton of different meetings/events going on; from weddings and birthdays to film awards and regional gatherings. Not once did this capacity show on the staff mind you; the team was super friendly and helpful without being pushy (such a tricky feat to reach in luxury hotels). And, while we were only able to enjoy our buffet breakfast once (the second day we only JUST made our train home) we honestly can say that next time we're in Birmingham, the Park Regis will be our port of call.
---
---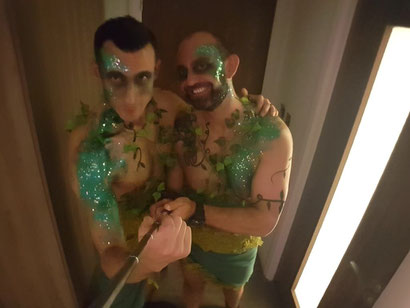 As for Halloween night itself? After the bemused handshake from the Park Regis Concierge, we made our way to our Spooky spectacular evening entertainment! The Nightingale Club has a refreshingly unpretentious vibe, and, with four different rooms spread over three floors, it wasn't hard to find a spot of music that appealed to us. 
One of the other memorable parts of this place was the team; not only the entertainers but the bar and door staff too; these kinds of places can sometimes leave a nasty taste in your mouth from all the unpleasant surly staff you are forced to engage with. But not at the Nightingale- it genuinely seemed as though everyone was trying their best to have a nice time. But perhaps I'm biased as I was dragged on stage and presented with a bottle of wine as a prize for being pretty. (Yes, that's right, I accept gifts of wine in addition to compliments).
The upshot of this weekend was all about having a really memorable Halloween weekend and doing our best to have a fab adventure here in our own country. With so much to see and do here in the UK, it seems a waste not to take every calendar event as an opportunity to get out there and make some memories. From the wildly fun Nightingale Club to fabulous Thorpe Park and of course, the supremely gorgeous Park Regis Birmingham; the whole weekend was a success. From start to finish which just goes to show, sometimes, to make a memory here in the UK, you just need a bit of sparkle and more than a little glitter!
---
---