Ask anyone in Rhode Island for a place that you should visit in Narragansett and most of them will say Narragansett Beach. It's easy to see why this is the case. A lot of the best things to do in Narragansett RI can be done in the Narragansett Town Beach. It's one of the best beaches in this part of New England and it attracts up to 10,000 people on a good day. At approximately 19 acres in size, you can bet that there's a day out to suit all tastes!

---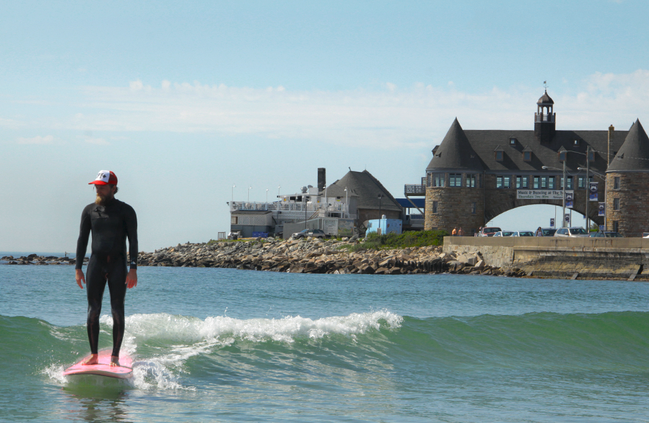 ---
What to Do at the Narragansett Beach
Here are just some of the things that you can do at the Narragansett Town Beach:
Take a leisurely stroll.
Feel free to go barefoot. The sand is soft and sugary. The beach is clean. With crashing waves and excited voices of patrons providing the background noise, it's a good way to relax and breathe in some fresh air.
Go sunbathing.
Speaking of taking a leisurely stroll, make sure that you're mindful of where you're walking. With the hot but comfortable heat of the sun, you'll find patrons sprawled across beach towels getting a good tan. This is the ideal time to catch up on that book everybody's been talking about too.
Swim.
The water's fine! Jump in! The Narragansett Beach is very popular with swimmers as whole families and groups of friends spend a good part of their day in the water swimming. It doesn't matter if you're a local or a tourist, just hop in, It's reassuringly clean and totally family friendly.
Surf!
A trip to Narragansett won't be complete without surfing. Narragansett Beach is known for having one of the best surfing conditions in the New England area. The water is warm. In fact, you'll even see surfers surfing during the winter season. The waves are the perfect mix for experts and those dipping their toes in the surfing world for the first time.
But don't have to worry if you don't know how to surf. Some of the best surf shops offering lessons can be found in Narragansett so you can simply sign up for a lesson or two.
---
---
Other Activities in and around Narragansett
If you happen to have more than a day, then its well worth checking out things to do in the area, among them, the following…
Camping.
Camping is a great way to stay in the area for a relatively low price. There are some excellent camp sites around, check this link for details. If you are looking for camping equipment then check this site out, they have a great selection and if you want to feel super snug then try their 'mummy' sleeping bag. 
Ride the Block Island Ferry.
While the Block Island in itself is a nice destination, a lot of tourists are saying that the ride to the island via the Block Island Ferry is quite an experience in itself. It's about an hour of smooth sailing which should give you more than enough time to relax and enjoy the view; there are refreshments available onboard if that floats your boat (excuse the pun, I couldn't help myself)
Stroll at the Galilee Fishing Village.
This quaint harbor has a sentimental charm to it. It offers nice views of the harbor and the fishing boats. You can check out the gift shops for souvenirs and best of all, you can enjoy fresh seafood that you've bought right off of the boats or at the seafood restaurants in the port.
Dance the night away at the Towers.
The Towers is not just a scenic landmark. If you're lucky, there's a scheduled dance on the date of your visit. They have live bands during the summer to help you dance well past bed time.
Enjoy the ocean view with the Point Judith Lighthouse
The Point Judith Lighthouse is a great spot to take pictures. The lighthouse itself is picturesque and with the ocean view providing the background, it's what we call Instagram gold.
Camp at the Fishermen's Memorial State Park & Campground.
It's a convenient place to camp because it's near everything. Make sure you come over the weekend as, there's a fantastic farmer's market every Sunday that's well worth a look; it's a great family place to get away from all the noise.
This is just a brief list of all the things to keep you entertained, so all you need to do is book your next vacation and get on down here!
Author Bio
Jay Recinto is the Media Content Manager for the Warm Winds Surf Shop over at Narragansett, Rhode Island. Make sure to drop by when you visit the Narragansett Beach!
---

---
---