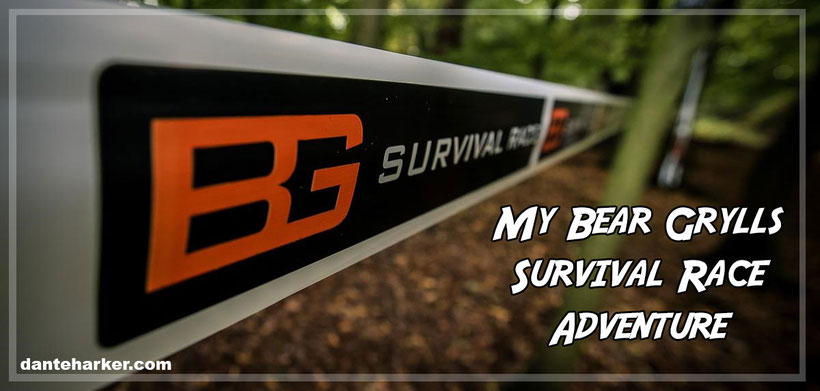 ---
A crowd of competitors has gathered at the start line, people of all ages, and genders are stretching and warming up their muscles. The festival tents are wafting delicious smells from the food stalls and into our nostrils. In the distance, we can see a monolithic metal structure built from rope and scaffolding…its 12.50pm and our wave is at 1pm. Only ten minutes to go!
These were the moments before we began our first ever Bear Grylls Survival Race and let me tell you, it had been quite a few months in the making! Way back in January we had both (my husband and I) decided that the traditional 'gym' environment was no longer a source of enjoyment for us. What we needed was a way to keep fit and train outdoors and crucially, a goal of some sort. Sadly, getting in shape "for the summer" just isn't a specific enough aim. After all, the summer is a period of several months and, though it's common in May to her people saying 'I'm getting in shape for my holiday', we just couldn't be those people.
---
---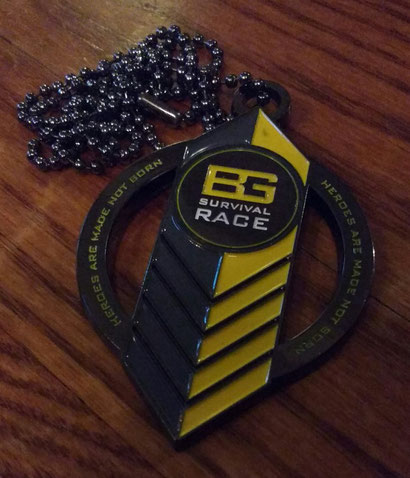 So, the challenge was to start training outdoors with minimal equipment and pick up our running skills as, frankly, our ability to run for any distance was shockingly poor. The way we got ourselves motivated was simple…sign up for a few obstacle course races throughout the year; one in March, one in June and the final one in September. The reason we left the Bear Grylls Survival Race to the end was simple…we were both certain that it would be the most difficult event. Indeed, we were not disappointed by the challenges set by Mr Grylls and his survival race team. The wonderful thing about training throughout the year was that as every race was completed, we knew that we couldn't just rest on our laurels as, there was always another one booked in on our calendar.
So to the training! We have kept fit together over the years in gyms or by simply being very active, but to get ourselves fighting fit for the Bear Grylls Survival Race we knew there was one thing that needed a drastic overhaul…our ability to run at speed for a distance more than 100 metres! The Bear Grylls race prides itself on its challenging obstacles and military survival inspired scenarios, which, to be fair, is the stuff we were most looking forward to. But there was still the matter of completing these obstacles  throughout a cross country run covering 10k! By signing up early on, we not only saved a bit of money, but we were also able to really get stuck into the practice; who would have thought that running could be so difficult and, at times, mind-zappingly boring?
Turns out, that by committing to our eating plan and really getting out there to train (no matter what the weather) we made significant improvements and were able to really make ourselves proud. Of course, we completed two other races before the Bear Grylls one, but in all fairness, while fun and a great motivational tool, they weren't a scratch on the BGSR. Just the sheer number of obstacles and the difficulty level was totally impressive!
---
---
The cross-country running element of the race took us around the gorgeous surrounds of Tatton park which, in itself was a revelation having never visited before. The grand house stands perched on a majestic hill and all around, rolling countryside, lakes, pastureland and woodland; it really was a stunning setting to have an adventure race. I mean, on which  other obstacle course can you bear crawl through some foliage, fire pellet guns in a desert zone and then drag your way up a rope royal marine style, all while being watched by herds of beautiful deer?
The race was the main reason we signed up of course, but ever a couple to make the most of an event, we decided to make a weekend of it. By staying the night before in Manchester, we were saved a lengthy journey on the morning of the race from Leeds to Tatton Park. This is where the King Street Townhouse came in. After a little research online, we'd discovered that eclectic hotels Manchester (famous for the Great John Street hotel and two luxury properties in Didsbury) had added another swish boutique hotel to its portfolio. Now, we're always a fan of small but perfectly formed accommodations, especially when in city centres, so this newest endeavour of theirs was a no-brainer for us.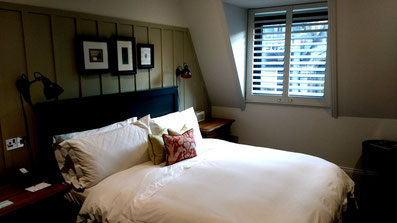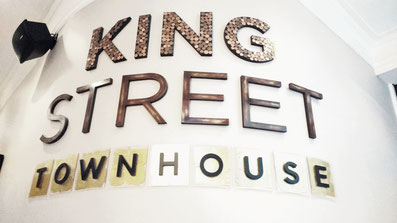 ---
Housed in an Italian Renaissance building built in 1872, the King Street Townhouse bills itself as a Baby Grand Hotel, and the title seems rather fitting to us. From the gorgeously appointed rooms to the minute attention to detail when it comes to the public spaces, this place exudes class. Of course, our weekend was all about the Bear Grylls Survival Race, but what better way to psychologically prepare by getting pampered and looked after by the diligent team at The King Street Townhouse?
Our room was perfectly situated with a view over Manchester's historic town hall, and, apart from all the usual luxuries one might expect from a high end boutique, there was also the added bonus of our very own built in Nespresso machine to perk us up first thing in the morning; no dodgy instant coffee sachets here! But I would be remiss without mentioning the highlight of our stay; we watched the sun set over Manchester from the rooftop infinity spa pool they have at the hotel. Honestly, you see the city in a whole new light when viewed from a heated spa pool…just to die for.
---
---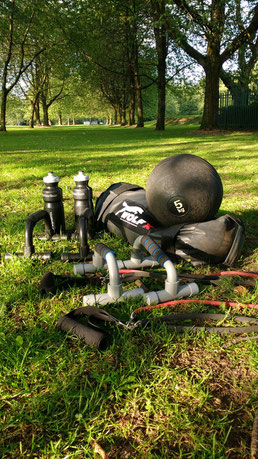 Alas, we had just the night at this sumptuous place, and then were off. After a quick train to Knutsford, we were well on our way to our Bear Grylls Survival Race. After months of training it's fair to say we were in a good position to compete, but for sure, unless you're an actual royal marine, I imagine everybody struggled in some way with the challenges faced. The rope climbing and monkey bars were particularly tough, as was the part of the race where we ran down a hill then back up wearing a weighted backpack. I think the thing we were really impressed by was the level of thought that had been put into the obstacles. There were massive rigs set up for lifting bags on a pulley system, and there were four themed zones testing all manner of muscle groups we had forgotten we even had! But for sure, we were glad that we'd put in the effort (we never do anything by halves) and it was clear to us after the first kilometre that without training, the Bear Grylls Survival race really must feel like a fight for survival! There were lots of people walking in between obstacles and let me tell you, there was a lot of heavy breathing from our fellow runners!
But we completed it! We survived the Bear Grylls Survival Race, which, in all fairness, didn't entirely seem possible at the start of the year. It just proves that with the right mind set and a willingness to push oneself out of a comfort zone, we really can achieve things we didn't think possible. Not only did we have an excellent reason to keep fit and train, but we also had an immensely fun day out; indeed, we havn't stopped banging on about the BGSR since we did it!
Now where do we sign up for the next one?! - if you want sign up you can do it here - hopefully see you there :)
---
---