I've been asked to write a short blog post for #ShareYourOutdoors And as I'm sure you know if you've read much of my work - I love the outdoors. Well I don't, I only go out there when there are workman doing stuff to the cave I'd rather just hide away in :) - but that doesn't make for a great post tbh so outdoors it is.
The campaign as, for 4 photos of fun times I've spent outdoors. Of course I don't have photos of the best times I've spent outdoors as I find that when I'm really enjoying something I don't take a photo of it (or it would just be perverted to take of a photo of what I was doing).  But I have found some cracking pics that I'd like to share. 
---
Gili Air 
This wonderful beach is on the super cute island of Gili Air in Indonesia. We lived there for about 18 months and this was the view from our 'office' - a wonderful dive shop where we had many adventures.
Until we were kicked off that island by an angry mob - no, really.
---
Tea Plantation 
This is a tea plantation somewhere in the world. I am almost sure it's in Sri Lanka, though it could be in Thailand (it was in the wrong folder).
My story is about Sri Lanka though and it's short and sweet. 
Follow the paths or you'll get bruised and a touch battered. In Sri Lanka, we wanted to get to the top of a huge hill to see the view (not sure why else you go up hills), and we couldn't find a path, so we just clambered through the tea trees. It wasn't a pretty sight - the view was however. 
---
Teotihuacan 
I love pyramids and I've been luck enough to see them all over the world now. This one is at Teotihuacan just outside Mexico city. It's not really on the mass tourist trail as the guidebook often tells people that Mexico city is dangerous. We spent a week there once and it seemed no worse than any other major city.
The heat here is intense and by the end of the day people were trying to carve me as I was so well-done.
---
My favourite way recently to get outside, as we're not travelling till November, has been to train for muddy obstacle courses. The Bear Grylls Survival Race we're doing will make the 3rd of the year. They are a great way to get outside, keep fit, and get a medal - what's not to like. 
I now have to nominate someone and I choose Pauline from Pauline Travels. We met Pauline on a recent trip and she's such a nice person that I imagine she'll have lots of great photos.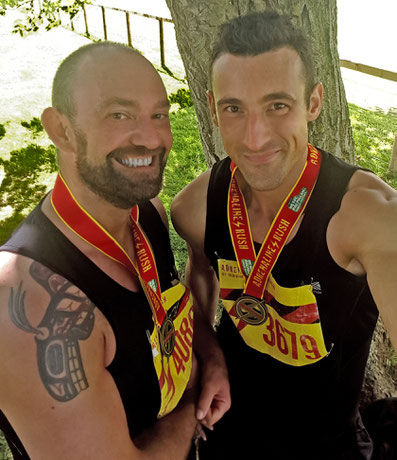 ---
---