Post written by Alex Harker - you can tell this as it's nice and detailed with less talk of cats and falling over.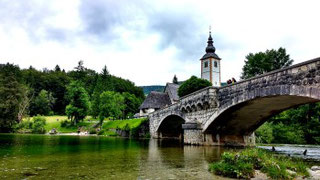 Every once in a while, a new country pops onto your radar that you have never considered before. This is usually down to the globe just being too big! But for me, Slovenia had never quite made it to the top of my list and now, having seen what's on offer, it seems criminal that I took so long to visit this perfectly formed little place. With Wizzair providing ever more flights from London, it's never been easier. Don't believe what rumours linger about in regards to low cost carriers like Wizzair; my flight was on time, comfortable and a pleasure.
---
---
With a trip lasting only five days, I was not at all confident we would get to see the best of the best. But it turns out that, with good planning and an infrastructure built for new tourism, Slovenia more than delivered. Added to this, a population of just over 2 million living in a country smaller than Wales has given it a remarkable feel of being very open and under-populated; truly, a great place to find a spot just to yourself.
Indeed, the opportunities for isolation and enjoying nature were constant, and with a fabulous food scene coupled with genuine warmth and hospitality, it's tricky to pin down what I loved so much about the place. But try I must, and so, in the interest of fairness, I have rather helpfully compiled a list of my very favourite experiences in Slovenia. Alas, there was just too much amazement to be had, so, they feature in no particular order (sorry, it just couldn't be done) and here goes…
1. Sampling Slovenia's schnapps in Ljubljana
According to our host, many tourists only ever see Bled (more on that later) and the airport at Ljubljana. This is such a shame as, even with a limited time, there is much to enjoy in this pretty city. With a population of only 270,000, it still retains a town-like charm while also catering to all the needs of your average city person. I will always be a huge fan of cities (no matter where in the world) but what struck me about Ljubljana was the gorgeous neo-classical architecture and the endless choice of watering holes. While never proclaiming to be a connoisseur of alcoholic beverages, I have however, made it a personal mission over the years to try whatever local spirits I am presented with. Slovenia was no exception. From the surprisingly good wines (there is no 'big wine industry' here yet, so many vineyards are still essentially 'mom & pop' businesses). In the UK, this is considered boutique or fine-selection winemaking; in Slovenia, it appears to be the norm. But I couldn't talk about booze without mentioning the nation's favourite tipple; that being, the humble schnapps. Made big scale, or in people's homes, the Slovenian Schnapps that I became familiar with comes in a myriad of flavours and strengths and is drunk as a shot, and a spirit, an aperitif, as a digestive aid….frankly, its drunk at all occasions. My favourites being the pine schnapps and the cloyingly delicious honey schnapps (being a pastry chef myself, it's fair to say I have a sweet tooth).
---
To base ourselves, we stayed in the sublime Hotel Grand Union. While being a chiefly business hotel (they have several sites in the capital) the hotel also manages to be luxurious and attentive enough to still feel like a great choice for a couple. The in-room massage chair and bath robes complemented the fruit basket on arrival perfectly. In all honesty, I could have stayed there a week! And that view of the castle on the hill?! It goes without saying that the next time I'm in Ljubljana, the Hotel Grand Union will be on my radar.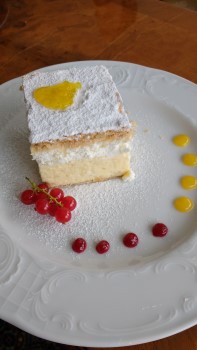 2. Lake Bled and a piece of cake
Despite my knowing very little about Slovenia, one of the enduring images is that of Lake Bled. Found in the north western region, Bled is undeniably Slovenia's #1 tourist attraction. It's easy to see why, with a photogenic church nestled amongst foliage on a tiny island in the middle of the lake, all overlooked by a dramatic castle standing sentinel over this alpine idyll, Bled, is the stuff that Instagram dreams are made of. Of course, many tourists from all over the world speed through, take pics, then zoom off to the next location. But Bled feels to me, like a place to stay, a place to wander and explore. With its chilly climate in the winter and enriching heat in the summer, it's essentially the best of both worlds.
Regrettably, I had only a day in the town itself, but goodness me, what a view from our hotel balcony! Rarely does one get to watch sunset over such a spell-binding sight, and even less so at such fantastic value for money. We stayed in the Hotel Park, which is part of the Sava hotel group. They have sites all over Slovenia (indeed, more than SIX in Bled alone). It's no exaggeration to say that they have one of the best locations on the lake where one can enjoy the entire vista from the privacy of a secluded terrace whilst supping a little schnapps or perhaps Slovene wine. My time here was special yes, and could easily have been a lot longer. With the hotel running a selection of tours and programmes all around the local area, and having (in my opinion) some of the best attitude to hospitality I've seen, it comes as no surprise that their rooms are snapped up all year round.
---
---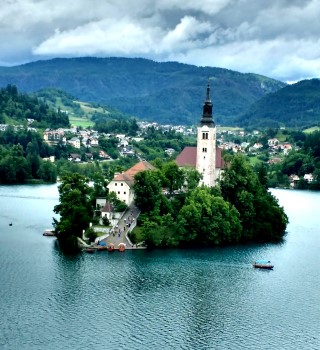 While I would have loved to taken the hotel up on their offer of a pre-prepared picnic basket to take out onto the sun-drenched lawn, I had other plans in mind. A visit to their most opulent and majestic venues was in store, and , in the setting of the grand hotel Toplice, we found ourselves drinking great coffee and enjoying a slice of Bled's most famous dessert…Kremsnita. Brought to Bled by pastry chef Istvan Kovacevic in the 1953, it's essentially a delicate vanilla custard base topped with fresh cream and buttery flaky pastry. In the UK we have something called a custard slice, but oh my, the two do not compare. Some of my fellow diners didn't seem able to finish their rich and velvety dessert, but as a working pastry chef, I saw it as an obligation, nay, a duty to finish the entire lot off. The things I had to do while in Slovenia! The Sava hotel group has a room for all styles and budgets, so it's worth checking out their website to see what takes your fancy.
3. Marvelling at Slovenia's food scene at Martinov Hram
In the interest of blowing my own trumpet, so to speak, I happen to be a chef back in blighty Britain and, while this by no measure makes me an expert on the subject, I do consider myself to have a good idea of what constitutes bad food and of course, good. Delightfully (otherwise this article may have been a little light), the cuisine and general gastronomy of Slovenia was a hands-down winner. Perhaps it's the attention to detail in their attitude to hospitality, or maybe it's the unpretentious dining room that make me feel so positive, but our evening at Martinov Hram in Bovec would be a pleasure for anyone, but for a foodie like myself, it's like I have gone to heaven and the buffet is open for the taking. Slovenian cuisine is what you might call a melting pot (excuse the pun) of flavours and style, but at its very core, are three central values. First, the ability (and the passion) for growing one's own produce, second, the alpine climate which lends itself so well to rearing livestock like goat, deer and sheep and finally, the unmistakeable influence from its neighbouring countries; Austria, Hungary, Croatia and Italy.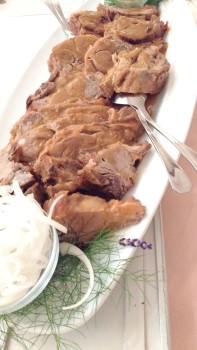 As a group we are given a set menu consisting of four dishes recommended by our gracious hosts Martin and Silva, but Martinov Hram, with its cosy informal dining area, also caters to individuals choosing from an a l carte menu. Our meal begins (of course) with some Slovene wine. It's almost shocking that this stuff isn't widely available in the UK yet. Perhaps that's a good thing…the fact that I made a special trip to my local independent wine retailer to search it out speaks volumes doesn't it? Our starter plate (if you will) is a selection of all that Slovenia does well; cured meats and local salami, a delicate cottage cheese made from sheep's milk, a potato and polenta dish called zganci; All tasting like the perfect way to start a meal.
A traditional soup made with corn and sheep's cheese is next which is surprisingly light given its contents; but then, I'm something of a glutton when it comes to anything I might dip bread into. On that note, bread also seems to be a strong suit in this part of the world; from crispy-crusted doughy white to chewy dense loaves encrusted with all manner of seeds and nuts, they've got the bread-aholics covered (or at least, they certainly do at Martinov Hram).
Our party is then treated to a Slovene feast, banquet style. Buttery potatoes mashed with tender greens go incredibly well with our platter of superbly finished baked lamb. The meat is tender, just pink, and melts in my mouth like it was cooked all morning on a very low, seductive heat. That's the subtle joy, not only of Martinov Hram, but of the country itself. Meal times feel like a communal thing (something we've slightly lost back home) and a breaking of bread, a passing around of dishes to fill your plate, all feels very warm, as though the meal you are about to eat was prepared by a loving grandmother and everyone at the table has known each other for a long time; that's the wonderful power of this kind of food (certainly at this place) and frankly, that's something I won't quickly forget.
---
---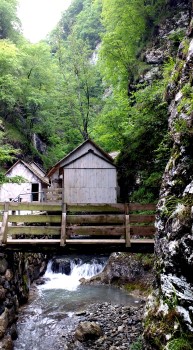 4. Exploring a hidden WW2 hospital at Bolnica Franja
Yet again, my general ignorance of this country meant that there were also cultural highlights to Slovenia that had fallen straight off my radar. One such place is the humbling location of Slovenia's 'hidden hospital', the Bolnica Franja (named after its lead physician and administrator up until the end of the war, Dr. Franja Bojc Bidovec). Visitors to this important site can see where, between the years of 1943 and 1945, partisan rebels helped injured soldiers whilst hiding from fascism and the Nazis. Over 578 people were treated and saved during these years, and with a gruelling up-river walk to endure every time they wanted to leave the hospital, it really is a remarkable feat of human courage. The huts and operating theatres (as well as living quarters) have all been accurately restored after a 2007 flood washed much of the museum away. To see first-hand what cramped conditions these heroes lived in, and at what great personal risk they exposed themselves to, is really quite powerful. It also happens to be set deep inside a spell-binding gorge (which was necessary to keep it secret). The visit to Bolnica Franja could have been a sombre one, but with so many lives saved during those years of oppression and brutality, it actually feels like a wonderfully uplifting reminder of what sacrifices are made in a time of war.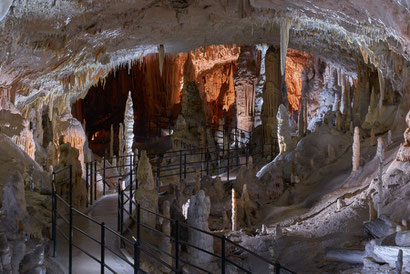 5. Being awestruck by the Postonja cave
Ok, so my visit was heavy on the outdoor wonders of this tiny country, but frankly, that's what an adventure holiday should be; great opportunities to get out in the wild, followed by hearty mountain food to fuel the next part of one's trip. What truly bamboozled me, was the Postojna cave, or Postojnska jama. Now, being a scuba diver, I am more than happy to immerse myself in deep blue water without a moment's hesitation. Caves however, hold a certain trepidation for me. Perhaps it's the close confines, perhaps it's the wild imagination I have; indeed, caves have long held all kinds of mystical power over our folkloric culture.
Postojna (pronounced post-oy-nya) is one such place, but unlike the caves of my nightmares, this place is quite literally in a whole other realm. Formed by the Pivka river thousands of years ago, the cave is the largest in Slovenia at a mapped 24km! These Karst caves have now become one of Slovenia's biggest tourist draws and, unlike the caves feared by so many, this one is monumental in its scale and, to use a terrible cliché, is breath-taking in its beauty. Entire gardens of stalactites loom in the dark and reach toward the damp ground where monolith-like stalagmites 'grow' at a wincingly slow 1mm per year.
The Postonja cave was the highlight of my Slovenia trip for many reasons, but mostly for just what a surprise it was. I have been in many caves over the years (the underground river in Palawan, Philippines being a great one) but this Slovenian goliath of a cave just blew away all my pre-conceptions.
Both ethereally stunning and gloomily eerie, it manages to evoke an awful lot of mental imagery; perhaps I have read too much Jules Verne, but it was quite the special experience. I guess what also make this cave a winner is its accessible nature. For sure, tourists only see 5km of the epic cave, but what they do see is fabulously well lit and has smooth footpaths for those not able to cope with lots of steps; heck, this cave may be the only wheelchair friendly cave in the world!
My guide points out the peculiar 'drape' formations and tells us about the massive underground river that flows beneath our feet, right now carving out another cave system that in perhaps 10,000 years, will be accessible to tourists just like the one we stand in now. This epicness (is that a word?) s what made Postonja so memorable for me; until I arrived in Slovenia, I knew nothing about this major tourist gem, and now, having left, I still feel enchanted by its magic and, though I'm not a superstitious person, I cannot help but feel spellbound.
Did you like this article? Was it helpful? We've written about some other fantastic things to do in Slovenia here
If you're looking for more information on where to go in Slovenia then why not check out this great article of 15 best places to visit. 
Have you been to Slovenia? What experiences stood out for you? Drop me a message in the comments below.
And of course you can Tweet Dante or visit the Facebook Page.