Post written by Alex Harker - you can tell this as it's nice and detailed with less talk of cats and falling over.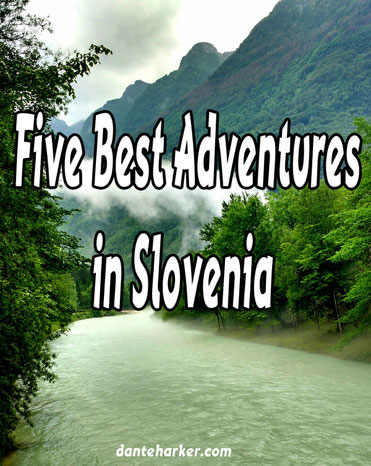 I re-adjust my feet in the boat as we face another churning swell. Glacial water is thrown into my face as I struggle to stay upright and row feverishly.
My nerves are still intact, but plenty of times they are tested; a mist still clings to the surface of the Soca river, and as we duck under another low tree branch, my team mates all cheer and we high five with our paddles. I am having a fantastic time with people I only just met.
Memories like these were made thick and fast in my recent trip to the surprising little country of Slovenia. A jewel of a country squeezed in between Italy, Croatia, Hungary and Austria, Slovenia has in many ways been overlooked as a destination for travel. But I think all of that is about to change; with a giant push from the tourist board and ever more flights leaving from the UK with excellent value carriers like Wizzair, the time has never been better to fasten your shoelaces and go for an outdoorsy adventure in this gorgeous green gem.
With so much to explore and enjoy on this trip, it was far too difficult to cover everything, but here, rather helpfully, I have put together five of my stand-out adventure moments in Slovenia, and, in the interest of fairness, they appear in no particular order :)
1. Getting back to nature in Loz
It may seem obvious to those familiar with Slovenia, but to folks like me, with very few pre-conceived ideas of the country, it really is a stunningly green place. The mountain scenery and the fact that so much of Slovenia is set in steep valleys, means that at any one point, there is always a rich vista to take in.
One of the most gorgeous ways to do this was by staying in a cabin with Turizem Jure. Our host Jure prepared a traditional four course Slovene meal (yes, four courses is standard! I was SO meant to be born a Slovene) which went rather well with our forest walk learning about life is this part of the world. The concept here is to stay in one of their lovely apartments or cabins and use them as a base for daily activities whether that be horseback riding, learning about age-old hunting techniques or forest skills or, quite literally, doing nothing surrounded by wildlife sounds and the sway of mountain wildflowers.
Believe me, words don't do it justice. As a side note, this is also a great jump-off point for brown-bear watching. You heard me correctly, brown bears; in the wild. You can find one of these ridiculously elusive creatures with the lovely people at the Loz tourist centre.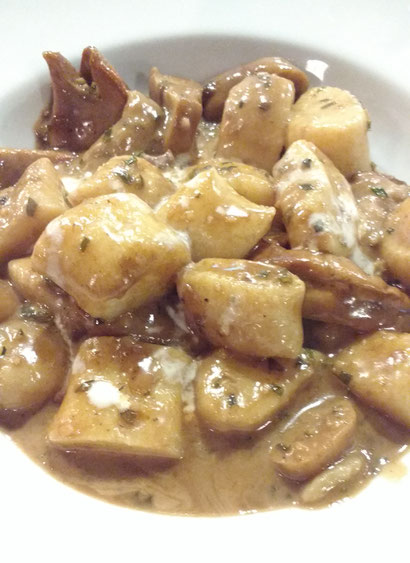 2. Discovering Slovenian Food and Nature at Pristava Lepena
Driving from place to place in Slovenia doesn't take long (it's a tiny country after all – about the size of Wales). But what baffles you when you arrive, is just how perfectly formed parts of it are. One superb example for us, was the country idyll of Pristava Lepena. Set in a meadow surrounded on all sides by dramatic and evocative mountains, Pristava is more than a collection of holiday cottages nestled in the hills. It's a complete retreat to escape from modernity.
Now, with all the comforts of a hotel (wi-fi, hot water, TV signal) they've also managed to create cosy little bungalows equipped with log burning fires to keep the mountain chill at bay. They have stables with the beautiful Lipizzaner horses made famous by Austria's Spanish Riding school. They also have a swimming pool and tennis courts, to cater to guests needs as well as in-house masseurs and a sauna/steam. Yes, the list goes on at this gem of a place.
The highlight for us though, was the attached restaurant. Good news is, one doesn't have to be a resort guest to dine in the evening. Indeed, the place appears to be renowned as the best restaurant in the area. Grand claim indeed, but having enjoyed a four course meal provided by our fascinating and welcoming hosts Silvia and Milan, I can safely say I'm converted. Slovene food, at its core, is about fresh, local produce that isn't fancily prepared or intricately displayed. What it IS about is keeping ingredients to a minimum and with love and care, creating dishes that make your palate sing (well, mine certainly did anyway).
My starter of wild mushroom gnocchi inspired food-envy from all corners of the table, and while my partner enjoyed tender wild boar with seasonal vegetables, I tucked into venison with heritage mushrooms (I'm a sucker for delicious fungi) and for dessert, Prekmurska, a traditional apple confection made with grated fruit, poppy seeds and sweetened cottage cheese. Nothing I ate at Pristava Lepena was basic; absolutely everything about my meal was superbly created; the love and attention they put into their dishes is really quite special.
---
---
3. Visiting the ski resorts of Slovenia 
Of course, no visit to an alpine region bordering Austria is complete without at least a little taste of the ski life. Now, as it was mid- summer when I visited, it was more a chance to enjoy some spectacular views and breathe some fresh forest air.
As an avid enthusiast for all things outdoors and adventure, skiing is one of those things I am itching to have a proper go at; luckily for me it seems, the region of Cerkno is well equipped for the sport. Surrounded on all sides by steep hillsides perfect for going off piste, this area is something of a growing market. Thousands visit each winter from all over the globe, but even still, it has nowhere near the crowded vibe of certain Swiss destinations and is far less known than the French Alps. It's an altogether untapped resource, certainly for UK travellers as it does not, as yet, get many from the Britain.
With Hotel Cerkno, all the bases are covered. From the massive and well equipped hotel down in Cerkno town to the more intimate venue placed atop the mountain side at the ski resort itself; the entire operation runs like clockwork and is open almost the entire year. Of course for families and couples there is the obligatory ski holiday to be had (complete with dedicated apres-ski fully stocked bar - well, you have to don't you?) but there is also more to this place than meets the eye. The site belonging to Hotel Cerkno is without a doubt one of the most advanced ski resort in Slovenia. They boast not three, not five, but countless (we forgot to count) artificial snow machines on site just in the event the snow doesn't fall heavy enough… There will always be some snow to enjoy.
For those not in the know by the way, artificial snow is not (as I had rather naïvely guessed) made of Styrofoam, but is actual frozen mountain water propelled through the air at enormous speeds. It is fed from a reservoir and as long as conditions allow, takes merely hours to cover a slope. I sort of wish I could have seen it in action – or better still ran in front of one to be turned into a snowman. 
The Cerkno Ski resort also stands head and shoulders above the competition for another reason, which is the remarkable value for money that's on offer. Again, I must mention that I am no ski aficionado, but I am more than aware of just how costly it can all rack up. The resort has worked hard to cater to many different budgets so, as well as having a massive section of rooms at great rates, they also have a refreshingly good value price point for their restaurant on the ski slope itself. The Alpenska Perla restaurant has a set meal for less than £6.00 per person; that's right, a ski resort eatery that doesn't have to completely decimate the bank balance. Now, that is something to write home about!
As a side note, the alluring and wonderfully charming town of Cerkno is also home to the Slovenian folk culture of Cerkljanski Laufarji. I first learnt about this custom in an issue of National Geographic (I know right, how well read am I), and seeing the masks or 'Larfe' in person was a fascinating experience. The well-appointed Cerkno museum has rotating galleries, a history of the Laufarji in Slovene culture, and is a fabulous way to walk off all that amazing food at the many eateries to choose from.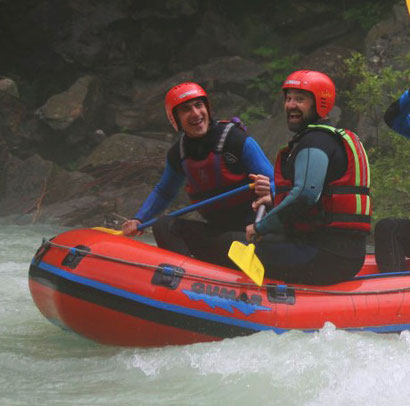 4. White water rafting on the river soca 
While it's true that Slovenia is a gold mine of vistas and opportunities for tranquillity, there was one activity we took part in that was anything but tranquil; the joy of rafting in the region of Bovec. The mountains themselves were carved by slow moving glaciers in the last ice age, so it seemed only fitting to get my toes wet in some mountain H2O.
Of course, rafting isn't always for the faint hearted and frankly, after my last experience (grade 5 rapids in swirling brown water in Borneo) I was feeling, shall we say, apprehensive; at best. However, the team at Sport mix Bovec, in particular, our guide Betty, are impressively good at their jobs. From the well maintained equipment, and great facilities right up to the great pre-launch safety talk (I call it pre-launch as, it makes me feel like an adventurer).
I felt comfortable, relaxed, informed and most of all, ready for a riot. The exhilaration of rowing like a demon at the orders of our guide was a fantastic experience; we followed our directions, managed to splash the other team with our oars, even climbed a mini waterfall mid-journey!
Of course, sport mix run these trips as team-building exercises, and with years of experience under their belts, it's easy to see why they are considered one of the best. For us, a gaggle of near strangers, it was wonderful seeing us open up a little and really pull together as a unit. Let's also not forget the views; the water is a stunning shade of milky turquoise in parts, a veil of mist clings to the surface of the river, we raft past awesome ragged mountains and the odd cascading waterfall; it is an experience I will never forget and frankly, the moment I got out of that dinghy, I just wanted to get straight back in; I guess I'll have to book some flights.
To rest our tired shoulders after all that rowing, we checked into the Hotel Mangart in downtown Bovec. With its 36 slick modern rooms and perfect location in the shadow of an imposing mountain, it was a great way to unwind a little. After a day of activity, there are few things as pleasurable as a tipple on a hotel balcony overlooking a stupidly gorgeous valley; Hotel Mangart gave me that opportunity, not to mention the hot bath and buffet breakfast the next day (well, it would have been rude not to take full advantage of their hospitality)
5. Hiking to the majesty of Slap Savica 
In the north-western reach of Slovenia lay the Julian alps, and nestled within, the Bohinj basin. Our visit to this visual feast of a destination began at a centuries old church tenderly placed on the banks of the periglacial lake Bohinj. All I can say is one word; Instagram. These places are what Instagram was made for; from the quaint churches, to elegant pine forests and crystal clear (and I mean crystal) lake water reflecting sunlight off its surface.
Overlooked by Slovenia's highest peak, mount Triglav (meaning three heads) it's the kind of 'back to nature' vacation one dreams about when stuck on the Waterloo line or on the M25. Not only is the area well equipped for the best climbers in the world, but there is also a remarkable infrastructure for novice hikers and explorers. I had the pleasure of being shown around by the well informed and professional team from Pac Sports and Hostel Pod Voglom. Based right on the lake, they organise trips for schools, groups or families based around whatever activity most 'floats your boat' (excuse the pun)from canoeing, to camping, hiking to hill walking.
This spectacular region even hosts a 'cheese hike' each year, YES, you read correctly; a giant loop of the area taking in enough panoramic views for a lifetime, all the while sampling the high altitude dairy produce the artisan farms have to offer. I know what I'm doing on my next summer vacation!
As a detour, we jumped on the Vogel cable car to take in some impressive scenery, followed by some battery charging at the welcoming and pretty Gostilna Danica, which is ideally placed at the foot of these mountains. True, in my entire trip to Slovenia, I didn't eat a bad meal, not even once. However, this place won me over on its hearty portions and sheer gorgeousness. They obviously do a roaring trade during the summer vacation period, but it doesn't seem to have affected their quality of menu. All the hallmarks of Slovenian food are here; local ingredients prepared simply, with just the right accompaniment; affordable and delicious local wine and schnapps. It's safe to say that Gostilna Danica got a rave review from me.
But back to the waterfall, we make a steady climb up to our viewpoint and I talk in depth with our guide about the flora and fauna of the region; it's incredibly bio diverse, and due to its elevation, orchids also grow here in the right season. Pine trees eventually begin to part, and that roar of water falling from a height reaches our ears. There are some tourists gathered in a wooden shed of sorts all taking pictures of something; I think we've reached Savica waterfall.
---
---
My amazing time in Slovenia had to come to an end, and with so many new memories made, its impossible to not be planning my return; next time, I want to visit in the Autumn to see the changing of the colours in those forests.
Did you like this article? Did you find it helpful? We certainly hope so! We've also written another story about fabulous Slovenia. Read it here
Have you been to Slovenia? What experiences stood out for you? Drop me a message in the comments below.
And of course you can Tweet Dante or visit the Facebook Page.
---