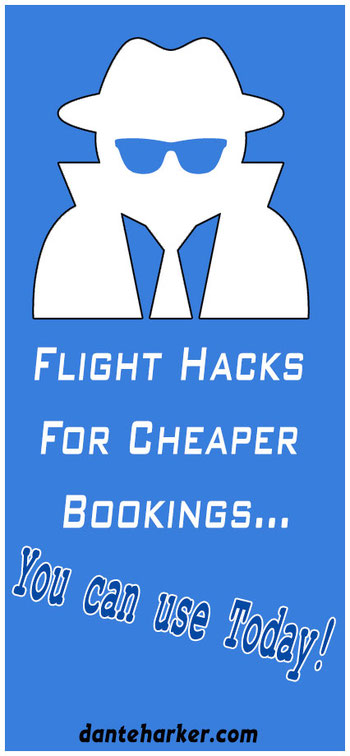 This is a great guest blog post by Joe Ryan. Side note, I don't think he's talking about me on that first line :) 
Whether your a superstar travel blogger with a 111k twitter following or not. When it comes to travel we usually share a few of the same goals:
Explore new lands

Learn new cultures -

To cross places and events off our bucket list 

Have an AWESOME time
Not break the bank in the process We all have different ideas of places we can go.
Different cultures we would love to see. But we all want to be conscious of money. If you want to learn how to hack airfares so you too can travel the world just like Dante your in the right place.
Whilst talking to Dante just a few days ago, we agreed on something: There are some amazing hacks many travel bloggers use that you need to know about. In fact, Dante has an EPIC journey coming up:
What I will show you is just 3 different techniques you too can master to become a flight booking master.
---
Welcome to the dojo:
Keep your searches top secret for super savings (Save money in 2 seconds flat)
  It happens to me all the time, I go to book a flight, find a great price but hesitate. Mostly because I want to have a look around other sites to compare options before I commit.   You're not crazy for thinking that a flight price has changed after searching it a few times. Based on the cookies in your browser (little bits of data websites can track), flight prices do increase when a particular route is repeatedly searched, as the site wants to scare you into booking the flight quickly before prices get even higher. Increasing your urgency to buy and punishing you for trying to get a good deal. In this section I will teach you how to stop it happening to you.   Why does this happen? Because some airlines and flight search engines use cookies to track you, and when they realize you are interested in that particular flight they hike up the price for a higher profit.   But what is a cookie? A cookie is a small file that is downloaded from a site when you visit it. Cookies are typically used to manage items in your shopping cart, personalise your experience by offering relevant content, and track the pages visited over time. Generally speaking, this isn't a big deal. Cookies actually improve the customer experience on most sites. Prices on most sites are static. They won't change regardless of how often you check them. But airfares are different.  
How Airlines Abuse Your Search History
  When you search a specific route, the cookie stores the details. It also remembers the dates and number of passengers. What this means is that their server can see if a specific route is in high demand (by you). When something is in demand, the price will increase. We've run tests on tickets that we eventually purchased and it remained true almost each time:   Ticket Warning: The more you search a route, the more the price increases.   Don't let inflated ticket prices keep you from traveling or make you pay over the odds.   Need Proof? Little bits of data airlines and comparison sites use to push up the price? Don't believe it?   See our little experiment: After a couple of days checking prices we are offered this price, that kept rising:
Just seconds later, using an incognito browser:
Thats a massive saving of $93 for simply using an incognito browser and not letting the websites see your browsing history!   How you can get around this is by using an incognito browser when searching for flights. This stops the website seeing your cookies, what you have already looked at and searched, so they can't go "Oooh, this guy KEEPS checking flights to Barbados, he must REALLY want to go...Lets put the price up because we know how keen he is".   Always search for flights in incognito or private browsing mode to see the lowest prices.   If your using:  
Google Chrome or Safari, incognito is enabled by hitting Command (or "Control" if using PC), Shift, "N". Note: if you're using an older version of OS X, open Safari then click "Safari" in the menu bar, and select "Private Browsing". 
Mozilla Firefox or Internet Explorer, hit Command (or "Control" if using a PC), Shift, "P". This will open a new browser window where your information is not tracked, thus not inflating prices as you search.
Your cookies are reset each time you re-open an incognito window. So if you want to start with a clean slate for each flight search (so your previous searches aren't "remembered", potentially inflating costs), close all your incognito windows, open a new one, and then perform your flight search.
---
---
Take a Break (Stop over when flying long-haul to save you 100's)
Direct flights are always more convenient, but if you've a bit more time you can often cut the cost by stopping over hugely. (Indirect flights sometimes only adds a couple of hours to the journey)
How to save:
In March 2016, we checked return flights from London to 10 popular long-haul destinations in mid-September 2016 and how much you could save by stopping over. The results are in the table below – as a rule, we found the bigger savings were on longer, non-US flights.
You can filter by direct and indirect flights, so you can easily compare prices.
How direct vs indirect flights stack up: This is super easy, and works fantastically on long haul flights.     Part 1 (with step by step example):  
Pick a comparison site (We are using Kayak) 
Enter your departure and arrival airports. 
£783 down from £952. £169 saving right off the bat!   Part 2: On the left hand side, untick "non-stop" and make 
sure 1 stop and 2 stops + are both selected.   Like this:
Kayak will then automatically load up results that match the criteria of having 1 or more stops. As you can see in the table below, this dramatically drops the price for usually just a couple of hours inconvenience.  
In this case, 2 hours 25 minutes of waiting around rewards you with an additional saving of £141.   Some pretty hefty savings to be had right? Want to maximise these savings even more? Use our Inception Method
Use Split Ticketing to Pay a Fraction of the regular price
It's easy to search for flights from A to B but don't assume it's the cheapest way. By being a little creative about the route and splitting the ticket, you can slash the cost. Typically associated with train fares. You can do the same with air travel.
Lets say your flying from San Francisco to London, chances are theres at least one stop on the way.
So run through kayak the start and end destinations and see what the stops are.
Then try with each leg as a separate flight.
  The best way to utilise this is to combine with Airline Error Fares.
Even when its not ideally from or to where you want to go.
Get cheap connecting flights.
Or try "open-jaw tickets" Where you fly into one airport but return to or from another. Breaking a journey down into multiple tickets can cut costs without altering the route you wanted. These are just some of the travel hack's Dante and myself use. If you think you want to up your game, learn The Inception Method, The Django Technique and even Error Fares You can learn even more Flight booking hacks with me. *Spoiler* You can even see how I found a flight from Zurich to various cities including; Phuket, Punta Cana, Cape Town, Havana, Calgary. For just €6.
---
---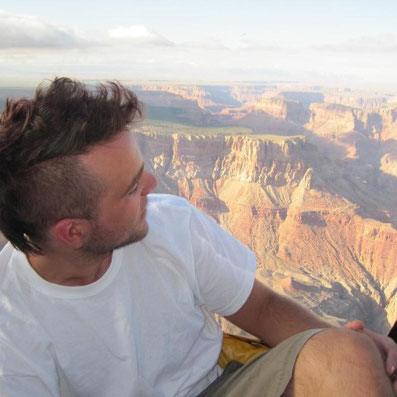 This post was written by Joe Ryan, a 20-something year old, dragging his girlfriend around the world. Living from one adventure to another. Just like Dante, committed to seeing as much of this world as possible, and soaking up the culture. For my ultimate guide to flight hacking: Flight hacks for cheaper bookings you can use today.