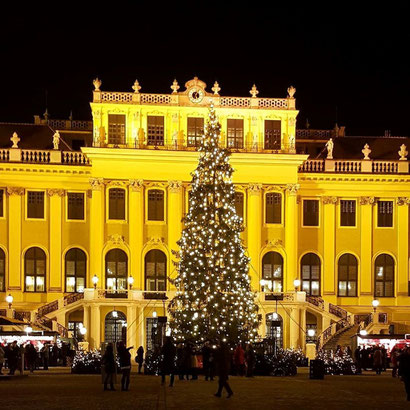 Vienna has long been on my 'must-visit' list, and it seems my wanting to, was for good reason. Not only is it a capital city filled with charm, culture and intrigue, it also holds quite a few surprises one would not expect from such a famous European city. 
To properly do it justice, my partner and I decided to spend three nights enjoying the sights…that gave us a full two days to really see what Vienna had to offer, and boy were our legs tired by the end of it! 
Now, one of the biggest reasons to visit Vienna in December has to be the unbeatable Christmas markets; quite frankly, they put our knock-off versions in the United Kingdom to shame. From the glorious setting (my favourite was the one in the shadow of the gorgeous schoenbrunn palace), to the fabulous variety on offer, they certainly gave me that festive buzz I had so longed for. With a ton of gorgeous hand-made craft stalls to choose from and the scent of freshly baked goods wafting from every corner, I am pretty sure I could have spent an entire day there…but alas, we had a full itinerary. 
Our next stop included three beautiful buildings in their own right (to be fair, everywhere one looks in Vienna there is a stunning piece of architecture to admire). The first of these was the state hall of the national library. Built in the first half of the 18th century, it's the largest baroque library in Europe and houses over 200,000 gorgeous books. I may not be a library expert, but the state hall, with its impressive dome reaching 20m in height and mind blowing frescoes were a real delight- easily the most stunning library I've ever been inside.
---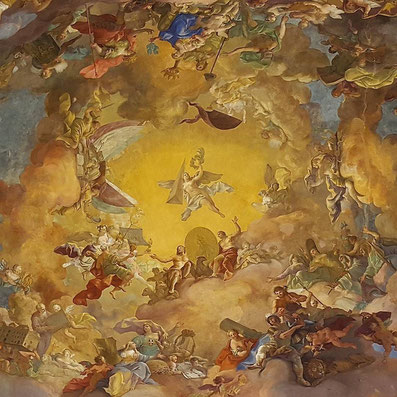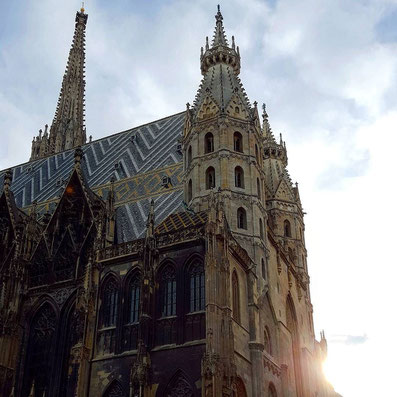 ---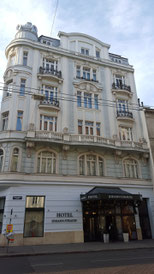 To get my fix of culture, we also went along to the Albertina Museum. The building alone is worth a visit, but it's the artistic gems inside that really bring in the tourists. With a permanent collection including works by Monet to Picasso as well as regular visiting exhibitions, there really was a lot to see…for me, the works by the incomparable Edvard Munch were worth the entrance fee alone. My final museum fix of the day came by way of the natural history museum. Now, truthfully, one could spend an entire day inside the place. The sections dedicated to Roman artefacts and anthropology are extremely comprehensive (and mostly in English which helps). The highlight for me came by way of the immersive planetarium which shows films in English once a week. Added to this a fantastic collection of fossils and dinosaur bones, I think it would make a fantastic addition to a trip for families.
With all this art and culture to be enjoyed, it was important to make sure we were well rested. Now, I did a fair amount of research on places to stay and with Vienna being such a high profile upmarket destination, it was certainly not easy finding a nice hotel for a good price. There are several gorgeous boutique hotels on offer with outstanding service, attention to detail and quirky features. One such establishment is the Altstadt hotel. It's a special treat right in the centre of Vienna, perfect for a few days stay. Guests at the swish Altstadt get treated to a complimentary Kumsi tea buffet every day as well as homemade cake to nibble on next to their roaring fire.
---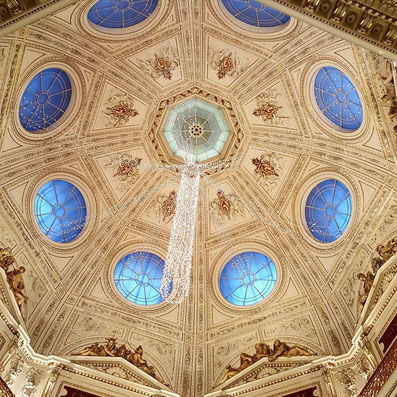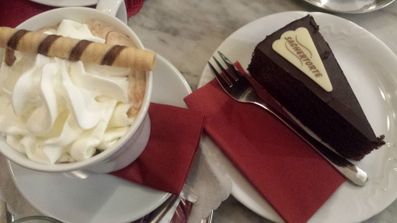 Left is the ceiling in Natural History Museum and above is the lovely cake you find all over Vienna. 
---
---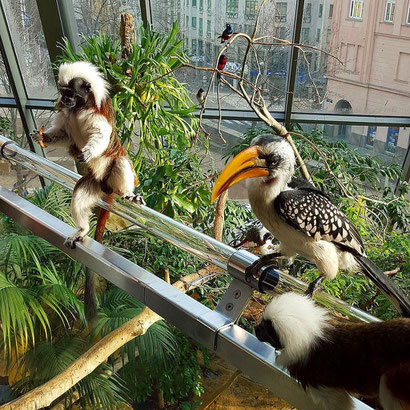 For my partner and I, it was important to not only have a decent hotel with a bit of character, but it also needed to be very near a tube station. After some research, a wonderful option presented itself in the form of the hotel Johann Strauss. Not onlyis it very affordable, but it's also mere steps from the Taubstummengasse underground. This made our few days in Vienna very, very convenient. 
The hotel itself is in a lovely old building and as well as all the usual comforts, it also offered me quite possibly the best continental buffet breakfast I've had in a long long time. (A great breakfast is the hallmark of a quality business). The hotel Johann Strauss was a fantastic choice for us, and with such a good price point, it was highly recommended. 
Apart from wandering the gorgeous streets of Vienna admiring the wonderful buildings, there were two other activities I simply had to go along to; the first of them being a totally unexpected delight. So hear me out, I realise that city zoos and aquariums often have a very dodgy reputation and I certainly would never recommend a place if I had any qualms over the health of the animals. But I must admit, the Haus-Des-Meeres in central Vienna was a pure joy. From its fabulously designed building to the wondrous array of critters, I was truly surprised by it.
---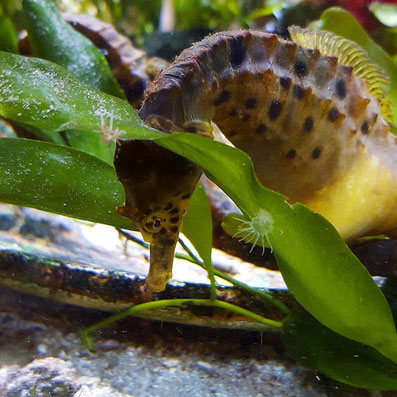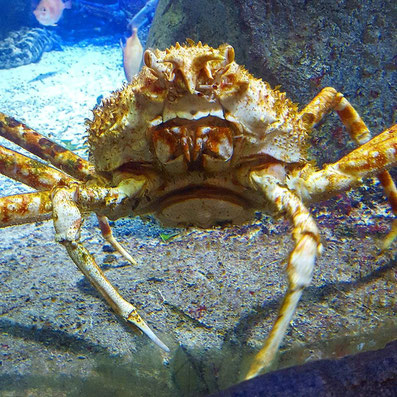 ---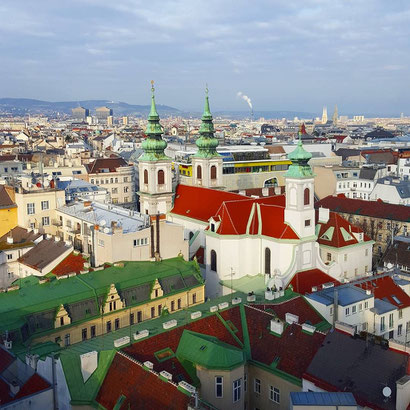 Starting from the ground floor, right up to the 11th level, there is a fantastic variety of lovely animals. I particularly enjoyed meeting the characterful cotton top tamarins, but it was the spellbinding aquariums spread over the top 6 floors that really transfixed me. An active seahorse breeding programme means that visitors get to marvel at these delicate little beauties, and in the pacific tank, juvenile hammerhead sharks glide above your head. A real surprise for Vienna, and well worth a couple of hours while in the capital.  
---
If you really love animals check out the full blog post on this amazing city zoo:  here
---
The final stop on my Vienna adventure had to be a concert; and with Austria being the home of such classical greats as Strauss, Schubert, Mozart and Beethoven, the repertoire of works is gargantuan. 
For tourists there are numerous options to enjoy a concert experience all over the city. For my partner and I we wanted a more relaxed and intimate affair, so the natural choice was the Orangery at Schoenbrunn Palace. With no formal dress code to adhere to (I am woefully scruffy) and a gorgeous setting, we booked our tickets and sat down to an evening of the best music Austria, nay, the world, has to offer. A wonderfully romantic way to end our Christmas trip to Vienna. 
So that was that. Our 72 hours in that gorgeous capital had come to an end and we had experienced a lot (but not all) of what the place had to offer. We barely touched the surface of the dining options, and in all fairness, I would return just for more Sacher Torte. The real joy of Vienna came from the surprises it had to offer; I knew there would be lovely building to gawk at, and I was fairly certain that some inspiring classical music was to be listened to, but what I did not expect, was an engaging animal encounter, and a beautifully easy and affordable city to walk around. Go book your tickets now, to have your very own Austrian adventure!
---
If we're booking hotels we go with booking.com (easy and allow you to move dates and cancel if you have to), and for flights we've been using Skyscanner for use, just a great tool. 
---
---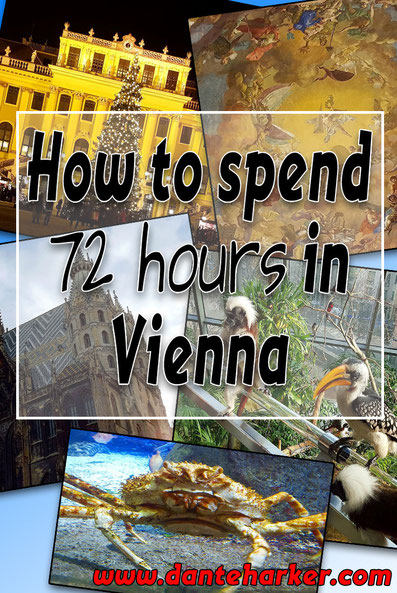 Did you like this post? Then it would be great if you pinned it for me :)
---