---

---
Normally when someone calls me sardonic I take it personally. Well I don't, I usually smile and say thanks. Not because I don't know what it means, more because you'd have to be a fool to call me names – I'm sardonic after all.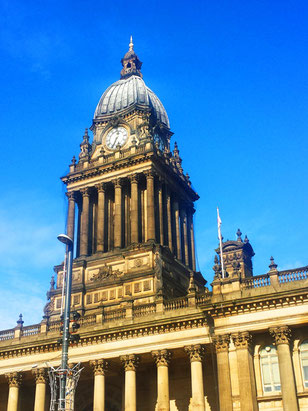 When someone did it recently they said it after watching me on video, they then added 'How do you fancy recording an audio walking tour of Leeds?' Well I'm never one to turn down a new experience so I said yes. I've only just moved to Leeds and didn't know much about the city so this was also a great way to get to know my new city. Turns out that Leeds is a super cool city with lots going on. I'm writing about the tour here of course, but just to say, you don't have to actually come to Leeds to enjoy the tour. You can just sit back and listen to me trying to be amusing. It's only 30 minutes long so it's not so much of a punishment. The tour takes in the amazing Leeds Town Hall, which is a very cool and imposing building. You then head down the Headrow – a street that's been here for 100s of years, though it never used to have a PC World way back when.
You get to see a funky statue, the oldest church in Leeds – I feel I'm not selling it so far, these things are prettier than I'm making it sound. After that you'll see some cool Mock Tudor, then a bit of Gothic architecture before going down a back alley to look in a window at some people prancing about (if you're lucky, it's the rehearsal room for the theatre).
You then whip around to one of the most stunning areas in Leeds. The Victoria Quarter. It's just amazing in this building. Expensive and super posh, but so fancy and the roof is just a photographer's dream. Once you're done in here we're off to the market and not just any market, this is the oldest indoor market in Europe and it's where a British Classic started. I've posted some pictures here but I'm not telling you anymore because that will ruin the tour.
---
---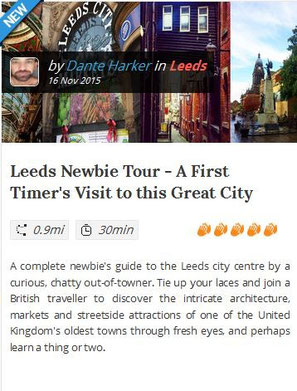 As I said before, don't think you have to actually visit Leeds to enjoy this tour, though I highly recommend you do. You can follow along on Google Street Maps or you can just sit back and listen and let me entertain you (sounds creepy writing that now).
Whatever you do, I hope you enjoy this tour and when you do please leave a message here or Tweet/Facebook me.
---
---