Indonesia, an archipelago of over 17,000 islands, lies within the famed `Coral Triangle`. This triangle (or, as some call it, the Amazon of the seas) contains an astonishing diversity of marine animals, fish and coral species. The popular belief is that many fish and coral species originated here, reproduced, then spread out further into the waters of South East Asia.
It is well known that some of the best scuba diving adventures are to be 
had in and around the islands of Bali, Lombok, Flores, Papua and Sulawesi. These sites have seen a massive increase in interest from overseas visitors and are frequently hailed as some of the world`s top emerging destinations.
In the past, due to lack of infrastructure and high costs, many of these stunning spots remained elusively remote, however, the tides are changing (Pun intended!). With better than ever connections to the rest of the world, and a boost to tourism investment, Indonesia is becoming known as the place to dive.
With such an enormous country, compiling a `must dive list` is no easy
task, but with a focus on unique areas, as well as unspoiled reefs, I have compiled myTop 10 Indonesian dives…in no particular order as, in truth, each deserves a place at number one!
So, here goes:
Alor

 – Just north of East Timor, this remote island rewards hardy travellers with fascinating culture as well as sheer walls and chilly,crystal clear water teeming with large pelagics. The island also offers jaw-dropping volcanic scenery along with fascinating indigenous tribes.
Pulau

 Weh, Sumatra – The northern most tip of Sumatra has abundant fish life, white sand bays and passing whale sharks. Ignore the rumours of dead reefs due to the 2004 Tsunami; this simply is not true.
Bira

, south Sulawesi – Untouched reefs and ripping currents make this a fantastic spot for experienced divers. Easily accessible from Makassar, this little gem won`t stay secret for long.
Nusa Lembongan

, Bali – Plankton rich waters bring in massive shoals as well as cruising rays and the elusive Mola Mola, or sun-fish. The joy of Lembongan is also the great choice of accommodation for visitors; all budgets are catered for.
Tulamben

, bali – The WWII wreck of the Liberty provides a stunning backdrop for colourful coral and groups of schooling fish. Only a few hours from Ubud, the Liberty Wreck actually lies just 50 metres offshore…which makes it very accessible, and even a great place to snorkel (for those non-divers out there!)

Bunaken Manado Marine Park

 – A well-enforced marine conservation zone has helped to keep the reefs healthy, and the divers happy. A fantastic turtle sanctuary scheme also ensures healthy numbers of the sea-dwelling reptiles. Manado is also the jumping off point for the strange and unusual muck-diving available in the Lembeh Strait.

The Gili Islands

 – the jewel in Lombok`s crown, these laid back paradise islands have over 20 frequented dive sites with an extraordinary abundance of fish…perfect for beginners as well as advanced divers. Another complete pleasure is the total lack of any motorised vehicles; the only transport comes in the form of horse and cart. This means the sounds of the rolling waves are utterly undisturbed, and nearby Teluk Nara on Lombok, is fast becoming a rival to Sulawesi`s Lembeh strait

Banda islands

 – The famous `spice islands` are famed also for their scuba diving these days; warm water and marine turtles await! Not to mention wonderful opportunities to experience Indonesia on one of the local ferries!

Komodo National Park

 – it's not only the dragons that bring people to this area; the rich waters and roller-coaster currents are home to Mantas, sharks and incredible variety. Nearby Flores provides travellers with serene multi-coloured volcanic lakes, as well as jagged green mountain roads.

Raja Ampat islands

 – Regarded by many as the most diverse part of our oceans, this superior destination astounds visitors with the mind-boggling array of colours and marine species, unrivalled anywhere else on the planet. A dive liveaboard is the best way to experience this pristine area.

Needless to say, with this being only a brief glance, it's clear that Indonesia is at the forefront of new dive discoveries; the remote nature of some of the islands has kept mass tourism away, which of course, is a good thing.

Indonesia in many ways, represents one of the last frontiers of recreational diving. Forget  the dive factories of Thailand, or over-crowded reefs of Egypt. For many people, it is the choice on offer that is so alluring. Whether looking for a luxury dive boat charter, or

scuba on a shoe-string; Indonesia has it all.

Let's not forget the astounding diversity available on land too; in just a few days, visitors can experience majestic temples, witness stunning volcanoes, enjoy fascinating cultural insights followed by immersions  in clear waters bursting with marine life – there is nowhere else like it!

Have you dived any of these sites? What did you think? Why don't you find me on Twitter or visit my Facebook Page and let me know.

***

 

Why not pin this blog?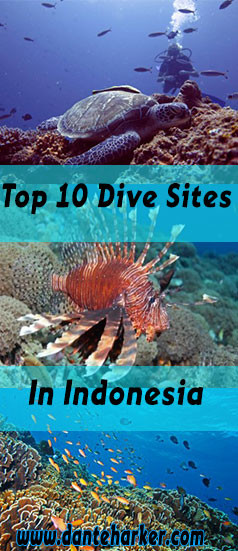 ---
---