With the capital city of Jakarta being a sometimes crowded and polluted metropolis, it is easy to see why tourists may not wish to spend long on its streets. Thankfully, east of there lies the ancient and alluring city of Yogyakarta (pronounced jog-jakarta).
What strikes anyone who visits is the rich cultural and artistic heritage
that is imbued with all parts of this ancient Sultanate. For one, there is still a legitimate Sultan who often presides at the Kraton or palace, that lies at the heart of the city. Indeed, such is Yogya`s fierce independence that, when colonial rule finally ended in Indonesia, it was granted special status…giving it a certain independence and autonomy.
This ability to hold onto traditional values and maintain its cultural identity has made it Java`s premier destinations for those wishing to see and experience a slice of Indonesia. For one, the Sultan`s palace is open to visitors, with informed and professional guides providing a fascinating insight into the daily rituals and tasks that take place at this historic site. Anyone`s first visit to the Kraton is a surprisingly peaceful one, with lovely architecture, quiet tasteful courtyards and stunning pieces of antique art.
It is this appreciation for the arts that has earned Yogya the title of `Soul of Java`. But this is no mere empty tourist slogan…the old ways blend fairly seamlessly with the new. From crumbling ancient buildings mingled with glass-fronted internet cafes. Traditional markets where exotic fruits are piled high, lie only streets away from the most modern and exquisite bistro dining.
Yogya`s reputation as a culinary centre is helped along by the myriad eating options as well as the thriving educational classes that take place across the city every day. Learning to cook authentic Javanese food the Yogyakarta way is just one way tourists can immerse themselves in what this fascinating place has to offer.
The same goes for its artistic side; when I first visited over 4 years ago, I learned to cook in a Javanese kitchen, learned the art of creating genuine Jamu treatments, and even took part in a half-day silver-smithing course, held in the historic Kota Gede area of the city. This place has been the `silver-centre` since the 1930s, and witnessing an artisan create a bespoke piece of jewellery for a loved one is a real joy.
Yogyakarta`s soul and rich tapestry of music come together with the regular performances of Gamelan or traditional dance that take place most evenings. After witnessing the Ramayana ballet, a classic tale of good over evil, visitors cannot help but feel enchanted by the extreme focus and dedication of the dancers as well as the peculiar and haunting live music that accompanies it.
A favourite past-time of many visitors to Yogya is to see first-hand, the creation of Batik. Now, using a complex process of painstaking accuracy, wax is drawn onto fabric (in order to create a seal) before numerous layers of dye and ink are applied. There are many different styles of Batik, and each one is unique…but by far the most popular motifs are the ones worn by the sultan and by royalty. These gorgeous designs often come in the signature colour scheme of a particular individual, and apart from being visually arresting, they are a fascinating insight into the region's artistic heritage.
But Yogyakarta is not only a cultural heart due to its affinity with the arts; close by lie the ruins of two of Indonesia`s most important archaeological sites. The temple at Prambanan is not only the largest of its kind in Java, it is also a stunning example of Hindu art and sculpture. Towering stone temples dot the landscape and even at peak times, it is possible to find a spot of one`s own.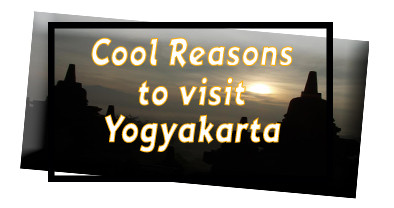 One my favourite experiences of Yogyakarta came in the form of a dawn visit to The Buddhist temple of Borobodur. An exquisitely designed temple, it has fast become the Buddhist heart of Indonesia. With its multi-tiered stupa and perfectly symmetrical design, it is a miracle of modern design yet was built over 1,200 years ago! Over 500 images of Buddha are to be found (some in sculpted relief, the other in the form of three-dimensional figures) and few experiences in Java are as serene and enlightening as sitting alone (or with a special friend) watching the sun rise over the distant volcano…each passing moment throwing the monument of Borobodur into new shades of beauty.
Of course, it is not only man-made works that bring people to Yogyakarta. Within only a few hours, the soaring peak of Gunung Merapi can be reached. Meaning `Fire Mountain`, few of Asia`s volcanoes are as astounding and destructive as this. With eruptions steadily over the past century, it has earned a place amongst only 15 other volcanoes that have the title of `decade volcano`. This title has been given by a United Nations Disaster Relief Agency for the volcanoes consistent violence. This does not stop the intrepid however, and regular hikes to its peak are arranged from Yogya itself.
For the less brave, a long walk around its base proves to be a beautiful yet solemn affair. New growth and woodland encroaches on the volcano itself, but its previous destructive force is on show for all to see. Great gashes in the earth appear where molten ash plummeted down its flank, as well as the occasional semi-submerged home. These are reminders not only of its power, but also of the resilience of the local people, who still make a living in Merapi`s shadow.
With such an enormous selection of things to do, it is no wonder that Yogyakarta features on many travellers itinerary. With fantastic transport links all around java, and a well-connected airport, it truly is a place to visit and experience. This is reflected also in the choice on offer…from budget dorms that cater to backpackers, to finely decorated boutique hotels offering very personal service, there is something to be had for everyone who visits the heart and soul of Java, there in Yogyakarta.
(This was written by Alex Harker (not the slightly more insane Dante Harker). Before you ask, I was NOT paid by the tourism agency to write this. I just really liked the place)
Have you visited Yogjakarta? Did you go recently? If you have any new info, or just want to share Jamu recipes, why not get in touch with me via Facebook or Twitter? I look forward to hearing from you. 
---
---
---