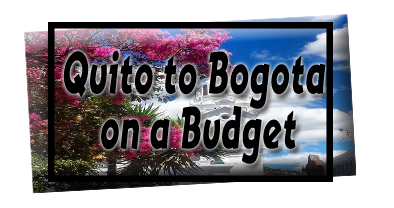 Quick, practical blog for you now
Updated November 2017
The route from Ecuador into Colombia is well paved, and for many backpackers heading South to North, the border crossing at Tulcan/Ipiales is a necessary stop.

When researching the most cost effective way to do this, it became evident that the one and only 'budget' way of getting into Colombia was overland; and more importantly, overland but done independently.
By this, I refer to the several coach companies that offer non-stop sleeper coaches from the capital, Quito, all the way up into Bogota. However, with a fair bit of research, the cheapest way of buying this ticket came in at well over $100 each. I was convinced there was a cheaper option.

So, what follows is my personal experience of the journey from Quito to Bogota with my husband. At times it was uncomfortable, yes, but with this trip in particular, we are time rich and money poor. We have an unlimited amount of time on our hands so in order for that cash to stretch, sacrifices must be made.
---
---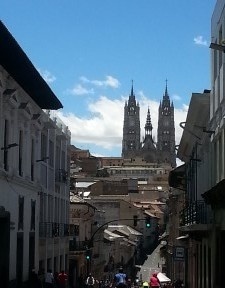 NOTES ON OUR BUDGET TRIP QUITO TO BOGOTA
We travelled in August 2015 as a couple, but prices are listed individually (and updated as of November 2017)

The currency in Ecuador is the US dollars and the exchange rate at the time was  $1 = £0.75 GBP (I've added an E to help you not get confused with US dollars)

The currency in Colombia is Colombian Pesos and the exchange rate was COP 1,000 = £0.25 GBP

1) From the Terminal Terrestre Carcelen in Quito, you need to get on a bus to the border at Tulcan. This leg of the journey cost us $6.80 each and took 5 hours. There was no toilet on the bus and the driver stopped once for about 1 minute. Keep drinks to a minimum…take it from me.

2) When you arrive at the town of Tulcan, get in a collectivo or yellow taxi to take you to the frontera, or border. The taxi for two people cost us $4 (essentially, $2 each). This journey took about 15 minutes.

3) Once dropped off at the border, get stamped out of Ecuador at offices on the left, then, walk over the huge yellow bridge to check IN at Colombian immigration. This only took a few minutes and the whole process was super easy. Note, there are no fees to pay at either office. (I am British, if that helps).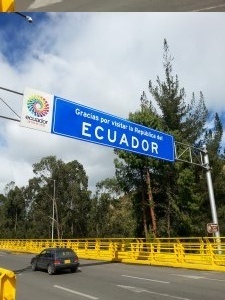 4) Go back to the car park where you will see lots of white minivans that are labelled for Ipiales. There was a minibus leaving straight away, and to get us the 20 minutes over to Ipiales, it cost us $1 each. This journey was a little cramped, but honestly, it was only a few minutes.
5) This minibus dropped us at the terminal at Ipiales. This is where we bought our ticket to Bogota. There are several departures each day. Our ticket was with a company called FRONTERAS. The ticket cost us COP 140,000 each and the journey was meant to take 22 hours.
I think with shopping around, one might get a cheaper ticket, however, this particular company not only had working wi-fi on the coach almost the entire trip, but it also had a plug-point underneath each seat. This is a MAJOR bonus for a 22 hour trip. This meant I was able to use my phone and laptop to catch up on some work.
6) Once on the coach, strap yourself in for a long journey. There was a toilet on board (liquids only please!!!) and an individual tv screen with films dubbed into Spanish. However, we made only 2 brief stops to stretch legs and buys food/drink as, no drinks or food were included in the price. Bring on enough drinks/snacks as you can. The places we stopped didn't have much choice and were overpriced. If you think you have enough water, get another bottle. Dehydration on these trips makes it a whole lot worse.
7) Finally, we arrived at the northern terminal in Bogota. The journey took us 24 hours by the end of it. (Traffic issues)
---
---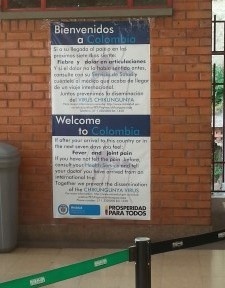 QUITO TO BOGOTA IN SUMMARY

*Total cost for one to get from Quito to Bogota was $55 / £38. The cheapest flight we could find was $390 / £250. This would have been way faster, but the cost was just too much for us.

*The total journey time from the moment we left Quito to the moment we arrived in Bogota was 32 hours.

*The air-conditioning on the long coach was glacial….remember to bring a coat/blanket.

*We paid for the long journey using Colombian Pesos. There was one ATM in the Ipiales bus terminal.

*The seats reclined a decent amount (about 45 degrees) but bring a pillow…it helps a LOT.

*Finally, work out how much it will set you back and weigh up the value of the journey. For us, it was a total no-brainer as, we always take long coach journeys.

*Lastly, whatever way you decide to get there, see it as an adventure, and let me know how you found it. I think with haggling and sharing taxis, you could get this trip for even less! Enjoy.

If you do this trip and find that the prices have changed then please let us know so we can update the site !
Any questions or such why not comment below or find me on your favourite social media – Twitter – Facebook – Instagram. 
---
---
---
---
---