All prices are correct as of 12th July 2015
(If you can update these prices then please get in touch)
£1 = $1.55
The Galapagos Islands off the coast of Ecuador are on many tourist wish-lists, but all too often, due to the expensive flights/tours/diving, people don't manage to get there… especially when it comes to backpackers!
So, my husband and I decided to put together this video and blog to illustrate that though expensive, a magical trip to the Galapagos needn't be impossible.
We still have many months of travel left, so keeping costs down was crucial for us. What follows is a fairly comprehensive list of the costs we incurred on our trip. Please do bear in mind that even though our trip was FANTASTIC, I am trying to be as analytical as possible in the interest of brevity. Rest assured, our trip was worth EVERY dollar; for pictures and videos, check out our more fun videos and articles dotted around the internet.
See below all the various prices we recorded on our trip.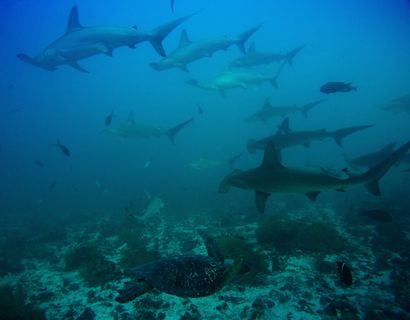 NOTE: We travelled in July 2015 (the most expensive month to visit, but best time for diving)
Flights

 – $415 each (this was a return
from Guayaquil). These tickets were booked 3 months in advance, but when we checked a
week before our departure, there were seats
available at exactly the same price.
Check Tame for flights. 

Airport tax

 – $20 each. We flew from
Guayaquil but the same fee applies at Quito also

National Park Fee

 – $100 each. Paid on
arrival on the Galapagos
Transport from Baltra airport to Puerto Ayora

Coach from the airport to the port FREE
Boat port to Santa Cruz $1 each
Citteg bus to Puerto Ayora $2 each (1 hour journey) – bus leaves when full
Activities when based on Santa Cruz

Entrance to 'El Chato 2' Tortoise reserve $3 each
Taxi to El Chato and lava tunnels $30 (return journey, for 2 people)
Water taxi to Las Grietas and Playa Alemanes $0.60 each (one way)
Day trip to Santa Fe to snorkel/see wildlife $90 each (this was great value as, it included snacks, lunch, 3 different lovely snorkelling spots and plenty of opportunities for seeing wildlife and it's one of the best
trips to see sealions. We went with a tour agency next door to Eagle Ray diving, but they are all pretty much
the same)

Scuba Diving

 trip $150 each for two dives (generally at different sites)
This price included everything (including snack and lunch) and as a guide, we left the dive shop at 7am, and returned again at 3.30pm. The dive guides at both shops took lots of photos and videos and after each days diving, we were able to give them a memory card or USB and they gave us a free copy of all the great pics they took.
Eagle Ray divers were great; the guide was very friendly and professional. Albatross divers were also good; less friendly, but still super organised and safe.
Each dive shop (there are TONS of them) goes to different sites each day. Gordon Rocks was superb; we saw loads of hammerheads there as well as rays and other sharks. Seymour and Mosquera were also good for all kinds of sharks and rays; I highly recommend those sites.
Free, or very cheap activities on Santa Cruz

Swimming at Las Grietas – 5 minutes across the harbour by boat for $0.75
Snorkelling and swimming at Playa Alemanes (snorkel and fin hire $5-$10)
Watching birds and other critters at the Laguna Las Ninfas
Charles Darwin Research Centre for giant tortoises, iguanas and birds
Watching marine iguanas at Playa de la Estacion
Spotting baby sharks off the pier at night in Puerto Ayora
Hanging out with pelicans and seals at the fish market
Basically, we stayed on Santa Cruz the whole time, as we did not have funds to island hop or go on a wildlife cruise. In an ideal world, one would do a wildlife cruise followed by a diving liveaboard, but we are travelling for a year, so our money did not stretch. However, we still had a fabulous time even with a 'scaled back' Galapagos adventure.
FOOD

 – Of course, everybody eats differently and there are MANY options in Puerto Ayora ranging from romantic candlelit beach front places serving seafood and posh eats, right down to back street basic stuff.
Below is a list of some general prices that we encountered…just bear in mind that everything is more expensive on the islands, so in all honesty, if on a budget, its best to stock up on mainland Ecuador, and, if like us, you are on a tight spend, why not try switching to only eating 2 meals a day? Over the past few months it has saved us plenty…in particular whilst on Santa Cruz.
1 litre bottle water $1.50
500ml coke light  $2.00
Café con leche $2.00
Iced coffee $3.50
Mojito at happy hour (2 FOR $10)
Portion of Salchipapas $4.00
2 course Almuerzo $5.00
Individual pizza $11.00
Dessert from supermarket $1.50
Dessert from restaurant $3.50
Magnum ice cream $3.00
Local one scoop ice cream $1.00
Tourist souvenir T shirt $18.00
Souvenir keyring $3.00
New SD card $25.00
Bottle of sunscreen $22.00 (!!!!!)
There are numerous options on Santa Cruz ranging from the super expensive ($500 or more per night) right down to dorm rooms.
We stayed somewhere called Posada Twinsuite. We probably overpaid as, we really wanted hot water, a double bed, and wifi. This place was on booking.com and in total, once they had added all the various taxes, it set us back $45 per night. Way more than our usual budget, but it was all I could find at the time. It was a 25 minute walk from the beach.
NOTE: Bear in mind that on various websites (booking.com included) the total price excludes the 22% in taxes. They add this on when you pay your bill, so check carefully your booking.  We used booking.com for all our trips now though so well worth a look. 
 If you visit The Galapagos and any of these prices have changed then please get in touch and let me know. Either use the comments, Social Media or check the Contact Page.
---
---
---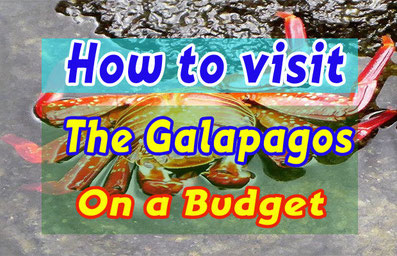 If you liked this post and found it useful then please Pin it for others to read - thanks. 
---