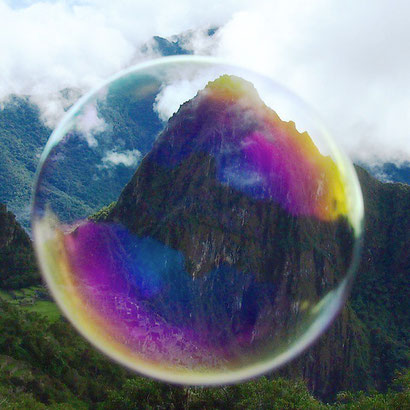 All prices are correct as of 1st July 2015
(If you can update these prices then please get in touch)
£1 = $1.56 and S4.96 Peruvian Sols when published
This is how we managed to visit Machu Picchu for £75/$120 per person. This includes transport from Cusco, entrance to the site and two nights' accommodation.
So, after getting tips from other travellers, reading countless blogs, that though interesting, they had NO actual useful information, we decided to put together our experience with as much information as possible. We are not saying our way was better, or more fun, or EVEN, the absolute cheapest. It all depends on what you want to get out of your Machu Picchu trip, but it is a pretty cheap way of seeing the site and we weren't rushed and had a great time.
Our starting point was Cusco (like most people) and we spent a night beforehand in a hostel called Jamuy Guesthouse.It was booked online via hostelbooker and it cost us S55 (£11/$17) for a double room. It had a shared bathroom, comfy bed and included workable wifi and breakfast the next day. It was a bargain with really friendly staff.
---
---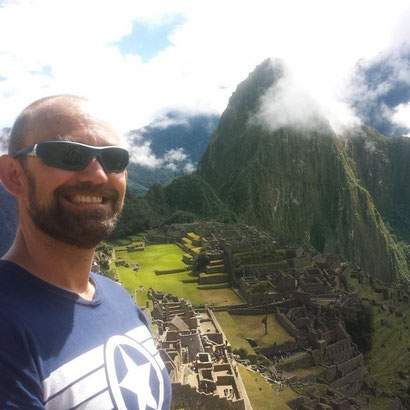 We first went to the Cusco Regional Dirreccion office which was on Calle Garcilaso and bought our entry ticket to Machu Picchu. No extra hikes, guide or luxury tour…just the entrance fee. This was S124. (£24/$39)
We went to a tour company called 'Gap Peru' on Calle Matara and bought a minibus ticket which included transport from Cusco (we were picked up from our guesthouse at 7.30am) to the Hydroelectric station. The cost of this ticket was S80 (£16/$25) each, Round-trip.
There are loads of tour operators offering this service all over town. Ours was not unique….but the prices do differ however and we've seen people pay 5x as much as we did so be careful and shop around.
The journey from Cusco to Hydroelectric took us 7.5 hours in the minibus. We were with 12 other tourists, and we made 3 stops in total. Two 15 minute toilet breaks, and one 45 minute lunch break. We stopped at a pretty town and were given a two-course buffet lunch as part of the price. It's a bumpy ride so if you have any fear of travel sickness be sure to pop a pill.
When we arrived at Hydroelectric, we then walked the very easy path along the train tracks to Aguas Calientes. The scenery is stunning, and it was fairly flat. This leg of the journey walking at our pace (pretty quickly) took 3 hours. Regardless of what the tour guide tells you, there is a good chance that you'll arrive, as we did at Aguas Calientes, in the dark (and drizzle), so bring a waterproof and a torch.
We had pre-booked a hotel called Machu Picchu Royal BnB, which was very clean, had hot water, great wifi, and breakfast included. This cost us S100 (£20/$31) per night (we stayed for 2 nights) The place was a great deal for a couple like us.
Aguas Calientes was VERY busy with tourists and had lots of rather expensive places to eat. We had budgeted for spending more, so it was ok. But as a guide, a coffee was S10 (£2/$3), a 2 course set Peruvian meal was S20 (£4/$6), and a 500ml bottle of Coke Zero (I am married to a junkie) set us back S4 (£0.80/$1.20). Frankly, you can either budget more, or just eat crackers and Oreos. The choice is yours J
Contrary to popular belief, though Aquas Caliente is clearly a 'tourist town' – it's a really pretty one, big river in the middle and surrounded by hills – it seems to get a lot of guidebook/blog hate but we kinda liked it.
The next morning we got up at 4am, had breakfast (our B&B was happy to provide it at 4am, as it appears they all are – some travellers make it sound like their hotel did it just for them, which is sweet, but not true) then left town to walk up to Machu Picchu itself.
We left town at 4.30am, following all the other brave tourists who were out in the dark and drizzle, we got to the main ticket office about 20 minutes later and after about 10 minutes of queuing we crossed the bridge to the base of the mountain.
After 1.5 hours of pretty fast climbing up the steps, we arrived at the main park – out of breath and  wishing we were dead. Well, me, Dante, did as I do more press ups than I do steep uphill climbing, but I made it and I didn't die, so yay!
Lots of people had got the bus from Aguas Calientes to this point. It cost them S40 (£8/$12) one-way for this trip. Which is a shocking rip off, so if you can climb the stairs do it for this reason alone. Not entirely sure there is any other reason to, it's dark and hard work and gets you there no quicker than the bus, but then I'm lazy so…
Now the walk around the Machu Picchu ruins. It goes without saying that it was gorgeous, exciting, and well worth the effort. It is worth noting that the clouds/mist did not lift properly until 9.30am. This seemed to annoy a lot of people, but just remember, weather is not guaranteed J
Other than the general walk around the ruins you can go around the mountain two ways. One takes you to the Inca bridge, we did this great walk while we waited for the clouds to clear. They seem to clear from this side of the mountain first. This is an easy 20 minute walk.
The other side is a steep climb up to the sun gate. This takes at least 40 minutes and you'll see a lot of larger folks looking as if this climb might kill them (and I bet it does some). It's a nice walk. Not sure going right to the top was worth it, but certainly to the house about half way up – see how your mood takes you. I imagine you're only there once.
After our adventure at the ruins, we walked back the way we came (down the steps) which took about an hour on the way back (Thank you gravity), then walked back up to Aguas Calientes.
In total, we spent around 7 hours at the ruins themselves, which was just right for us.
That night, we ate cheaply and rested our legs (I know, riveting storytelling, isn't it? – this is meant to be practical remember).
The next morning, we set off down the train tracks the way we had arrived, and 2.5 hours later, arrived back at Hydroelectric. Once there, we had a 2 hour wait for our minibus to take us back to Cusco. They don't leave until at least 2:30 and ours never left till 3:30 so there isn't much point getting there early. Also, it all seems disorganised but they did seem to have a list of names and they will call yours when it's time to go.
It's worth noting that if you don't want to wait around that long, you CAN jump in a collective taxi at S50 (£10/$15) each. However, they still only leave once full so you might end up waiting for ages regardless.
We got on the minibus we had already paid for, and it took us only 6 hours to get back to Cusco. It was downhill, so quicker. Also, it only stopped once this time, and did not include a meal.
The minibus dropped us off at the main square and we made our way back to Jamuy Guesthouse to spend our last night in Cusco.
The breakdown below is what we paid for both of us, a couple, sharing a double bed and choosing not quite the cheapest accommodation options (i.e. no dorms, breakfast included and wifi on site)
2 x entry to Machu Picchu S248 ((£49/$78)
2 nights Cusco (Jamuy GH) S110 (£22/$34)
2 x round-trip minibus to Hydroelectric S160 (£32/$50)
2 nights Aguas Calientes (Machu Picchu Royal B&B) S200 (£40/$63)
Total outlay for Machu Picchu adventure S718 (£143/$226)
If you have any questions then please leave a comment, Tweet Me or visit the contacts page  
I hope you a have a great trip.
---
---