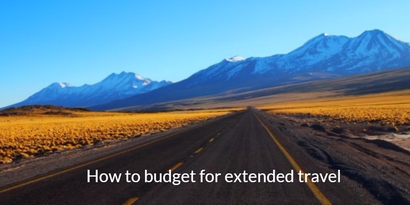 Planning – Friend or Foe?
One of the main reasons that people go home early from extended travel is because they run out of money too soon.
This is usually down to people not planning effectively. The issue, of course, is that for many, planning is really dull and goes against the idea of the sense of freedom that long term travel can give you.
Alex and I are extreme planners, we have done several extended trips now and in that time we've learned that if we want to do lots of fun things then a little planning really helps.
Two great reasons to plan?
You know what money you have to spend on what activity (when people don't plan their spending and keep at least a basic track of it, it's very easy to think that you're spending £10 a day, and of course you can afford another beer, when really you're spending £40 and you have to go home after 3 months rather than the intended year).
You have a rough idea how long you can keep travelling – if you want to travel for a year then you need to know how much money that is going to take, at least a basic idea. This helps when saving in the first instant and 3 months in, it helps you know if you are on track for a full year, or you have to find fun ways to save money – like doing a Workaway.
This is what we do – it could be seen as extreme to some, so take away from it anything you think is useful
We use this basic Excel spreadsheet – Travel Planning Spreadsheet – which helps us keep track and plan.
On the first sheet we record our daily budget – in South America this is £20 for accommodation and £20 for spending money – this is for 2 people.
Note: If you are willing to stay in dorms you can often find much cheaper accommodation. However, the £20 a night allows us to spend less in some places – Bolivia for example which is a cheap country – and then over spend in others, or stay a couple of days in a nice AirBnB apartment when we feel like having a little more home comfort.
Also note: these prices were originally worked out by visiting a couple of hostel booking sites to get an idea of prices for accommodation and our previous experience of travelling in this part of the world.
We then use the second sheet of the Spreadsheet to budget for travel and any tours or courses that we have planned during our trip – this was filled in with the help of a good quality guidebook and several hours playing on the internet researching before we left the country (when I imagine I should have been working).
Tours and courses are the hardest to work out and really depends on your interests. Again though, be realistic, decide on the places you think you'll visit and get that information into your spreadsheet. Check out our Machu Picchu and Galapagos posts to give you an idea how you can visit these two amazing places on a budget.
On top of these costs we include a weekly amount of £25 for unexpected costs and random purchases such as toiletries or medication (tummy pills or sleeping tablets to get you through 15 hours on a night bus; that kinda thing).
If our plans change as we go, which they often have, we can adjust the spreadsheet accordingly. If we decide to go somewhere else, or do some new activity that we'd not heard of when back in our home country – like diving with sea lions in Mancora Peru, then we just adjust for it in the spreadsheet.
In this case, we hadn't budgeted for the diving, so we just dropped our accommodation budget for a few weeks to make up for the overspend.
The last thing we do, and this is perhaps the thing that takes the most work, is that we keep a spending diary. This could be on your phone, or in our case it's a small book and we just jot down what we've spent at the end of the day.
We actually love planning and budgeting and we just see it as making the most of our money so we can do more cool stuff.
This is how we feel, but we know that for others it's super dull and they don't bother – I think if you can get a balance in all things you'll be a happier bunny, and when it comes to travel you're also more likely to have a longer, more fun trip.
How do you plan your trip?
Did you manage to stick to your budget?
What's your biggest tip for travelling on a budget?
Why not leave a comment or find me on social media and let me know.
---
---
---