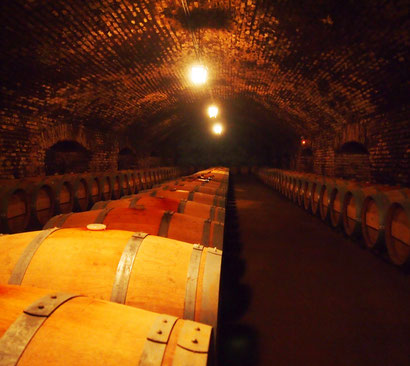 One of the highlights of my time in Chile was the vineyard tour of Concha Y Toro, not only because it was cheap and fun, but also, because there was wine. Lots of wine.
Huge barrels of wine full of potential drunkenness.
It's a common trip all over the tourist leaflets in Santiago, and when one looks online, it can be tricky to find a really cheap way of doing it sans tour, so Dante and I decided to make a day of it and record each step in my girly little spending book, so perhaps somebody else could benefit from the knowledge. For reference, we visited May 2015, so the exchange rates were at $1=697 CHP (Chilean Pesos). At the bottom is a handy summary of the entire trip including exchange rate into UK pounds and US dollars.
So, we were staying in downtown Santiago and our nearest Metro was the Santa Ana station. From here, we popped on the yellow line down to VINCENTE VALDES where we changed onto the blue line going south. We got off at LAS MERCEDES.
This journey took 45 minutes in total (including the change) and cost us 650 Chilean pesos each.
From here, we left the metro at the exit called 'Concha Y Toro Poniente' and headed down the main road to the Concha Y Toro estate. It's directly off the main road and as long as you follow the road, in about 45 minutes time, you will see the vineyard main entrance on the right.
Bear in mind that the road is quite windy and steep in parts. Its pedestrianised almost the entire way however, and even though it's a little uphill, just think of it as pre-burning wine calories 
Once we were at the Vineyard, we paid 10,000 CHP entrance which gave us a 1 hour guided tour in English (be sure to check their website for which slots and the appropriate language).
The tour was fantastic and just long enough to feel worthwhile whilst not being long and boring. Our guide was a professional and really seemed to enjoy having us there. We saw all the main parts of the process, got to try three types of wine and were briefly shown how to taste it properly (I thought you just put wine in your mouth and swallowed….apparently, I've been doing it wrong for a LONG time). It was a really fun afternoon.
In our group it was one lovely lady from Norway, Dante and I. That was it; it felt almost like a private tour! Bargain! As part of our entrance fee, we were all given a free Concha Y Toro wine glass but as we are backpackers, we donated ours to the hostel.
After our tour, there was a lovely leafy courtyard with a fully serviced wine bar and restaurant; the three of us decided to splash out and get a meat/cheese sharing platter (15,000 CHP) and a bottle of reserve was 10,000 CHP which was perfect for three. (The price for a glass of the red stuff was 1,800, so really not too bad)
The wine store at the vineyard exit was like a candy-shop for wine enthusiasts and the prices were actually pretty good…even cheaper than the supermarkets in town.
Finally, we could have walked back to the metro, but a Concha Y Toro minibus was shuttling people back for 1,000 CHP each. What with all the wine, I'm not sure if I would have made the 45 minute walk to be honest!
In summary, the Concha Y Toro vineyard was excellent and was a real highlight for us…I loved it! And if you left out the food and wine at the restaurant, the whole return trip can be done on a shoestring.
PRICE BREAKDOWN
Metro to Las Mercedes from downtown Santiago 

650 CHP/£0.59/$0.93

Entrance fee to vineyard 

10,000 CHP/£9/$14

Bottle wine (divided by three people) 

3,300 CHP/£3/$4.70

Sharing platter (divided by three people)

 5,000 CHP/£4.50/$7

Minibus back to Las Mercedes 

1,000 CHP/£0.90/$1.40

Metro back to downtown 

650 CHP/£0.59/$0.93
TOTAL COST INCLUDING FOOD AND WINE PER PERSON 20,600 CHP/£18/$29
TOTAL WITHOUT EXTRAS 12,300 CHP/£11/$17
(This article was written by Alex Harker rather than Dante Harker. You can tell this because it had facts and doesn't end with #notinsane.)
Are all the details here correct? Have you been recently and the prices are different? Why not get in touch with me via any of the social media links below. Though I prefer Twitter and Facebook.
---
---
---