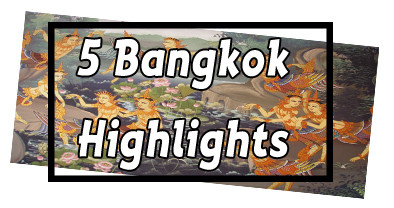 Travellers of all types have flocked to the vibrant and chaotic city of Bangkok for many years, and with a fantastic infrastructure, it shows no sign of slowing down. However, one common mistake that tourists and holidaymakers make, is neglecting to explore beyond the recommendations from the guidebook.
Certainly, there are many activities that deserve to be on any 'must do' list…places like the grand palace and soi cowboy are all fabulous cultural experiences; but there is a less viewed side to Thailand's thriving capital. Here, I put together my list of top 5 ways to pass some time creatively in the city…enjoy.
5. MBK Centre Shopping
It goes without saying really, that Bangkok is something of a shopper's paradise; indeed, people from neighbouring South East Asian countries frequently come to the city for fabulous shopping weekends. With prices far higher in nearby Singapore and Kuala Lumpur, the air-conditioned Aladdin's cave of Bangkok's malls hold treasures to please all tastes and, crucially, budgets.
One mall that I think has it ALL is the massive complex at MBK Centre. With 7 floors of independent stores with stock as varied as silk scarves, porcelain bowls, walking talking robots for kids and pet toys, it can be very easy to disappear amongst the shops and emerge hours later as though you have been in some kind of time-vortex!
Of course, many people who end up travelling through Bangkok on a backpacking adventure don't have the inclination/spending money to make frivolous purchases. This is where MBK centre wins in my opinion…unlike the stuffy designer monoliths like Siam and Central World, MBK is frequented by all kinds of Bangkok regulars; you do not have to be an anorexic socialite to shop here. Just wandering the different floors, seeing what your Thai Baht can get you, is a lovely way to spend a rainy afternoon; and trust me, if you visit during the green season (October etc), it WILL rain heavily for several hours of the day. The most useful element of the MBK place, is the fourth floor which is an entire floor designated only for tech and phones. Every backpacker under the sun has, at some point, had to endure the agony of a cracked smart phone screen, broken tablet case or missing stylus. This floor of the MBK centre is THE place to get your fix.
4. SF Cinema City Trip
While we are on the subject of passing rainy days indoors, I am brought to number 4 on my list (I am counting down to number one, as in, my top pick…that's how these kinds of lists work I think). For a lot of travellers, it's sort of frowned upon to spend your time in a country all cooped up in a dark room watching a Hollywood blockbuster while there are so many 'cultural' things going on outside.
I personally believe they have a point, but, there is a line. Sometimes, after being on the road for a long while, it can be easy to get fatigued or, 'templed-out'. ("Oh, yay! Another large Wat built in the traditional Thai style. Oh my, what a treat"). Lets be honest, we all feel this way, even a teensy bit, sometimes. The cinema is a great way to brush off that flippancy, and what better way than to visit a megaplex like the SF City Chain that has sites dotted all over Bangkok? Not only do they have really great sound systems and screens, but they usually have all the latest releases in English ready for your viewing pleasure.
But it doesn't stop there; a lot of the SF city chains offer VIP seats or a 'deluxe' option. These seats cost a fraction more (a ticket usually costing no more than $4.00) and have big comfy armrests, reclining seats, and generally, a more 'luxe' experience. Another wonderful element is the overall price of an afternoon of movie watching; with the ticket usually coming in at less than $4, and a drink/popcorn combo costing around the same, you get your movie fix in the luxurious air-conditioned environment for a fraction of the cost in Europe. Its win win! And for those still angsty over the lack of 'culture' in a cinema trip, let me remind you that in Thailand, such is the love and devotion to the king, that before every film, a sweet video montage is played of the beloved royal, accompanied by soaring music…at which point, ALL people, no matter what nationality, must stand for the national anthem. Now, try telling me that isn't a mini cultural experience in its own right!
3. Bangkok Food Courts
It's been covered a million times over, yes, but one cannot compile a list like this without mentioning some of Bangkok's amazing food. It's not a new concept, but it's an essential one nonetheless.
For me, the novelty of trying all different kinds of Thai food comes in the mall food courts. I know, I know. Purists might argue that you don't experience the 'true' food experience that comes with eating from a food cart or balancing on tiny plastic children's stools down some soi or another. But let me put my case forward; the food villages (as they are sometimes called) that are in the basements of almost all malls in Bangkok, are a cross-section of the real people of the capital, chowing down on some delicious, but affordable cuisine.
Office workers, shop staff, tourists and business people alike, all end up in these fascinating places, and to get a real feel for 'normality' in a city that can be overwhelming at times, then this is the place to be.
Of course, the real draw is the food itself, and, the choice does not disappoint. There are curries of all varieties, countless soups and broths, rice dishes and myriad other continental options. All YOU have to do, is choose what to eat, and where to get it from.
Generally speaking, these food courts operate a topped-up card system, wherein, you exchange cash for a pre-paid card at a kiosk, and then, the server or 'hole in the wall' place you choose to eat from, will ask for your card, swipe it, and then return the card (minus some credit, of course). The joy is that it's a fairly no-strings affair. If you don't top up your card with enough credit, no worries; just go back to the kiosk and top it up with Thai Baht. If, conversely, you have eaten enough and your card still has credit on it, one can just hand over the swipe card and get the full remaining balance returned…no fees or convenience charges; just your unspent credit back in cash.
it's a marvellous idea, and whether its to prevent theft by the staff, or to limit the exchange of dirty notes from food servers, I do not know. Either way, it's a novel experience, and a great way to fatten up on mouth-watering food. I recommend a classic green curry, with stir-fried morning glory, followed by a sugary sweet Thai iced tea and some mango sticky rice. Ok, I am not being adventurous on this occasion, but honestly, these classic choices can NEVER fail you.
2. Lumphini Park
In a city with 100000 million people crammed into it, it can be hard to not end up surrounded by humans or choking to death on car fumes in the streets. Bangkok has a mass transit system that is very efficient, but it doesn't have the same city-wide scope as, say, the equivalent in Singapore. This means there are an awful lot of cars, taxis and motorbikes on the streets; and with this, comes a lot of noise and pollution.
But this is where my number 2 choice comes in; taking a walk/jog around Lumphini Park in the centre of the city.
Once inside, its actually something of a wonder…sure, you can still hear traffic, and the air isn't magically filtered to the level of a Norwegian mountain resort; however, an afternoon at Lumphini park certainly breaks up the relentless grey of this hot and sweaty metropolis.
Split into various sections, the park has a pretty lake, lots of indigenous plants and trees native to this gorgeous country, and also various paths snaking their way through manicured lawns and shrub areas. For me, it was a great way to get my running trainers on and go for a jog (well, one has to burn off at least some of those Khaw niaw calories right?)
There also happens to be a nifty outdoor exercise area that is equipped with some novel steel exercise machines that at first glance, look like some kind of torture apparatus…but once you watch a local doing it, there are some fun ways to have a great workout here. It costs less than a dollar to use, and, as well as the obvious health benefits, it is also a really memorable way to spend an afternoon. My highlight though, came from the sheer number of enormous monitor lizards strolling around the park. With no natural predators, and the ability to breed like rabbits (it's a British saying) the entire park is scattered with them.
They are fairly harmless to humans if you don't annoy them, but it can be a little jolt to your system as you jog around a corner and stumble over a dinosaur-like tail as thick as a tree branch. If you take a camera along, your Bangkok workout can also double as a nature hunt too; even more reason to get your running gear on.
1. Japanese Afternoon Tea at The Okura Prestige
Finally, we have arrived at what I think is the number one thing to do in Bangkok, that, in this case, is unlikely to feature in a guidebook. It's the stunning Japanese inspired afternoon tea at the Okura Prestige, Bangkok.
Now, no element of the Okura Prestige is a backpacker experience as, it is easily one of the most stunning hotels I have ever been in. From the elegant lobby adorned with an eye-catching display of fresh flowers, to the opulence of the design itself. This hotel is not a cheap one, but for what you get, it blows the competition out of the water; (there is a reason it's at the top of the hotels on tripadvisor, even though it's a fairly new establishment). It is just a fantastic way to splurge and take in the city views…take it from me, it was a welcome break from budget eats and grubby road-side cafes.
The reason the Okura Prestige is at the top of my list is not due to the hotel however (indeed, how would I know? I didn't stay there), it's because of the unforgettable afternoon tea served on the very top floor amid the surrounds of the elegant hotel restaurant.
The concept is a simple one; offer an afternoon tea that is unlike any other in Bangkok, and boy do they deliver. From the gorgeous setting, to the top notch service, every element of this experience was a five star one, but without the five star price tag. I originally read about the Okura Prestige in a Vietnamese travel magazine, and, as I had never tried anything like it before, I forced my husband to don some smart clothes and make a booking.
Needless to say, I did not regret it. Dainty little sushi rolls and Japanese treats are presented in a fold-out wooden case that would not be out of place in the most elegant tea room in upmarket Kyoto. Perfect, sumptuous seafood delicacies make way for fluffy chocolate mousse and light-as-a-dream macaroons decorated with edible paint. One can also add fine sparkling Sake (Japanese Rice Wine) to the set for a small extra fee; words can't describe the level of care that has been taken. I may be a pastry chef, but this stuff put my skills to shame! I REALLY need to up my game once I am back in the UK!
Apart from the traditional set, there is also a seasonal afternoon tea that is presented in a gorgeous acrylic case hand-tied with a silk ribbon. Yes, you read that correctly. This set is an ever-changing selection meant to reflect the current season in Japan. When I visited, the last of Autumn was upon us and handmade truffles made with imported fine chocolate, and little edible maple leaves were the theme. Everything about it said subtle luxury.
Honestly, had I enough time, this would have been lunch for me every day whilst in the capital city; definitely an experience worth savouring in amazing Bangkok; the afternoon tea at the Okura Prestige Hotel.
What five things do you love about Bangkok? Why not leave a comment or get in touch via social media.
---
---
---