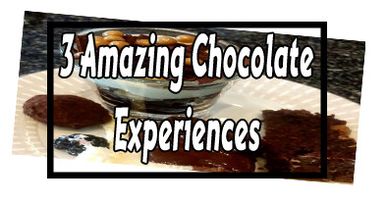 There is something about Chocolate that has captured our hungry imaginations for a long time now. As far back as 1400 BC, Cacao has been used as a natural remedy, health drink, anti-oxidant and general, all-round delicious thing to consume.
The Chocolate we enjoy today may not have the same life-prolonging qualities that the ancient Incas unlocked, but there is so much pleasure and positive association with chocolate, that it has become an everyday staple for many people (twix at lunchtime anyone?) But chocolate can be enjoyed in more than just a throw-away scenario.
Indeed, I have travelled all over the world and been on so many wild-goose chases to find THAT particular ice cream store, THAT independent café, that my husband has now given up on ever having a relaxing city break.
From these wonderful chocolate adventures (and that's what I choose to call them) there have been some failures (cocoa-flavoured prawns anyone?) and disappointments ('Closed until further notice'), but there have also been countless successes. Sipping cocoa tea in Borneo, dipping hot fluffy churros in chocolate fondue in Mexico City, getting through £20 of Italian Gelato in one day whilst in Sardinia? These were all unforgettable. But Here, I put together my top 3 list of Chocolate mind-blowers. By that, I mean, the chocolate-themed experiences that have left an indelible mark on my brain, and I urge you also, to seek them out for yourselves…so here goes…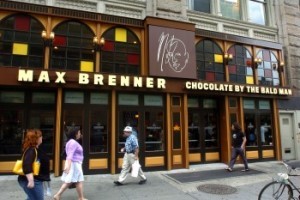 If there was ever a city that was famous for eating, it was New York. From the 24 hour Turkish delis, to an iconic hotdog at a Knicks game, the big apple has a million different options for the avid foodie. My particular food fetish last time in the City was of a chocolate theme, and thankfully, the people at Max Brenner gave me the NY memory of a lifetime.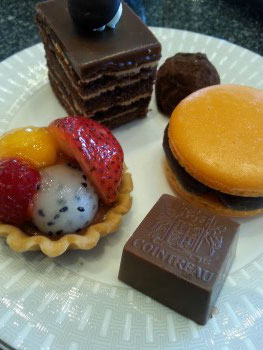 Their concept is a simple one; a place like no other. Much more than just a 'chocolate shop', the Max Brenner brand aims to carry you away and immerse yourself in three things that chocolate is important for; sensuality, sharing, and indulgence. Now, if you think chocolate has no place under the bracket of 'sensuality', you clearly haven't tried their hug mug; a custom made hot chocolate mug filled with one of the best hot chocolates I have EVER had the joy of drinking. Then, there is the chocolate fondue tower, which comes to your table with its very own flame to keep that rich molten chocolate bubbling. The final addition to the 'sensual' element of the Max Brenner chocolate bar/cafe is the Suckao; a dense shot of rich hot chocolate. It combines two important elements: Suck - to draw the dense liquid through the metal straw - and Kakao - the Spanish word for cocoa beans from which the pure chocolate drink is made. I challenge anybody to beat this in regards to how memorable it was. Think the shared drinking experience of a traditional Argentinian mate and multiply it by 10,000.
But the place is more than that. Apart from the lovely, enthusiastic team, it also has a menu that involves Belgian waffles, molten chocolate puddings, chocolate pizzas and milkshakes that are foodgasmic. My stay in New York was fabulous no matter what, but what makes Max Brenner into my top 3, is the genuine passion and expertise that goes into every element of its business.
Number two on my list comes by way of the people of Manchester. Now, you might argue that the city of Manchester does not have the same credentials as the big apple, but when one steps into the chocolate kingdom that is Slattery's, it is as though you are transported to a sweet-smelling world unto its own.
The joy of Slattery's for me, is the incredible variety on offer. Not only do they offer a take-out pastry and cake shop, but there is also a dedicated celebration cake team as well as bespoke chocolate shop and fully serviced restaurant. I trusted their skills so much, that I had bespoke chocolate plates crafted for the wedding cake I made…for my own wedding. (Yes, I am obsessed with chocolate). As well as this, the business has been running since 1967 and is housed in a gorgeous building with some glorious interior features; what's not to love?!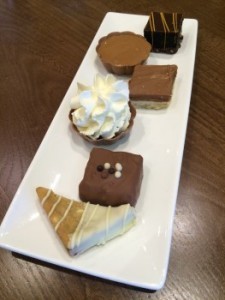 There is of course, an entire team of chocolatiers melting, sculpting and moulding the good stuff all day long, and the gift store comes alive with activity at important seasonal events (Easter, Valentines and Christmas), but my visit was with friends to experience what the menu calls 'The Wicked Chocolate Sampler'. Trust me, this was every bit as good as it sounds; each of us ordered a luxury hot chocolate with all the trimmings, and on our plate, a selection of four decadent mini chocolate cakes. The selection changes frequently, but on this occasion, there was a Baileys chocolate tart, a mini orange chocolate Swiss roll, the most amazing chocolate crusted mousse I have ever eaten, and a meltingly good milk chocolate brownie. As if these weren't enough, we each had our own mini pot of whipped cream, and another of a liquid dipping chocolate in either dark, milk or white.
It goes without saying that a few buttons had to be undone at the end of this. I consider myself to have an incredible tolerance, and even I was almost pushed to my limits. Almost.
Without a shadow of a doubt, the wonder of Slattery's is that it's a supremely quality place to make fantastic chocolate memories , whilst being a massive surprise given its location in a leafy town on outskirts of Manchester in the UK.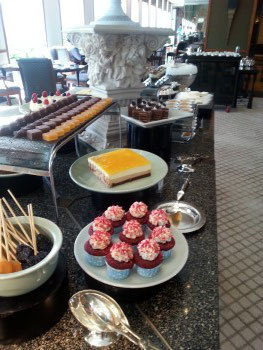 The absolute top of my list of chocolate adventures arrived for me in Bangkok, Thailand. I know, right? Bangkok may not currently be known for its chocolatiers, but what it IS famous for, is world class cuisine at shockingly good prices. This is where The Sukhothai hotel comes in.
Whilst researching interesting food experiences in Thailand's buzzing capital, I stumbled across something called 'The Sukhothai Chocolate Buffet'. Yes, you read that correctly. A buffet…made entirely of chocolate.
After reading lots of reviews and articles online, I decided it was time to book in…and boy was it worth it. From the understated luxury of the hotel itself (The Sukhothai is one on Bangkok's oldest but most refined establishments), to the world-class service of the team; The Chocolate Buffet at The Sukhothai knocked my socks off and rocketed to the top of my list (sorry, Max Brenner and Slattery's).
The buffet itself it served every Friday, Saturday and Sunday from 1-3pm. We decided to visit on the Friday to avoid weekend crowds, and from the very moment we entered, we were greeted by that most famous of Thai traits; a lovely smile and an understanding of good hospitality that is unmatched by any other nation (in my opinion, anyway).
The buffet itself took place in the saloon that overlooks a gorgeous water feature and has all the elegance of an old-school hotel that over the years, has worked tremendously hard to retain a sense of style and glamour that is so often missing in big-scale, no-name hotels.
So onto the chocolate itself; I was surprised and pleased to discover that the buffet is split into two areas; a savoury section filled with the most delicate canapes, treats and sushi, as well as, across the room, a 'sweet' selection where the real stars of the show take centre stage.
Now, as a trained pastry chef, I would never consider myself an expert, but I DO understand the time and patience that goes into good quality desserts. The chief reason The Sukhothai nailed the top spot for me, was the effort and attention to detail that clearly flows through all it does. AND IT'S A BUFFET! (Which means that one can go back as many times as one can handle, no questions asked) #nojudgement #stretchmarks #chocolateoverdose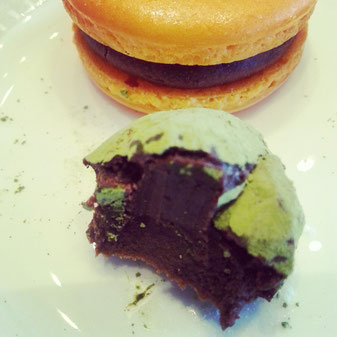 I paced myself with some little savoury bites including mini loaded skins(potatoes filled with crème fraiche and cheese) and a selection of vegi-friendly sushi rolls and sashimi. But of course, I was really here for the cocoa-based goods so I was sure to leave plenty of room.
I was able to sample fluffy homemade cheesecake, dense chocolate brownies, tropical fruit tarts with melt in the mouth pastry, and pear frangipane tart with cocoa pastry. Yes, I know. It was a lot to take in.
One of the biggest pleasures for me was the obvious care that had been taken with the preparation of each of the delights on offer. I know cheap chocolate when I taste it, and let me assure you, there wasn't a gram of calendar-grade choc in sight!
The highlight for me had to be the bespoke drinking chocolate that was prepared before my eyes. Swiss executive pastry chef Laurent Ganguillet lets you choose from almost 30 varieties of chocolate ranging from Lindt white all the way up to 85% Albinao origin. He then makes it into a creamy drinkable hot chocolate made with frothy hot milk.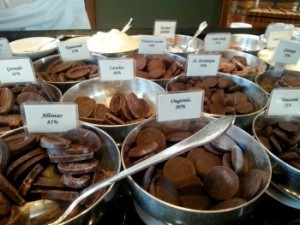 No words on earth can properly do it justice, but imagine a million chocolate angels all high-fiving you...on your taste buds. It was fantastic. What's more, we were encouraged to go up again (as if we hadn't indulged enough already) and try a more adventurous combo. This time, we chose a milkier chocolate base with less cocoa solids, but with the addition of pink sea salt, and just the tiniest sprinkling of high-grade curry powder. Before you say anything, It was criminally good. I don't have the most refined palate, but even I could tell that this guy knows what he is doing, and The Sukhothai is offering an out of this world chocolate experience. Most shocking of all? The chocolate buffet at The Sukhothai was the best value for money out of my top three…as if one needed any more reasons to book a spot! Agreed, Bangkok is a long way to go for chocolate, but honestly, anyone who is visiting or passing through, would be nothing less than idiotic for not booking a table at The Sukhothai's chocolate buffet.
Who doesn't like chocolate? (If you don't you're clearly insane). So where is the best place you've had chocolate? Let me know on Twitter or Facebook.
---
---