This is a guest post by travel blogger and tech enthusiast Oscar Waterworth - find him on Twitter here.
Holidays are a time of year when you want to be relaxed, free to do whatever you please and focus on yourself and your loved ones. Still, travelling over the holidays is often quite the opposite of peace and comfort: with tickets to book, flight and accommodation prices to compare, itineraries to plan, conversion rates to check and traffic jams to avoid, the room for trip-related pressure and waste of time springs endless.
Imagine all that stress and hassle multiplied by the fact that you're taking the trip for business and not leisure purposes – now, that's a pitch-perfect scenario for a catastrophe in the making that can cost you a primary source of income. Fret not! With these ten cool travel applications, you'll get the most and the best of every trip regardless of your destination, budget, season and duration of the visit.
TripAdvisor
Probably the world's best-known travel-oriented website, TripAdvisor recently introduced a special app featuring in-depth reviews, user photos and rankings for bars, restaurants, hotels and must-see attractions across the globe. In addition to real-life tourist opinions and crowdsourced travel recommendations, TripAdvisor also offers a standalone Offline City Guides app with curated information on over 80 destinations, which you can download and access at any time even without mobile data connection.
Compatibility: Android, iOS, Windows Phone, Nokia, Web (free)
GateGuru
A great mobile app for avid fliers, GateGuru lets travellers access all the airport-related information they need by a simple tap of the phone screen. With GateGuru flight tracking notifications, you'll be up to date with potential airport crowds or departure delays, and the app's clever system will also help you find your gate without hassle or waste of time. Also, with this smart mobile aide, you'll always know where to look for a quick lounge refreshment, cool gifts and delicious meals on the go.
Compatibility: Android, iOs, Windows Phone, Web (free)
Kayak
Another must-have app for ardent travellers, Kayak lets you browse through best accommodation deals and other trip-related paraphernalia for any given destination. Up until recently, the mobile tool featured only search options, but as its popularity worldwide surged, the think-tank behind the app decided to throw in booking and pre-pay features for flight tickets, hotel arrangements and car rentals reservations. Kayak can also access the information featured on other travel-specific services such as TripAdvisor, Orbitz and Priceline to help you find a real bargain based on user ratings and reviews.
Compatibility: Android, iOS, Windows Phone, Web (free)
Waze
A community-driven app for road traffic and navigation particulars, Waze is a dynamic map system with speech recognition options that uses real-time updates based on driver-submitted GPS reports and photos to deliver alerts about quickest routes, road conditions and accidents, traffic speed in congested motorway sections, highway potholes, traffic jams, detours and even police traps.
Compatibility: Android, iOS, Windows Phone (free)
GasBuddy
A travel app for drivers, GasBuddy presents an easy-access map listing gas stations in North America with accurate user-submitted info on gas prices and detailed Google Map directions. With this convenient search tool, you can find the best gas deals in your area and even win free prizes as an app user by collecting points through timely and reliable fuel price updates.
Compatibility: Android, iOS, Windows Phone, Web, BlackBerry (free)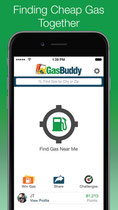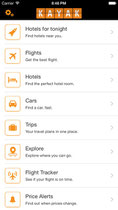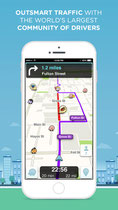 TripIt
TripIt is a travel-specific mobile app that can access your email account to automatically compile all the confirmation letters for flight bookings, hotel reservations and rental car arrangements. Based on your inbox contents, TripIt will organize all the scheduled events into a straightforward calendar-based travel itinerary with all the necessary maps, timings and navigation tips.
Available on: Android, iOS, Windows Phone, BlackBerry (free)
Evernote
Evernote is a note organizer app that can help keep your travel itinerary simple, up-to-date and accessible 24/7. This handy mobile tool can backup your critical trip-related details offline to facilitate access to your travel basics once you get to your destination (now, that's a convenient option to have up your sleeve in case your mobile data signal fails upon arrival). The app can also capture and store images, access Word documents and Excel spreadsheets and sync your data on multiple devices such as PCs, tablets and phones.
Available on: Android, iOS, Windows Phone, Windows, Web, Mac (free)
Trippeo
An end-to-end travel and expense management software designed primarily for business purposes, Trippeo helps small- and mid-size companies track employee travel itineraries, travel expenses and credit card transactions. The intuitive interface allows the employee to book flight tickets, sort out hotel arrangements and record trip expenses on the go. Based on logged and forwarded receipts, the app automatically generates, syncs and exports expense reports for review, approval and reimbursement by the company management.
Compatibility: Android, iOs, Web ($5 per user a month)
Localeur
A travel app created by a community of tech-savvy locals around the world who are eager to help out travellers visiting their residential area, Localeur provides curated tips, authentic recommendations and interesting background on best eateries, tourist attractions and accommodation deals in major U.S. cities. Rely on Localeur for all the insider info you need and feel the true mood of the city you're visiting based on your entertainment preferences and travel plans.
Compatibility: iOs, Android (free)
Google Translate
Though not originally conceived as a travel app, Google Translate can provide critical on-the-go linguistic assistance to any globetrotter. With the recently introduced Conversation mode feature, you can get a live translation for your communication with the locals, and the clever Word Lens tool also lets you see on-screen translations and pronunciation for writings and even documents in 57 different languages.
Compatibility: Android, iOs (free)
Ready to hit the road? With these smart apps at your fingertips, you can lean back, let your phone compare ticket and accommodation prices, crunch the figures, pick out best deals and come up with your travel itinerary as you're sipping a drink and mentally preparing for the next daring world exploration.
---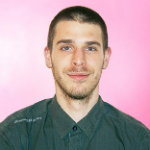 Oscar Waterworth is a travel blogger from Sydney. His favorite vacation spots include Tahiti and Thailand. He enjoys diving, playing futsal, reading and just plain having fun. You can follow Oscar on Twitter for post updates.
---